VLCC recently launched a new range called Ayurveda which currently comprises of face washes and facial kits. In a verge of trying it out, I picked up all the four variants of VLCC Ayurveda Face Wash from their official website. When I bought them a month ago, there was a 30% OFF sale which is what lead me to get all the four variants instead of one. And yeah my mother was asking me to get her a good face wash too, that's one of the reason as well 😉 Let's not waste any time and get to the reviews.
Before getting into individual reviews, let me point out some features that are common to all the four variants.
All the four face washes have a similar packaging except for the color. They are color themed according to their key ingredient. Basically the face washes come in a simple translucent tube with a flip top cap. The cap shuts tightly but I wasn't positive enough to travel around with it as I found the cap to be a little filmsy that it had a chance of opening on its own, thereby leading to leakage and spillage. But for the affordable price it retails , I think I can forgo this con.
Though these are supposed to be soap free formulation, they lather really well when mixed with water. But yeah on its own, it doesn't lather at all. I noticed only the Neem Variant has Reetha Extract which is a natural foaming ingredient, other variants don't seem to have any such naturally foaming ingredient. So I'm skeptical about what causes them to lather.
These are free of parabens and colorants. But they do contain chemical preservatives (Phenoxyethanol and Triethyleneglycol) and what goes into the cleanser base Q.S is unknown to us. Anyways, VLCC is an ayurvedic brand and ayurvedic brands in general are not completely chemical free.
All the four variants required only a pea sized amount of the product to cleanse my face. They were very easy to rinse off and do not leave any residue or slippery feel behind.
None of the face washes leave the skin dry or stretchy. They are neither hydrating nor moisturizing and cleanses efficiently without irritating the skin. Ideally, all of them would be suitable for all skin types. Just that one has to pick the one according to your skin concern as they aren't categorized based on skin type.
All 4 face washes give a clean, clear, smooth, soft to touch skin post cleansing.
They are priced at 55 INR for 50 ml. You can get it online from VLCC's official website or Nykaa.com.
Lets move on to the details of all the four VLCC Ayurveda Face Wash
1.VLCC Ayurveda Skin Brightening Haldi & Chandan Face Wash Review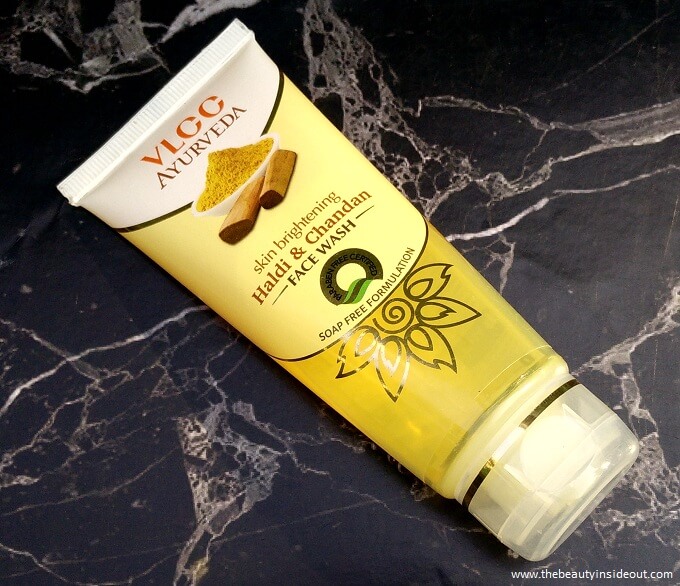 Product Claims & Ingredients :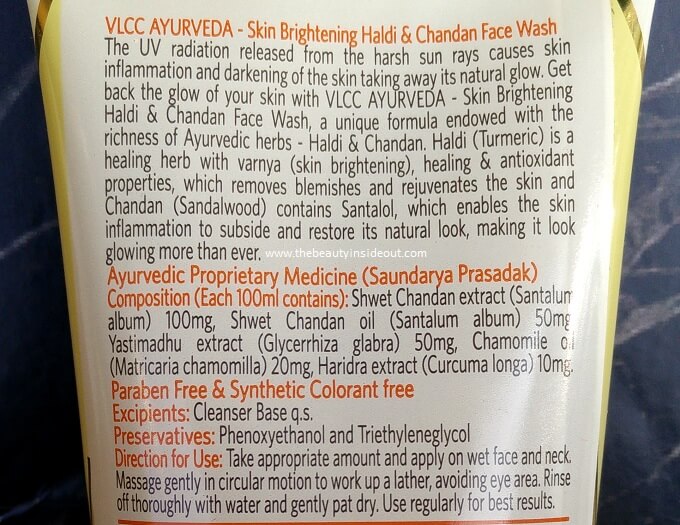 Packaging: This variant come in a pretty yellow colored tube with images of turmeric and sandalwood printed on it.
Color: The face wash is chrome yellow in color, just like how it appears from outside the tube.
Fragrance: The fragrance is a mix of sandalwood and saffron. The scent isn't too natural and it does have some fakeness to it. Although, it isn't a bothering scent.
Texture: It's a smooth, semi-thick gel.
Efficacy: This is supposed to be a de-tanning and skin brightening face wash. I didn't find this helpful in removing tan significantly, but every time I use this, my skin feels instantly brightened up and refreshed. Though the brightening effect is just temporary and does not last long, I liked using this face wash for it's amazing cleansing ability.
Rating: 4/5
2. VLCC Ayurveda Skin Purifying Double Power Double Neem Face Wash Review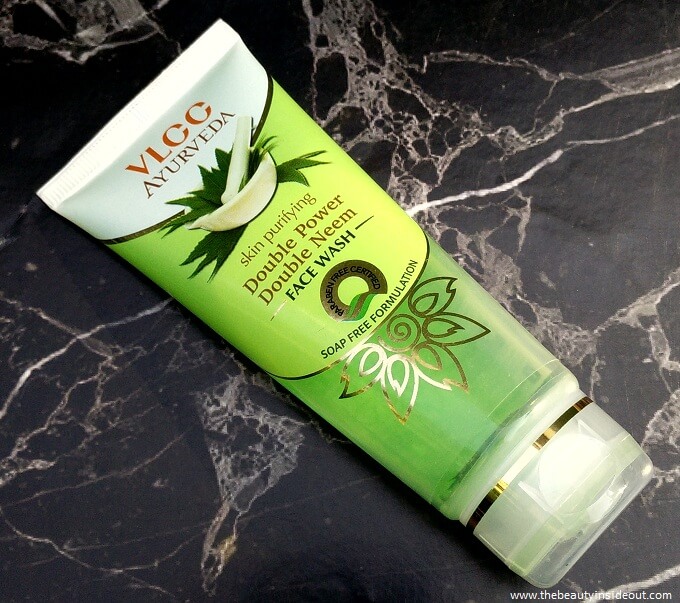 Product Claims & Ingredients: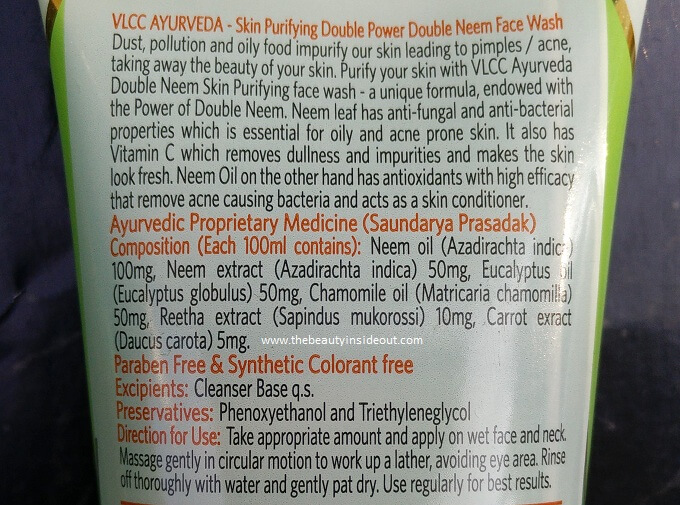 Packaging: This one is a green colored tube and has a bowl with Neem leaves printed on it.
Color: The face wash is light green in color.
Fragrance: This one has a cooling minty fragrance which is very refreshing.
Texture: The Double Power Double Neem Face Wash has a thick gel consistency almost similar to the Haldi & Chandan Face Wash
Efficacy: This is the only face wash in this range that gives a cooling sensation on the skin both during and after rinsing off the face wash. It wonderfully works to calm and soothe active acne. But it does not prevent occurrence of new breakouts. This face wash reminds me of the Himalaya Neem Purifying Face Wash which also treats acne but doesn't prevent them. Yet I found the VLCC one to be much better than the Himalaya in terms of performance. This is my most favourite among all the four.
Rating: 4.5/5
3.VLCC Ayurveda Natural Fairness Double Action Chandan & Kesar Face Wash Review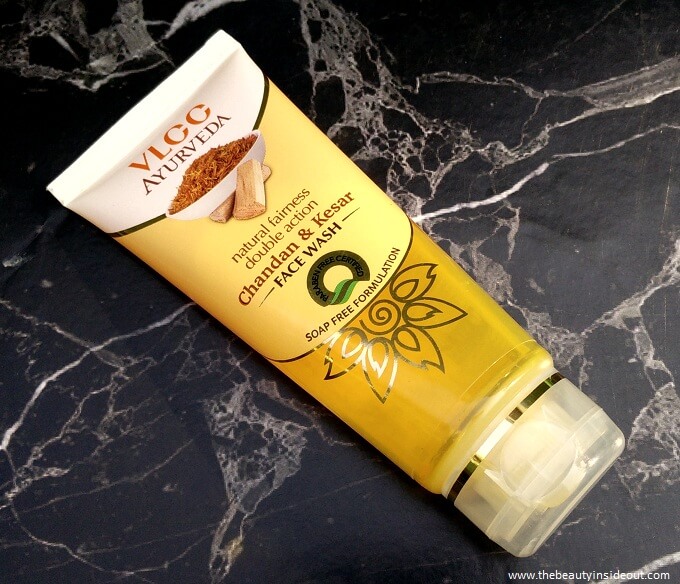 Product Claims & Ingredients: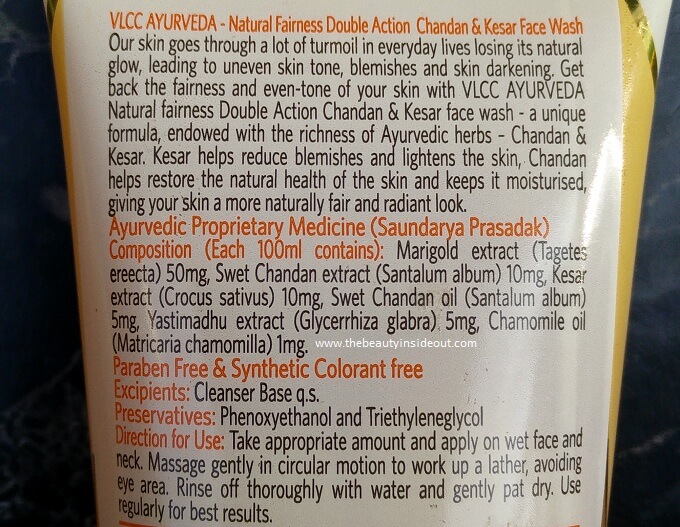 Packaging: This variant comes in a golden yellow-orange tube which has an image of kesar & sandalwood.
Color: This face wash is golden orange in color, almost similar to honey.
Fragrance: This one in particular has a strong bothering fragrance. It does give out a hint of Kesar and Chandan, however I did not like it's scent.
Texture: Smooth and Semi-thick exactly like the Double Neem and Haldi&Chandan Variant
Efficacy: So this face wash says it helps you to get back the fairness and even tone your skin! From my understanding, this face wash would help to get back your original skin color removing dullness from the skin. I found this face wash to be an average one, it cleanses and rinses well. It does remove dull texture of the skin imparting brightness to a certain extent. However, I prefer the Haldi & Chandan variant more than this due to its fragrance. This is my least favourite among the four.
Rating: 3.5/5
4. VLCC Ayurveda Deep Pore Cleansing & Brightening Haldi & Tulsi Face Wash Review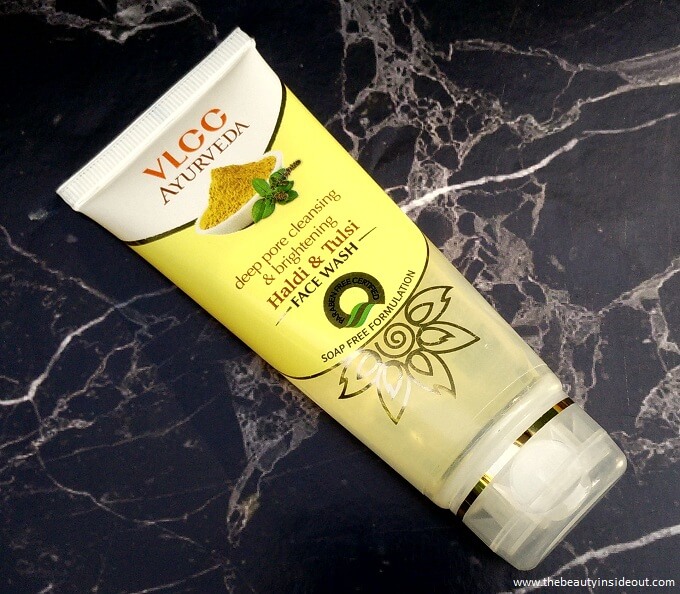 Product Claims & Ingredients: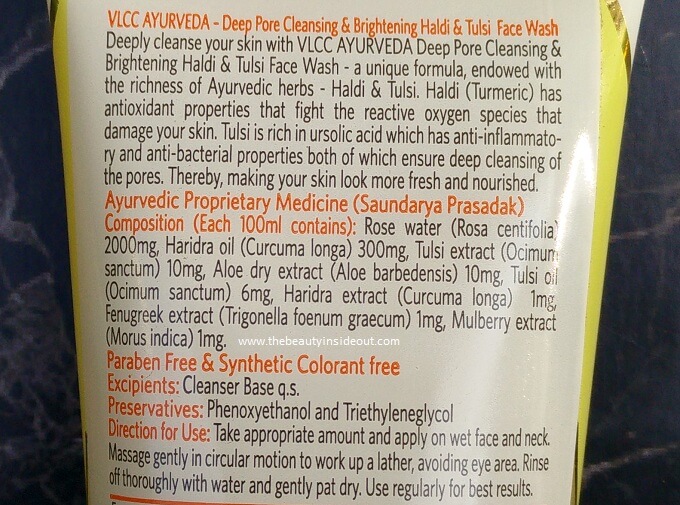 Packaging: This variant come in a pale yellow colored tube with a flip top cap.
Color: The face wash looks pale yellow from outside the tube, but it actually comes out transparent.
Fragrance: This has a prominent Tulsi fragrance with a hint of raw turmeric. It is a little stronger but definitely milder than the fragrance of Chandan & Kesar variant
Texture: This is the only face wash that had a runny consistency. I had to be very careful while pouring out the product as it can easily go overboard and lead to wastage.
Efficacy: This face wash deeply cleanses the pores and brings back the natural glow. I found this to be working more or less similar to the Haldi & Chandan face wash, giving a brightened face that lasts for a few hours. Since this cleanser contains Tulsi, it is apt for acne prone skin as Tulsi is a great anti-bacterial. Go for it if you prefer Tulsi and Haldi.
Rating: 4/5
Swatches of all 4 variants of VLCC Ayurveda Face Wash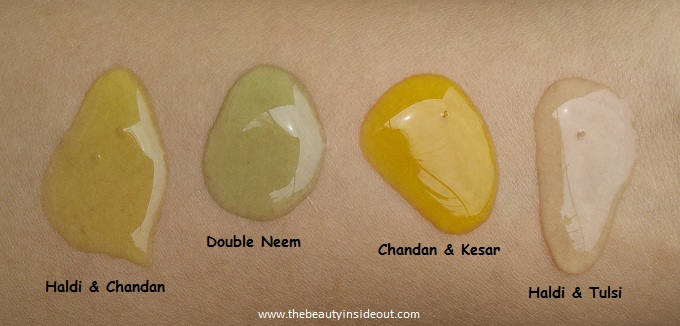 Pros:
Affordable price.
Smooth gel formula.
Lathers well & rinses off daily.
Excellent cleansing ability.
Gives instant brightness and smoothness.
No dryness or stretchy feel post cleansing.
Good oil control.
Suitable for all skin types.
Soap-free, paraben free, colorant free.
Not tested on animals.
Cons:
Compromised packaging makes it non-travel friendly.
Brightening effect doesn't last long.
Skin type suitability is not mentioned.
Not completely chemical free.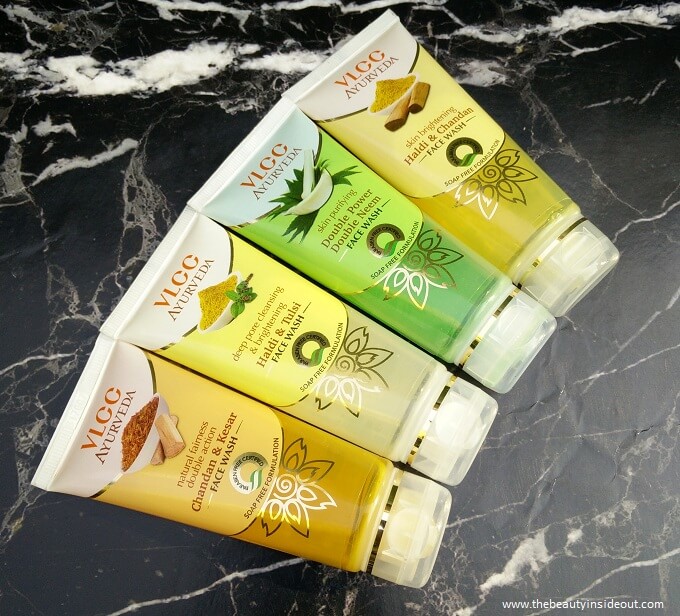 Overall, I found all the four variants to work more or less similarly. As a cleanser, they do an excellent job of cleansing, leaving the skin clean, clear imparting brightness and smoothness. Also, with its super affordable price tag, these are sure one of the nicest face washes available in the Indian market for those who are on budget. Though I ain't going to repurchase, I would recommend giving these a try especially the Neem and Haldi&Chandan variant.
I hope you found this review really helpful. Have you tried any of the VLCC Ayurveda Face Wash? Share your thoughts.
Also check out
Until Next Time,
Stay Beautiful♥