Whenever I see the word rice written on beauty or skin care products, I just pick them up. Why? Because using rice in your beauty regime is the Holy Grail secret of Korean beauty. Koreans use rice water, rice powder, boiled rice and everything that is derived from rice in their everyday skin care and even makeup. As a DIY enthusiast, I have myself tried using rice water on my face as a toner, and it surely worked always. I do swear by it! Now coming back to today's review, let's see how the Palladio Rice powder fared on my skin.
Product Description:
Rice Powder has been used for generations and is known for its oil-absorbing properties. Also known for its ability to help makeup last longer, Palladio Rice Powder leaves a silky finish on the skin.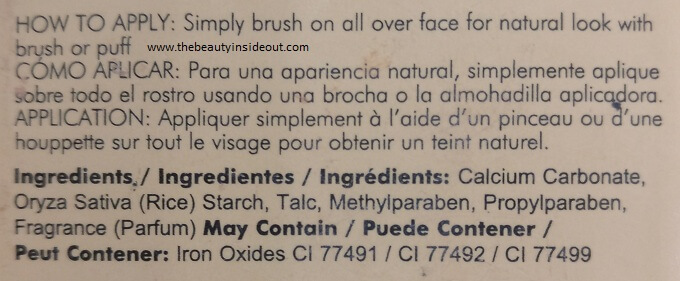 Shelf Life: 12 months from the date of manufacture.
Price: US $7 for 17 g. Available on Amazon.in
Shade Range: 3 shades mentioned below from lightest to darkest:
RP02 translucent
RP03 natural
RP08 beige
My take on Palladio Rice Powder in the shade 'Natural':
Packaging: Its no different than any other loose powders. It comes in a plastic box packaging with the product in the box layered over by a perforated lid which has a sponge/puff on top of it. This is further secured by a lid on top of it which is quiet loose. It doesn't come with a screwable lid, so you simply have to lift it to open and put it back on to close. I did not like the packaging for the fact is it's not at all travel friendly. The sponge/puff given along with it is absolutely useless. It doesn't have any softness to it. Once it picks up the product, it sticks on to it and doesn't apply on to your face at all. So, ultimately you have to switch to your powder brush for rescue. I have tried using the sponge several times, but it always failed. Even the perforated lid on top is not tight enough and if in case your packaging drops from your hand, your powder will fall out everywhere and you can't get anything back, so be careful with handling this little baby, it can get you into a lot of mess literally!!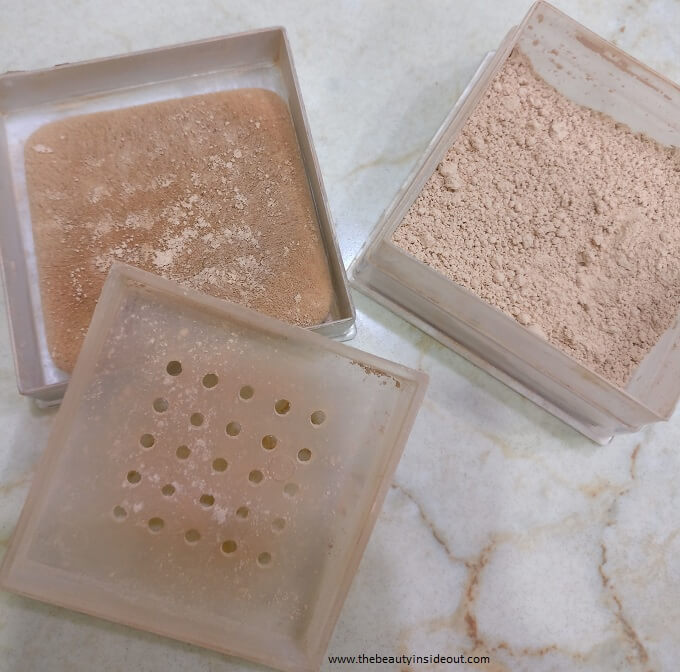 Texture: I loved the texture of this powder. It is very finely milled and is extremely soft and buttery in texture. It doesn't feel heavy at all on the skin. But I found the blending part to be a little difficult as it sets very quickly.
Application: I generally remove all lids and dip in my powder brush slightly into the box to pick up the product. Since this powder gets picked up in excess, I tend to tap off the excess on my left hand palm, so that for the next use I don't have to dip in the brush again in the box. I just pick it up from my palm using the brush. Little bit of saving never harms right! I pack the product on my face in a swiping motion and lay more focus on my under eye area. It sits there nicely!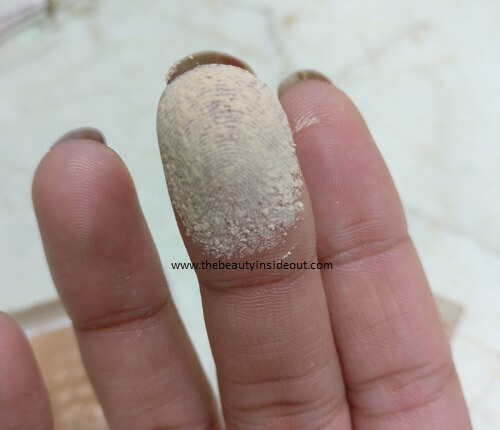 Coverage: I would say it's a medium coverage powder since it hides under eye dark circles to an extent. It also covers acne blemishes very naturally, unlike concealers. The coverage looks natural and those with flawless skin are sure going to love the look it gives. This is a mattifying powder and it literally sucks out excess oil your skin produces, giving a fresh looking skin. This particular shade which I have is yellow toned, so one has to be careful in application, as you might end up giving some extra color to your makeup.
Staying power: If used with a light hand, it gives a mild coverage and your makeup will stay in place for good 6 hours without producing excess sebum on your face.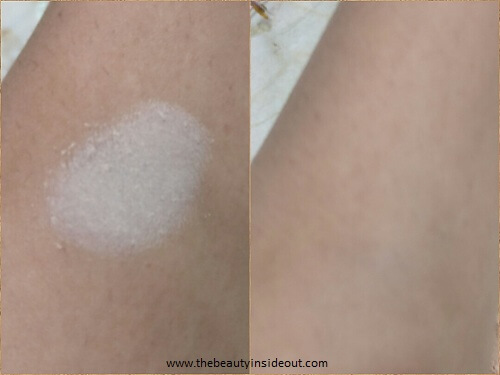 Pros:
Soft, smooth buttery texture.
Lightweight on the skin.
Medium coverage.
Conceals dark circles and acne marks significantly.
Stays on for more than 6 hours.
Doesn't settle a lot into your fine lines
Cruelty-free.
Cons:
Poor Packaging makes it not travel-friendly.
Usage of loose powders can be quite messy.
Powdered finish makes you look cakey at times.
Difficult to blend as it sets quickly.
Not paraben free.
Rating: 3/5
Recommendation: No. Nowadays you can easily get loose powders that are better in quality and packaging than this.
That was all about it. Have you tried the Palladio Rice Powder? Share your thoughts.
Also check out
Until Next Time,
Stay Beautiful♥
Guest Author: Gunika