Bioderma is one of the reputed pharmaceutical brands that's recommended by dermatologists. I have gone to 3 dermatologists in my whole life and all of them prescribed at least one of the Bioderma products. Their products are fuss-free, great for sensitized skin, and don't cause breakouts. It's very popular worldwide and comes in an affordable price range for the quantity they offer. After getting my skin barrier broken by The Ordinary Peeling Solution, my dermatologist prescribed Bioderma Atoderm Intensive Baume and told me to get rid of any other chemical exfoliators in the routine. So I've been following a very minimal skincare routine for the past 003 months. I believe I certainly reached a point where I can say if I am in love with this product or not! So if you want to know my opinion on this popular product please keep reading.
Product Description:
Bioderma Atoderm Intensive Baume is one hydrating- revitalizing – improving balm for your skin that gives smoothness and refreshment without any irritation. It is used for relieving itching and irritations rapidly. The product is multipurpose and can be used on face as well as the entire body.
Bioderma Atoderm Intensive Baume Ingredients:

How to use it?
On clean skin, after cleansing your skin, on slightly damp skin.
Take a pea-sized of the product and gently massage it until absorbed.
Can be layered for extra sensitive areas to soothe irritated skin.
Bioderma Atoderm Intensive Baume Review
Packaging: The Bioderma Baume comes in a white plastic tube where you have to squeeze out the product. The packaging is nice and sturdy and looks minimalistic. As it comes in different sizes you can buy the product in small tube form if you are traveling or if you just want to first try out the product. I love the idea of different sizing and I wish major brands would do it more and more for us consumers.
Texture: This Bioderma Baume does have a thick creamy texture that is easily spreadable. Even with a thick texture the product surprisingly sinks into the skin without effort. It is very lightweight to the touch and feels.
Fragrance: This is a fragrance-free product. I didn't find any major smell when using so it's safe to say people with major sensitive skin can easily use this.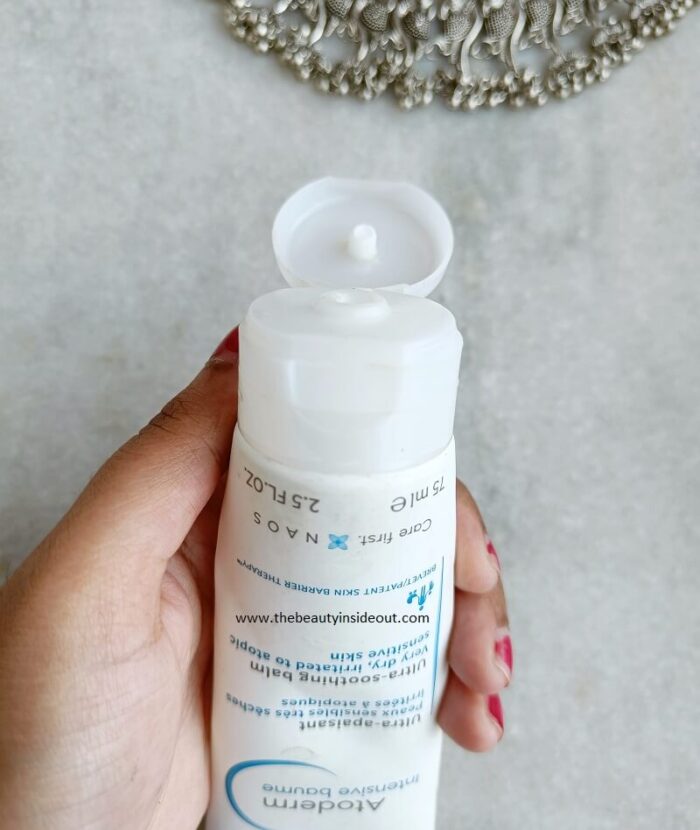 My Experience:
Bioderma Atodedm Intensive Baume is the moisturizer I am going to use for a very long time. If the Cetaphil DAM was my first love then this Bioderma Baume would be my soulmate which I am going to marry in the future. I mean what's not to like in it? It's a great moisturizer with ceramide and amino acids, great for broken skin and moisture barriers, and gives the nicest glow you will ever think of.
On my recent trip to Kashmir, I used to lather this on my damp skin and didn't have any problem with dryness and dehydration (I have chronic dry skin). This is a moisturizer my dermatologist said I can use for a lifetime if I want to.
The product is great if you are going for Retinol Serums or Acne Treatment Products as it gives your skin that extra nourishment it needs at those times. In humid summer I didn't face any problems but my best friend with oily skin said it made her skin very sweaty and dull (there was no breakout though). Which to think off, can happen as the moisturizer is very thick and loaded with humectants and emollient. Even for my dry skin I only needed a little more than usual as it creates a protective barrier/ film which some people may or may not be fond of.
The Bioderma Atoderm Intensive Baume is not for oily skin as it is indeed heavily moisturizing. It is suitable for the face, but only for those with dry skin. The Bioderma Baume is gentle even for a baby's delicate skin due to its rich soothing ingredients. There are no side effects of using the Baume, except that it may cause acne on severe acne-prone skin. Overall, it's an absolute must-have for sensitive skin folks.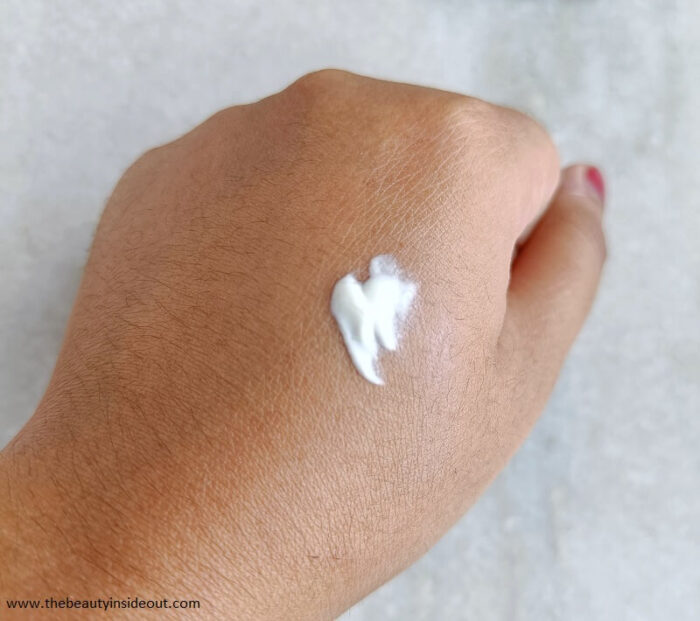 Pros:
Great for a Broken Moisture barrier.
Have ceramides and amino acids in it.
Very much sensitive skin and dry skin friendly.
Very lightweight despite giving a full-on moisturizing effect.
Sinks into the skin with little to no effort.
Comes in different sizes for your needs.
Little goes a long way.
One of the recommended products from dermatologists.
Doesn't have any fragrances.
Cons:
It can be a little oily for oily acne-prone skin.
The product is a little expensive as it's only a moisturizer.
Rating: 4.8/5
Would I recommend it? Yes, I 100% recommend it. It's a great product for those with damaged skin barriers and sensitive skin types.
What do you think of the Bioderma Baume? Have you tried it?