In this post, I'm going to review the newly launched Pantene Bamboo Shampoo. It claims to be formulated with Bamboo Extract that is known to strengthen hair follicles and reduce hair fall. I love the Pantene Lively Clean Shampoo as a clarifying shampoo and I had good hopes for this shampoo. Read on to know my experience with it.
Product Description:
To reduce hair fall, hair needs to be not just strong but flexible, just like Bamboo. Pantene Bamboo Shampoo with Pro Vitamin Formula is enriched with Bamboo Extract to give your hair strength and flexibility for reduced hair fall.
Pantene Bamboo Shampoo Ingredients: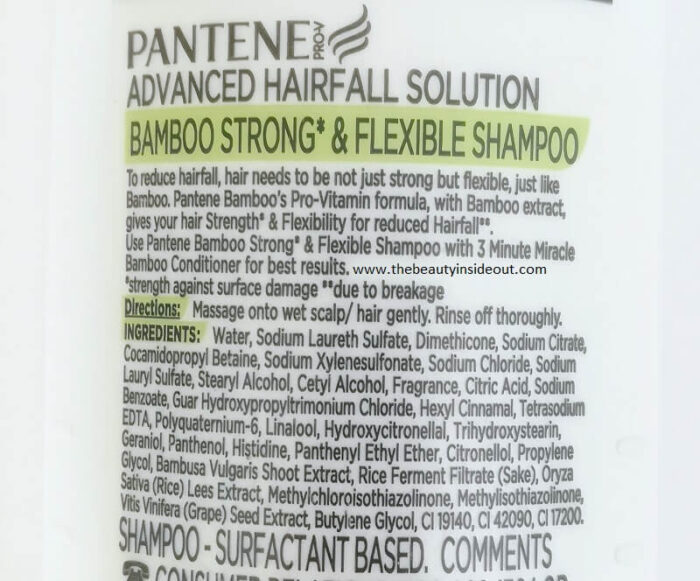 How to use it?
Use on wet scalp and massage it gently.
Rinse it off with water thoroughly.
Use it along with 3 minute Miracle Bamboo Conditioner for best results.
Pantene Bamboo Shampoo Review
Packaging: The shampoo comes in the signature Pantene bottle with the usual tall and sleek design. Pertinent to the USP of the shampoo, which is Bamboo, the printing, nozzle and the shampoo itself is made in green color. The bottle has a flip cap that works perfectly. I didn't face any issues with the packaging. It's convenient, easy to use and easily portable. Like always, the entire Ingredient list is mentioned at the back of the bottle, along with the manufacturing date, expiry date, etc.
Color & Texture: Like I said earlier, it is a green colored shampoo. I believe it is solely added for the aesthetics. It's definitely not from the ingredients used, but added color. It's 2022 already and I think it's unnecessary to still add colors.
Fragrance: The fragrance of the Pantene Bamboo Shampoo is somewhat peculiar. It has a mild pleasant scent to it. Upon lathering it becomes more intense. But the shampoo scent doesn't linger much on my hair after washing. Overall, it's a pretty average scent. Nothing over the top to woo me.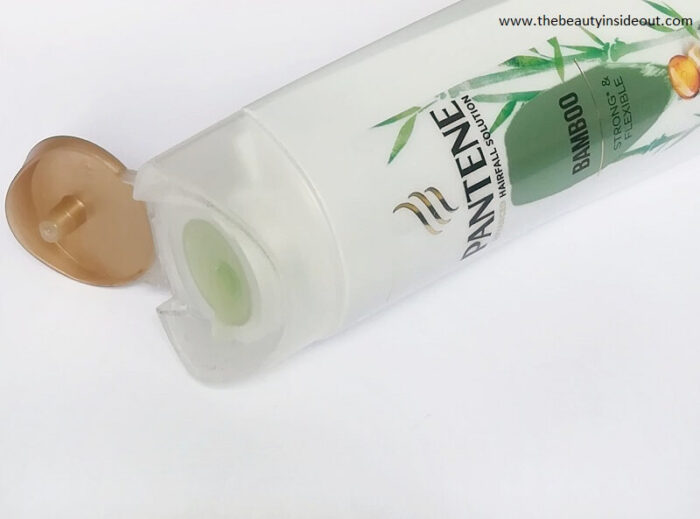 My Experience:
I've been using the Pantene Bamboo Shampoo for more than a month now. I have straight, mid length, fine hair with oily scalp and dry ends. My haircare routine is basic. I wash my hair once or twice a week and use few drops of oil throughout the week to keep baby flyaway hair in place.
Using the shampoo is easy. The bamboo shampoo is Sulphate Based. Hence it lathers really well. I use a coin sized amount of the shampoo and dilute it with water. And I use the diluted mix on my scalp. The rich foam it produces gives a nice cleansing action. Rinsing it off is easy as well. It doesn't leave any residue behind. I let my hair air dry after washing.
The shampoo leaves my scalp clean and clears off impurities, oil and grime thoroughly. My hair lengths are left soft and look volumized to a great extent. I've used the shampoo both with and without a conditioner. Without a conditioner, my ends feels a bit dry. So I'd suggest using a conditioner with this shampoo, especially if you have thick, wavy and curly hair.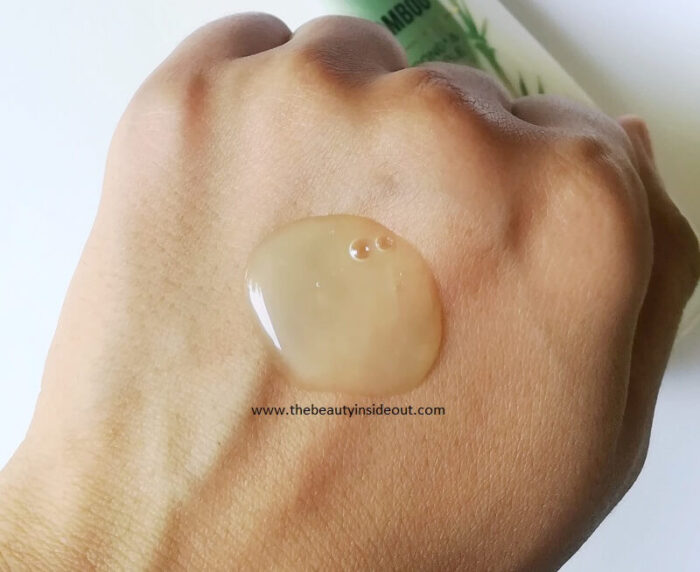 I have constant hair fall problem. This shampoo doesn't help much with it. I did notice quite a lot of hair strands while washing and drying. It doesn't strengthen or make it flexible as claimed (if you're wondering).
Honestly I don't expect a shampoo to arrest hairfall but atleast I don't want them to cause me more hairfall. And this shampoo slightly falls in the latter category. I bought this to use this alternatively with my anti dandruff shampoo. I guess I'll have to search for another shampoo for hairfall.
Overall, it's an average Pantene shampoo. It's very similar to most commerical shampoos with similar base ingredients used (atleast the ones available here). In the US, Pantene has a Bamboo Shampoo that is Silicone Free. The ingredient list is a bit different from the ones available here.
Pros:
Drugstore shampoo with an affordable price tag.
Produces rich foam.
Cleanses the scalp thoroughly.
Adds volume to the hair.
Cons:
Doesn't strengthen hair or help with hair fall.
Can dry out the ends.
Rating: 3/5
Would I recommend it? No, you can easily pass off this Bamboo Shampoo. It's an average shampoo with average performance.
What do you think of this shampoo? Have you tried it?