Dandruff is such a tormenting hair problem, next to hair fall. At least 90% of us would have encountered dandruff in our life. Dandruff as such doesn't pose a serious issue but when it's associated with irritations & itchiness along with induced hair fall, it becomes necessary to treat your dandruff-filled scalp. It can occur on any hair and scalp type, be it dry or oily. Dandruff is a fungal infection of the scalp, usually identified as the white oily flakes that are present on your scalp. Usually, it can be treated with shampoos if it is mild to moderate. This post will feature the Best Medicated Anti Dandruff Shampoos Recommended By Dermatologists in India. We also curated the list of best shampoos for hair fall that's recommended by dermatologists recently.
Editor's Top Picks:
Most loved. 2% Ketoconazole & 1% Zinc Pyrithone helps with both dandruff and hair fall.
2.5% Selenium Sulfide eradicates stubborn dandruff. Dermatologists Recommended.
My personal favorite. Works excellently to remove dandruff without drying out the scalp.
What causes Dandruff?
Oily scalp: The excessive oils and dead skin cells on the scalp combine to form oily white flakes. This happens when you don't shampoo your scalp properly or enough and leave your scalp oily for more periods of time.
If you make a purchase through the links on our site, as an amazon associate, we earn from qualifying purchases at no extra cost to you.
Dry scalp: This is exactly the opposite of the above. In this case, the white flakes occur due to a dry scalp when the scalp is not balanced. Dry air and weather conditions is a common factor for this type of flake.
Product Build-Up: The usage of hair products like hair serums, and hair styling products can lead to product build-up and cause dandruff.
Other Skin conditions: Dandruff can be associated with skin conditions like Eczema and dermatitis and lead to more fungal growth than is normal.
Powerful Ingredients To Tackle Dandruff:
For mild to moderate dandruff, using a good Medicated Anti Dandruff Shampoo will do the needful. Dermatologists Prescribed Dandruff Shampoos usually have the following ingredients to tackle dandruff.
1. Ketoconazole
Hands down, this is the best ingredient to fight off dandruff. Ketoconazole is an antifungal medication that kills fungus. It is also known to reduce dandruff-associated conditions such as itching, scaling, flaking, and dry skin. Ketoconazole has the ability to not only eradicate the root cause of dandruff, it also help with hair fall problems as well.
2. Selenium Sulfide
Selenium Sulfide is yet another anti-fungal and anti-infective ingredient that is as effective as Ketoconazole in eradicating dandruff. It is a sulfur-derived compound and that is why some Selenium Sulfide Shampoos don't smell good. They can emit a raw pungent smell. Nevertheless, it is a highly effective ingredient to treat dandruff, tinea versicolor, and seborrhea dermatitis.
3. Pyrithione Zinc
Pyrithione zinc is an anti-fungal, anti-bacterial, and anti-microbial ingredient that helps to relieve dandruff. This is more gentle than Ketoconazole and Selenium Sulfide. This is an ingredient that is often found in conventional Anti Dandruff Shampoos such as Head and shoulders. Pyrithione Zinc helps with mild to moderate dandruff issues and is excellent for treating Malassezia fungi.
4. Salicylic Acid
Salicylic Acid is a chemical exfoliator that removes dead skin cells from the top layer of the skin. It is not only an excellent ingredient for acne, but its kerotoplastic nature helps to remove dandruff flakes on the scaly scalps. This is highly effective for those with scalp acne, bumps, and oily scalp to remove build-up. While there may not be many Salicylic Acid Anti Dandruff Shampoo in India, there are tons of Salicylic Acid Face Washes in India, that you can use for your scalp safely.
5. Coal Tar
Medicated Anti Dandruff Shampoos with Coal Tar should be used only at dermatologists' recommendations following precautions. Coal Tar has anti-inflammatory properties and is used in the treatment of itchy dandruff, psoriasis, and seborrheic dermatitis. But it can make your scalp photosensitive and can make your scalp burn upon contact with sunlight after usage. So strictly use it after consulting your doctor.
These are some of the ingredients that you need to look for in any medicated shampoo for dandruff. The following is the list of Best Medicated Anti Dandruff Shampoos Recommended by Dermatologists. They are mostly available without a prescription but we always recommend getting consulted with a dermatologist before getting a Medicated product.
How to use Medicated Anti Dandruff Shampoos?
Medicated Anti Dandruff Shampoos are to be used sparingly.
Twice a week for severe dandruff & once a week for mild to moderate dandruff.
You can alternate with your regular shampoo.
You should stop using them when your dandruff condition improves and shouldn't commit to using them lifelong, obviously because they are sort of treatment products.
It is best to use it under the guidance of a dermatologist.
10 Best Medicated Anti-Dandruff Shampoos in India
1. Keraglo AD

Ketoconazole Shampoo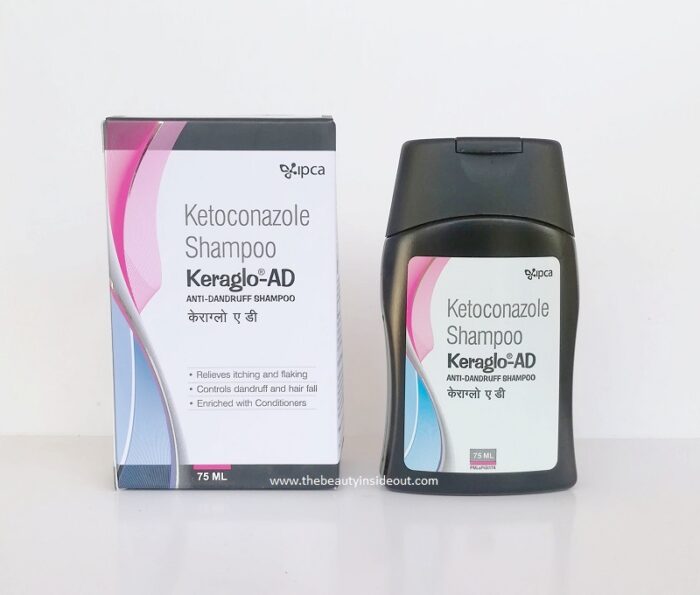 Keraglo AD from IPCA is one of the Best Ketoconazole shampoos in India. It is enriched with amazing dandruff-fighting ingredients to treat dandruff and Seborrheic Dermatitis. What makes it different from other dandruff shampoos is that it is not at all drying and you are not left with straw-like dry hair. That's because Keraglo is enriched with added conditioners that leave your hair soft and manageable while removing dandruff superbly. Read Full Review: Keraglo AD Shampoo
Pros:
Contains 2% Ketoconazole, which controls fungal growth.
Has Ichthyol Pale which is an anti-inflammatory, anti-itching, anti-seborrheic, and anti-microbial agent.
Along with D-Panthenol and Aloe Vera which leaves the hair moisturized and nourished.
Relieves from Dandruff and Itchiness.
One of the Best Ketoconazole Shampoo in India
Cons:
None
Price*: ₹350 for 75ml
Where to buy it? Amazon.in
*price at the time of publishing
2. Selsun Daily Anti-Dandruff
Shampoo for Dry Scalp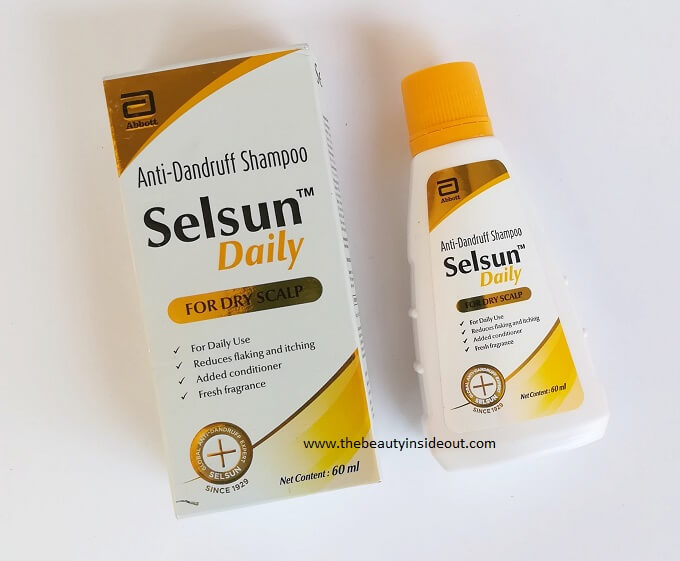 Selsun Daily Shampoo is formulated with 1% of Selenium Sulphide which is good for mild to moderate dandruff. It relieves itching and dandruff flakes significantly in the first use itself. The shampoo is free of sulfates and parabens and hence does not lather much. But that doesn't hinder its performance. People suffering from mild dandruff shampoo problems should benefit from this scalp. We recommend this for oily scalp people. This is a milder form of the original Selsun Suspension. Read Full Review: Selsun Daily Shampoo
Pros:
Sulphate and Paraben Free Shampoo
Fresh Fragrance.
pH Balanced Formula.
Daily use shampoo that has anti-dandruff benefits.
Has added conditioner hence does not dry out the hair.
Best for dry scalp.
Reduces itching and flaking
Cons:
May not suit sensitive scalp.
Price*: ₹344 for 120ml
Where to buy it? Amazon.in
*price at the time of publishing
3. Salisia KT Anti Dandruff Shampoo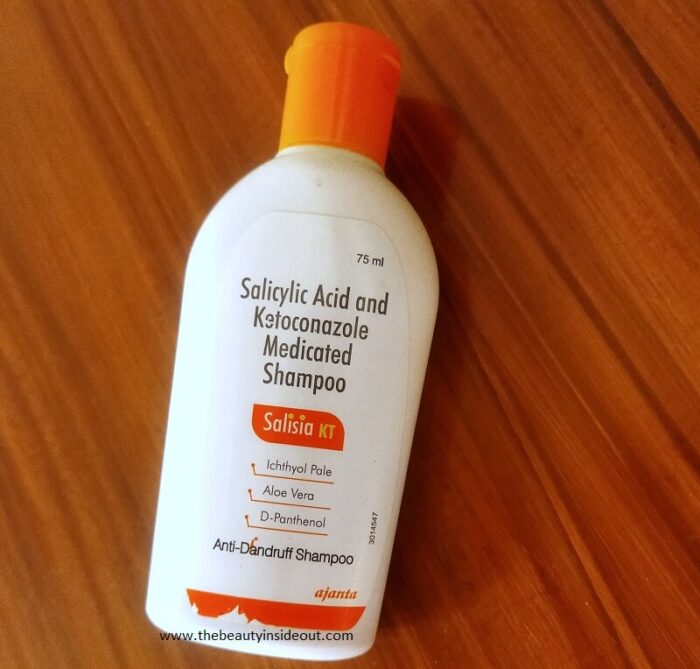 Salisia KT is a Salicylic Acid and Ketoconazole Medicated Shampoo in India. Manufactured by Ajanta Pharma Ltd, this anti-dandruff shampoo is recommended by dermatologists for severe recurrent dandruff. The shampoo is used in the treatment of scaly skin, flaking, and itching caused by fungal infections. Read Full Review: Salisia KT Shampoo
Pros:
Contains Ketoconazole 2%, an antifungal that stops the growth of dandruff-causing fungi.
Contains Salicylic Acid 2%, a keratolytic medicine that breaks down skin clumps on the scalp.
Further enriched with D-Panthenol, Aloe Vera, and Ichthyol Pale.
Treats Dandruff and Seborrheic dermatitis of the scalp.
Relieves itching and flaking associated with dandruff.
Best used 2-3 times a week.
Cons:
Can dry out the hair.
Price*: ₹350 for 75ml
Where to buy it? Amazon.in
*price at the time of publishing
4. Scalpe Plus Expert Anti-Dandruff Shampoo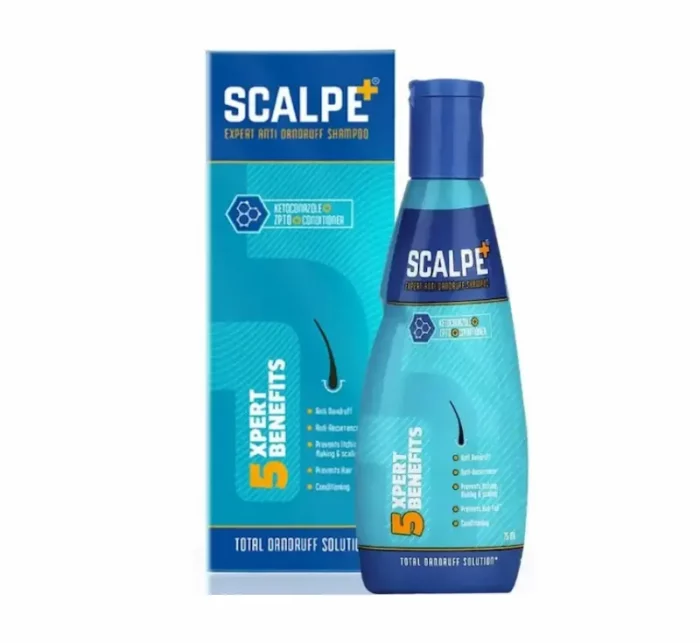 This is one of the Best Medicated Anti anti-dandruff shampoos that's been recommended by dermatologists for more than two decades. Scalpe Plus Expert is from the well-known Pharma Brand, Glenmark Pharmaceuticals, so you don't have to worry about its quality. This shampoo clears out dandruff in just two washes and treats yeast & fungal infections on the scalp. Not only that, but this shampoo also helps in reducing hair loss.
Pros:
Contains both Ketoconazole (2%) and Zinc Pyrithione (1%).
Pleasant Fragrance.
Gives a conditioning effect leaving hair soft & shiny.
Not only reduces dandruff but also prevents hair fall.
Recommended by many Dermatologists.
Suitable for color-treated hair.
Cons:
Does not foam much, so some might not like it. But that is why this isn't drying.
Price*: ₹399 for 75ml
Where to buy? Amazon.in
*price at the time of publishing
5. Selsun Suspension Anti Dandruff Shampoo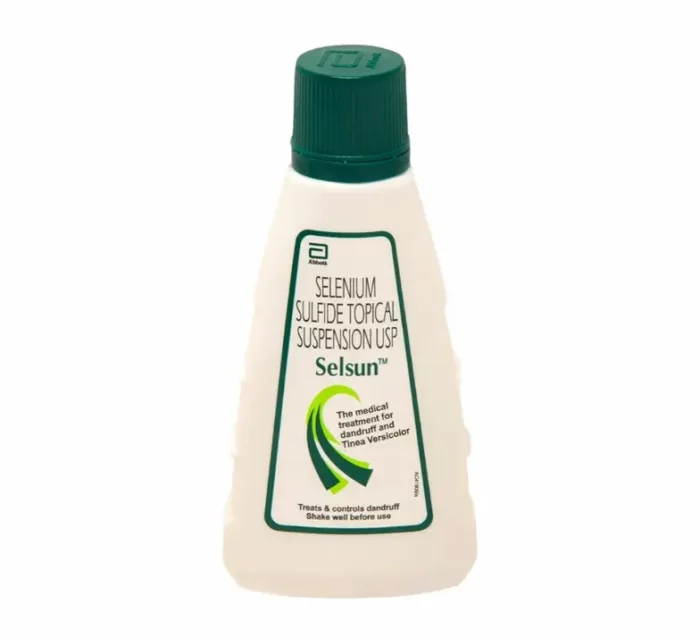 Selsun Suspension Anti Dandruff Shampoo comes from the house of Abbott which is one of the most trusted pharmaceutical companies. It is a medicated anti-dandruff shampoo that contains a strong formulation with 2.5% Selenium Sulfide, hence best used upon consultation. It is used in the treatment of Tinea Versicolor, Recurrent Dandruff, and Seborrhea. This works super quickly in a couple of washes, hence loved by many.
Pros:
Has a dual-action formula that targets fungi causing dandruff.
Effectively treats and controls dandruff from coming back.
Clears away the build-up of dead skin cells.
Comes in an unscented and scented version.
Best to be used twice weekly for two weeks and then only when necessary.
Provides relief from itching and flaking caused by dandruff.
Cons:
Not for sensitive scalps.
Price*: ₹344 for 120ml
Where to buy? Amazon.in
*price at the time of publishing
6. Cipla 8x Shampoo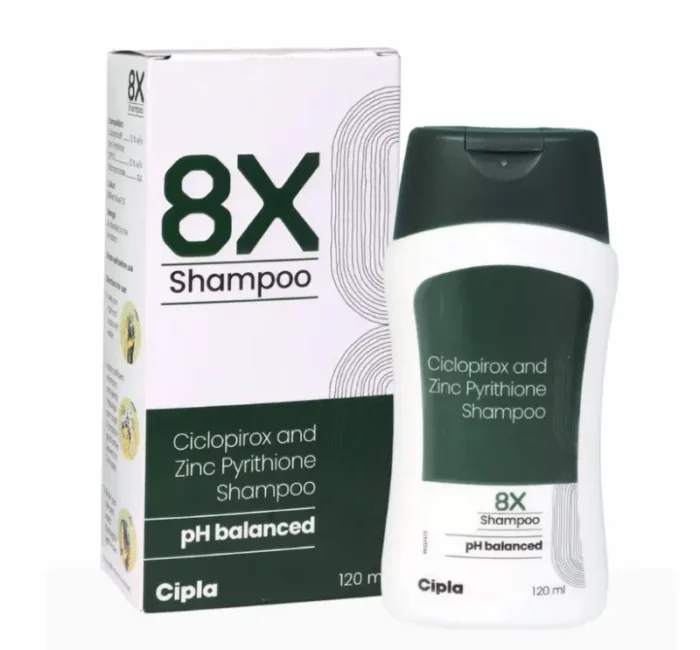 I have had a good experience with most Cipla products. Cipla is a trusted pharmaceutical brand that has some nice skincare and haircare products too. This Anti Dandruff shampoo is specifically formulated for itchy and scaly dandruff. It treats fungal and yeast infections of the scalp. It calms inflammation and is great for those with scalp pimples.
Pros:
Contains Ciclopirox (1%) and Zinc Pyrithione (1%) both of which are anti-fungal, along with aloe vera to condition.
Best suited for those with a very oily scalp.
Efficiently clears dandruff in a few uses.
Effective for seborrheic dermatitis.
pH-balanced formula.
Cons:
It can be a bit drying, but a good conditioner can take care of it.
Price*: ₹379 for 120g
Where to buy? Amazon.in
*price at the time of publishing
7. Scalpe Pro Anti Dandruff Shampoo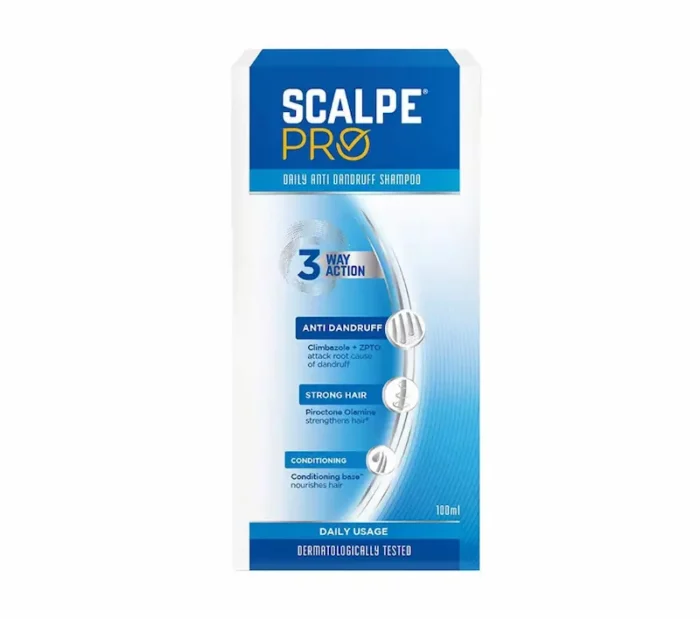 Don't get confused with the other Scalpe Shampoo. This Scalpe Pro is very different from the popular Scalpe Plus Shampoo. The formulation of Scalpe Pro contains Piroctone Olamine, ZPTO, and Climbazole while Scalpe Plus is a Ketoconazole Based Shampoo. Either way, both are effective for dandruff. Scalpe Pro is mild and less efficient so it works great for mild dandruff and as a dandruff maintenance shampoo. Scalpe Pro has conditioning agents that do not dry out the scalp and hair.
Pros:
Contains Climbazole, which biologically eliminates dandruff at the source.
Has ZPTO to prevent dandruff-causing microbes at the root.
Contains Piroctone Olamine which is known to improve hair shaft thickness
Has a nourishing base that ensures no dryness making it the ideal choice for daily dandruff care.
Cons:
Takes a couple of washes to show results.
Price*: ₹146 for 100ml
Where to buy? Amazon.in
*price at the time of publishing
8. Neutrogena T/Gel Daily Control 2 in 1 Anti Dandruff Shampoo Plus Conditioner
Neutrogena is a popular drugstore brand that I love. Their products are great and so is this shampoo. The Neutrogena T/Gel Therapeutic Shampoos are available in different variants: Original Version with Coal Tar Extract(For Long-Lasting Relief), Extra Strength (Redness and Intense Itching and Flaking), Stubborn Itch (Soothes stubborn itch with cooling menthol) and Scalp Build-Up Control (clears & prevents scalp Build up)
Among these, the Neutrogena T/Gel Daily Control Shampoo is more suitable for everyday use. It is a gentle shampoo & conditioner combo that cleanses the scalp, relieves dandruff and leaves your hair soft and manageable in a single step.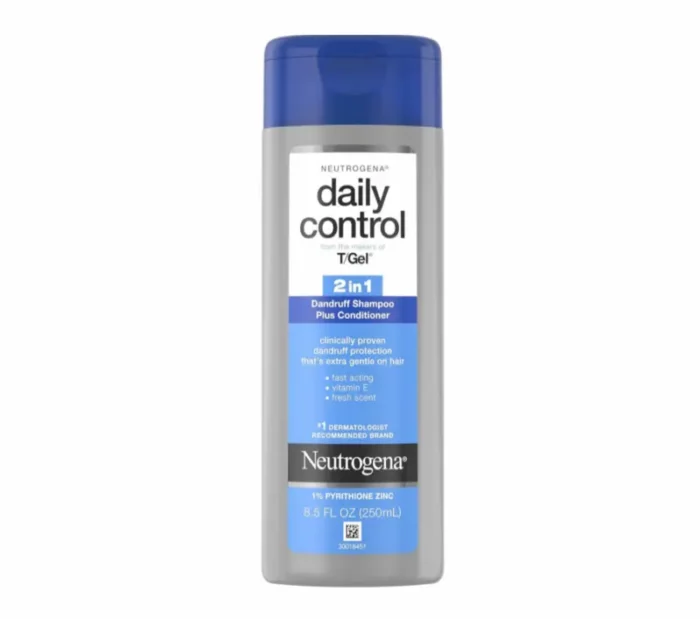 Pros:
Contains 1% Pyrithione Zinc to help relieve itching and flaking of the scalp
Enriched with Vitamin E to moisturize your hair and scalp.
Has Wheat proteins to help nourish and protect against damage.
Fast Acting Relief for Scalp Itching and Flaking.
Safe For Color-Treated Hair.
Cons:
Not easily available.
Not budget friendly since it's imported.
Price*: ₹1999 for 250ml
*price at the time of publishing
9. Head and Shoulders Anti-Dandruff Shampoo
Lastly, we have our classic cult favorite Head and Shoulders Anti Dandruff Shampoo. It is one of the best and most affordable Anti-Dandruff Shampoos in India. It's easily available in stores and we also have a lot of variants to choose from. The Classic Clean version has 1% Zinc Pyrithione to fight off dandruff.
Pros:
Removes dandruff from the first usage.
Does not dry out hair, but rather makes it soft and smooth.
Budget-friendly.
Easily Available offline and in stores.
Cons:
None
Price*: ₹450 for 650ml
*price at the time of publishing
10. Nizoral Anti Dandruff Shampoo
This is one of the internationally popular dandruff shampoos. People love this shampoo because it shows results from the first day of use. It removes even the most stubborn dandruff. If the conventional Anti Dandruff Shampoos have failed you, this will save you. Works for even severe dandruff. This is one of the Best Ketoconazole shampoos for Dandruff and Itchy Scalp.
Pros:
Contains 1% Ketoconazole.
Thick rich lather cleans the scalp well.
Smells nice with no medicinal scent.
Reduces flaking, scaling, and itching.
Fight off dandruff outbreaks.
Cons:
You need to always use a conditioner with this shampoo as it might leave your hair dry.
Not easily available.
Where to buy it? Chemists or Medical shops
These are the most recommended Best Medicated Anti Dandruff Shampoos in India. Do let us know your favorites in the comments section below.