When my scalp began to itch and I noticed that my scalp was flaky, I decided to visit the closest pharmacy and ask for a dandruff shampoo with ketoconazole. The pharmacist gave me this tiny bottle of Salisia KT, which is a Salicylic Acid and Ketoconazole Medicated Shampoo. And I can safely say that that was a fantastic decision! In this post, I'll be giving the Salisia KT Anti-Dandruff Shampoo a review and talking about my personal experience using it. However, if you want to get straight to the point, scroll down to see its pros and cons.
About Salisia KT Salicylic Acid and Ketoconazole Medicated Shampoo
Salisia KT Shampoo is an anti-dandruff shampoo with a medicated formula. It is also advised for the treatment of seborrheic dermatitis.
Its major components are Ketoconazole and Salicylic acid.
The antifungal, ketoconazole inhibits the growth of the fungi that cause dandruff.
Salicylic acid, on the other hand, exfoliates your scalp, reduces itchiness, and reduces flaking by breaking down skin clumps, leaving you with a clean scalp.
Ingredients: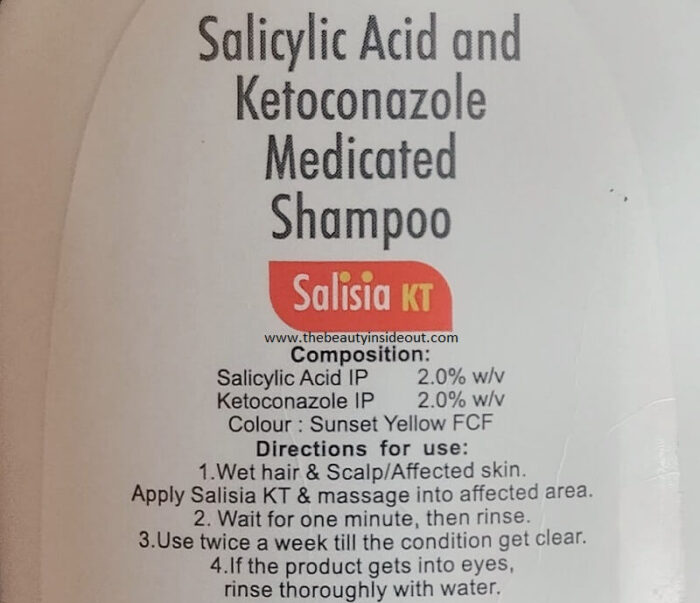 The complete ingredients list isn't available anywhere.
How to use Salicylic Acid and Ketoconazole Medicated Shampoo?
As per directions for usage on the bottle,
Wet hair and scalp/affected area. Apply Salisia KT and massage into the affected area.
Wait for one minute, then rinse.
Use twice a week till the condition gets clear
If the product gets into the eyes, rinse thoroughly with water.
But how do I use it?
In order to ensure that my scalp is at least somewhat clean before applying this, I shampoo with regular shampoo first and then rinse.
Next, Add some water to dilute the shampoo
Apply it on the scalp
Make a good foam.
Massage it for a bit
Let it sit for about 5 mins
Rinse it off.
Pro tip: After washing your hair, remember to wash your face with a cleanser. To be certain there isn't any residual material left as that might be problematic later.
Salisia KT Shampoo Review
Packaging: All the information is listed on the box it arrives in. I can't display the photo since I tossed away the outer box.
The shampoo comes in a robust 75 ml bottle, which has a very lovely orange lid. The bottle has a simple design.
Texture: I simply love the color of it. It has a beautiful translucent hue that reminds one of sunsets. When diluted, it takes on a yellowish-orange color.
Because the liquid is runny, just a small amount is required for each use (when diluting with water). Also, it foams quite well.
Fragrance: I'm not sure how to really describe the smell, which is somewhat similar to those whiteboard markers but nicer. Although it isn't overbearing at all, it lingers even after washing.
My Experience:
I noticed less irritation after the first wash, and when I used it again the same week, all the white stuff in my head vanished! I also observed a really clean scalp, and I believe I now have another favorite shampoo in addition to the Selsun Anti-Dandruff Shampoo.
And given that it removes build-ups, I continue using it. This shampoo is like a preventative measure for me. Having a lot of build-ups could lead to hair loss and dandruff-related conditions. Also, my forehead develops comedones if my scalp is oily for a prolonged period of time. So, essentially to maintain a clean and healthy scalp, I use this once a week.
I don't have any significant scalp or hair problems, so I can't say if this shampoo will help with such issues. But it most certainly helps with dandruff and itchiness.
I think it's a touch drying, but that could be due to the weather, I won't blame the shampoo for that. It could also be due to the 2% Ketoconazole and Salicylic Acid, but I'm not really bothered by that. It works really well for me.
Now, about the best part! It makes my hair glossy! Like real light reflecting shiny.
I initially wondered why that was the case, but then I read all the details on the shampoo. It turns out, the shampoo has a star ingredient- D-panthenol. I didn't think much about this ingredient because I was so focused on the 2% Salicylic Acid and exfoliation. But after numerous hair washes, I discovered that the shampoo had actually improved the sheen and softness of my hair. And for me, that's the best thing shampoo can do.
The gloss and tenacity of your hair are enhanced by panthenol. It accomplishes this by absorbing into the hair and transforming it into vitamin B5. As a humectant, it then seals in moisture. By attaching itself to each hair shaft, it shields your hair from any environmental harm. It also gives the hair more volume and bounce.
If you use it around once a week, it'll last for more than two months.
Pros:
Non-irritating
Gentle
Clarifying
Reduces Dandruff drastically
Exfoliating
Makes hair shiny and smooth
Cons:
It only contains 75 ml.
Not for everyday use
Recommendation:
I highly recommend using this as a scalp exfoliant and as an anti-dandruff shampoo. Use it regularly rather than frequently to keep your scalp healthy and clean.
What do you think of this product? Have you tried a Salicylic Acid and Ketoconazole Medicated Shampoo?