Dandruff has been a recurring problem for me. Though I've always suffered from mild dandruff, lately it went to the extent of being very noticeable and itchy. My regular Head and Shoulders Shampoo wasn't able to tackle those. So finding a medicated anti-dandruff shampoo became necessary. It's best to always consult a physician for safer and better results. Since some of these shampoos are available over the counter, I decided to go for this Selsun Daily Anti Dandruff Shampoo which is supposed to be milder and come with added conditioner. Read on to know my experience with it.
Product Description:
Selsun Daily Anti Dandruff Shampoo provides a solution for all your dandruff woes. It claims to clear away dandruff flakes and relieve itchiness. It's formulated with added conditioner and fresh fragrance.
Selsun Anti Dandruff Shampoo Ingredients: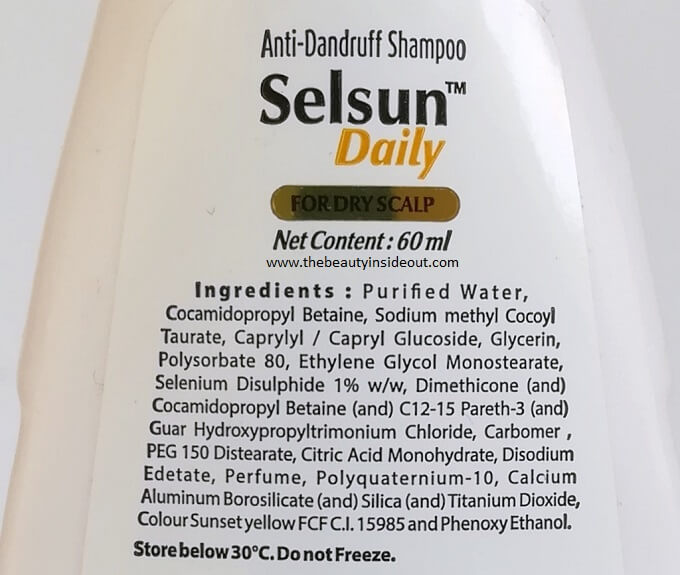 The Selsun Daily Anti Dandruff Shampoo contains 1% Selenium Sulfide, which is an anti-fungal medication that's used in the treatment of Seborrahaic Dermatitis and Dandruff. It's a vital ingredient to fight flakes and itch.
From the ingredient list, I can see that the shampoo has added fragrance and color. And looks like it's free from Sulphates and Parabens.
Price:
Selsun Daily Anti Dandruff Shampoo Review
Packaging: The product comes in a normal plastic bottle with a screw lid. The bottle opening is pretty big. There is no nozzle or anything. You just have to pour it carefully to avoid taking lots of product. The bottle itself comes housed in a carton box that has all the details furnished on it. Overall, the packaging is pretty basic yet serves its purpose.
Color & Texture: It has a unique color for shampoo. It is bright banana yellow in color. The consistency is medium, towards the runnier side.
Fragrance: The brand claims to have a fresh fragrance. I wonder why! This definitely doesn't have a typical shampoo scent. It has a pungent smell to it, that reminds me of my chemistry lab experiments. It doesn't bother me though.
My Experience:
About my hair type:
I have mid-back, straight hair that's prone to dandruff. For the past couple of months, I've had noticeable white flakes on the comb whenever I brush my hair. And my scalp was itching too. Initially, I wanted to try out the Selsun Suspension with 2.5% Selenium Sulphide. But then I was doubtful if that might be too strong, so I decided to get this Daily variant which has 1% of Selenium Sulphide.
How to use the Selsun Shampoo?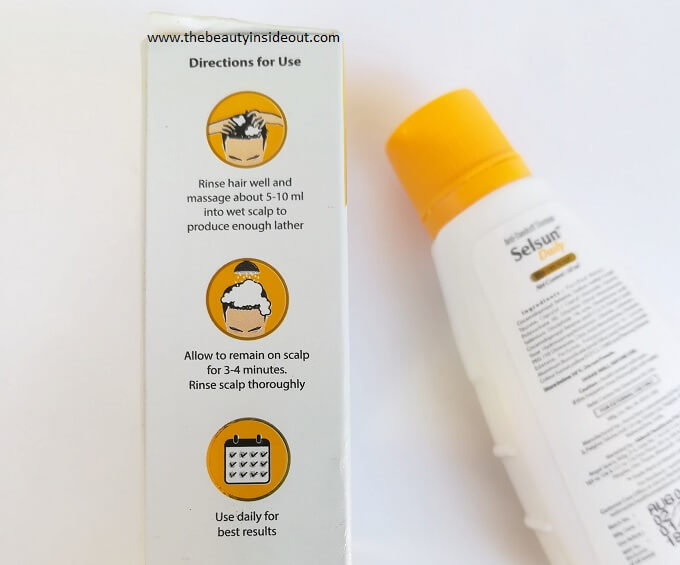 How do I use the Shampoo?
On the first day, I used this as a regular shampoo. I took a coin-sized quantity of shampoo and massaged it on my wet hair. It didn't lather much and I felt the shampoo wasn't enough. So I did a second wash. I shouldn't have done that! There was a slight discomfort/tingling sensation on the crown of my scalp post that.
Later I learned that Medicated Anti-Dandruff Shampoos are best used as a second wash. First, use a regular shampoo and then use the anti-dandruff shampoo so its effects stay on the scalp longer.
So for the next washes, I followed this method. I shampooed my hair with a mild shampoo first and then used this Selsun Shampoo. I diluted the shampoo with a little water and then apply it uniformly all over the scalp. With this method, the shampoo lathered well. Might be because I had first used a different shampoo. This way the shampoo wasn't irritating for my scalp. I use a separate conditioner on my lengths, so I didn't think it was drying for me.
I've used this shampoo once a week, for more than two months now. I think it did a fair job in the first wash. It cleared up my flakes on the scalp by 50%. The Selsun Shampoo also relieved the itching caused by dandruff.
With subsequent washes, it definitely reduced the dandruff flakes to a great extent.
But, Dandruff did come back in my case. It did not eradicate completely! I guess my scalp needs something stronger like the Selsun Suspension or Ketoconazole Shampoo.
Overall, The Selsun Shampoo is a good anti-dandruff shampoo for someone with mild to moderate dandruff. I have severe dandruff that this shampoo couldn't remove completely.
Pros:
Non-drying formula.
Good for mild to moderate dandruff issues.
Relieves itchiness.
Suitable for dry scalp.
Sulphate & Paraben Free.
Cons:
Does not have a pleasant scent as claimed.
Dandruff might come back.
Rating: 4/5
Would I recommend it? Yes, I would recommend it. It's an affordable anti-dandruff shampoo that's worth giving a shot.
Have you tried this shampoo? Share your experience with us.