Finding the perfect shampoo is hard. Some make my hair flat, some make it dry and some even do both. And coming from a middle-class background you can't be going for high-end products now and then. Although nowadays given my PCOS I have been taking care of my hair quite a bit. So when I last visited the saloon for a spa session I asked for a non-problematic shampoo without any buzz. Then they introduced me to this brand which is supposed to give your hair nourishment with cleanliness. But as we are all well aware, it is quite a promise so today I thought of reviewing De Fabulous Marula Oil Shampoo after 2 months of continuous use. So if you are interested in knowing my opinion then please keep on reading.
Product Description:
De Fabulous is a salon range professional haircare brand that gives top-quality products for your haircare woes. Marula Oil Shampoo uses a sulfate-free formula and quinoa protein to help repair the damage. In this way, the hair looks healthier and it helps to retain moisture like never before. This shampoo is best suited for chemically treated hair.
Ingredients: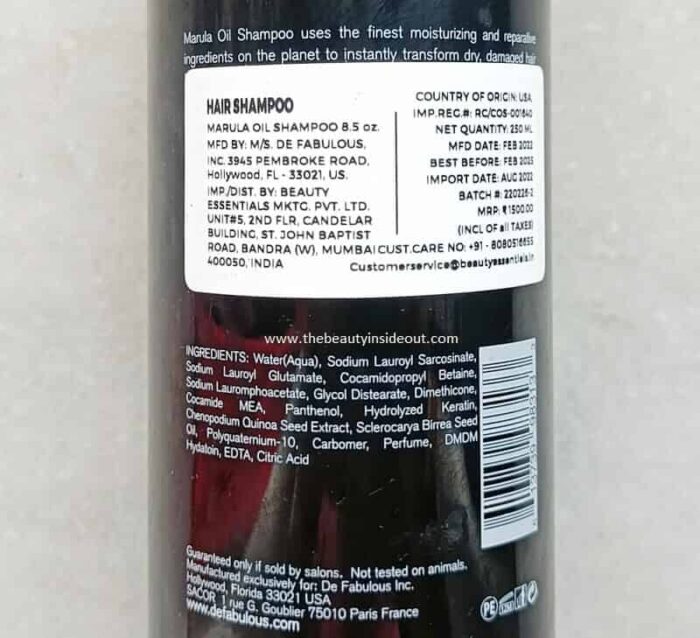 How to use it?
Use it like a regular shampoo.
De Fabulous Marula Oil Shampoo Review
Packaging: The shampoo comes in a black bottle with a pump dispenser. The classy look of the bottle looks like a luxury in my bathroom cabinet. Although a pump bottle can be problematic to take it with you when traveling, it looks so good and luxurious, I have to look the other way. The pump works great and doesn't give away too much product which I love and adore.
Texture: The texture is slimy and semi-liquid with a golden hue. It spreads super easily even on curly or tangled hair and creates a lot of foam when it makes contact with water.
Fragrance: De Fabulous Shampoo has a floral scent that is not too strong and goes away after washing off. It leaves the hair smelling great.
If you are someone with a sensitive nose and migraines then also I can recommend you this product because the scent is, particularly nothing and your hair smells great after 2-3 days.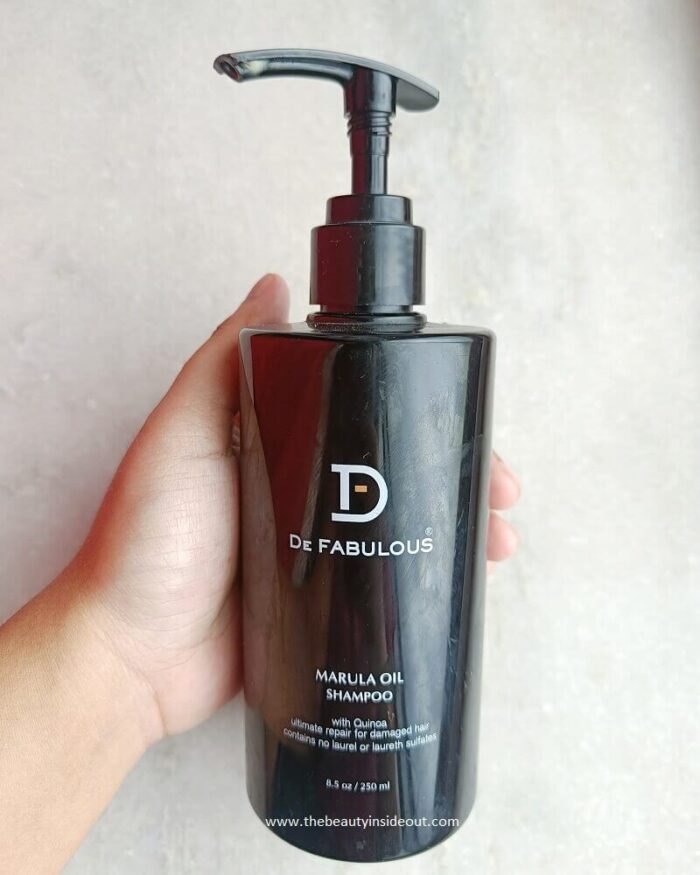 My Experience:
The performance of this product is good and it does what it is supposed to do. Even when I have oiled my hair before shampooing, it can wash off the oil and make my hair fresh and healthy looking. It even works wonderfully when my hair is extra rough and dry; it nourishes and moisturizes my hair so well to the extent that I don't need to worry about oiling before shampooing or using a post-wash conditioner. The shampoo is hydrating on its own.
The De Fabulous Shampoo can be expensive and hair can look flat and oily from the third day but I feel lIke I've had a spa session on the two days I have cleaned my hair. My hair looks conditioned and healthy. It's not ideal for flat thin hair but would be best suited for curly, wavy, dry, and frizzy hair.
Also, it foams quite a lot so you only need a little shampoo for each use and so the bottle does last quite a long time. For me, with Minimalist Hair Mask this is the key to having lustrous hair.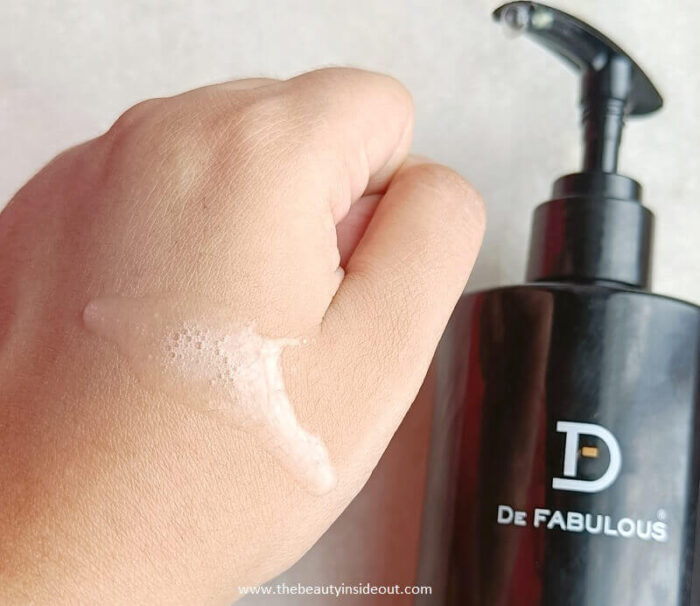 Pros:
It smells great even after 2 days.
Sulfate-free formula with quinoa protein and marula oil.
Professional salon range shampoo.
Lathers really well.
Post-washing, hair looks healthy and lustrous.
Hair looks fresh even after heavy oiling.
Great for color-treated, dry, damaged hair.
Cons:
Very expensive and not easily available online and offline.
Can make your hair oily from the third day.
Hair doesn't look voluminous. It looks kinda flat.
Rating: 4/5
Would I recommend it? Yes, it's a professional sulfate-free shampoo that's great for dry, damaged, color-treated hair.