After having negligible results with commercial dandruff shampoos for my dandruff problem, I decided to try the medicated ones. So I tried the Selsun Daily Anti Dandruff Shampoo. That was able to reduce my dandruff flakes decently. After finishing up the Selsun Shampoo, I bought this Keraglo AD Shampoo. I'm suffering from moderate to severe dandruff that I need to use an anti-dandruff shampoo consistently. Keraglo AD is said to be one of the Best Ketoconazole Shampoo in India. Read on to know my experience with it.
Product Description:
Keraglo AD is a Ketoconazole Shampoo that is used in the treatment of fungal infections on the scalp and skin. It is prominently used to control dandruff, itching, flaking and scaling. Keraglo AD is formulated with 2% Ketoconazole in a conditioning base.
Keraglo AD Shampoo Ingredients:
Ketoconazole IP 2% w/v
Conditioning Shampoo Base Q.S.
Color: Erythrosine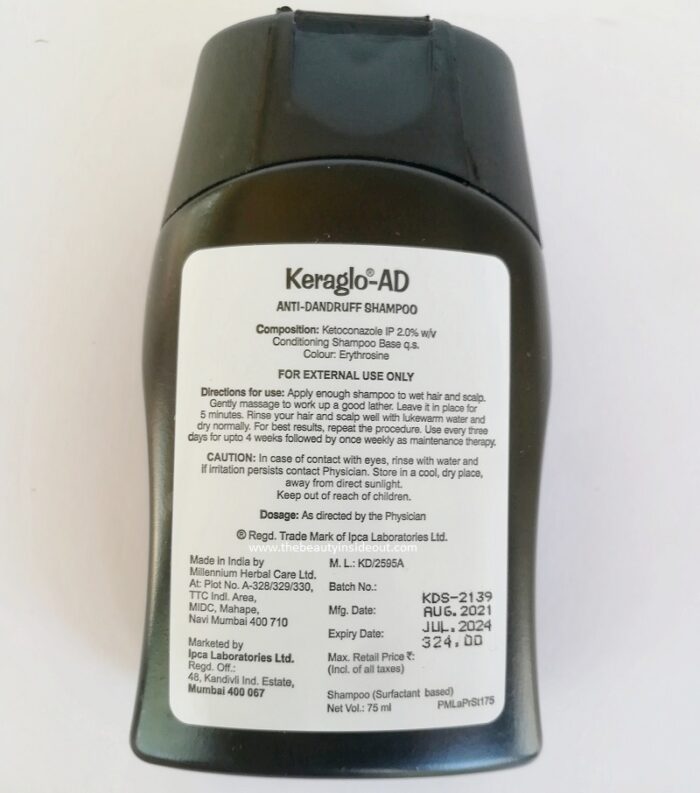 How to use Keraglo AD Shampoo?
Apply enough shampoo to wet hair and scalp.
Gently massage to work up to a good lather.
Leave it on for 5 minutes.
Rinse your hair and scalp well with lukewarm water.
Dry normally.
For best results, use every three days for upto 4 weeks followed by once weekly as a maintenance therapy.
Keraglo AD Review
Packaging: The Ketoconazole Shampoo comes in a sturdy plastic bottle with a flip cap. The bottle comes packed in a carton box. It has all the details about the product and its usage instructions. The packaging is pretty basic, but serves its purpose. It's quite convenient to use and travel friendly as well.
Color & Texture: It is a medium-thick gel shampoo with a beautiful peachy pink hue to it.
Fragrance: I thought this would have a medicated scent, like the Selsun Shampoo. Surprisingly this has a nice pleasant fragrance. It smells fresh and slightly floral.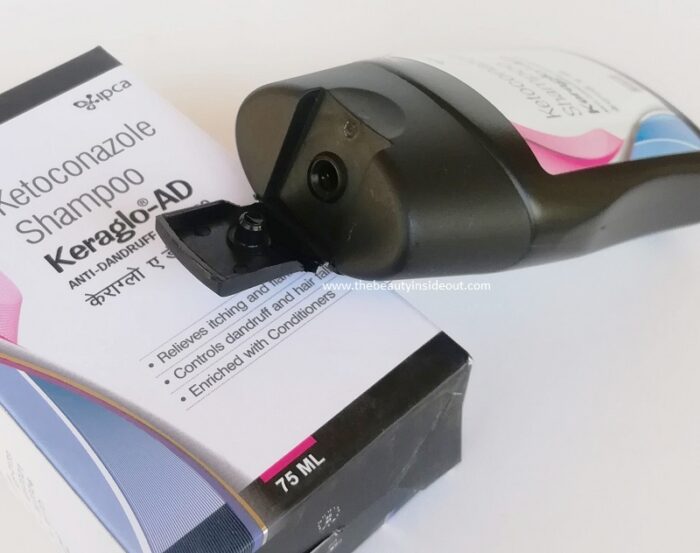 My Experience:
Finally, I got something that worked on my dandruff. Keraglo removed all my dandruff flakes in the first usage itself. I used a coin-sized quantity of shampoo for my medium-length hair. The shampoo lathers pretty well. I used it as per the instructions. On wet scalp, I massaged the shampoo and left it on for 2 to 5 minutes. Finally, rinse it off with generous amounts of water.
Hands down, this is the best medicated anti-dandruff shampoo that I've ever used. It's gentle on the scalp yet it's very effective in removing dandruff. It never irritated my scalp or eyes. It was as if I'm using any normal shampoo. Just a nice cleansing experience. No pungent smell, no stinging sensation, no uncomfortable feel. Keraglo AD is an absolute delight to use. I don't need to pre-shampoo with another shampoo, unlike most medicated shampoos. I just used this straight away.
I started using it weekly once. Other times I use my regular shampoo. Currently, I use it for two weeks once as maintenance therapy. That's more than enough to keep dandruff in check. Usually, Ketoconazole Shampoos are very drying, but this isn't like that. I've used the shampoo with and without a conditioner. I never felt that it dried my straight fine hair. If you have very dry hair, you may need a conditioner. Otherwise, it's totally skippable. Keraglo AD is a must-try Ketoconazole Shampoo in India.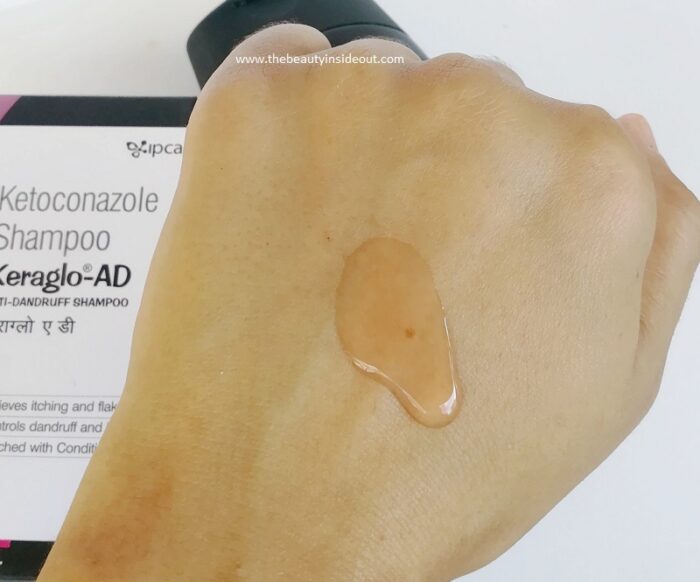 Pros:
2% Ketoconazole.
Controls dandruff and hair fall.
Relieves itching and flaking.
Enriched with Conditioners, hence do not dry out the scalp and hair.
Nice pleasant fragrance.
Dermatologists Recommended.
No side effects, such as dryness, hairfall, etc.,
Cons:
Rating: 5/5
Would I recommend it? Yes, absolutely. This worked like a charm in removing my persistent dandruff. It's a non-drying, non-irritating, effective Ketoconazole Shampoo that one needs to try.
Have you tried this shampoo? Do share your experience with it in the comments section below.