No doubt, the ultimate aim of following a skin care routine is to have a better and healthier skin. The effects of a consistent routine is certainly going to be fruitful as your skin ages. People from different countries follow different skin care regimes, indeed the universe is diverse. Be it the 10 Step Korean Skincare Routine or the Ayurveda based Indian Skin Care Routine or the Westerners Anti-aging Focused Routines, people of different origin follow one trend or the other. Today's post is going to be focused on the less talked French Skincare Routine. Have you wondered how does a French Skincare Routine Look Like? Are they obsessed with tons of products or do they like minimalism. Read on.
Before going into how a typical French Skincare Routine is, let's first know what is so different about french skincare compared to the rest of the countries.
What is so different about French Skincare?
Ideally a French Skincare Routine is going to be in the universal order of a Cleanser, Toner and Moisturizer. But what makes them different is the base formulation and type of product they commonly prefer to choose. The French love gentle and hydrating formulations, rather than the stripping gels cleansers and the widely popular 'acid toners' (read: chemical exfoliants). They treat their skin as gentle as a baby's skin.
Skin care starts at home for a typical french teenager, beginning with mild cleansers and moisturizers. They start following a skincare regimen at a much younger age compared to the westerners and asians. Guess what? A French Mom is likely to introduce her daughter to skincare as early as 12 years which isn't the case elsewhere.
The French follow a holistic approach towards skincare. While people across the world are crazy over every other new launches,  a French women will not change her skin care products unless and otherwise needed. They can go on to use the same Nivea Moisturizer for years together. They stick to what works for them rather than experimenting.
The French isn't obsessed with anti-aging products. Cosmetic surgeries are a far away thought. They embrace their natural beauty and love to look their age but better. A french lady would care less about that tiny little wrinkle showing up and not be obsessed with crystal clear glass skin.
It is very common to see foundation free beauties all over the country. They are pretty cool with their imperfections and aren't afraid to flaunt their skin's shortcomings any day. When they like to doll up, its all about a classic red lipstick and a pale pink blush.
While we are accustomed to do our own facials at home with readily available facial kit, most French Women go for monthly facials in spas and salons. It is pretty common to find salons in each and every corner of the country. They believe that facial massages boosts their skin radiance while increasing blood circulation.
Sunscreen are for beach vacations
Sunscreens come out of their skincare stash only on a beach day. Unlike the fad across the globe, the French doesn't use a sunscreen on a regular college or work day, which means they don't use them at all on a daily basis. What about winters? Needless to say; they never use one. On a normal sunny day, they like to cover up with scarfs and hats to protect their skin from sun damage. They don't mind the little bit of tan on their skin, in fact some of them love the tanned skin.
French women like to use customized homemade face masks with random kitchen ingredients like yogurt, honey, fruits, etc. Once in a while they like to indulge in clay masks with bentonite clay or kaolin clay. The infamous Korean Sheet Masks are completely out of the league for a french women.
These are some of the unusual things about French Skincare Routine. Lets move on to what kind of products they use.
What does a Typical French Skincare Routine Look Like?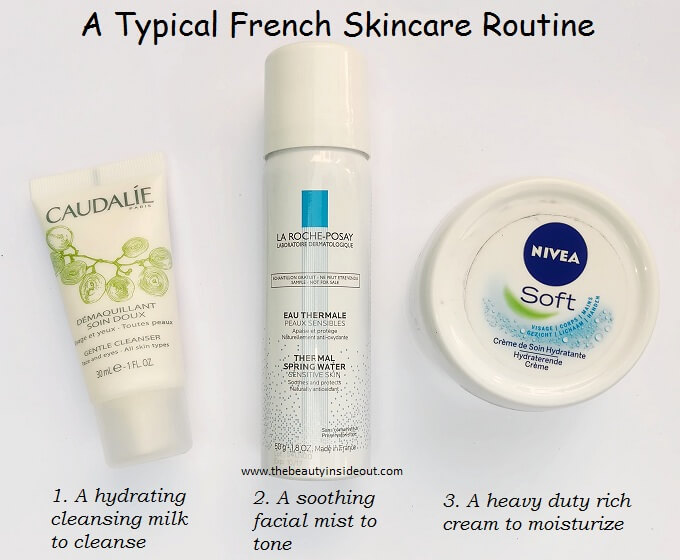 A French Skincare Routine is simple. It is not overly complicated with gazillion number of products. They follow a simple CTM routine daily. Let's see what type of products they use.
Typically the French like to use cleansing lotions/milks for cleansing the skin. Cleansing lotions are much more nourishing and hydrating and are perfect for the country's dry weather. A few of them like to use Micellar Waters like the Bioderma Sensibio H2O for makeup removal as well as a gentle morning cleanser. Gentle and Nourishing is the key when it comes to French Skincare Routine.
The French love mist types toners that functions as the second step of a CTM as well as a throughout the day refresher. They are inclined to use floral waters, particularly those with rose scents. Thermal Spring Water Mists are also commonly seen used by females in the early 20's.
The french love super moisturizing creams, those that are rich and denser in texture. They prefer an all in one cream and most often never pick moisturizers targeting a particular concern. For nights, they love facial oils. Plain pure oils like Olive Oil and Rosehip Oil is often liked by ladies in early 40's. Nuxe Huile Prodigieuse Face Oil is a luxury dry oil loved by most french women.
Not many of them are into exfoliation, since they follow a gentle approach towards skincare. Those who are into it don't go for the walnut scrubs or the powerful glycolic acid route. But love using Gommage Peels. Gommage Peels are those gel type products that is applied, allowed to dry for a bit and then massaged to remove the dead skin cells. They usually contain gentle enzymes to clear up the top layer of the epidermis leaving the skin extremely soft and silky smooth.
In all, A Typical French Skincare Routine is a Simple Minimalist Routine. They don't overdo it and they don't change it often.
I hope you got an insight into the French Skincare Routine. Do let us know your type of routine in the comments section below.