Concealer is used in make-up to hide imperfections such as to conceal dark circles, redness, pimples, pigmentation and also to highlight the skin making your face glowing. I am used to wearing concealer on my base and correct my contour with it to make it appear more clean and sharp. For highlighting, one should buy a concealer which is one or two shades lighter than their foundation or base whereas for concealing, you will have to get the exact shade, just like your foundation. I was allured when I saw this concealer from one of my favourite makeup. So I ordered it. The moment it was delivered, I was so excited to create a look with it and write a review for you all. This Makeup Revolution Conceal And Define Concealer is the winner of the Cosmopolitan Beauty Awards UK 2018. Now let's read how it complements the make-up.
Product Description:
The New 'Conceal & Define concealer' by Makeup Revolution is an amazing offering that gives you flawless natural finish.It is a lightweight yet full coverage concealer that covers blemishes, evens skin tone and counteracts dark circles, with a matte finish that won't settle or accentuate fine lines and pores. Long wearing intense pigment that can also be used to contour and add definition.
Price: Rs. 695/- for 3.4ml
My take on Makeup Revolution Conceal And Define Concealer
Packaging: The Makeup Revolution Conceal And Define Concealer comes in is a glass bottle container. It is silver in colour which gives an elegant look. The size of the packaging is awesome which makes it travel friendly. It comes with an awesome doe shaped applicator which makes application super easy.
Shade: The Makeup Revolution Conceal And Define Concealer comes in whooping 50 shades. They have different shades from fair to deep skin tone and undertones. It comes in 50 shades; however, only 18 shades are available on Nykaa.com. The range is suitable for pink, peach, yellow and olive skin tones. I like the fact that the range has shades for mixed skin tones as well. The darker shades can also be used as a "liquid contour" shades.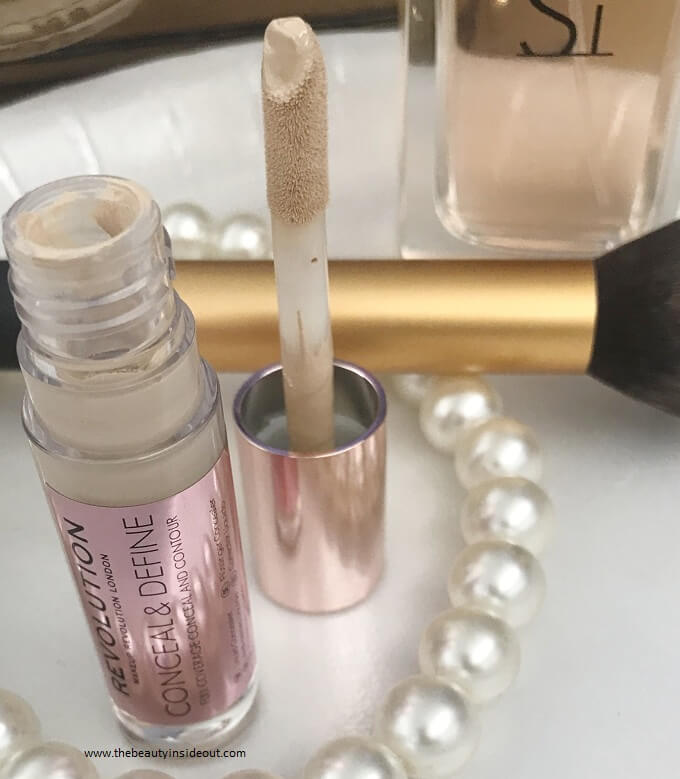 How to use: Apply it in dots with the applicator underneath the eyes, bridge of the nose, in between the eyebrows, also underneath the cheek bones contour to get a sharp contour. Honestly, I love my contour to be sharp and clean and this highlighter and concealer is awesome for hiding the imperfections.
I like to blend the concealer with a damp beauty blender or sponge. You can use the narrow end of the blender and it tends to give an airbrush affect and HD look to my make-up.
For the contour choose a shade 2-3 shades darker than your foundation, and use the applicator on perimeters of your face, in the hollows of your cheekbones and anywhere you wish to give extra definition and blend out with beauty blender.
To set it all use baking technique using a loose powder underneath the eyes, and underneath the cheek bones contour and the laughing area. After keeping the powder for 5 minutes dust it off with a fan brush. At last set it with a fixing spray to lock your make-up at the right place.
Texture: The texture is smooth and creamy yet is light weight. It blends easily. It is highly pigmented hence gives a full coverage concealing and covering blemishes as the brand claims. It is great for photo-shoot make up. Since it doesn't contain SPF; it is great for flash photography and looks great on camera photos. The Makeup Revolution Conceal And Define Concealer can also be used as an eye shadow base to intensify colour and amplify the eye make-up.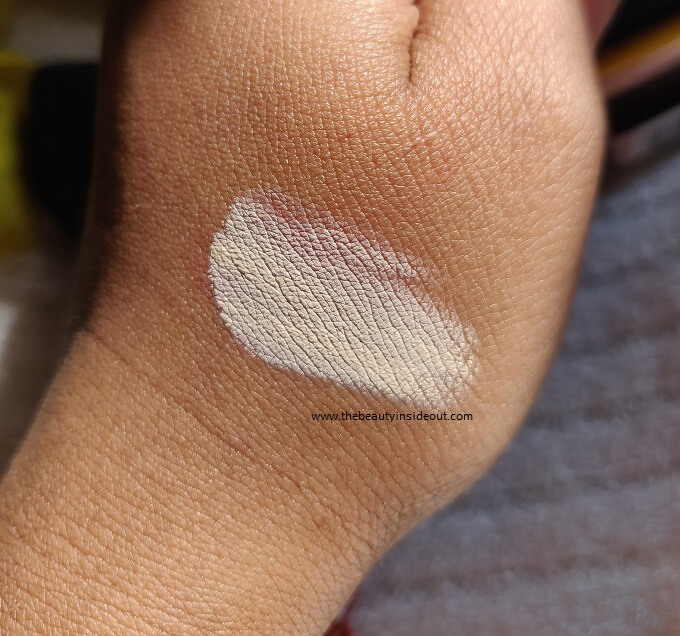 Longevity: The concealer is non-transferable; but then, I seal my make up with a setting powder. It has 5-6 hours of stay, when worn alone without any setting powder. I tend to seal my make-up with a setting powder which makes it last for 7-8 hours. I have used it many parties and wedding functions and my makeup has stayed all night long without moving at all.
Pros:
Reasonably priced, justifies the quality.
Cruelty Free and Vegan product.
Light-weighted full coverage and gives a natural and flawless finish.
Awesome packaging, looks very professional.
Wide shade range perfect for every skin tone.
No SPF hence excellent for flash photography
Cons:
Overall, I just loved this product. All the makeup addicts, who love to sculpt their faces and highlight will love this as well. It is light-weighted and conceals all kinds of imperfections. I have used it on many photo-shoots so it hasn't made me look ghostly because it doesn't contain SPF. It gives a HD Airbrush look to my make-up.
Rating: 4.7/5
I hope the review was helpful!
Guest Author: Madhumita