Dior Rosy Glow Blush has been on the market for quite some time but recently rose to fame after it became viral on TikTok. This Dior Rosy Glow Blush is speculated to be Kylie Jenner's favorite blush and she uses it for her Barbie pink looks. Although that has been denied by the star itself. But do we need to say? TikTok and Instagram did their job – that the product became so popular that it went out of stock and wasn't available for several days. From makeup artists to insta influencers everyone seems to love this blush even if they have various skin tones. I always dreamt of using luxury makeup products when I had saved enough. And this was on my wishlist since it went viral. So when I noticed this on sale during Black Friday, I instantly bought it. After using it for almost every occasion I think I have come to a conclusion if I like it or not.
Product Description:
This universally flattering rosy glow pink blush from Dior is for every skin tone. Get that Barbie pink color every time with buildable Pigmentation. It also has color revival technology which reacts to your skin moisture and gives you a customized rosy glow.
Dior Rosy Glow Blush Ingredients:
Synthetic Fluorphlogopite, Mica, Dimethicone, Boron Nitride, Lauroyl Lysine, Zinc Stearate, Silica, Cellulose, Ethylhexylglycerin, Sodium Dehydroacetate, Pentylene Glycol, Stearic Acid, Aqua (Water), Tocopherol, [+/- Ci 77891 (Titanium Dioxide), Ci 45410 (Red 27)].
How to use it?
Apply the Rosy Glow Blush by lightly stroking the cheekbones.
Wait for a few minutes for the blush to change into a custom ultra-natural pink shade that's unique to your skin tone.
Dior Rosy Glow Blush Review
Packaging:
The blush comes in transparent plastic packaging – which doesn't look luxurious at all if I am being honest. My Essence Pure Nude Highlighter and this blush doesn't have any difference other than the logo. I have to handle it very carefully otherwise it can break. Overall not happy with the packaging.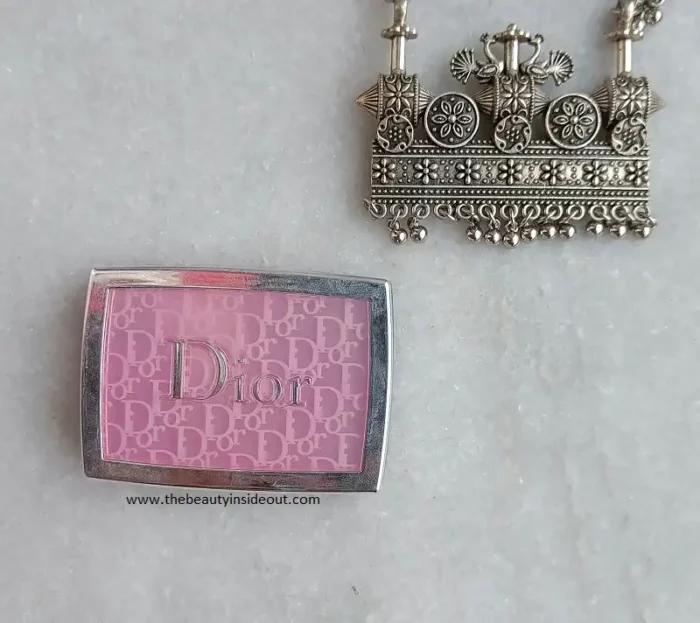 Texture:
The Dior Backstage Rosy Glow Blush is in the form of a pressed powder. And indeed it has a powdery formula. It can look and feel dry when in the pan but blends like a dream on top of a liquid or powder foundation. It doesn't become patchy or dry. It gels well into the skin naturally and gives it a healthy glow.
Fragrance:
The blush doesn't have any overpowering scent or fragrances which is great for someone like me who is sensitive to scents.
My Experience:
The Dior Backstage Rosy Pink Blush has world-class technology where it reacts with your pH and makes a customized pink color for your natural blush – which I thought was bullshit before buying.
But it truly works, it deepens and warms up my skin after 15-20 minutes. It has small shimmers which can only be seen on the skin and in certain lighting. It looks so natural and beautiful. The pigmentation is buildable so one doesn't have to worry about overdoing it or clowning yourself.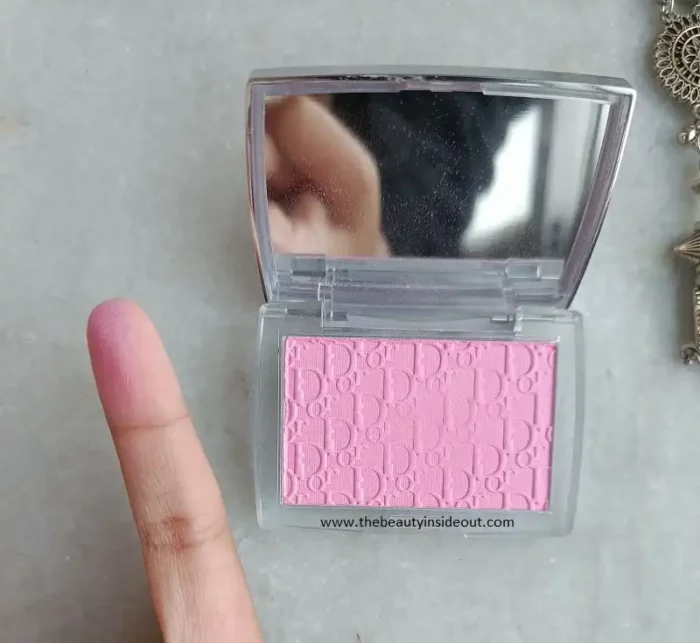 It also lasts a long time. After 12 hours of application on my friend's wedding day, my foundation was gone but this Dior Rosy Pink Blush stayed. It gave an airbrushed effect to my pores and my skin texture looked smoothened to an extent as well. And although I don't gravitate towards this type of blue-toned pink color this Dior blush has been my favorite makeup 7 from 2022.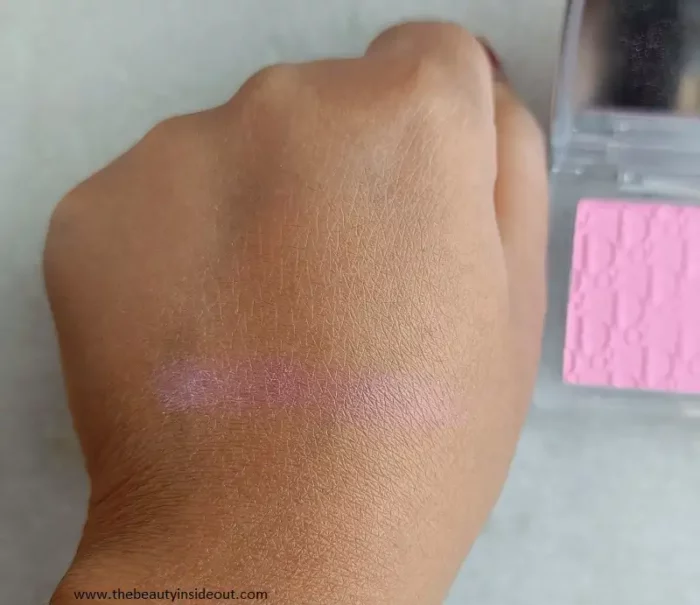 Pros:
The perfect formula blends beautifully into the skin.
Looks beautiful on every skin tone and deepens a bit after some time.
It lasts a long time on the skin.
It does have some shimmers which bring the glow to your skin which looks quite natural.
The pigmentation is buildable and natural looking.
Made without parabens and is gluten-free.
Cons:
Very expensive for a blush and can be duped easily.
Doesn't exactly look like a luxury product due to its flimsy packaging that can break easily if not stored properly.
My rating: 4/5
Is the Dior Blush worth it?
Yes, It's definitely worth the hype and money. I do recommend this blush with my whole heart. It's a beautiful blush with a beautiful finish that wears for a long time.
What do you think of this product?