Like The Ordinary, Olaplex is the brand that revolutionized haircare games in the market. It is worldwide known for its bond-repairing and damage-control abilities and is the first on the market to have patent ingredients that help to strengthen and heal your hair. It links the broken disulfide bonds which help with structural healing. I was extremely famished when I saw video after video of this particular range and wanted to try it for my easily broken dry and damaged hair. I am also experiencing hair thinning due to PCOD. So when my friend told me there is a supposed mini in the market that gets your foot in the door for amazing hair, I just couldn't resist it. I went ahead and bought two minis of Olaplex No 3 and now here am sharing my take and experience with it. If you are interested in my thoughts and then keep on reading.
What is Olaplex No 3?
Olaplex No 3 is a hair bond repairer that's damaged from chemical treatments. It's a hair repairing and strengthening treatment that can be used in the comfort of your home, unlike other Olaplex Products that are exclusive to Salon Use. It's not a conditioner or hair mask but a treatment product that will give you the hair of your dreams.
The No 3 Hair Perfector is CG-friendly, that is, it's even suitable for those who follow a curly girl hair routine.
How does Olaplex No 3 work?
The bonds between the keratin in your hair can get damaged when you chemically treat your hair, use heating hair styling tools or swim in chlorine water. Your hair bonds get damaged and hair becomes dry and brittle. Olaplex No 3 works as a bond repairer to undo the damage.
The patented formula prevents and repairs any kind of damage and stress which was bestowed upon your hair. It also reduces breakage and truly enhances your hair from the very first use.
Olaplex No 3 Ingredients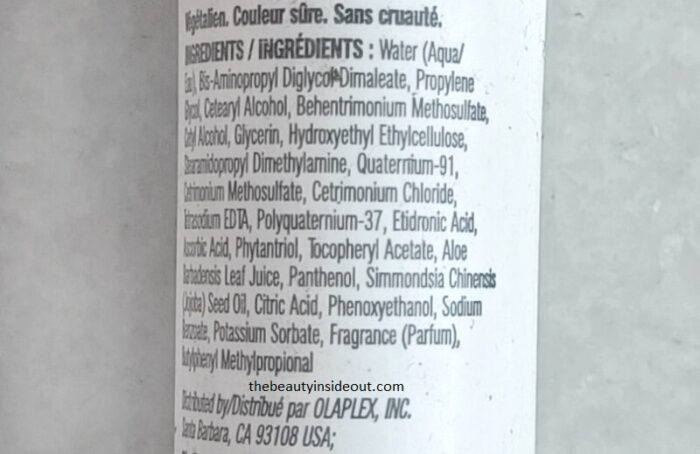 Water
A universal solvent that's used in most skincare/haircare products for ease of emulsification.
Bis-Aminopropyl Diglycol Dimaleate
The star ingredient that's present in all Olaplex Products. The Olpalex No 3 contains the highest amount of it that gives the most effective effects. It's a patented ingredient that helps to rebuild broken bonds of your hair strands.
Propylene Glycol
It's a moisturizing ingredient that has humectant properties, this is great for nourishing dry skin and dry hair.
Cetearyl Alcohol
This helps with the texture of the product. It is an emollient that's responsible for emulsifying and foaming. It also masks the actual scent of the product with its fragrance.
Behentrimonium Methosulfate
This is an ammonium salt that acts as an anti-static agent. It's also responsible for softening, hydrating, and conditioning hair.
Cetyl Alcohol
Pretty much functions similarly to Cetery alcohol – it is an emollient, viscosity controller, and fragrance masking ingredient.
Phenoxyethanol
A relatively common preservative used in haircare products to prevent the product from going bad.
Glycerin
An underrated humectant that's great to impart hydration and moisturization. This is found in almost all beauty products.
Hydroxyethyl Ethylcellulose
This is a thickening agent, that gives a better texture and feel to the product. It binds the ingredients together and has film-forming abilities.
Stearamidopropyl Dimethylamine
This has anti-static and hair-conditioning properties. It also has emulsifying and surfactant properties.
Quaternium-91
It's a water-soluble hair conditioning agent.
Sodium Benzoate
A preservative that's also a fragrance-masking ingredient.
Cetrimonium Methosulfate
A hair conditioning agent that smoothens and softens hair cuticles. It helps with easy detangling.
Cetrimonium Chloride
It's an antiseptic, antimicrobial, and antibacterial ingredient. It's also a hair-smoothing, anti-static ingredient that also acts as a preservative.
Fragrance
Perfuming ingredient.
Polyquaternium-37
Improves elasticity, shine, and volume with its conditioning effects.
Tetrasodium EDTA
A chelating agent helps to keep the formula stable and prevent rancidity.
Butylphenyl Methylpropional
A perfuming ingredient that is a potential allergen.
Etidronic Acid
A chelating agent, that can help the product to work better in hard water.
Ascorbic Acid
This is Vitamin C. An excellent anti-oxidant, skin brightening, and buffering agent. Its benefits have no bounds.
Phytantriol
This is a humectant and moisturizer that helps with hair conditioning and softening.
Tocopheryl Acetate
This is nothing but Vitamin E, it's an antioxidant and conditioning ingredient.
Aloe Barbadensis Leaf Juice
A great humectant that's widely used in cosmetics for its immense benefits on skin and hair. It has soothing and cooling effects and is great for UV-exposed hair and skin.
Panthenol
It works similarly to Aloe Vera. A great humectant, skin soother, and moisturizer.
Simmondsia Chinensis (Jojoba) Seed Oil
A moisturizing oil that leaves the hair nourished and conditioned. Jojoba Oil is one of the oils that can help with hair growth when combined with other carrier oils.
Citric Acid
A helper ingredient to keep the product stable. It's a pH adjuster and a fragrance ingredient as well.
Potassium Sorbate
A very common preservative used in skincare and haircare products. This is meant to prevent the product from breaking down and going rancid.
How to use Olaplex No 3?
Step 1: Dampen Hair
The Olaplex No 3 should be used on damp hair. You can just spray a generous amount of water on your hair and roots or the easiest way, dunk your hair in a bucket of water and then towel dry it. But leave it still damp. The product works only on damp hair, so don't even bother to use it on dry hair. Dampen hair also makes it easier for the product to spread and you won't even need to a lot of product.
This product is recommended to be used before shampooing, but keep in mind that hair treatments work better on clean hair. So if you have used hair styling products, dry shampoos and know that there is a lot of product buildup on your hair, it's better to shampoo before the treatment as well. That way, the hair treatment penetrates the hair cuticles better and provides better results.
Step 2: Apply the hair treatment
Depending on your hair length, take the needed quantity of the product and apply it from the roots to the tip of your hair. Use a comb or tangle teezer to spread the product evenly.
Step 3: Leave on
The brand recommends leaving it on for at least 10 minutes. It can be left upto 90 minutes. The longer you keep the better results. Some people like to use a shower cap to trap moisture for better absorption. It should be noted that the product works as long as the hair is damp, so ideally you should wash it off before your hair becomes dry.
Step 4: Rinse, Shampoo, and Condition
Again this is not a hair mask or conditioner. So it should be washed off. Rinse it off thoroughly with generous amounts of water and then follow it up with your regular shampoo and conditioner. If you have dry hair in general, use a moisturizing shampoo and conditioner combo.
Where to buy?
Available in Beauty Saloons and Online Beauty stores.
How is the Packaging?
The mini Olaplex No 3 Hair Perfector comes in a short white squeezy tube. It is pretty easy to use and carry around if you want something for your travel journey. The full-size bottle is quite big and bulky, however, the minimalist packaging is pretty good-looking.
Depending on your hair thickness, the bottle will last quite some time. Someone with a newfound problem with her hand's mobility, I found it pretty difficult for me to squeeze the big bottle when I tried it in Sephora recently. So I will probably stick to miniature ones.
How is the texture?
This particular product from Olaplex has a semi-white transparent texture. It not only has great spreadability but also surprisingly you only need very little to cover and coat your hair. Just part your hair in small sections and use it from top to bottom. All in one a great value-for-money product.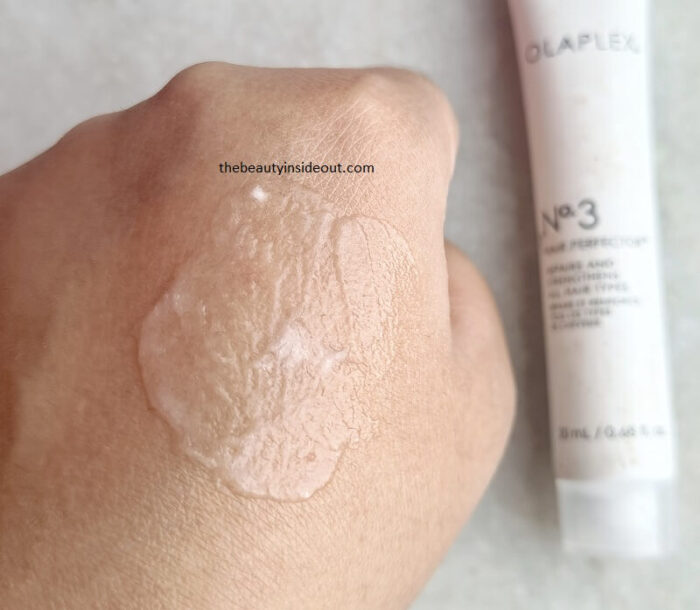 How does it smell?
The Olaplex No 3 has a couple of perfuming agents. It smells a bit fruity. Nevertheless, it's a subtle pleasant scent.
Olaplex No 3 Hair Perfector Review
One has to understand that this is not a conditioner and as a treatment it is supposed to go in clean hair and one has to deeply condition it for future protection and dryness. I think this is the step where people makes most mistake thinking it is a conditioner and when the product doesn't work and makes their hair more dry, they tend to bash the Olaplex.
In my experience I have virgin hair so there was no chemical or color, but it is dry and dull due to improper care Oh my! The improvement I have seen in my hair after using this product is tremendous. I use it every 15 days and end up with very silky smooth and most importantly healthy hair. Even after two days of shampooing my hair feels fresh and there is no frizz even in this hot and humid place where I live. This became my holy grail and must-have product in recent times.
According to reviews, its effect is much more evident on chemically treated or colored hair. The patented ingredient "Bis-Aminopropyl Diglycol Dimaleate" helps to rebuild and reheal hair from any aggregation present in the environment. We suggest deep conditioning your hair for extra swoon-worthy results.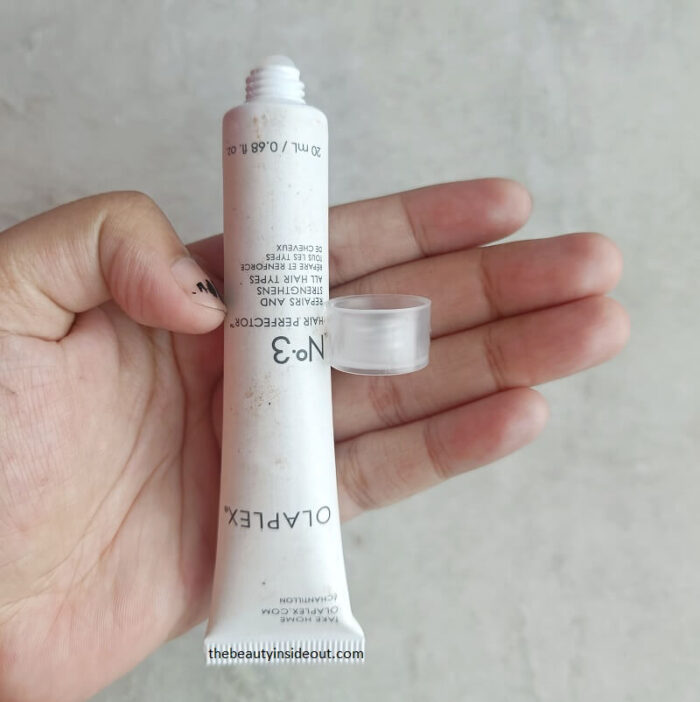 Does it have immediate results?
The results are almost instant. It makes your hair frizz-free and strong immediately. It takes away all the breakage caused by heat, UV radiation, pollution, and all other external factors and brings back natural shine and silk. In addition, it helps to make it look thicker and voluminous.
Does Olaplex No 3 have protein?
No, Olaplex No 3 does not contain protein. It is not a protein treatment. Neither is a moisture treatment. As said, it's a bond repairer and does that extremely well. Don't expect it to take care of every hair problem – especially something like split ends that will need constant trimming. You can very well use a protein or moisture mask every now and then while still using the Olaplex No 3.
Is Olaplex No 3 color safe?
Yes, it's absolutely color safe. It can be used on sorts of hair types including highly compromised, bleached, dyed, textured, and even virgin hair. A few Salonists also use the Olaplex No 3 before proceeding with hair color treatment.
How long can you leave Olaplex No 3 on your hair?
Typically 10 minutes, you can extend it up to 90 minutes for better results. Olaplex No 3 works only on damp hair, so it should be fine as long as your hair is moist and damp for it to work effectively. Personally, I found keeping it on for 30 minutes worked wonders for me.
Can you sleep with Olaplex No 3 overnight?
Yes, you can sleep with it overnight. Tons of people do this – even Kim Kardashian. But it's not recommended to sleep with it quite often as a regular routine. Once in a while is fine do it. It's not a protein mask so it would cause a reverse effect (that is damage it more)
Olaplex No 3 Dupes
There are no exact dupes for the Olaplex No 3 – because it's a patented system and is found only in Olaplex products. However, if you want to consider other options – it's a bond repairer and there are many brands that have come with bond repairers, just that they use different mechanisms, but still help with bond building.
Some popular bond-repairing products to replace Olaplex No 3 are:
Redken's Acidic Bonding Concentrate Intensive Treatment
Apparently, Redken's Acidic Bonding Concentrate Intensive Treatment is the closest dupe to Olaplex in terms of performance. This is an excellent treatment that's well worth buying for its miraculous results – especially on highly processed hair. It's a well-loved and well-recommended product in salons by hair stylists.
K18 Leave-in Molecular Repair Hair Mask Treatment
K18 Leave-in Molecular Repair Hair Mask Treatment is a patented product, just like Olaplex. The K18 uses a patented formula called K28 Peptide that reverses damage and restores elasticity and original hair. They advertise "The more the damage, the more dramatic the results". This product has been well received by everyone and is considered one of the splurge-worthy hair-repairing masks.
These two are considered dupes for Olaplex No 3 by professionals.
Goldwell Dualsenses Bond Pro Strengthening 60Sec Treatment
This is a special mention. It's relatively cheap and does the work similar to Olaplex. Goldwell Dualsenses Bond Pro is a 60-second treatment mask that's ideal for quick use. Works perfectly for colored treated, weak and fragile hair.
There are many other bond-repairing systems that are used in in-salon treatments. We know that L'Oreal has the Smartbond system, Schwarzkopf has Fibreplex and Wella has Wellaplex.
Is Olaplex No 3 worth it?
This is the OG Bond Repairing Treatment. There are tons of consumers who vouch for the effectiveness of the product on their color treated and severely damaged. It is known to be a miracle healer when it comes to repairing hair bonds. It's a very good SOS treatment and it's totally worth the money you'd spend on this.