Lakme is one of the Indian Cosmetics Brands that's loved by many not only for its quality makeup but also for its affordable price. This Lakme Lumi Cream quickly gained consumers' attention when it was launched last year. All due to its skincare+makeup USP. Since then it has received mixed reviews. Hypothetically, this is considered a dupe for the Mac Strobe Cream. Finally, I decided to get my hands on this Lumi Cream and share my review. I've tried a couple of Lakme Creams before such as Lakme Peach Milk Moisturizer and Lakme Absolute Perfect Radiance Cream. I did not have many expectations from this Lumi Cream. Read on to know my take on this product.
Product Description:
Lakme Lumi Cream is used for moisturizing your skin while highlighting your features to give an instant glow. It's a 2-in-1 lightweight cream that moisturizes and highlights your skin to give a 3D glow. Lakme Lumi Cream is good for all skin types, especially oily skin due to its light texture.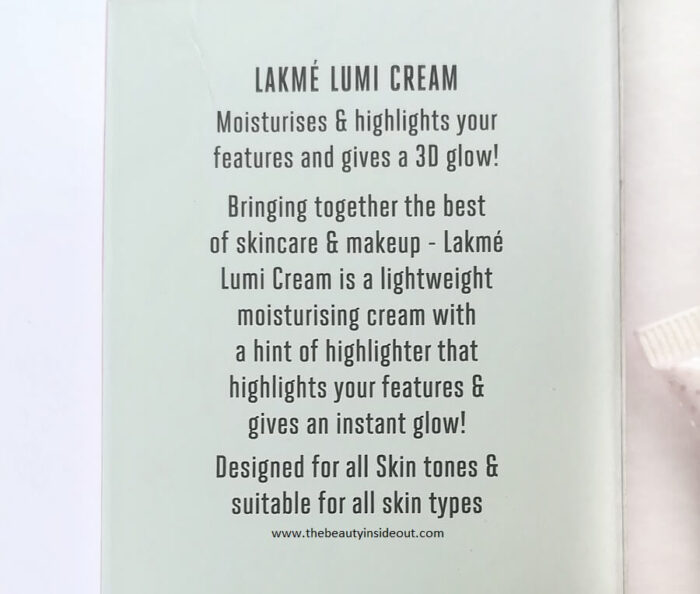 Lakme Lumi Cream Ingredients: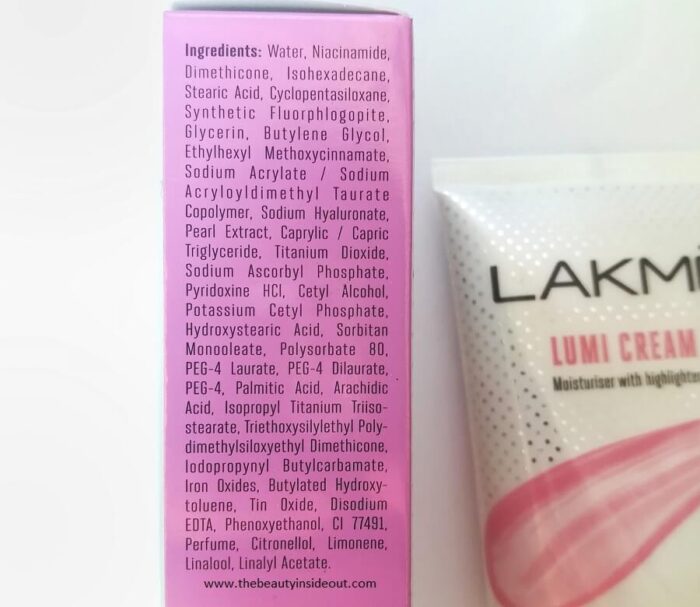 Benefits:
Niacinamide: excellent for skin brightening, pore health, and strength of skin barrier function.
Sodium Hyaluronate: provides intense hydration by binding water onto the skin
Sodium Ascorbyl Phosphate: a stable form of Vitamin C. Great for pigmentation, dark marks, and imparting an overall glow.
Korean Pearl Extract: this is the ingredient in the Lakme Lumi Cream that gives flawless skin by helping in skin renewal.
Ethylhexyl Methoxycinnamate: Also called Octinoxate, this is a sunscreen UV filter that protects the skin against harmful sun rays.
Titanium Dioxide: a physical UV filter that protects the skin.
Limonene, Linalool, Linalyl Acetate, Citronellol, Perfume: All of these are ingredients that give fragrance to the cream. They may/may not suit sensitive skin.
How to use it?
Can be used as a standalone moisturizer on clean skin. Right after cleansing, take a pea-sized of the product. Massage it gently all over the face.
Use it after your skincare routine (after cleanser, toner, moisturizer) before your makeup for the smooth glowing base.
Use it as a highlighter on top of your makeup.
Lakme Lumi Cream Side Effects / Precautions:
The Lumi Cream is high on fragrance ingredients, so if you are sensitive to them, this might not suit you. Side effects may include itching, rashes, burning and clogged pores.
The cream has a few comedogenic ingredients. Some people have reported to have caused acne on them.
I've used this cream on and off for a couple of months. I personally didn't experience any problems with it.
I'd suggest to check the ingredient list thoroughly if you are allergic to any of the ingredients.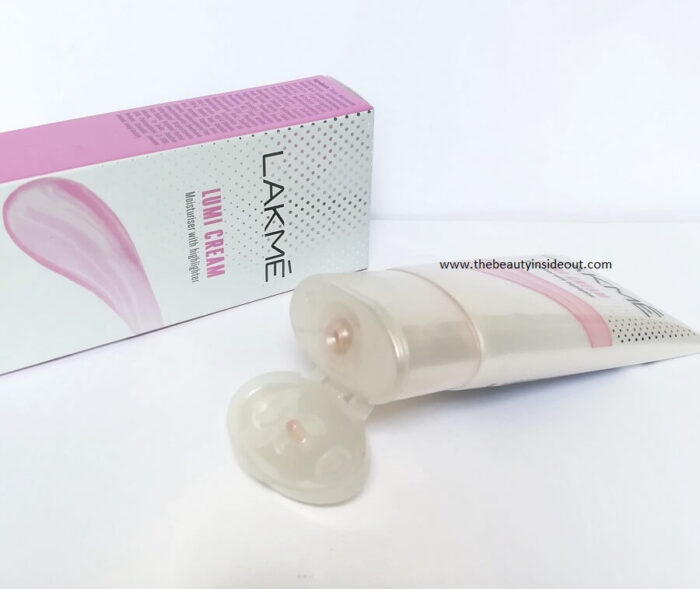 Lakme Lumi Cream Review
Packaging: One look of the Lakme Lumi Cream will tell you that its not a premium product. The cream comes in a white plastic tube with a flip cap. The flip cap opens to a small opening through which the product comes out.
The packaging is simple and works perfectly fine without any issues. It's compact so it's travel friendly as well. You get all the details of the cream on the back side of the tube. The details are also available on its outer carton with which the tube came.
Shades: The Lakme Lumi Cream comes in only one shade. It is a pale pink cream with light lotion like texture. Such pink toned creams look great on pale to light skin tones. It would look nice even on medium skin tones.
The single shade Lumi Cream has silver colored glittery particles. The glitters are densely packed so there are tons of it in just a pea sized of the cream.
Fragrance: The fragrance is floral. It is not overwhelming and subsides soon after application.
If you have used other Lakme Creams, you can relate to them It's very much similar to them.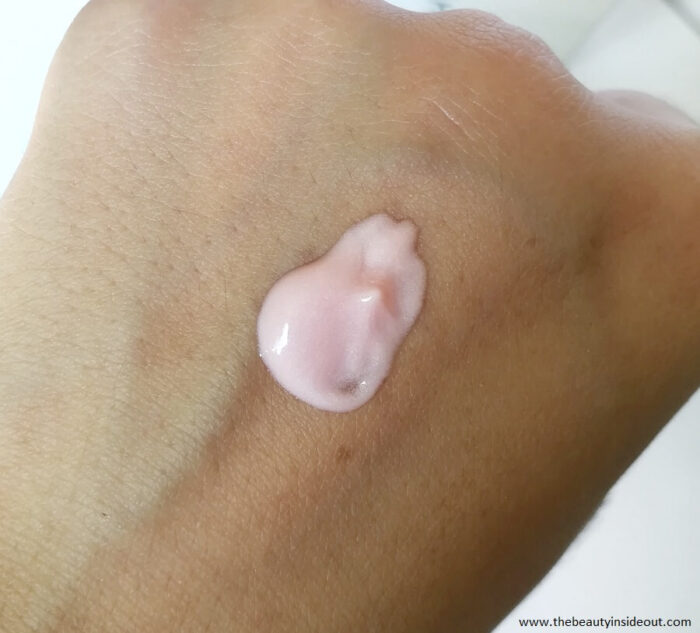 My Experience:
The Lakme Lumi Cream is what it claims to be. A moisturizer with a hint of highlighter.
What I like is its skin feel. It is a very lightweight lotion that spreads and blends effortlessly. It gets absorbed quickly, and leaves the skin lightly moisturized with a soft matte finish. There is no stickiness or greasiness. It leaves the skin absolutely non sticky and soft to touch.
What I dislike – is the amount of shimmers in it. I knew this Lumi Cream was meant to have shimmers. But the amount it has is too much. While the skin feels soft and smooth after applying this cream, it doesn't look that great, especially if you are using this alone on your skin. If you are under any light source, your face is going to gleam like a bulb with glitters all over.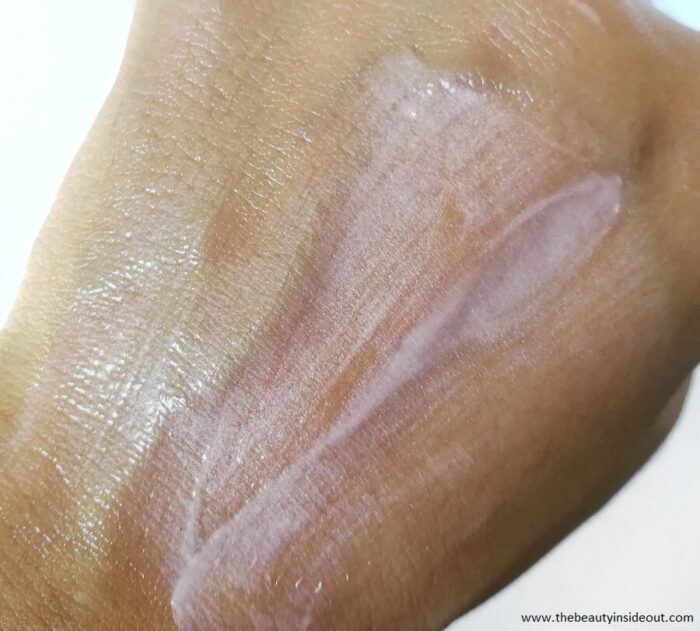 But, if you use this as a strobe cream as a base for your makeup, it helps to enhance your skin with a glow. Because the foundation that goes on top of the skin, makes the shimmers look less intense giving the makeup a nice radiant finish.
Lakme Lumi Cream can be used as a primer as it forms a smooth canvas for makeup. This is due the presence of silicones in it, which is a common ingredient in primers that blurs the pores and gives the skin softness.
Instead of using it as a base all over the face, one can also use a tiny bit of the Lumi Cream as a highlighter at the high points of one's face such as the cheek bones, bridge of the nose and under the eyebrow to enhance them.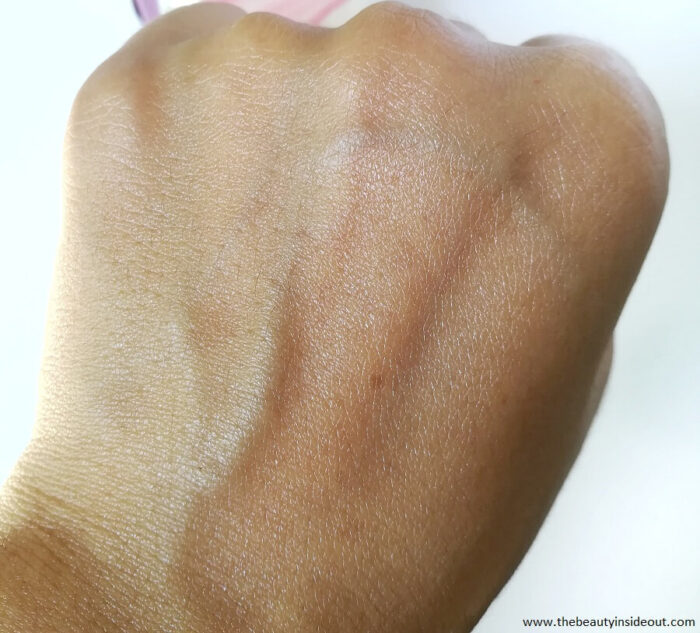 The cream costs Rs.299 for 30 gms and is often available on discounts. If you are going to be using this solely as a makeup product, the price is pretty budget friendly. The cream has a shelf life of 3 years and you barely need a drop of it for highlighting. So it's going to last you long.
If the Lumi Cream didn't contain shimmers, this would easily make a great lightweight moisturizer for oily skin. I can see myself reaching out to this cream when I need to glam up for special occasions and not on a regular basis. The glow is over the top for everyday work.
Pros:
Lightweight lotion like texture.
Quick absorbing.
Non-sticky soft matte finish.
Lightly hydrates the skin.
Enhances the skin when used under makeup.
Can be used as a highlighter on high points of the face.
Can be used by all skin types.
Long shelf life.
Cons:
Contains fragrance that might not suit Sensitive skin.
Too much glittery particles.
Rating: 3.5/5
Would I recommend it? If you want to test your hands with a budget friendly strobe cream, you can give it a try.
What do you think of this cream? Have you tried it? Share your thoughts.