While I do thorough analysis before buying a skincare product, it's totally opposite when it comes to haircare. That's because while the trending "transparent & clean brands" have worked for my skim, they never work for my hair. For my hair, drugstore finds work much better. Dove and Head & Shoulders are my go-to. I randomly picked up this Sunsilk Onion Shampoo during one of my grocery shopping. This is my second Onion Shampoo after the Meera Anti Dandruff Onion Shampoo. Read on to know my review of this Sunsilk Shampoo.
Product Description:
With the power of Onion and Jojoba Oil which are known to be rich in Vitamins and Minerals, this Sunsilk Onion Shampoo helps with hairfall and makes your long hair stronger from the first wash.
Sunsilk Onion Shampoo Ingredients: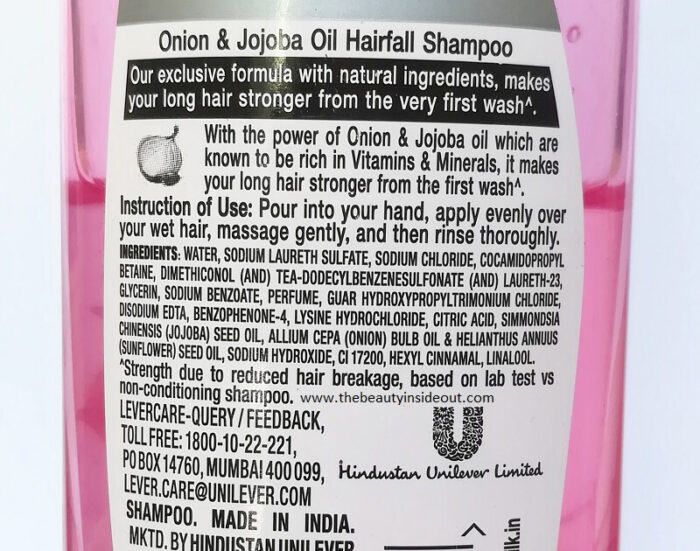 The Sunsilk Hairfall Shampoo contains Onion, Jojoba Oil and Sunflower Seed Oil, all of which are great for strengthening hair follicles.
Apart from that, it has the usual surfactants – SLES, Cocamidopropyl Betaine and Added Fragrance in the name of Perfume, Linalool.
How to use?
Pour into your hand, apply evenly over your wet hair. Massage gently and then rinse thoroughly.
Sunsilk Onion Shampoo Review
Packaging: Honestly, the packaging is what made me buy this. The striking pink bottle in your supermarket shelf is sure to attract your eyes.
The shampoo bottle is tall and sleek. It's made of sturdy plastic material. It has a flip cap that opens to a small nozzle. It's a basic packaging but serves it's purpose perfectly. You get all the details of the shampoo at the back side of it.
Color & Texture: The Sunsilk Onion Shampoo is a gel based shampoo. It is pale pink in color and has medium to runny consistency.
Fragrance: It has a sweet fragrance that intensifies upon shampooing. The scent doesn't last post washing. I like shampoos that leave a lingering scent and I am not a fan of sweet scents.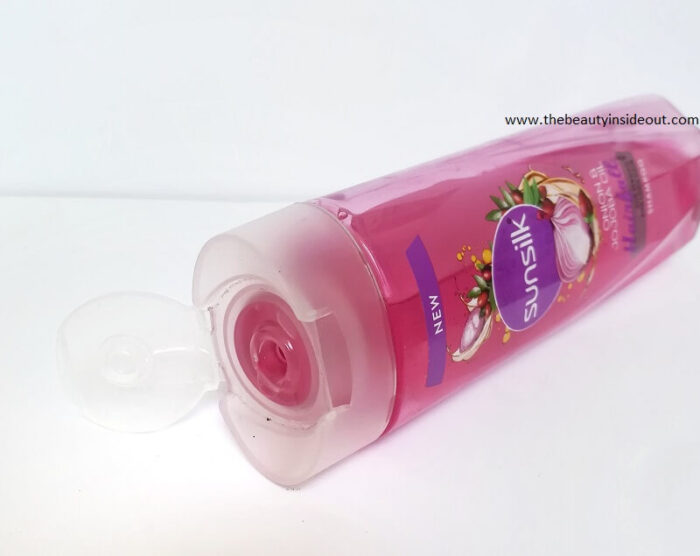 My Experience:
I've been using this shampoo for more than a month now. And I can say that it was an average shampoo.
I use a coin size of the shampoo and dilute it in water before applying it on my wet scalp. The shampoo lathers well on its own. With water it forms a very rich lather that gives you that nice cleansing action. It rinses off easily without leaving any residue behind.
The shampoo was able to remove dirt and hair oils from my oiled hair easily. As a shampoo, it does it job perfectly. It doesn't overly dry out my hair, but at the same time it's not very nourishing. I could get away without using a conditioner. It does leave my hair soft to touch but it's not silky smooth like some shampoos do. If you like volumized hair, this would be good.
The major USP of the Sunsilk Onion Shampoo is Hairfall Control. I do have hairfall problem and this shampoo didn't help with that. I did notice hair strands while washing as well as drying. Hairfall control needs to be taken care of both internally as well as externally. Externally this is not a great shampoo for controlling hairfall. I'd recommend getting any of the Dermatologists Recommend Shampoo for Hair Fall.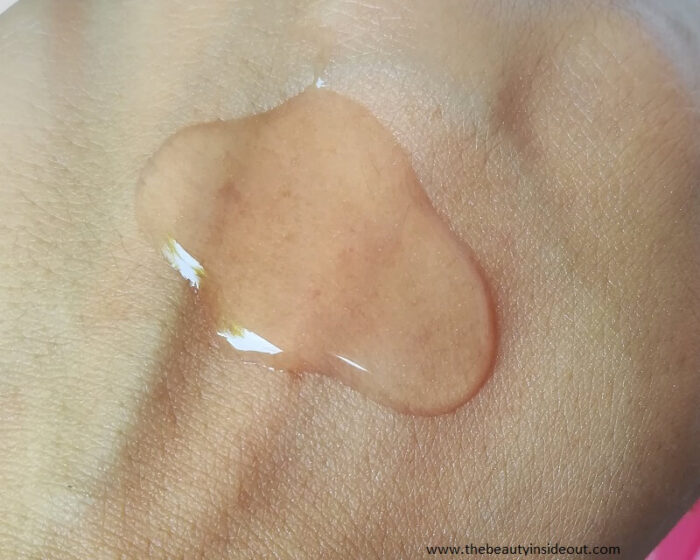 Pros:
Attractive packaging.
Easily available.
Gel based shampoo.
Lathers and cleanses well.
Does not dry out hair.
Contains Onion and Jojoba Oil.
Cons:
I did not like the scent.
Does not help with hairfall.
Rating: 3.5/5.
Would I recommend it? Probably not, it's an ok shampoo that cleans well but doesn't help with hairfall in anyway.
I hope you found this post helpful.