While the importance of using sunscreen has gained a lot of awareness, the importance of re-application is not talked a lot about. Sunscreens are usually effective for 2 to 3 hours max. so reapplication is essential to protect your skin from skin damage, especially if you are going to be under direct sun exposure. Re-applying is not an easy task, particularly if you have put on makeup. The beauty industry has evolved and now we have cosmetically elegant sunscreens for a flawless finish. Sun sticks have been quite popular recently. So I decided to get my hands on my first sunscreen stick. I randomly picked up the Tocobo Soft Cotton Sun Stick from Beautybarn with no expectations. Curious to know how it fared on me. Read on to know more about this Tocobo Sunscreen Stick.
Product Description:
Tocobo Cotton Soft Sun Stick is an everyday sunscreen stick. It is a lightweight, blue matte Sunstick that gives a soft and silky finish. Tocobo Sun stick offers SPF 50+ PA++++ and contains Herb AC Complex to calm sensitive skin. It controls excess sebum and is an excellent choice for oily skin.
Tocobo Cotton Soft Sun Stick is a physical and chemical sunscreen containing organic and inorganic filters. It is a hybrid sunscreen, in simple words.
Tocobo Sunscreen Stick Ingredients: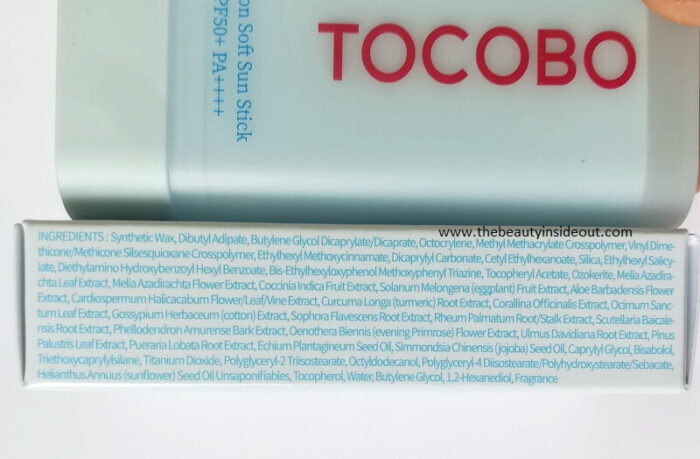 This has chemical filters – Octocrylene (UVB & UVA 11), Octinoxate (UVB), Ethylhexyl Salicylate (UVB), Uvinul A Plus (UVA), Tinosorb S (UVA & UVB), and physical filter – Titanium Dioxide (UVB & UVA 11)
The Tocobo Sunscreen Stick is formulated with Niacinamide, Hyaluronic Acid, Glycerin, Vitamin E and a bunch of Plant Extracts & Oils. It also contains fragrance. So if you are allergic to any of those, please watch out. It does not contain Alcohol though.
How to use?
After your morning skincare routine, as a last step.
Twist and turn the dial of the Sunstick to reveal the product.
Swipe across your face covering every area.
Carry it with you and reapply throughout the day as and when required.
Where to buy? Amazon.com and Beautybarn.in
Tocobo Sunscreen Stick Review
Packaging: The Tocobo Sun Stick comes in a twistable stick form that's similar to any deodorant packaging. One twist opens up to a thin layer of the product with a click. The twist mechanism functions perfectly even after my rough handling. The whole look of the sun stick is aesthetically pleasing with a light blue look. It's sleek and compact – easy to travel with. I see no problems with the packaging.
Color & Texture: It is a light blue sunstick. It is made of synthetic wax, but doesn't feel balmy nor waxy. It has a silicone powdery feel to it.
Fragrance: It has added fragrance and as opposed to many, the scent of this sun stick is very subtle to me. It has faint menthol notes that subsides soon after application.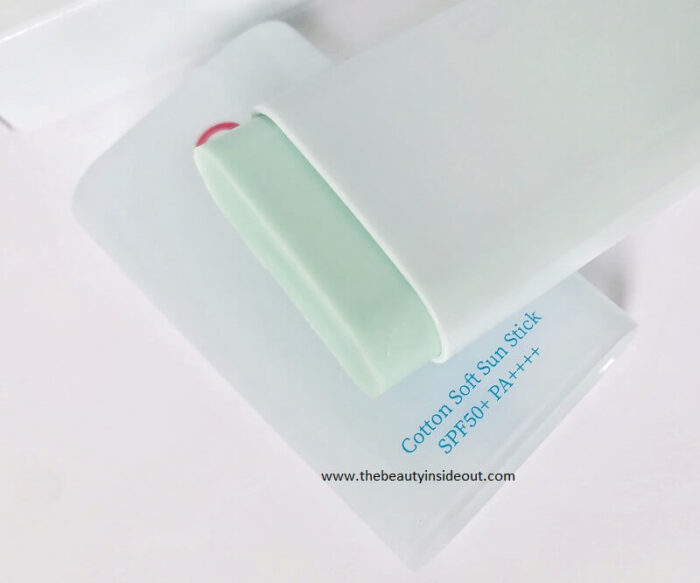 My Experience:
This is my first sunscreen stick and I'm amazed with it. The Tocobo Sunscreen is a blue sun stick and goes on completely transparent on my skin. There is zero hint of white cast, which I absolutely love in my sunscreen.
The sun stick applies decently well. It does not glide super smoothly like lotions or creams. This is a given since it comes in a stick format. And the stick is not curved or slanted, so using it in the nook amd corners of the face was a tad bit difficult.
I go for 2 to 3 swipes on each area. I could feel the sunscreen forming a protective film on my skin. It doesn't look like I have anything on, but I could feel it on my skin for the first few minutes. It's not greasy or sticky though. Once it settles down, it's super comfortable. It's similar to the feel of silicone primers that leaves the skin soft to touch. The finish is matte, as claimed, that makes it a great sunscreen for oily skin types.
I've used this sunscreen both as my first sunscreen as well as for reapplication. And it worked well at both times. The susncreen does not dry out the skin, but make sure your skin is not dry and well moisturized before using this, for better gliding.
The Tocobo Sunscreen contains micro sized porous powder that absorbs oil and excess sebum. So it does not provide any moisturization like many sunscreen lotions do.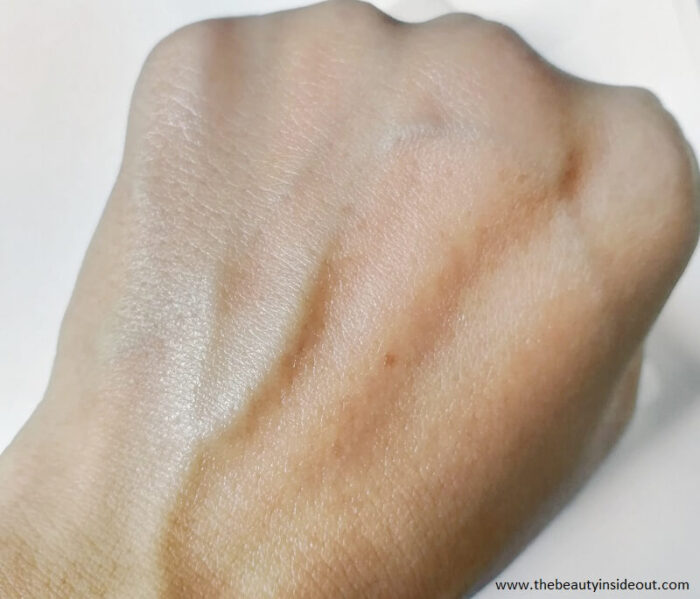 I haven't tried it on top of makeup, but I do feel it might move makeup if you swipe it hard which the solid stick calls for it. I do like using the Tocobo Sun Stick under makeup as it creates a smooth base for flawless finish.
Since the sun stick has good UV filers and is film forming, I assume it protects my skin well against sun damage. I did double cleanse at the end of day while using this sunscreen. I haven't noticed any sun damage like tan and sunburns or acne breakouts due to this sunscreen.
With sun sticks, there is the hygienic factor to be taken into account. If you are comfortable with it, go ahead and get one. After each use, I make sure to wipe the stick with a tissue. I used it everyday and haven't left it unused for a couple of days to see any growth (fungus may be). Also, I'm not sure how it would work with someone with acne and active acne. I personally believe sun sticks are not a good option for acne prone skin.
The Tocobo Cotton Soft Sun Stick is one of the Best Korean Sunscreen Sticks that's highly raved and loved by many consumers. Personally, I loved it for its zero white comfortable matte finish. I'd definitely pick it up again.
Pros:
Transparent matte finish.
Sleek, compact, travel friendly.
Safe UV protection filters.
Silky soft primer like finish.
Offers SPF 50 PA++++.
Absorbs excess sebum and oil.
Great for oily and combination skin types.
Good for re application.
Vegan formulation.
Cons:
Contains fragrance and plant extracts that may not suit sensitive skin.
May tug on dry skin.
Rating: 4.5/5
Would I recommend? Yes I'd recommend it for its convenient sunscreen application throughout the day. It's zero white cast matte finish will be loved by oily skin types.
I hope this post was helpful. Do subscribe for more reviews.