After I posted the list of Indian Websites to Buy Korean Beauty Products, there has been several enquiries on how this particular website, BeautyBarn, is. Are they legit? Do they sell authentic products? Do they have Cash On Delivery? Such questions have been popping my inbox. After a really long time, I had this particular K-Beauty product to buy. So I thought let me get it from this site and answer all your questions by sharing my shopping experience with them. This post is in no way sponsored and all products are purchased from my own money.
Let's start off with what the brand says about themselves.
About BeautyBarn
BeautyBarn India is a startup ventured in the beginning of 2017 with the aim to help consumers discover the best of Korean Skincare, Beauty and Advanced Skincare Routines. They source their products directly from the brands or authorised distributors only. All the products in their inventory is 100% genuine and authentic. They never source anything from the grey market.
Is Beauty Barn Legit?
Yes, it is. As of 2021, I have made multiple purchases from BeautyBarn and all of the products have been received in good condition.
How is the Website User Interface?
For any e-commerce website, the user interface, the look and the loading speed is really important for me. Seriously, I wouldn't be patient enough to browse through a slow loading page. BeautyBarn has no shortcomings in any of those aspects. The website is simple and clean. It's not flashy and overly crowded with banners here and there. One could easily browse through the products, category wise, brand wise, price wise and even offers wise. There are relevant information about the products in each product page along with a couple of customer reviews and ratings, to help us make an informed purchase.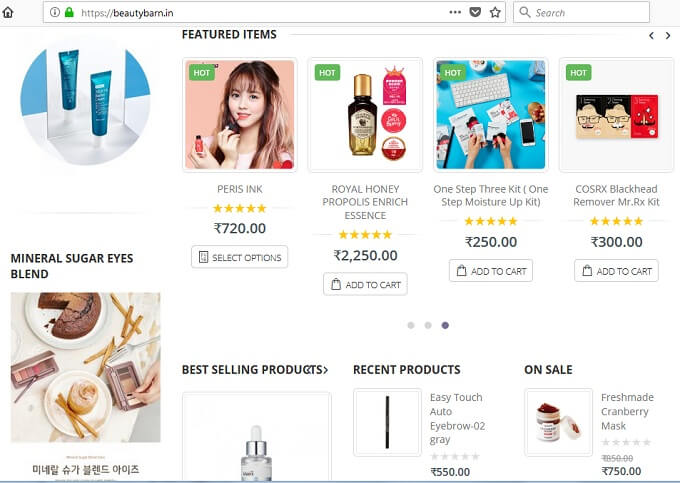 What are the Brands available with BeautyBarn?
Out of the many Indian K Beauty Websites, this has to have the largest inventory stocking up versatile brands including
Cosrx
Klairs
Purito
Etude House
I'm From
Isntree
Acwell
Somebymi
Laneige
Benton
Troiareuke
Missha and much more
You could find most award winning and best selling Korean Beauty Products here.
What are the payment options?
They have a secure payment system through CC Avenue. Payment can be made through NEFT, Debit/Credit Cards and Wallets.
Do they avail Cash on Delivery?
Unfortunately No.
What are the Shipping & Delivery Charges?
The shipping is Flat Rs.50 for orders below Rs.2500 irrespective of location. For purchase above 2.5k, shipping is free. I find the shipping price super cheap, especially since I stay in Chennai and the products were shipped from the North East. Usually the shipping charges would be pretty high for this distance.
How long does BeautyBarn take to deliver?
On their website, they say the products should ideally be reached in 7 working days. I received my products in 5 days of placing my order, which included Saturday and Sunday. As of 2021, due to covid restrictions, you are likely to receive your products in two weeks time.
Do they provide tracking information?
Yes. I received an email confirming the dispatch of products with a tracking number the next day of placing my order. The products were sent to me through FedEx, Standard Overnight. I could easily keep track of my parcel. From time to time I received dual notification (an SMS & email). I was also intimated when the product was out for delivery.
How was the packaging? Did the products arrive safe and secure?
The packaging was standard. Nothing fancy about it. It arrived securely packed in carton box which further came in a plastic bag/pouch (like those Amazon Covers). Inside the box, the products were bubble wrapped to avoid any damage. My products didn't have any major damage. Only the outer cover of one of my products was slightly crumbled.
Does Beauty Barn have Coupon Code?
They don't have any exclusive coupon codes. But when you register for the first time and make a purchase, you get 500 points (Rs.50) which can be redeemed in your first purchase itself. In addition, you will get Reward points (100 points = Rs.10) for registering, purchasing, referring, reviewing and answering other customer questions on the site. More details are available on their Reward System page.
Beauty Barn have sales from time to time, so keep a watch during festivals and special days for offers.
So what did I buy from BeautyBarn?
It's a teeny tiny one brand haul from Dear Klairs. I've been closely looking at this brand for a while. Klairs products are said to follow EWG, manufacturing safe and effective skincare cosmetics.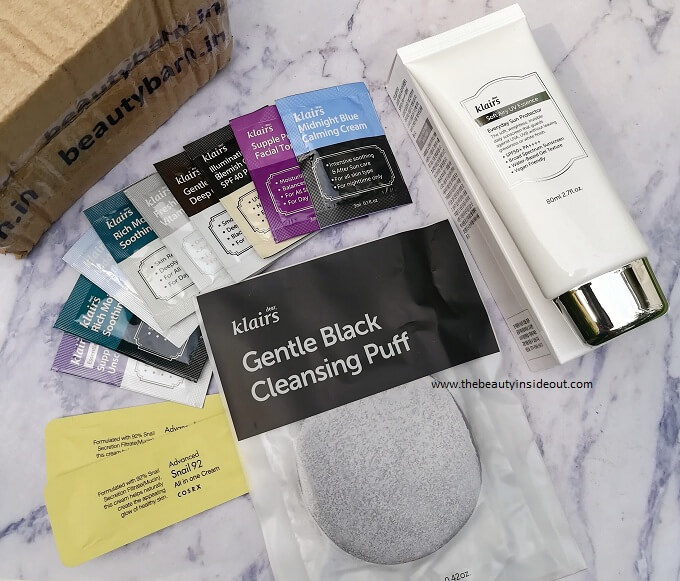 It's been forever since I bought a high SPF chemical sunscreen. The last one that I used was the Sunproteck from a Pharma Brand. After that it was either natural sunscreens or physical sunblocks. I also have had my fair share struggling with white casts. Recently I heard about this sunscreen when it was launched. Going by the description and brand claims, I was intrigued. I also wanted to try my hands on the so called Asian Sunscreens and this looked like a safer bet with minimal and ewg approved ingredients. It is also said to leave no white cast. Let me try it out and see.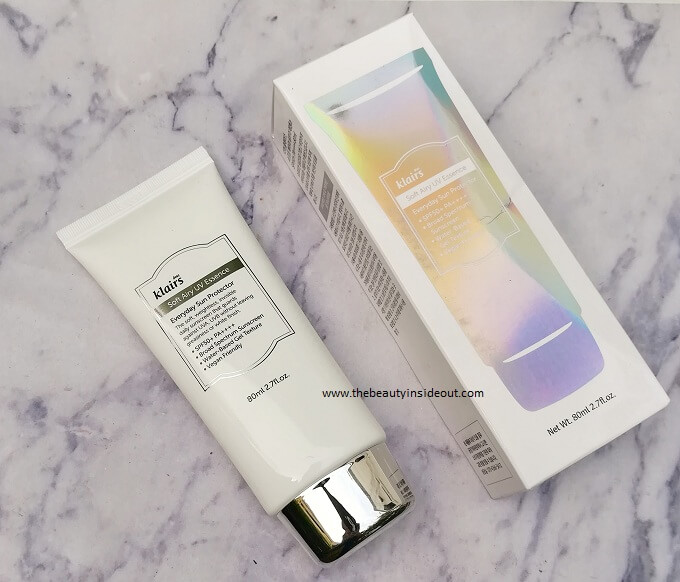 This is supposed to be used with foaming cleansers, oil cleansers and facial soaps. Probably I won't be using it with them. I have some masks with which I use a textured sponge to remove. This sponge looked softer, so I thought it will be better. I may also use it with some slippery cleansing products.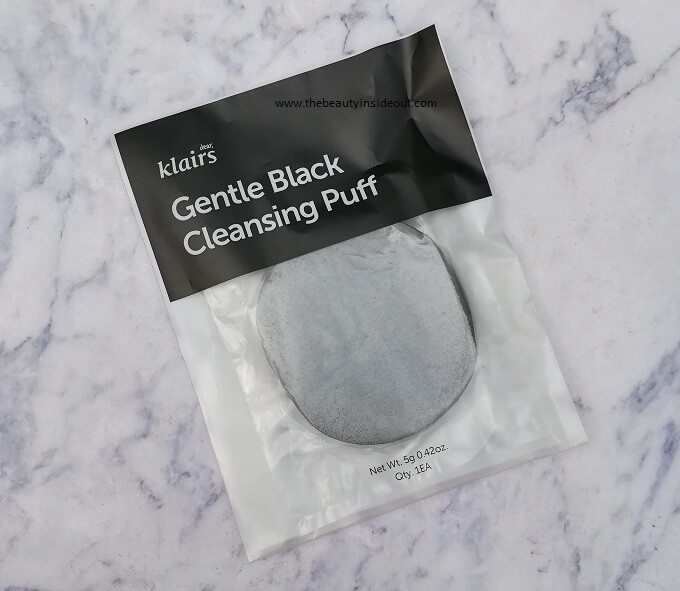 This is an assorted sample package with some of the best selling Klairs Products. I know that these are usually given free when you buy products from Wishtrend. But still I choose to buy it as I wanted to try a couple of these products, particularly the ever so famous Supple Preparation Toner and Vitamin E Mask.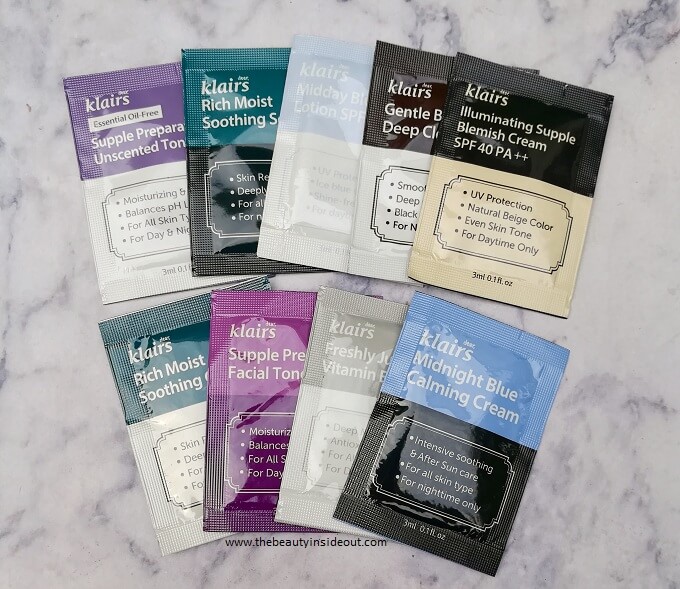 What about free samples?
It's a norm for International K-Beauty Sites to give out surplus free samples to try out. I am glad that Indian K-Beauty Sites are following it too. I received two samples of the Cosrx Snail Mucin Cream. But I wish BeautyBarn was much more liberal in giving out samples, c'mon, I made a purchase of 2k and just two tiny samples! In my experience, DaisySkinFix is much more generous when it comes to samples. But recently most of their product prices has increased heavily which is also the reason why I didn't make this purchase there.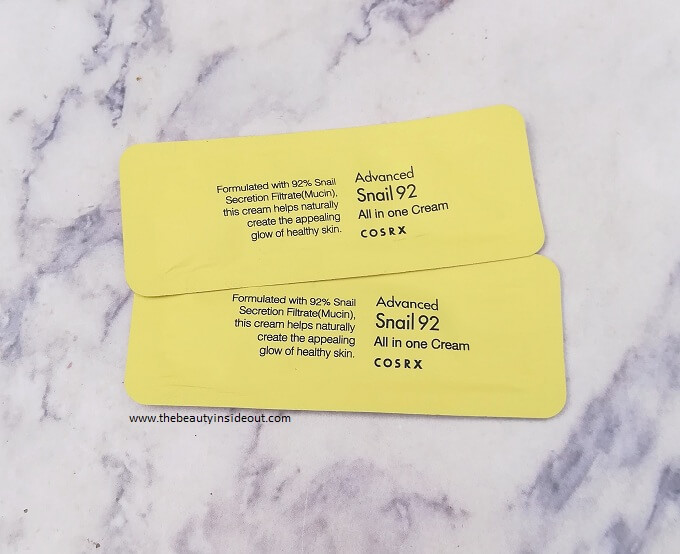 Some of the best selling products/deals on BeautyBarn?
Summarizing,
What I like about BeautyBarn?
Good website user interface.
A variety of brands.
Safe and secure payment system.
Shipping is faster than expected.
Reward systems.
What they could improve?
They could be more generous in giving out samples.
Introducing cash on delivery option.
That was all about my shopping experience with BeautyBarn. Let me know in the comments section below if you would like to see a detailed review on any of the products sometime later. Also, do share your experience if you have shopped with BeautyBarn.
Related Posts