Today's post is all about Barva Skin Therapie Products. You could have somewhere heard about this brand Barva for making Natural and Safe Lipsticks. Their Clarified Butter lipsticks are, in fact, a patented product. Barva Skin Therapie strives to deliver products using the finest ingredients nature has to offer. Their manufacturers Sprivil Healthcare Pvt.Lt specializes in organic cosmetics and is Certified by EcoCert and BioGro. All their products use safe and FDA approved ingredients. I got three products for reviewing and here are my unbiased opinion about them.
1.Barva Skin Therapie Renew Bamboo Exfoliator
This is a lotion based non-foaming physical scrub with a nice consistency that spreads easily on the skin. It has scrubbing particles which are invisible to our eyes but when you massage it on your face, you could feel it. I could relate the scrubbing particles to rice flour. Very teeny tiny particles, which can be harsh as well as mild depending upon the pressure you put while massaging. I use gentle strokes in circular motions all over the face for a minute and continue to massage with a little bit more pressure on the tip of my nose, since I have blackheads there. Finally I rinse it off with normal water. Rinsing is super quick. Just two or three splashes of water is enough to remove the scrub. Most lotion based scrubs take time to wash off as they would have a slipperiness, but this one doesn't have such silicone feel and gets washed off very easily. Once I pat dry, my skin is left soft, smooth and plumped up with a bit of glow. There is no skin irritations or redness noticed. It is sensitive skin friendly. The scrub does not dry out the skin, rather it's mildly hydrating and hence skin feels supple. There is no rush to run for a moisturizer at all. This scrub has a citrusy fragrance due to the presence of Lemon Oil. The scent is a bit strong, but since it doesn't stay once the scrub is rinsed off, I'm ok with that.
Overall, I liked using this scrub mainly for the plumped up and glowing after effect. As an exfoliator, it does deeply cleanses my pores without being abrasive on the skin. Only that it couldn't completely get rid of my stubborn blackheads. I would still recommend this for someone who is into physical scrubs and would want a non-drying nourishing scrub.
Rating: 4/5 Where to buy? Amazon.in
2. Barva Skin Therapie Mango Butter Moisturizer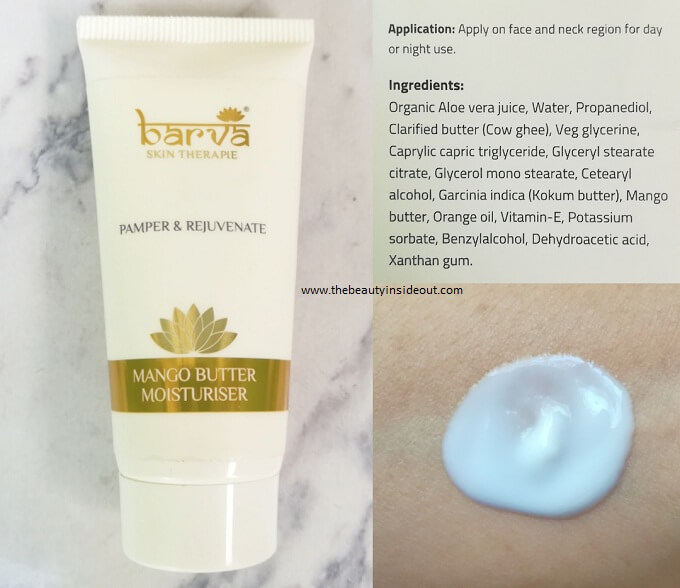 This again is a lotion based product with a citrusy fragrance. This one has Orange Oil and the scent is a bit bothering for me as it lingers on the skin for a while. Otherwise the product is good for oily and normal skin types. It is a lightweight moisturizer that spreads and gets absorbed into the skin within seconds. It feels balmy on the skin which is trait of Cow Ghee (Clarified Butter) and leaves the skin mattified for the next couple of hours. It is moisturizing enough for day time use but for night time I need a bit more moisturizing product. I used this moisturizer on my face for just about a week and I didn't encounter acne during that period. After that I used this up as body moisturizer as the fragrance was too much to handle on my facial skin. This is especially good as a hand and foot lotion. It makes my feet smell nice and is non-greasy and comfortable as a hand cream.
Overall, this serves the purpose of a moisturizer for oily skin with its lightweight, non-greasy and mattifying formula. This is recommended only for those who are comfortable with fragranced products. I liked this product as a hand and foot cream, more than a face moisturizer.
Rating: 3.5/5 Where to buy? Amazon.in
3. Barva Skin Therapie Lipstick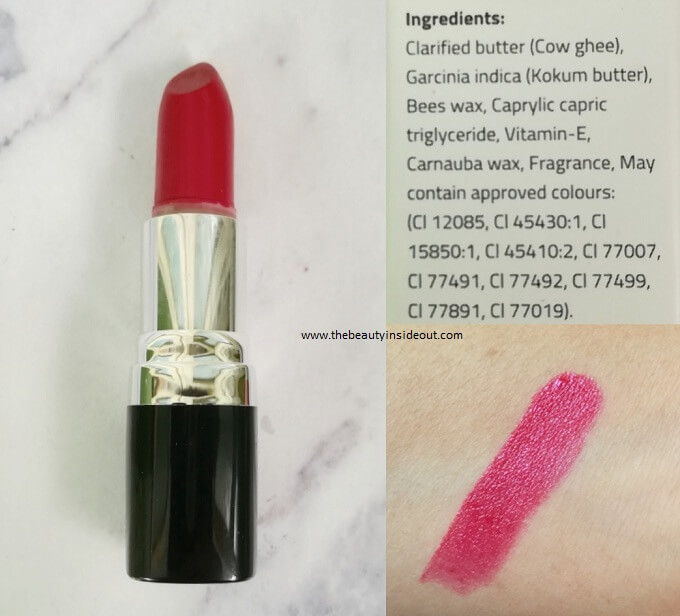 Barva Skin Therapie Lipstick is quite well known for being a toxic chemical free lipstick in India. It says it is made with a 100% Natural Base and some good nourishing ingredients like Clarified Butter and Kokum Butter. (Check the image for the ingredient list). The lipstick has a negligible fragrance unlike the other two products.
I was initially surprised to see the size of the lipstick. It is very small and fits into the width of my palm. Upon checking the quantity, I'm releived that it is similar to every other lipstick. It is 4.3 gms in quantity. The shade I got is 612 Elegant Red. It is not a blood red shade, but a easily wearable pinkish red. This shade will look beautiful on all skin tone. The pigmentation is buildable, one swipe does not give opaque coverage, but layering twice would do the work. The lipstick is creamy smooth hence glides easily with no tugs or pulls. It is mildly moisturizing and gives a satin finish, neither blinding glossy nor flat matte. The staying power of this is however not so impressive. It stays put for a maximum of 3 hours or so without food or water intake. In other case, it vanishes quickly. But the fact that it is a natural lipstick, it should be ok.
In short, except for the staying power there isn't much cons for this product. I would recommend this for someone who is on the lookout for natural lipsticks. They come in a variety of shades and the pricing is also reasonable and affordable, in contrast to other natural lipsticks in the market which are usually highly priced.
Rating: 4/5 Where to buy? Amazon.in
Summarizing, I would rate the brand Barva Skin Therapie a 4 on 5.  I'm only displeased with the strong fragrances of the skincare products. Other than that I have no complaints. I liked using all the three products.
Related New Beauty Finds