For the longest time I used face cleansers that were targeted directly towards consumers with acne-prone or blemished skin. In April, I finally made the switch. With the growing hype around Glossier and the positive influx of reviews online, I was tempted into trying either the Boy Brow or the Milk Jelly Cleanser. My first bottle of the latter is still going strong. Let's hear out what the Glossier Milk Jelly Cleanser has got in stores.
Product Description:
This is the ultimate daily face wash: use on dry skin to dissolve away makeup and grime, or on wet skin as you start your day. The pH-balanced, creamy gel formula is made with a blend of five skin conditioners so your face is left feeling healthy and soft, never tight. Its cleansing power comes from the same gentle cleaning agents found in contact lens solution, so it's tough on impurities and still safe to use on your eyes. You'll see.
Sulphate-Free and Paraben-Free
Cruelty-Free and Vegan.
Dermatologist and Ophthalmologist Tested.
Directions: Massage cleanser on dry or damp skin and rinse thoroughly.
Price: Rs 1300 ($18) for 177 ml.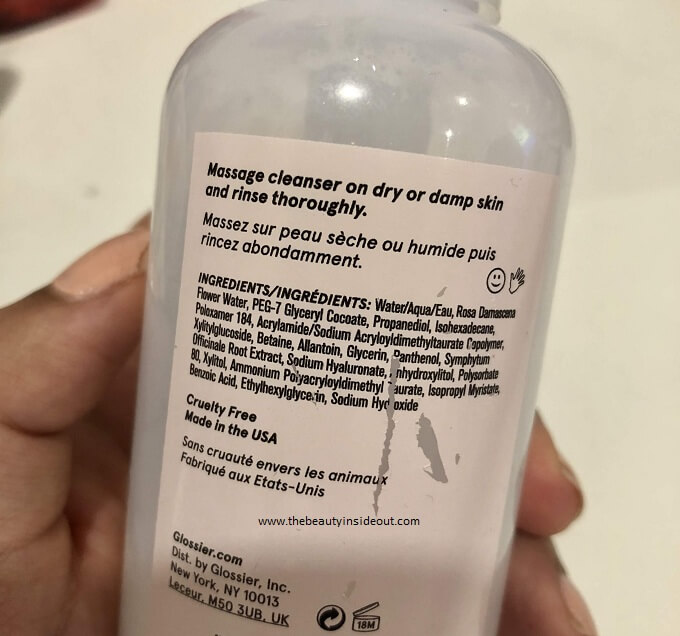 My take on Glossier Milk Jelly Cleanser:
This award winning cleanser comes inside a baby pink bubble-wrap type of zip lock bag – one that is famously recognized as the Glossier packaging. Till this day, I use the bag to store my accessories or makeup when I'm traveling. The bottle itself is transparent enough to let you know when you need to pick up a new one and the print on it is smooth; it hasn't worn off even after my regular usage for the past 5 months.
I use Glossier Milk Jelly Cleanser twice a day. Ensure that you wet your face first and then apply the product. In the morning I use 2 pumps and about 3 at night when I'm washing out any leftover makeup (after using Micellar water/makeup removing wipes). When the product is first squeezed out, it has a light white color and after lathering it, it becomes a transparent screen over your face. For the first week, I was disappointed. I usually prefer the product to produce a generous amount of foam, as it feels like the product is working. But after consistent use, I realized that the clean, transparent film does wonders (even without the foam!). Its consistency is thin and jelly-like. It is very gentle on the skin and over time has improved my skin. I rarely get any pimples now. The product, however, doesn't make claims about preventing acne. Also, the key ingredients are primarily natural ones.
If you're used to using drugstore face washes, this will be a step-up in terms of the price. The quality, however, justifies this price point – While still a relatively small brand, compared to other mid-tier and luxury brands, it has a massive fan following who all swear by this product.
Unfortunately, it isn't easy to get your hands on this product because it isn't available in India (not even Amazon or Nykaa). So your best bet is to buy it when you're traveling to the US or have your friends/family living outside India ship it to you.
The product comes in a smaller bottle for $9 now, so if you want to try it first and see results, the smaller size will be of help. Additionally, there are also a bunch of pretty stickers that come with any Glossier product purchased (a small, but fun incentive to shop).
Result: After 5 months of constant use, I am completely satisfied with this product and currently I'm not looking to substitute it with anything else. My skin feels pretty soft after every use and now there is a visible improvement in my skin compared to it in April/May.
Pros:
Purifying
Soothing
Nourishing
Dermatologist and ophthalmologist tested
Cons:
Currently not available in India
Rating: 4.8/5
Would I recommend? Definitely. This product suits every skin type.