Recently my aunt gifted me a couple of French skincare products when she was down from Paris for a vacation here. One of the product I got is this popular La Roche Posay Thermal Spring Water. If you are new to this brand, La Roche Posay is an age old, french pharma brand whose products are mainly catered towards sensitive skin. For starters, the Effaclar Duo, Anthelios Sunscreen and this Thermal Spring Water are some of the Best Selling La Roche Posay Products you might want to try out. This Thermal Spring Water is often perceived as just a can of water. Precisely a can of mineral water! Have you ever thought what mineral water can do to your skin? Is this any different? Hop on to read my thoughts on this cult product.
Product Description:
This soothing face mist for sensitive skin gently refreshes and tones the skin. Sourced in La Roche-Posay, France, this thermal spring water is naturally rich in minerals with scientifically demonstrated soothing and antioxidant properties.
Ingredients:
Aqua/Water. Nothing else. It is a natural and chemical free product.
What is Thermal Spring Water?
A thermal spring water is a naturally occurring hot water that flows to the Earth's Surface after passing through underground rocks which are rich in minerals. This water is absolutely pure and clean and contains high concentrations of Selenium and other trace elements. The Spring Water has a neutral pH.
How to use La Roche Posay Thermal Spring Water?
Spritz at a distance of 10-12 cms away from your face.
It can be used a toner after cleansing the face.
It can be used over your exfoliating toner to calm the skin.
As a refreshing face mist throughout the day.
Excellent soother for sunburnt and irritated skin.
As a finishing spray to set your makeup to a dewy finish.
Packaging: The product comes in a white colored opaque tin and has a spray type nozzle. It sprays similar to aerosol sprays, very finely and smoothly dispersing the liquid evenly onto the skin. The tin has quite a lot of details which is written in French . It comes in various sizes and the one I have is travel sized, hence it's very easy to carry in my bag and use it on the go.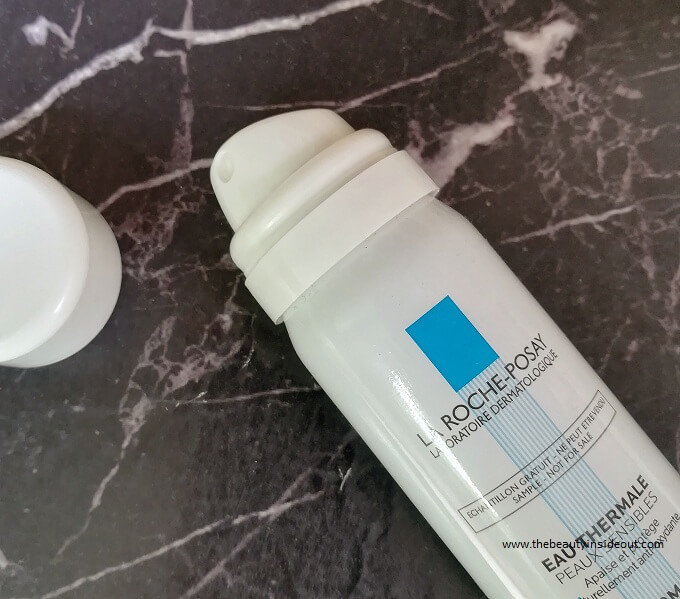 My take on La Roche Posay Thermal Spring Water:
For someone with non-problematic skin, this would be just a hydrator and a refreshing mist. You wouldn't find it doing much for your skin. But! If your skin is prone to all sorts of skin problems, only then you will know how beneficial this spring water is. The spring water is suitable for all skin types and is most recommended for Eczema, Rosacea, Intolerant and Sensitive skin. This is completely free of chemicals with no fragrance, color or additives added to it.
I am currently using this over my exfoliating toner. My toner often causes my skin to tingle and this spring water has been a savior at such times. It soothes and reduces the tingling sensation almost immediately. The spring water has a naturally cooling effect on the skin, even without storing it in a refrigerator.
My aunt swears by this water. She keeps this in her hand bag all the time and uses it much frequently at work. She loves refreshing her skin with this at the metro station while getting down from work.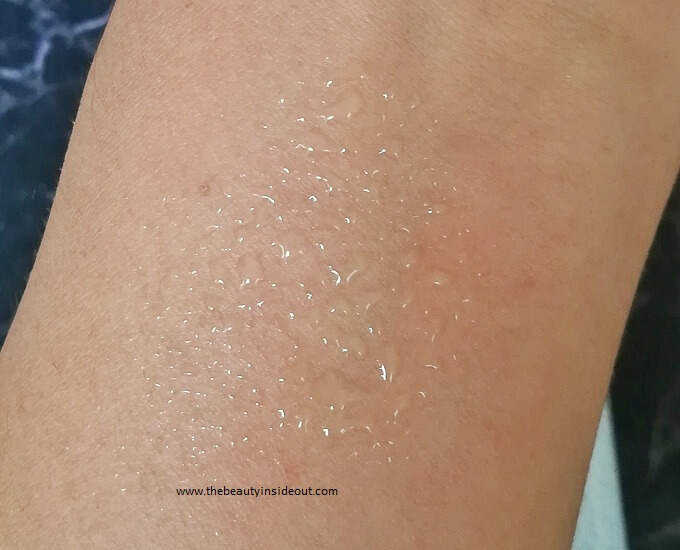 This product can be very addicting for our hot and humid weather conditions. It is a wonderful soother for hot flushes, to decrease skin inflammations and redness. Place a cotton pad sprayed with this spring water on the irritated area. You will see how efficiently this tranquilizes irritated skin.
This has the capability to instantly hydrate your dehydrated skin caused due to prolonged exposure to cold weather or staying up in an AC environment. It is a great multi-purpose product which can be mixed in your face packs (although I don't recommend it, its expensive to be mixed so) or be used as refreshing mist throughout the day. Sensitive skin types will love this as a standalone hydrating toner to use after cleansing. Overall, a great product to try.
Pros:
Multi-purpose Product.
Travel friendly packaging.
Gentle on the skin.
Sprays a fine mist of micro droplets.
Rich in minerals and natural anti-oxidants.
Oil free, Fragrance free, Paraben free, Additive Free.
Refreshes, soothes, hydrates, tones and re-balances skin.
Calms inflamed and irritated skin.
Can be used for sunburns, hot flushes and after work outs.
Best for Eczema, Rosacea, Sensitive and Dehydrated Skin
Cons:
Expensive.
Can be basic for non-problematic skin.
Rating: 4.8/5
Would I recommend? Yes, La Roche Posay Thermal Spring Water is a very addicting natural mineral water which has got great skin soothing benefits. I would highly recommended this for Sensitive Skin Types.