I am still a novice when it comes to serums. Precisely, I have only used two serums before this, one is from Votre and the other from Just Herbs. Currently I have slowly added Facial Oils (Rosehip from Moolit) into my routine and keeping a check on its performance. But before that I would like to share my experience with this Innisfree Green Tea Seed Serum. This has been with me since a very long time and I had already put up a quick review on it after using it for a month on the Innisfree Review post. Now it's past the time to put a complete review on it. Keep reading to know more about it.
Product Description:
This nourishing moisture serum is formulated with freshly squeezed Jeju Green Tea and Green Tea Seeds to create a dewy and clear skin from deep within.
Ingredients: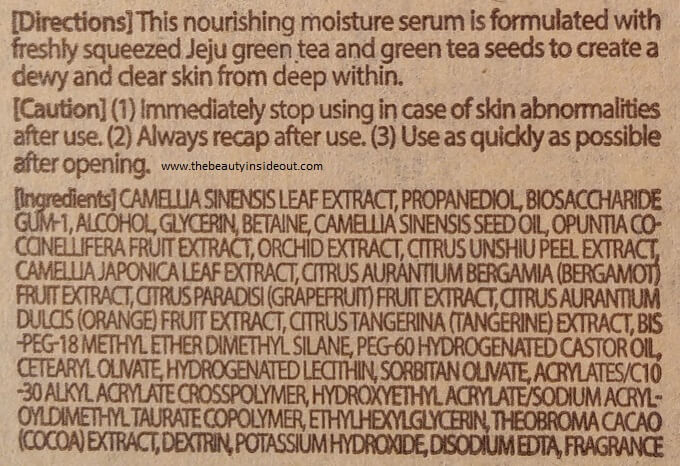 Usage Directions: Use it after cleansing and toning, before your moisturizer.
Shelf Life: One year. Use it as quickly as possible after opening.
Price: Around Rs.1500 or 22 US Dollars for 80 ml of product.
My take on Innisfree Green Tea Seed Serum:
Packaging: The serum comes packed in a green colored plastic bottle, through which the product inside it can be seen. I love the green packaging of it as it goes well with the brand's eco-friendly theme. The bottle has a pump dispenser which is protected with a cap. The packaging is user friendly as well as travel friendly. The bottle itself is housed in a carton box with so many information of the product printed on it.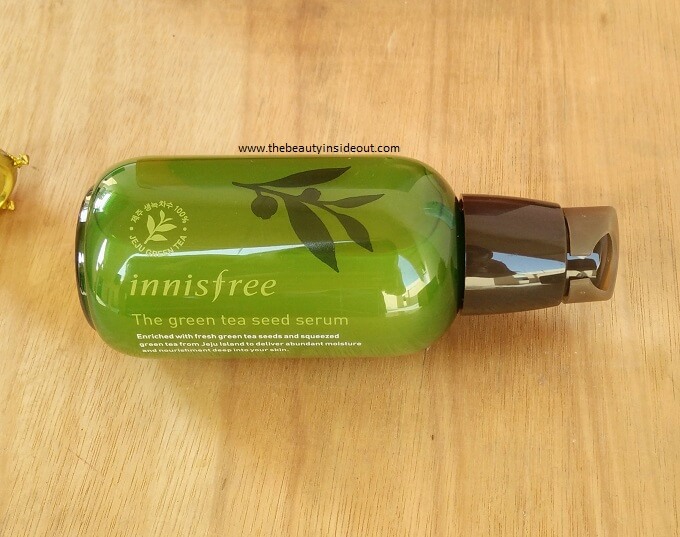 Color: The serum is see through white, close to being colourless.
Texture: It has a semi-thick serum consistency. It is not too thick, but it isn't runny as well. Only one and half pump is required for full face and neck, so the bottle will easily last six months.
Fragrance: I dislike it's strong scent on my skin. It has a citrusy scent which is refreshing at first. But it becomes kind of irritating as it is doesn't fade away and bothers me a lot.
Experience: Analysing the ingredients a bit, Except for the fragrance in it, the ingredient list is pretty good without the presence of silicones and silicone derivatives which is common in such serums. And all the natural active ingredients are on top of the ingredient list, which means they are more in it. It has got some great anti-oxidants such as Green Tea Extract, Orchid Extract, Green Tea Seed Oil, Tangerine Peel Extract to name a few. All these are very good for anti-aging. So I was expecting it to show some great improvement in my skin texture. The CosDNA Analysis of Green Tea Seed Serum is also clean with no severe acne causing ingredients.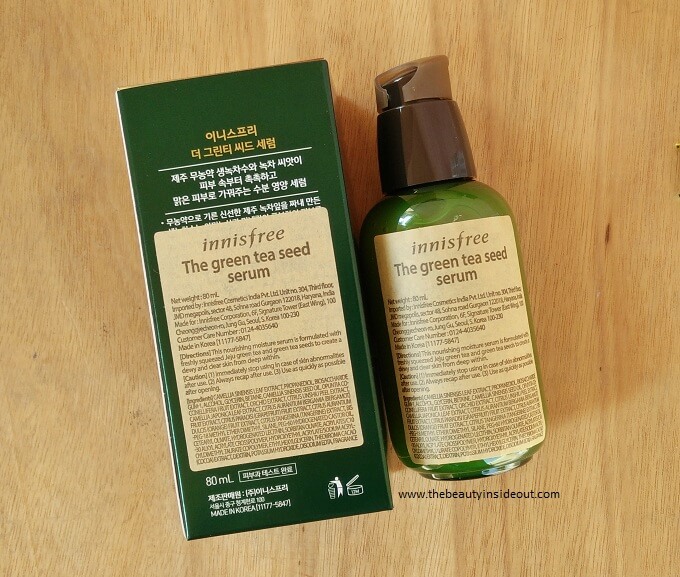 Coming to its performance, the serum is a highly moisturizing one and feels a bit sticky and heavy immediately upon application. It takes a few seconds to dry down to a dewy finish and then skin feels light and comfortable. Since I have oily skin and live in a humid climate, I did not like using this serum during day times and mostly preferred for night time use.
After cleansing and toning, I apply this serum, wait for sometime and then apply a layer of Aloe Vera Gel. You can apply any moisturizer or night cream depending upon your skin needs. My skin can't handle too many moisturizing products, so I don't layer too much products. The serum makes me wake up with supple and well nourished skin. Nothing extra ordinary.
Whenever I used this serum continuously for two to three days I used to get one or two tiny bumps and whiteheads. I guess the fragrance might be the reason as I have noticed such pattern with similar heavily scented products on my skin. So I always gave a break in between whilst using this product.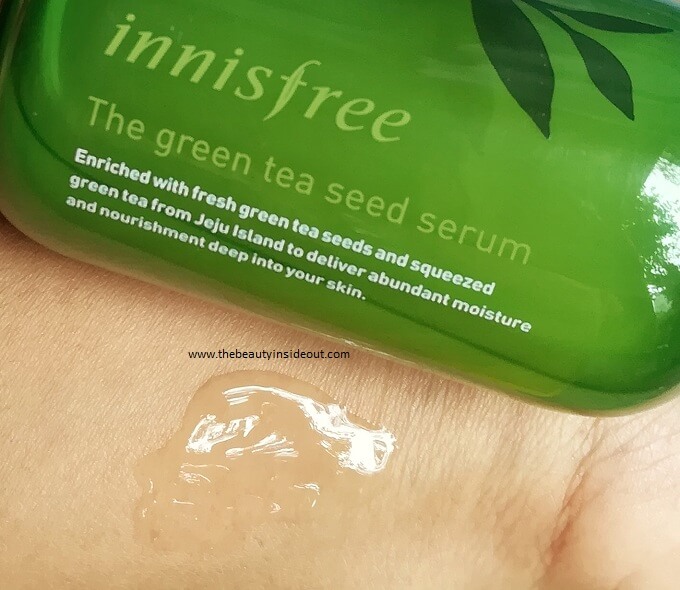 The serum is surely a great hydrator but I haven't noticed any major effects on my overall skin texture, tone or my pores. In fact, I didn't even notice brighter skin which the Innsifree Green Tea Sleeping Pack gave. It only made my skin a bit softer the next day.
Overall, The Innisfree Green Tea Seed Serum would make a great moisturizing serum for dry and dehydrated skin types to keep skin away from dryness. But would be an average product for oily and sensitive skin types. As for long term effects – Nothing extra ordinary. I don't think the product is worth the rave.
Pros:
Great packaging.
Packed with high percentage of natural ingredients.
Highly nourishing serum.
Instantly moisturizes skin.
Gives a dewy softer skin.
A little goes a long way.
Innisfree is Cruelty Free.
Cons:
Expensive.
Strongly scented.
Can break out skin.
Not for all skin types.
No dramatical results.
Initial application feels sticky.
Rating: 3/5.
Would I recommend? Probably not. I wasn't really impressed with this best selling serum. If you are comfortable with heavily scented products and are looking for a moisturizing serum,you can give it a try. It may suit your skin.
Where to buy? Amazon.com