I have always used anti-perspirant roll on deodorants since my school days. But after the recent awareness about Aluminum toxicity, (thanks to my uncle who throwed in some light about how cooking in Aluminum utensils can be bad) I decided to move on to explore Aluminum Free Skincare Products, particularly Deodorants. Thankfully, we have a lot of  Aluminum Free Deodorants available in India. I had my first stint with the Vilvah Natural Deodorant, which didn't go well with my underarms. This made me realise that not all natural products will work for anyone. So after a while I stumbled upon this Aroha Natural Deodorant. Aroha is a brand that does not have a variety of products but exclusively formulates 3 variants of natural deodorants, which is also the reason why I decided to try it out. They specialize in making deodorants! So, did this work for my sensitive armpits. Stay hooked to know more about this product.
Product Description:
Aluminium-free, skin loving and a beautiful earthy fragrance of pure essential oils blended for women and men alike. Your perfect companion for the day. The mango butter and beeswax protect and nourish your skin while the woodsy fragrance keeps you feeling fresh all day.
• Alcohol Free
• Paraben Free
• Aluminium Free
• No Chemical Preservative
Ingredients:
Pure mango butter, Virgin cold pressed coconut oil, Bees wax, Baking soda, Arrowroot powder, Non-nano zinc oxide, Stearic acid, Vitamin-E, Essential oils of Myrrh, Cedarwood and Lavendar.
Price: Rs.135 for 12 gms, Rs.399 for 50 gms.
My take on Aroha Natural Deodorant:
First of all, I want to talk about its packaging. If you had asked me sometime earlier, I would have said this has the best and most convenient packaging for a deodorant. The full size product also comes in an eco-friendly recycled paper packaging. But. Being a natural product, it is highly possible that the product will go spoilt due to frequent, direct skin contact. And it happened with mine as well. I had missed using it for continuous 4 days to only come and find tiny black fungus sort of thing. So it was not really a good idea to use a natural product in a roll on form, although it's convenient to use. You will have to either sanitize or scrape off a little of the roll on after each use, which is a double duty for lazy folks like me. Now I think jars are better than roll-ons for natural does.
Aroha Deodorants are available in three variants – Floral Spell, Citrus Punch and Woodsy Essence. I really had a hard time choosing a scent. I guess for this reason they have launched the combo pack of pocket deos where you can get all the three variants for less than Rs.400. The pocket sized product itself will last for a month when used once per day. I picked up the Woodsy Essence after ruling out the other two variants mainly because I was reluctant of the mix of essential oils. Woodsy Essence has a gender neutral woody fragrance. The scent is very mild and pleasant, not at all attention seeking. I liked it as I don't usually enjoy heavily scented products. The fragrance does transfer a bit onto my clothes, but being a subtle scent, it is not a hindrance.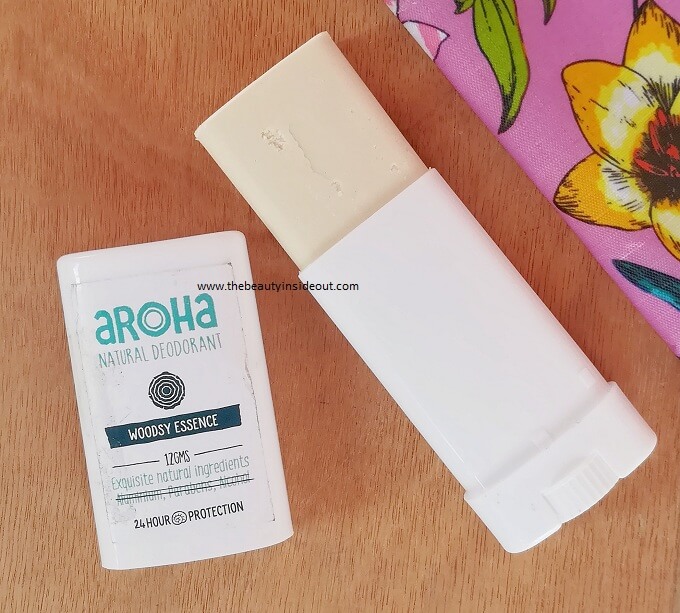 As you can see, the deodorant is white in color. It is sort of a lotion bar, it is thick and does not melt away that easily. The deo is not emollient enough to glide super smoothly on my armpits. I do have to go back and forth twice for complete application. The deodorant is made of clays and baking soda, (which I believe are ingredients that won't get absorbed into the skin completely) so it is a given that it leaves a residue post application. Anyways, three natural deos that I have used so far have left a residue. The residue is usually lesser with lesser swipes. This deodorant has never once irritated or tingled my armpits even when used on freshly shaved underarms. The deo does not block my skin from the natural process of perspiring but still is able to neutralize my body odor throughout the day. The freshness of the fragrance lingers for about 4 hours on me, after that I don't smell anything, neither the scent nor my sweat odor. I liked this deo because howmuchever I sweat, I didn't stink provided I used it atleast once a day after shower. This may not be the case for those who work out or sweat heavily though. Applying twice will surely conceal bad body odor.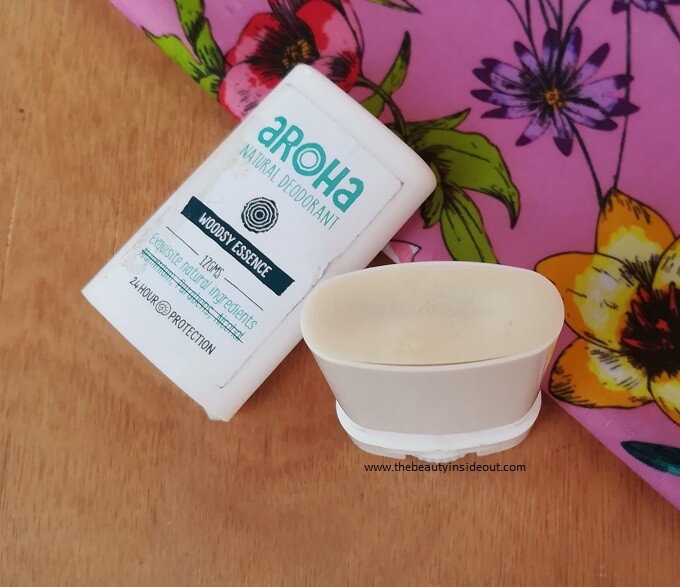 Pros:
Available in two travel friendly sizes.
Reasonably priced.
Easy to use roll-on.
Subtle, non bothering scent.
Does not melt away in normal temperature.
The freshness of the scent lingers for 4 hours.
Neutralizes body odor throughout the day.
Do not prevent skin from sweating.
Did not irritate my armpits.
Suitable for sensitive skin and noses.
Cons:
Roll on packaging is more prone to fungal growth due to frequent skin contact.
It is not very emollient.
Leaves a white residue.
Rating: 4.2/5
Would I recommend? Yes, it is definitely a great alternative for chemical deos. Although it has some of its own cons, the performance of this deodorant is good. It conceals my body odor with its mild scent for long hours. Above all, it sensitive skin friendly as it is not too high on essential oils.