I love exploring our own Made in India  Skincare Brands, particularly those that provide skin safe products. Naturma is one such brand that I came across. Naturma is certified organic, natural, cruelty free and above all handcrafted by rural women. Out of the entire Naturma Products range, I chose to receive two versions of Aloe Vera Gels. You know Aloe Vera Gels are pure love, especially for oily skin types like me. Also it was my first time experimenting with such aloe gels that aren't plain. So let me tell you how the products worked, were they any better? Stay hooked.
1.Naturma Deep Skin Diving Aloe Vera Gel – Tea Tree Oil Review

Product Description: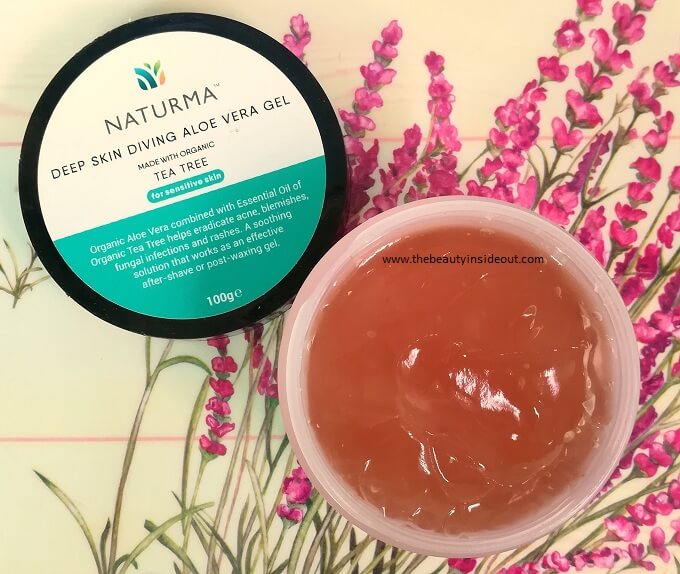 Ingredients: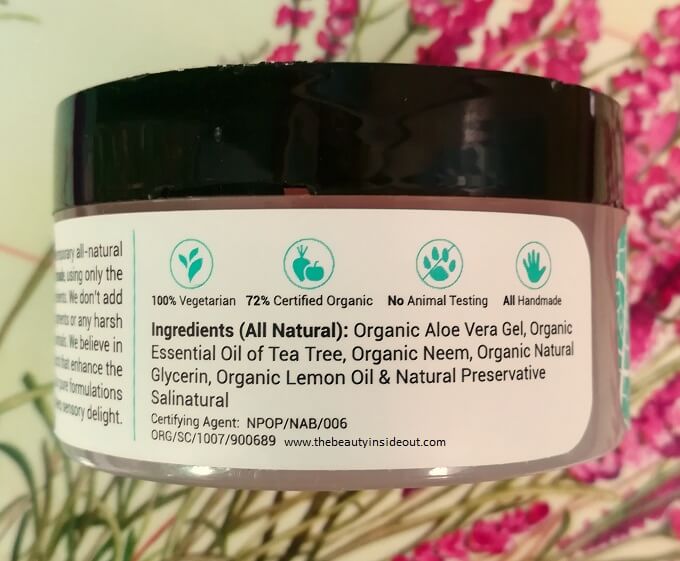 My Experience: Out of the two gels, I had high expectations on this one. Acne Prone Skin. Tea Tree Oil, You know why? I had initially planned using this as an everyday moisturizer like most aloe gels, but this was kind of a failure as a standalone moisturizer. This aloe gel is thicker in consistency, way thicker than I expected and gives a taut feel, literally very stretchy, once applied. So I have to always use a hydrating sunscreen (if it's day time) or a facial oil (Rosehip Seed Oil for the nights) on top which at times still gives an uncomfortable feel. I tried mixing it with my facial oil which still gave a taut feeling, unless I use a higher higher proportion of the oil, which I don't prefer. As a standalone face mask, applying a thick layer as a mask for just 10 minutes simply burned my skin making me cover in redness. I had to soothe it using ice cubes for half hour for the redness to subside. It had an immense cooling sensation upon application, but I couldn't get the jist that my skin is being burnt(if that is what you call). I'm positive that it's due to the tea tree essential oil as I've had such skin irritations in a couple of products that are high on essential oils. So the next time I tried (I dared to) using it as one of the ingredients mixing it in a DIY face mask. I only used a quarter spoon and this time there was no redness. It aided in giving a more relaxing and calming masking session due to its added coolness. The packaging says to use this as a post shaving gel, but I haven't tried it and do not intend to. Because my body skin is usually dry and I do not want to put something that would make it even more stretchy and dry. Also I'm sceptical about using it on freshly shaved skin after the masking experience. Coming to the most effective usage of this gel, this works amazingly well as a spot treatment. I had a bout of breakouts recently and I applied a blob of this gel on my painful pimples a couple of times throughout the day and overnight. The cooling effect of the gel was able to calm down the redness and pain on the pimples really well; it easily vanished the smaller whiteheads/breakouts overnight. But once the applied gel dries down, it becomes like a peel off, so in order to not irritate my skin by peeling off, I rinse it off with plain water.  I solely liked this gel for its effectiveness on active acne. I would not recommend this for sensitive skin types though.
On other notes, the gel is brown colored but applies colourless. Due to its thick texture, it gets used up fast if you are using it for multiple purposes. It also has the signature Tea Tree Oil scent which may be overpowering for those who are new to this essential oil. I wasn't really bothered with this scent, although I don't prefer scented products.
Rating: 3.5/5
Where to buy?
2. Naturma Zesty Fusion Aloe Vera Gel – Cinnamon & Orange
Product Description: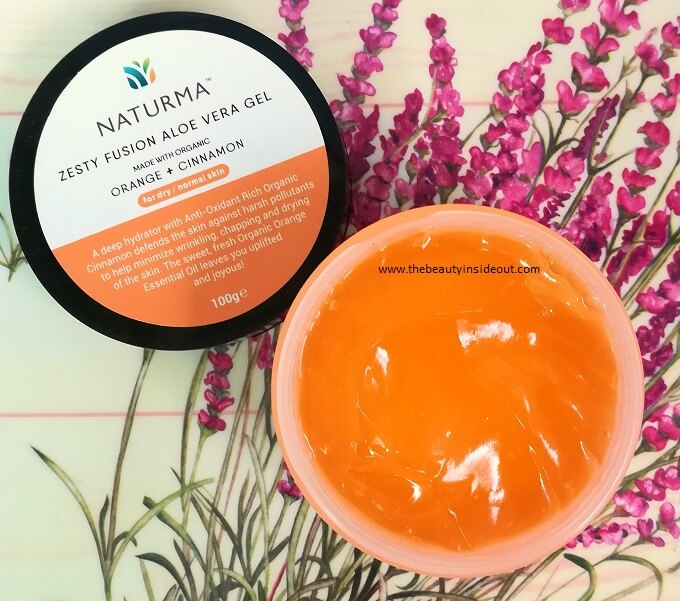 Ingredients: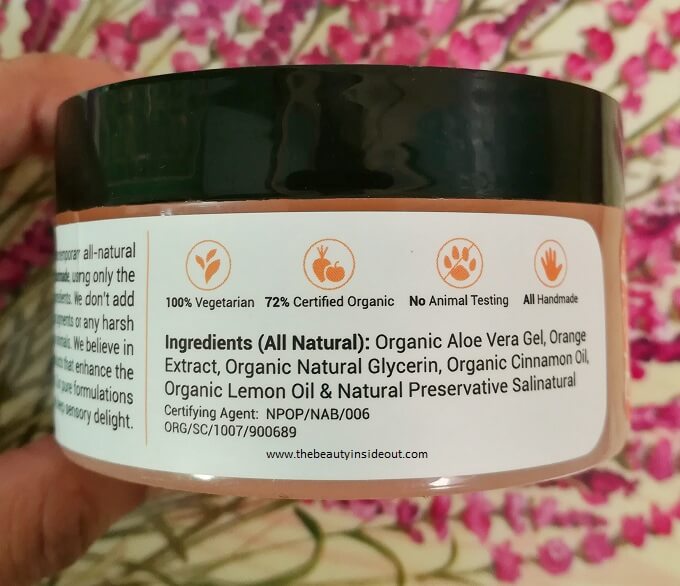 My Experience: Unlike the tea tree variant, I wasn't expecting much from this. I solely went for this because it had Cinnamon in it. I like using Cinnamon Honey Face Masks for my acne, so I thought it would be a good choice. This variant is meant for anti-wrinkle & deep hydration and said to be suitable for normal & dry skin types. I chose this despite having oily skin as I believe aloe gels will work for all skin types. Coming to its performance, I loved using this gel as a everyday moisturizer. It has a very thin gel texture, that drops down if not handled properly. It is also not easy to pick up the product from the tub. It just keeps falling. This gel vanishes into the skin so quickly. It goes on like a liquid watery product, soaks in and hydrates instantly. It makes my skin supple and there is no stretchy or sitting on top of the skin feel. At times I feel, the gel makes my skin a bit dewy after a while. I tried this in the current cool weather wherein I slather on the product nicely. For summers and very oily skin types, a little would do. But if you want it to be mattifying, you should be trying the tea tree variant. One time I had developed redness after using a scrub. I applied a medium thick layer of this gel on the patch and this gel quickly calmed down the redness and brought back my skin to normal.
As for its claims, it does deeply hydrate my skin and make it supple. I haven't noticed any difference yet on my newly formed forehead fine line after having used for a month now. This is an anti-wrinkle gel but I suppose this will only prevent and not smoothen out existing fine lines. This gel has an orange-y fragrance which is not very bothering as it wanes away in a few seconds. This variant can be used both on face and body as it's not the drying types. This gel works quite well mixed in DIY face masks and hair masks due to its light consistency. This variant has a mild cooling effect but not extraordinarily like the Tea Tree Gel.
Rating: 4.3/5
Where to buy?
Swatches of Naturma Aloe Vera Gels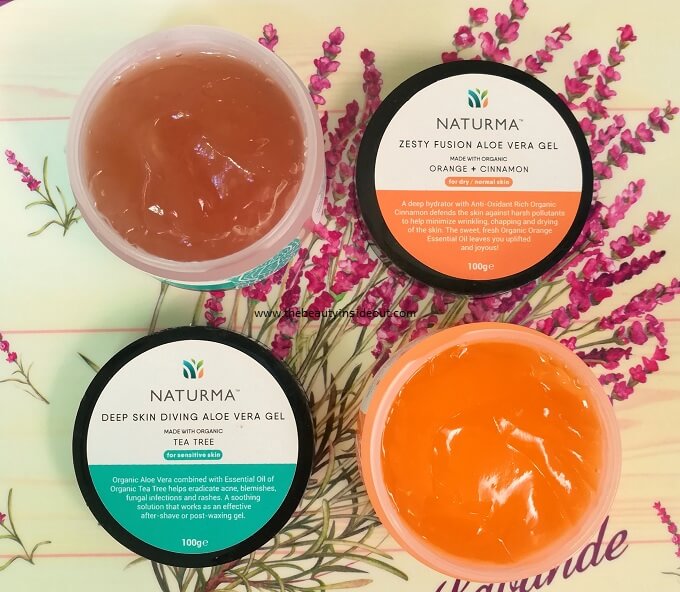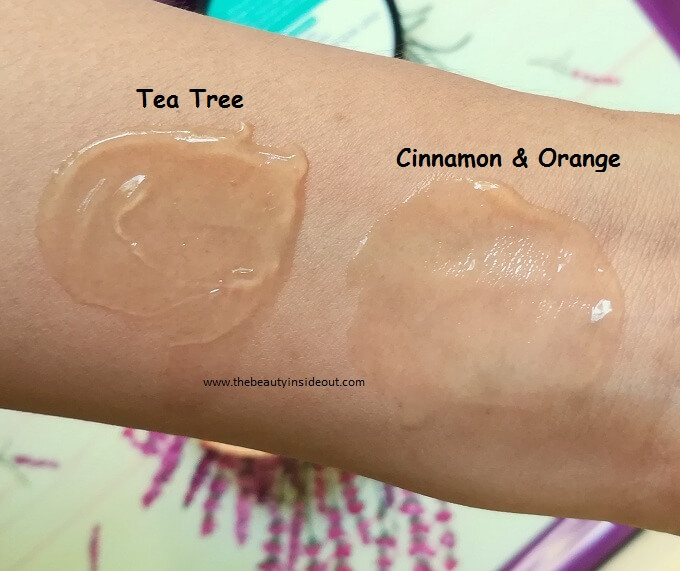 My final thoughts:
Both of the gels work differently and have their own purpose. For me, the Cinnamon & Orange variant is perfect as an everyday moisturizer and the Tea Tree variant works as a handy acne spot treatment. If you are bored of plain aloe gels, you can surely give these a try. I liked the Zesty Fusion more than the Tree Tea one.
Have you tried these gels? Share your current favourite aloe vera gel in the comments section below.
Disclaimer: PR Package.