I'm back with a review of the recently raved Korean sunscreen – The Klairs Soft Airy UV Essence SPF 50+ PA++++. I bought this a month ago from BeautyBarn and have been using it since then. This was my first time trying an Asian Sunscreen, so I was excited to try it out. Let's get straight into the product details before jumping into my experience.
Product Description:
The Klairs Soft Airy UV Essence SPF 50 PA++++ is an everyday sun protector for sensitive skin. As is it water-based, it holds a gel-type texture to give a soft weightless and light finish. Also with its high SPF and PA level, it completely guards the skin against UVA, UVB without leaving any greasiness or white cast.
Ingredients: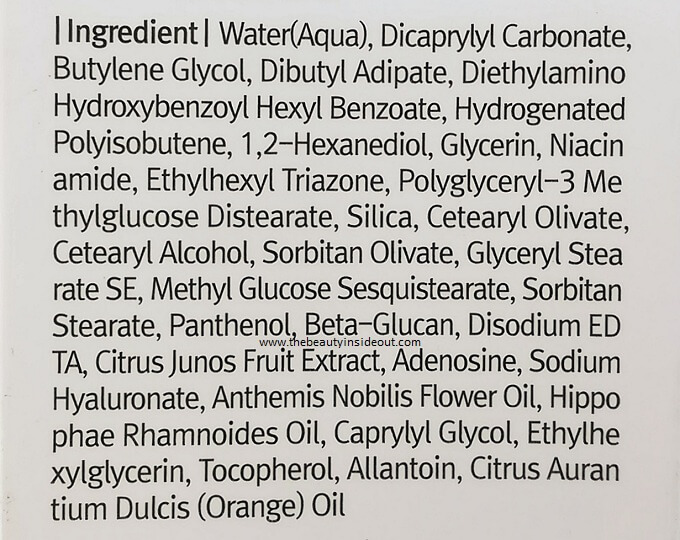 The Klairs Soft Airy UV Essence SPF 50+ PA++++ is a chemical sunscreen and contains only two filters. One UVB filter and one UVA filter. The UVB filter is Ethylhexyl Triazone (Uvinul T 150) and the UVA filter is Diethylamino Hydroxybenzoyl Hexyl Benzoate (Uvinul A Plus). Both of the filters are non-endocrine disruptors and are said to be safer chemical filters compared to Oxybenzone, Octylmethoxycinnamate and few other filters.
How to use?
Apply liberally 15 minutes before sun exposure. Reapply every 3 hours when exposed to sunlight.  Discontinue use if irritation develops.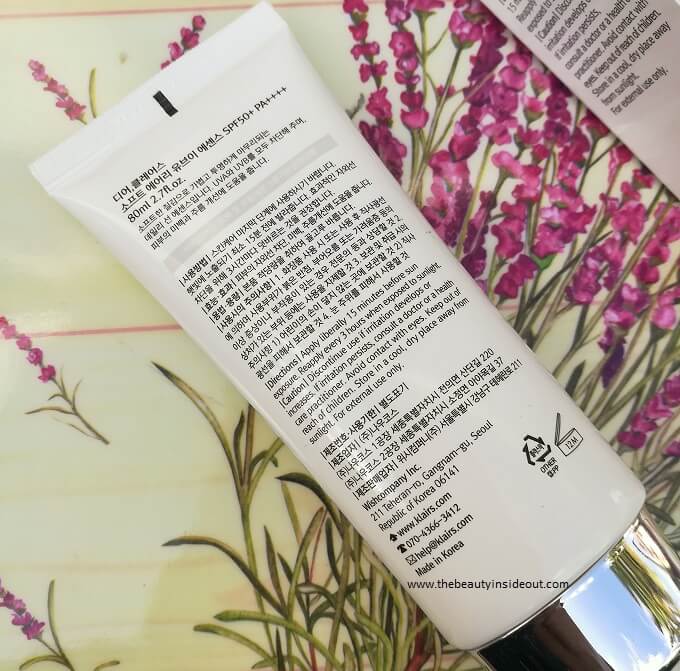 Price: Rs.1650 for 80 ml. Around $23. Available at BeautyBarn (India)
My take on

Klairs Soft Airy UV Essence SPF 50+ PA++++:
Quickly on to the packaging. It comes in a holographic print carton box with necessary details about the sunscreen including ingredient list, best before, etc printed on it. The product comes in a classy pure white, broad tube with a silver cap. I like the pointed nozzle of the tube which makes it easier to take adequate product out of it without wastage. The 80 ml tube is spill proof and though not very small, is fairly easy to travel with. The tube, although white opaque, I could still see the product left inside if placed across light.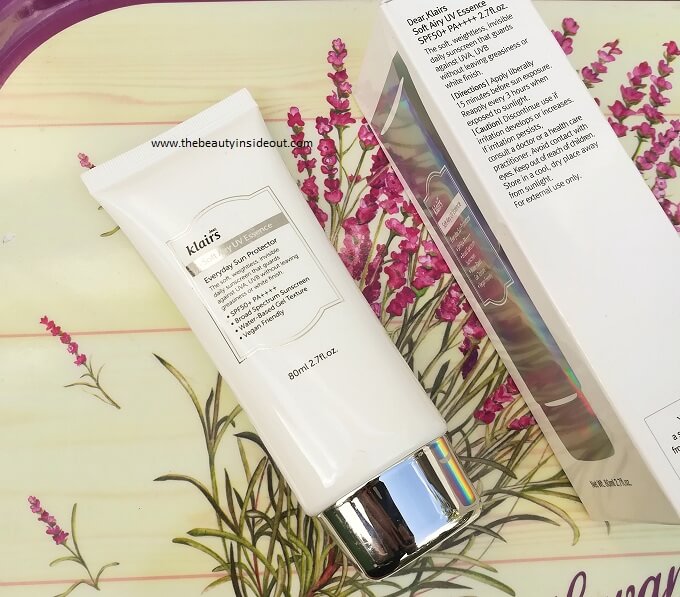 Moving on. The sunscreen is an off white, smooth gel cream. It's not very light or airy gel cream nor an essence texture. So don't be mislead by it name. The product is free of silicones but has a nice slip which helps the product glide easily onto the skin. I use the sunscreen after my CTM. I usually use a thin layer of aloe gel as my moisturizer before applying this sunscreen. I gently blend the product into my skin rather than rubbing vigorously. Sunscreens should be used more in quantity than your normal creams, is that why my skin feels tacky and heavy immediately upon application?! Particularly my upper lips starts perspiring and I have to blot it down or skip applying there to make my upper lips feel comfortable. The tackiness doesn't last long. It takes 5 to 10 minutes for the product to settle down to a soft matte, comfortable finish. The sunscreen is made to work for oily skin and so it is. Dry skin types will need a good moisturizer to go beforehand as it might be drying.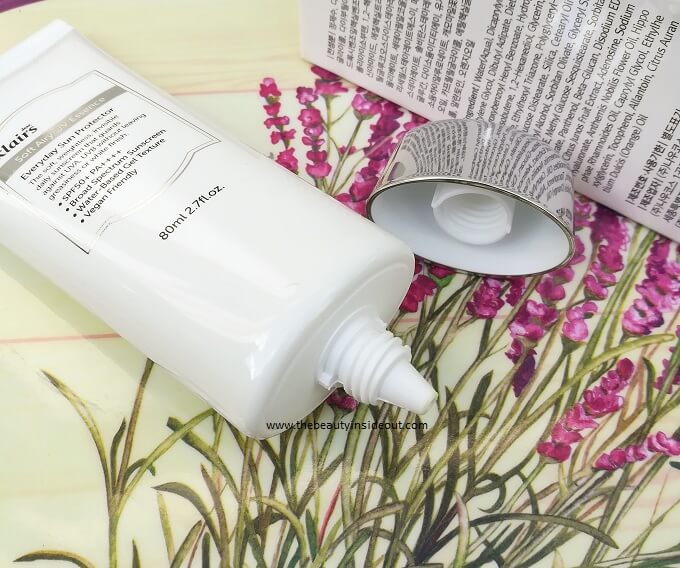 On to its sun protection, I am not really sure of this. I haven't been exposed to too much sunlight yet as I have tested the product in moderate cool weather and it functions well as a hydrating sunscreen at the moment. I will try to update how the sunscreen works in the summers (whether it feels greasy or makes skin oily faster) and also it's effectiveness against sun protection (whether it prevents sunburns & tans!). So keep subscribed.
The sunscreen is free of artificial fragrances but contains few essential oils for fragrance. So if you are allergic to certain oils, please check the ingredients and then buy. The sunscreen has negligible fragrance when sniffed from the tube. However while applying I could smell a faint plastic kind of scent, which I did not like it much, although it hardly lasts for a couple of minutes.
Coming to the best part, the main reason why you'll want to get this product – The white cast! There is absolutely no white cast at all. The sunscreen is almost like a moisturizer. You don't look like you have applied a sunscreen at all. It neither makes my face dull looking like some face moisturizers. It works really well under makeup and never flashbacks in photographs.
Overall, I am liking this sunscreen so far. There is no white cast, has SPF 50+ PA++++ and settles to a comfortable soft finish. I wish it had a more lightweight feel after application and ofcourse the price could have been lower. It's damn expensive.!
Pros:
Contains safer chemical filters.
Free of Alcohol, Paraben, PEG, Silicone, Fragrance.
Contains SPF 50+ PA++++.
Gel Cream Texture.
Soft matte finish.
Mildly Hydrating.
ZERO White Cast.
Best Suited for Oily Skin Types.
Cruelty Free & Vegan Friendly
Cons:
Expensive!
Initial tackiness after application.
My upper lips tends to perspire once I apply the product.
It is not waterproof.
Rating: 4/5
Would I recommend? Probably for those Asian sunscreen lovers with oily skin types. It is very hard to find zero white cast sunscreens and this is one of them. It contains relatively safer UV filters and suits sensitive skin types too. This product hasn't entered my HG list so I will not be repurchasing it. It is also not worth the investment for me!
Let us know your thoughts and experience with the product in the comments section below.
Looking for other sunscreens?