Being a regular buyer on the Smytten App, I stumbled upon this brand called Brillare. It looked like a new brand to me but looks like it had been in the market for a couple of years now. I randomly decided to buy a few of the best seller products from the brand. This skin-brightening face wash is one of them. Let me share my take on this Brillare Face Wash in the post.
Product Description:
Formulated with 80% Natural Ingredients, Brillare Skin Brightening Face Wash is an exfoliating cleanser that removes unwanted tanning and reduces pigmentation.
Benefits:
Deep cleansing.
Remove dead skin cells.
Controls Melanin.
Remove tanning.
Gives fresh and radiant skin.
Brillare Face Wash Ingredients: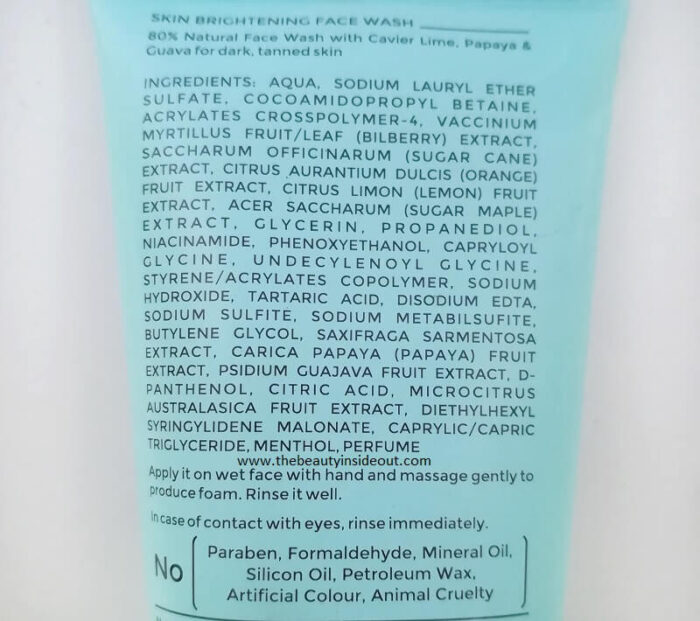 Key Ingredient Benefits:
Caviar Lime: gently exfoliates the skin and gives an even complexion.
Papaya & Guava: lightens skin tone and reduces dark spots.
Multifruit Extracts: Natural fruit acids exfoliates the skin and impart freshness and hydration.
How to use it?
Apply it on wet face using your hands. Massage it gently to produce a rich foam. Rinse well and pat dry.
Where to buy it? Amazon.in
Brillare Face Wash Review
Packaging: The face wash comes in a nice, sturdy, aqua blue plastic tube with a flip cap. The opening was sealed with an aluminum wrap. The tube holds all details of the product clearly including the full ingredient list, manufacturing details, and expiry date.
Color & Texture: The Brillare Face Wash has a white gel-based texture with a medium consistency. The look of it is similar to most commercial shampoos.
Fragrance: It has an artificial fragrance that's relatable to most men's grooming products. It's a nice smell, moderately strong but not overwhelming. The scent fades away post-wash. It gives a refreshing and awakening feel when used after a tiring working day.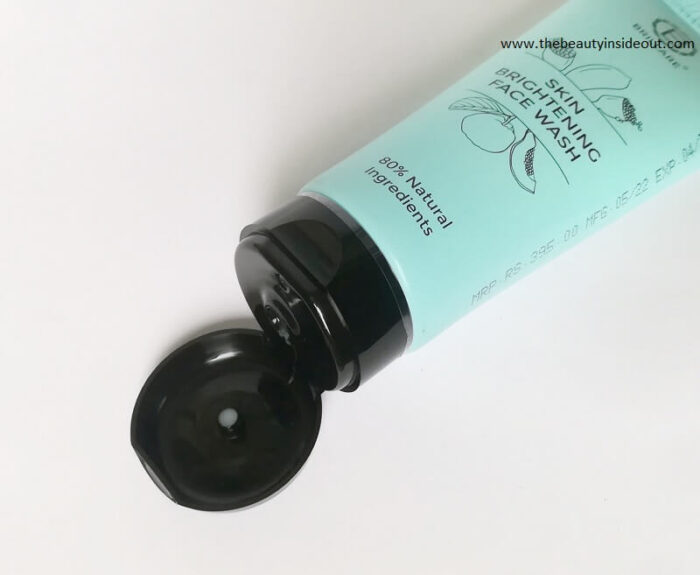 My Experience:
This Brillare Face Wash was previously named Brillare Skin Lightening Face Wash and now they've renamed it as Skin Brightening Face Wash. It is said to be made with 80% Natural Ingredients that include a couple of fruit extracts such as Papaya, Guava, Bilberry, and Lime. But still, it contains the usual synthetic ingredients that you'll find in most face washes. I am not saying it's a bad thing. Since it's a natural brand, I am putting it out there so that natural skincare users are aware of it. Personally, I don't mind any ingredients as long as it's skin safe.
I've used this face wash in my nighttime routine for two weeks now. I use a dollup of the face wash. It lathers really well (contains SLES, which is gentler than SLS) and rinses off quite easily.
The Brillare Face Wash is able to remove all sorts of impurities from the skin and instantly brightens the skin. Even sunscreen and light makeup can be easily removed using this face wash. In fact, on my combination skin, it gives a squeaky clean skin with borderline dryness. It does not leave my skin soft to touch like some face washes. It feels like a purifying face wash, so I did not use this in the morning when my skin is free of dirt as it makes my skin feel a bit stretchy.
As a face wash, this does its job of cleansing well. This would make a good face wash for oily skin and the summers. It may not suit dry skin and those with sensitive skin as it contains added fragrance. The menthol in it gives a cool sensation that can last for a few minutes post washing. Depending on your preference, that can be either a hit or miss.
The Brillare Face Wash claims to be an exfoliating cleanser that removes tan and pigmentation. I am not sure how well it works on that aspect as I don't have such skin concerns at the moment to test it out.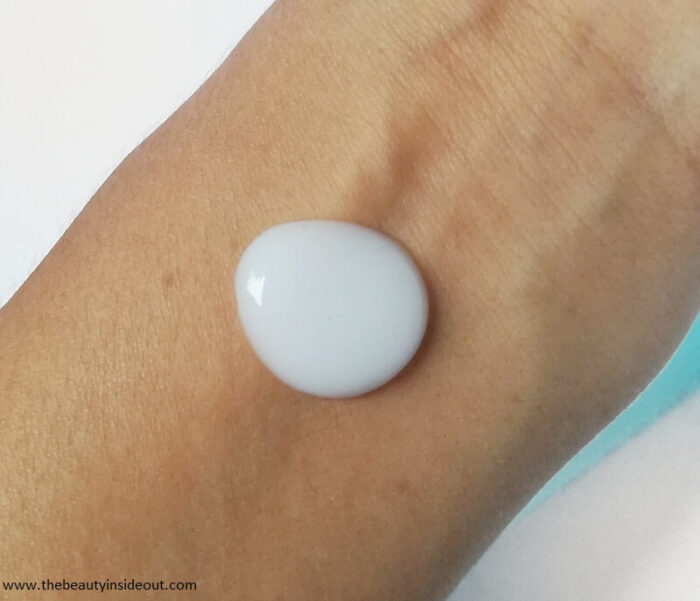 Pros:
Made with 80% Natural Ingredients.
Lathers and rinses easily.
Instantly brightens skin.
May remove tan.
Good for oily skin.
Gives a refreshed feel.
Free of formaldehyde, parabens, mineral oil, artificial color, and silicone oil.
Vegan and Cruelty-Free.
Cons:
Contains sulfates and added fragrance.
Can make skin stretchy due to the squeaky cleaning effect.
May not suit dry and sensitive skin.
Rating: 3.5/5
Would I recommend it? Probably not. It's a decent "natural face wash" that cleans the skin well. Nothing over the top to be missed out. I am keen on trying out their Real Face Wash which comes in powder form.
I hope this review was helpful. Do subscribe and share it with your friends and family if you liked it.