Aging is inevitable. That doesn't mean you'll have to grow old to be a wrinkly granny. You can definitely age gracefully with a beautiful glow and significantly fewer wrinkles. It all depends on how you take care of your skin. Indeed, genetics plays a role. But you can benefit from following a good skincare routine. The key is to use a good broad-spectrum sunscreen and include a retinol product. While there are some really great retinol creams in India for the face, there wasn't one exclusively for the body, until this brand Active Topicals came into existence. In this post, I'm going to talk about Active Topicals Retinol Body Lotion that's available in India. It's specifically formulated to help with aging skin. Let's have a look at the details of the product before I go on to share my experience with it.
(This post is published in collaboration with Active Topicals but that doesn't affect my opinion in any way)
Product Description:
Designed and formulated with expert estheticians, Active Topicals Retinol Body Lotion has a carefully curated formula with proven anti-aging ingredients to help reduce the visible signs of aging and help you give a firmer and younger-looking skin.
Uses:
Smoothens out uneven skin texture.
Brightens skin and improves skin tone.
Tightens loose skin.
Reduces and tightens light to medium depth wrinkles.
Reduces the appearance of stretch marks.
Active Topicals Retinol Body Lotion Ingredients: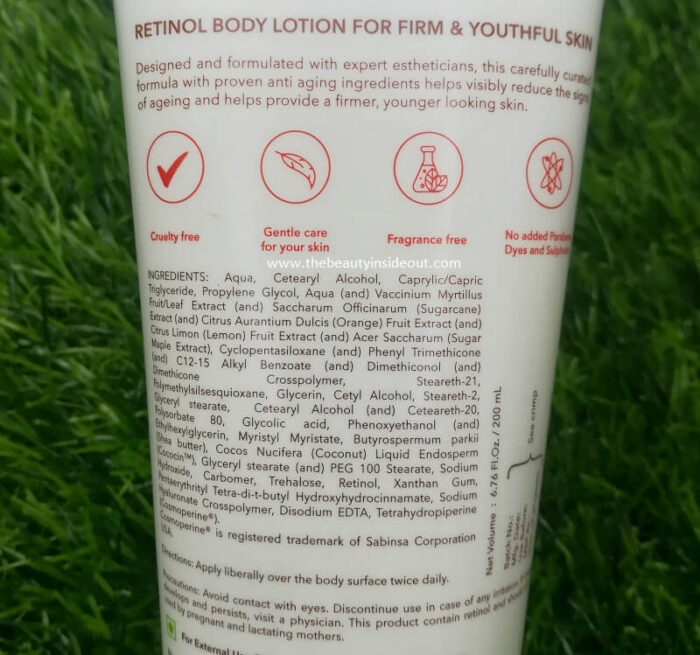 Key Ingredients Benefits:
Retinol: The OG ingredient for anti-aging. Excellent to boost collagen, reduce wrinkles, pigmentation, dark spots, acne, even out skin tone, brighten and impart glowing skin.
The Active Topicals Retinol Body Lotion contains 0.2% Retinol which I think is a good strength. It is gentle on the skin but still strong enough to provide effective results.
AHA: AHA alias Alpha Hydroxy Acid is a chemical exfoliator that helps to unclog pores to remove deep-rooted impurities, and dead cells from the skin to give you smoother-looking skin.
This body lotion has 3% Glycolic Acid as AHA. Glycolic Acid is not only great for improving skin texture, but it's also excellent for treating acne and pigmentation.
Hyaluronic Acid: a very popular humectant that makes your skin plump and supple giving a youthful look. It also helps to increase the skin's elasticity.
Trehalose: this is an antioxidant, skin protector, and moisturizing agent. It provides intense hydration to the skin.
Active Topicals Retinol Body Lotion is Fragrance-Free, Paraben Free, and Sulphate Free.
How to use it?
On clean skin, take a generous amount of body lotion. Apply it liberally all over the body. Massage it well until absorbed.
Precautions: Retinol products are not recommended during pregnancy.
Active Topicals Retinol Body Lotion Review
Packaging: The body lotion comes in a standard plastic tube with a flip cap. It's a bit bulky, so it's not really travel-friendly. The tube holds every little detail about the product – be it the product uses, ingredient list, expiry, or batch number. Every detail is out there clearly.
Color & Texture: It's a pale yellow colored lotion with a medium consistency. It spreads well and a blob of product easily covers a large area.
Fragrance: This is a fragrance-free body lotion, i.e no added fragrance. It has a very faint lotion scent, that comes from the ingredients used in it. I can totally relate it to other non-scented moisturizers.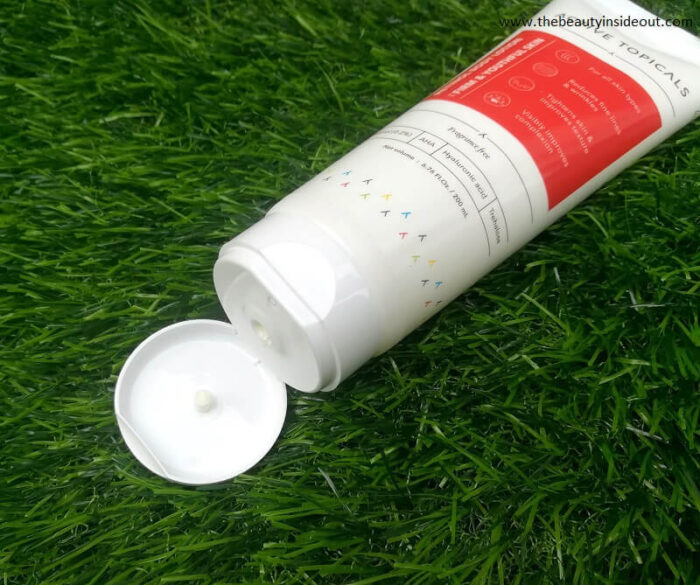 My Experience:
I've been using the Active Topicals Retinol Body Lotion for a few weeks now. My experience with it has been great.
I use it every night as opposed to twice a day since it's a nourishing formula and I live in a humid place. The body lotion spreads well but it's a bit difficult to blend. You need a good massage for it to get absorbed completely. It has an initial sticky feel on the skin. Give it a few seconds and voila you have a nice non-greasy, velvety soft finish. The body lotion instantly moisturizes the skin and makes it appear smooth, glowing, and healthy looking.
Retinol, in general, needs at least 3 months for anti-aging benefits. It is a well-researched foolproof ingredient. So I am hopeful that using this body lotion will reap long-term benefits for skin brightening, tightening, and wrinkles.
The fastest effect I've noticed is for reducing the look of my pesky bumps above my elbow and my legs. It's great for someone who suffers from ingrown after shaving. The lotion beautifully smoothens the skin of those rough, dry, scaly areas of the body such as the elbow, knees, and feet. It tackles dryness excellently and makes them appear lively by removing the dullness of skin.
The combination of Retinol and Glycolic Acid is great for those with body acne. In short, if you are looking to invest in a good anti-aging body lotion with solid ingredients, definitely get this.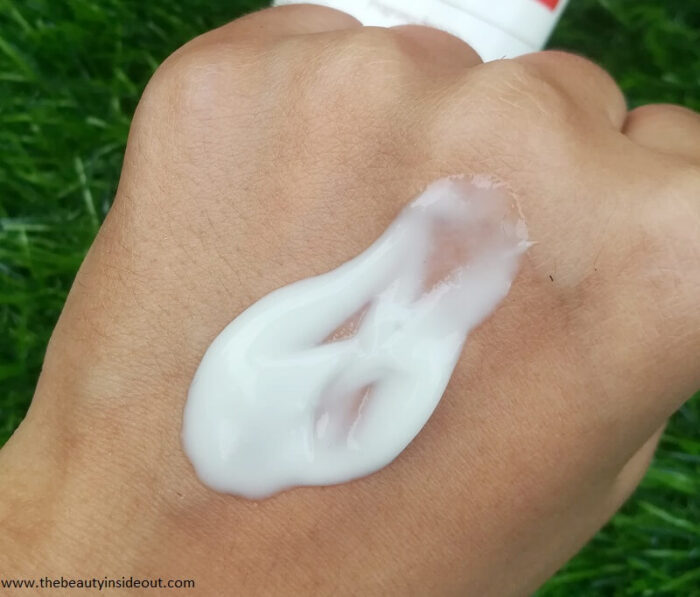 Pros:
Excellent ingredients used.
Intensely nourishes the skin.
Makes skin soft and supple
Helps with delaying the signs of aging.
Can be used for bacne.
Fragrance-Free.
Cons:
Slightly difficult to blend.
A bit expensive, but you won't need a lot of products for each use.
Rating: 4.5/5
Would I recommend it? Yes, I would recommend this product. It's a great retinol body lotion that has long-term anti-aging benefits.
Where to buy it? Active Topicals Website and Amazon.in
What do you think of this lotion? Have you tried it?