In my search for an effective yet affordable sunscreen, I have used almost everything available on the market. 90% of them missed the mark for me. Sometimes it doesn't do the job or some create a horrible white cast. If something worked, then it's super expensive. It was getting really frustrating for me to see a whole pile of unused sunscreen on my vanity. But then my best friend came to my rescue when she said this Dr Sheth's Ceramide & Vitamin C Sunscreen is one of the best sunscreens Indian beauty industry ever created. So I grabbed this sunscreen during one of the sales. Dr Sheth's Products are very often available at discounts, so Never Buy Them At Full Price. If you are interested in this sunscreen, read on to know about my experience.
Product Description:
Infused with Vitamin C and Ceramides, the Dr Sheth's Sunscreen helps to block UV rays and blue light. Specially curated for Indian skin, it helps with micro pigmentation and strengthens the skin barrier.
1% Ceramide Complex- it helps strengthen the skin barrier.
2% Vitamin C Complex- prevents micro-pigmentation.
1% Hyaluronic Acid- provides deep hydration.
Mineral and Organic Filters- ensures optimum protection from UV rays.
Dr Sheth's Ceramide & Vitamin C Sunscreen Ingredients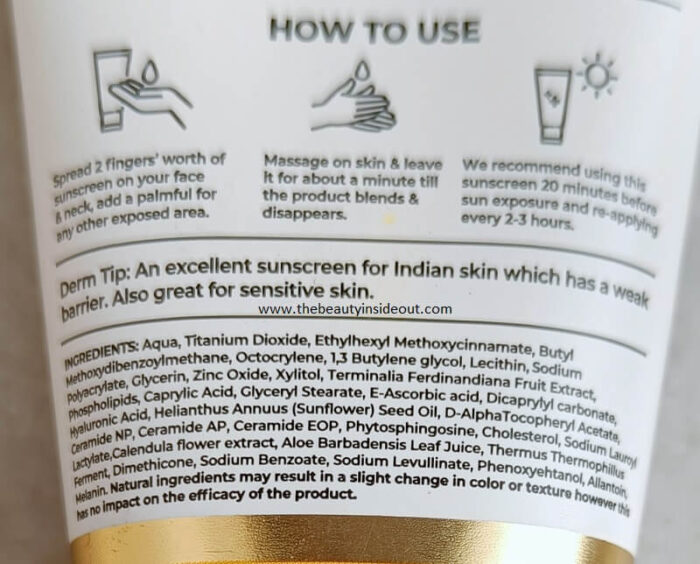 Dr Sheth's Ceramide & Vitamin C Sunscreen is both a physical and chemical sunscreen (i.e. hybrid sunscreen with both filters)
UV Filters: Zinc Oxide, Titanium Dioxide, Octinoxate, Avobenzone, Octocrylene.
Apart from Ceramides, Vitamin C, and Hyaluronic Acid, Dr Sheth's sunscreen has many skin beneficial ingredients such as antioxidants (Calendula, Vitamin E) and skin soothers (Aloe Vera, Allantoin).
Suitable for all skin types – Oily, Dry, Combination and Sensitive Skin.
Where to buy? Amazon.in
Dr Sheth's Ceramide & Vitamin C Sunscreen Review
Packaging: Dr Sheth's Ceramide & Vitamin C Sunscreen comes in a white & yellow duo color tube which looks very peppy. It's a squeezy tube that can disperse more than what is needed. But I don't mind given the fact it is very affordable and quite enjoyable to use.
Color & Texture: It is a white cream with a lightweight texture. The product is very easy to spread and it absorbs and settles into the skin with little to no effort. The product is great for someone who is looking for quick one step morning skincare routine.
Fragrance: Dr Sheth's Sunscreen has a very faint floral fragrance. The scent fades away within a minute and doesn't irritate my sensitive skin.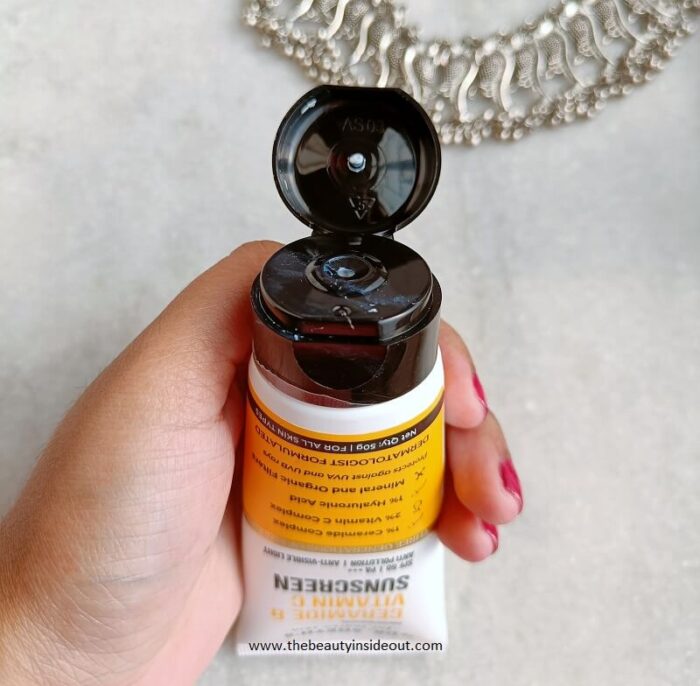 My Experience:
Right from the beginning, I can tell you that this new Dr Sheth's Sunscreen with Vitamin C and Ceramide is the only Indian sunscreen I have used so far that is worth repurchasing for daily use. It doesn't give any white cast, leaves a very natural glow and creates a protective film on the skin that's so lightweight.
The sunscreen has Ceramides which help in barrier repair and Vitamin C to fight free radical damage in our day-to-day life. Since it has hyaluronic acid in the formulation, it's quite hydrating in a non-greasy kind of way. The sunscreen doesn't look or feel tacky on my combination skin. However, it can pill sometimes if not used carefully under makeup or other skincare products. It's a vegan product and gives good protection against tanning. It has SPF 50 PA+++.
The reapplication process is also like a breeze and can be done within seconds. But sadly I can see myself breaking out in the cheeks when using this product. There may or may not be ingredients in it that make me breakout. The sunscreen is not waterproof. I can see it breaking down when I am sweating profusely, so it's not sweatproof too.
Overall, I would still say – to give it a try given the fact it is so affordable and has a very comfortable finish with no white cast. This is an affordable sunscreen that can be used by all skin types – oily or dry.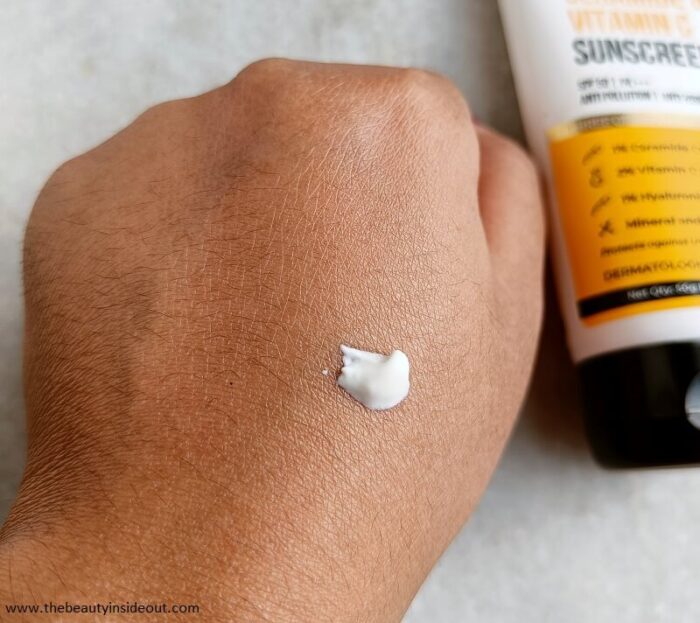 Pros:
Gives a very natural glow and brightness to the skin.
Doesn't have any white cast.
Doesn't make skin greasy and gives a natural finish.
Have moisture barrier repairing ingredients.
Protects very well against tanning.
Vegan and Non-toxic sulfate-free product.
Cons:
May not suit acne prone skin.
It's not recommended to use during pregnancy months.
Sometimes pills under makeup.
Rating: 4/5
Would I recommend it? Yes, it's a great moisturizing sunscreen. I'd recommend giving it a try.
What do you think of this sunscreen? Have you tried it?