Korean beauty products are very much popular for a reason. They not only deliver what they are meant to but also give you immense skincare benefits. Before my recent trip to the dermatologist, I was having the craziest acne flare-up of all time. Everything that used to work wasn't working anymore. After my crazy stint with the L'Oreal UV Defender Sunscreen, I was looking for a decent sunscreen. I saw this Axis-Y Complete No-Stress Physical Sunscreen having rave reviews on YouTube. It is a Korean mineral sunscreen that is said to be brown skin-friendly(really?). I bought it because it might save my skin from both harmful UV rays and itchy irritated skin. It is not affordable but sunscreens can be quite hard to formulate and with mineral filters, it can be way too much harder not to have white casts. So I was ok with the pricing. Coming to the question – did this sunscreen really work for my skin? Keep reading to know my opinion.
Product Description:
Axis-Y Complete No Stress Physical Sunscreen is formulated with 2% Niacinamide, and Mugwort to calm down redness and itchy skin while also protecting from harmful UV rays. It is fortified with Squalane to nourish and replenish the skin. It is free of artificial fragrance.
Axis-Y Complete No-Stress Physical Sunscreen Ingredients: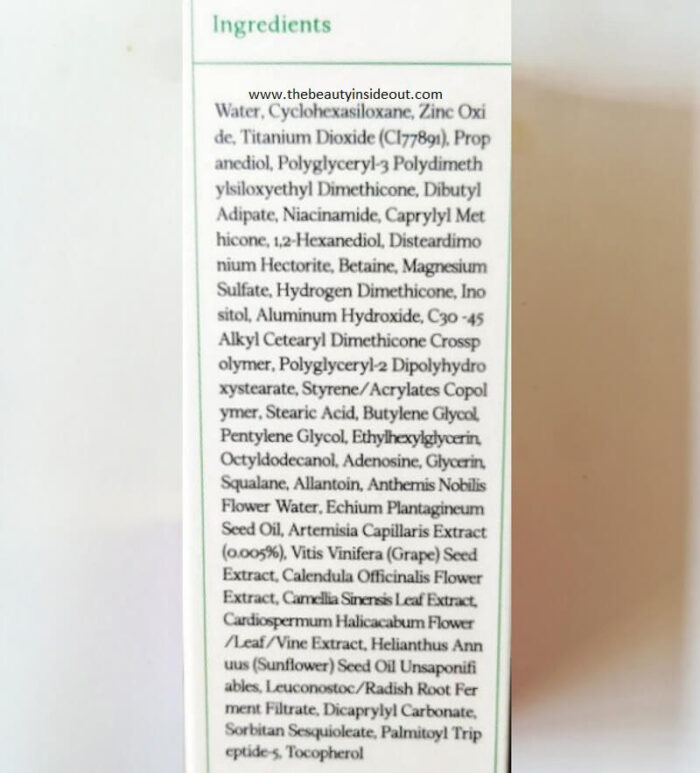 The brand said that the Axis-Y Sunscreen contains 10% Zinc Oxide and 6% Titanium Dioxide. It is manufactured by Coson. It has excellent ingredients such as Niacinamide (which brightens & strengthens the skin barrier), tons of antioxidants (Green Tea, Calendula, Grapeseed, Vitamin E), and nourishing ingredients such as Glycerin, Allantoin, Squalane, and Sunflower Seed Oil.
This sunscreen is free of alcohol, fragrance, or essential oils.
After the Purito Korean sunscreen controversy, we are often skeptical of the protection factor. The Axis-Y Sunscreen has been tested to have SPF 60 and PA++++ according to ISO 11930:2012 and the lab test details are available on the brand's official website.
Where to buy it? I bought mine from Beautybarn.in
Axis-Y Complete No-Stress Physical Sunscreen Review
Packaging: The Axis-Y Sunscreen comes in a white mugwort-themed plastic tube with a narrow pipette-like dispenser. The nozzle dispenser is convenient to use if you are into the 3-finger application rule. It helps me to squeeze out exactly how much ever I want.
The sunscreen tube is sleek and compact – great for traveling purposes. However, the tube has a matte finish hence it attracts dirt and looks shabby after a while. (I throw it in my vanity, handbag ; if you store it neatly that wouldn't be a problem).
Texture: It has a creamy texture that spreads without any tugging. However, it doesn't get absorbed easily and sits on top of the skin. I had to wait for a while for the sunscreen to settle down. This is not a product for someone who is looking for a quick 10 minutes morning routine.
Fragrance: The sunscreen has a strong mugwort scent which gives me a headache for the whole day. So if you are sensitive to fragrances I ask you to not use this product. The sunscreen does not contain any added synthetic fragrances though.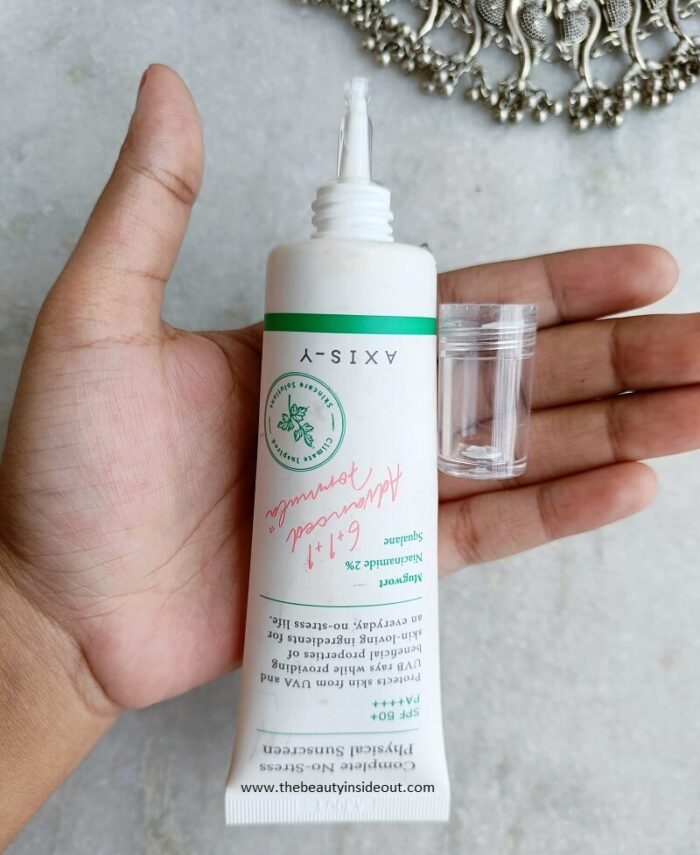 My Experience:
The Axis-Y Complete No Stress Physical Sunscreen is not something I expected. After seeing a lot of people reviewing it and saying there is not much white cast I thought this is the sunscreen I can use when my acne flares up. But boy oh boy, I was so wrong. I wish I could go back to my Beauty Of Joseon Sunscreen.
If used the right amount, this Axis-Y sunscreen gives a horrible white cast and looks even cakier if I use it under makeup. I know I shouldn't have expected a physical sunscreen with no-white cast! The Axis-Y sunscreen creates this greasy film on the skin that doesn't go away throughout the day. It transfers onto my mask even after I heavily powder it and my skin looks very dull even on my best days.
The only good thing I can say is that the product stays on the skin even after a heavy workout and calms down my itchy irritated skin. I had to heavily moisturize my skin because despite having a greasy texture it leaves my skin dry, dehydrated, and very stretchy at the end of the day. Reapplication can be done but it sometimes applies very patchily if you have full glam makeup and powders on top.
Overall this sunscreen looks absolutely great on paper with an amazing ingredient list. But performance wise this was an absolute fail for my combination skin. I should better get an affordable sunscreen without a white cast.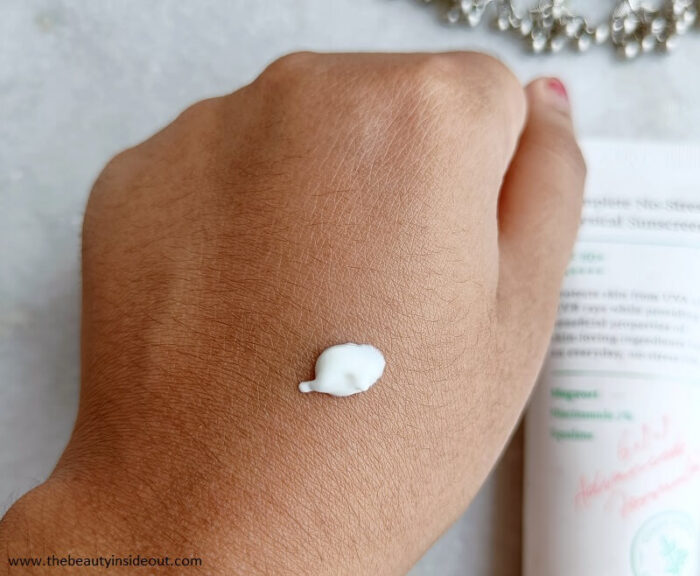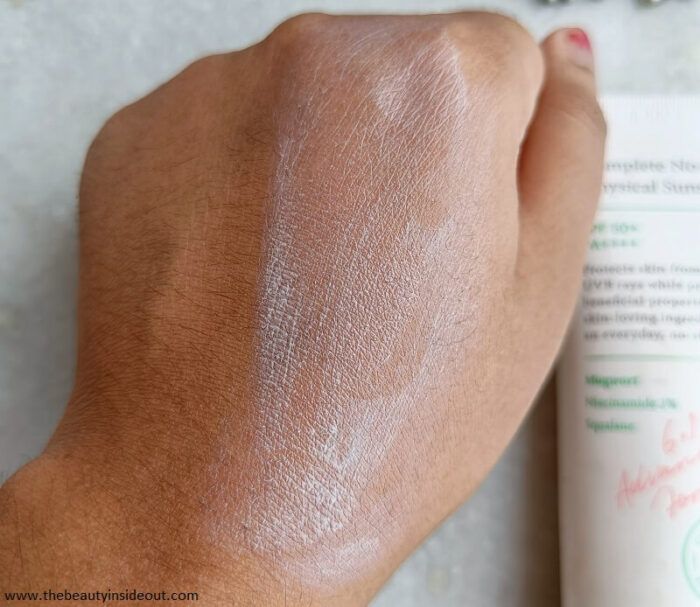 Pros:
Good Ingredients for sensitive skin and acne-prone skin.
Doesn't have alcohol in the formulation.
Calms down itchy and irritated skin.
Can give a white tone finish if you are into it.
Doesn't pill.
Sticks to the skin even at the end of the day.
Cons:
Have a horrible white cast.
Very greasy and tacky to touch.
Can look very cakey if used makeup on top of it.
Makes my skin dull and very stretchy.
Broke me out.
Have a very strong fragrance.
Rating: 2/5
Would I recommend it? No, I wouldn't recommend this product. The white cast and fragrance is unbearable for me.
What do you think of this sunscreen? Have you tried it?