The skincare community turned 360° after a lot of people started using products from dermatologists-recommended skincare brands. After years of using the drying Clean & Clear Facewash and expensive mediocre moisturizers, I must say I have come a long way. There is still a long path to go but it's a good place to start. I happened to believe skincare is basically not for me because well I can't afford a Clinique Moisturizer every time I run out. But knowledge is true power. The ingredient list and what they do make me feel less alone as a broke student in the skincare junkies community. Say it louder, skincare should be for everyone. I always look for affordable products which really work and one of my dermatologist friends swears by this product so I bought it. Let's see what this super affordable Glycolic Acid Cream does.
Let me quickly brief you about chemical exfoliation for beginners before that.
What is Chemical Exfoliation?
In simple words, chemical exfoliation is a process that shreds all the dead skin cells in the uppermost layer of your skin and makes it look more youthful. It is also known to reverse photoaging and increase cell turnover. It's believed that it's less irritating than physical exfoliation as it doesn't need vigorous rubbing and acne-prone people can use this without having bad consequences.
There are two types of chemical exfoliators.
One is AHA (Alpha Hydroxy Acid) which is more suitable for dissolving whiteheads and dry skin as its hydrating than the rest. Mandelic acid is the most gentle AHA and Glycolic Acid is a lot stronger. Lactic Acid falls in between both in terms of irritancy and effectiveness.
The other chemical exfoliator is BHA (Beta Hydroxy Acids). The common type is Salicylic Acid. It's the most effective ingredient for blackheads and acne-prone skin. It's so efficient that you need as little as 2% of this in your product.
Chemical exfoliation is great but everything has its own dull moments. While giving us a bunch of benefits, when used too much in a continuous manner it can be damaging to the moisture barrier and the skin feels most photosensitive which leads to more acne and aging. So use it sparingly and always use sunscreen if you are going to be using a chemical exfoliator.
Related:
In this post, I am going to talk about a very potent yet affordable pharmacy skincare product – Glyco 6 Glycolic Acid Cream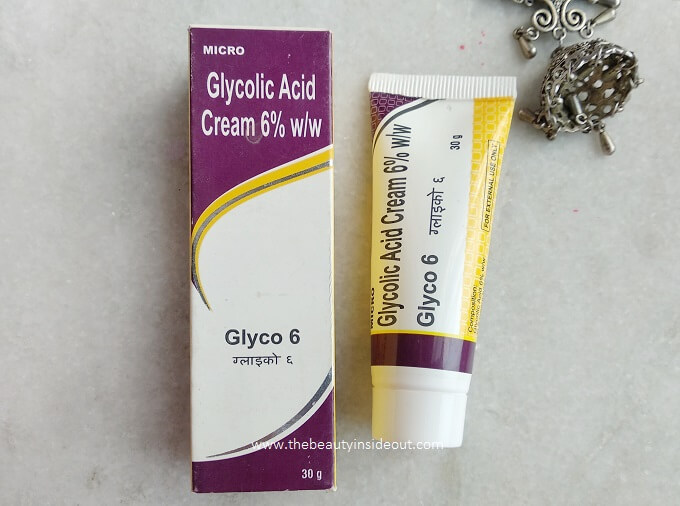 What is Glyco 6?
Glyco 6 is an exfoliating cream with 6% glycolic acid. It is manufactured by Micro Gratia. It is used to remove dead skin cells from the skin thereby helping with dark spots, pigmentation, and acne. It also has anti-aging benefits since it renews new cells.
Glyco 6 Glycolic Acid Cream Ingredients: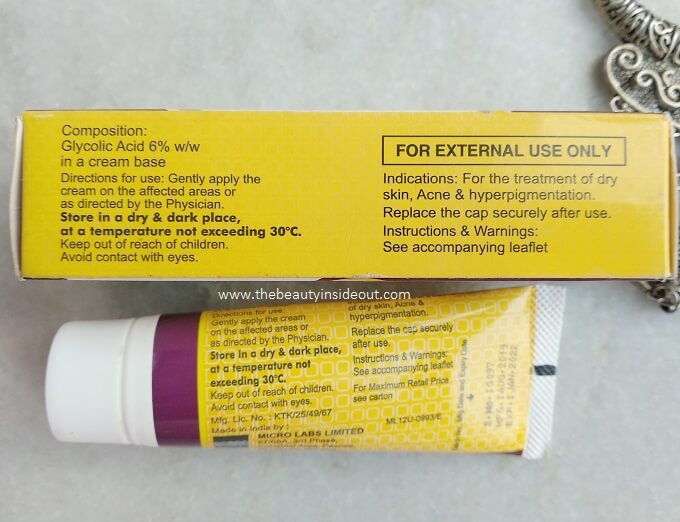 Packaging: Glyco 6 Glycolic Acid Cream comes in a tiny little squeezy tube that looks like ordinary prescription medicine. It's so tiny and doesn't take up any space in my skincare kit. I don't mind the packaging given the fact it is so affordable and a medical-grade product.
Fragrance: It has a floral scent which I am not really a fan of. I prefer my actives to be fragrance-free as it goes deep into our skin. But it's not overpowering and goes away as soon as you put it into your skin.
Texture: It is a thick cream that spreads well and absorbs nothingness. I have dry skin and after using this my skin almost feels moisturized.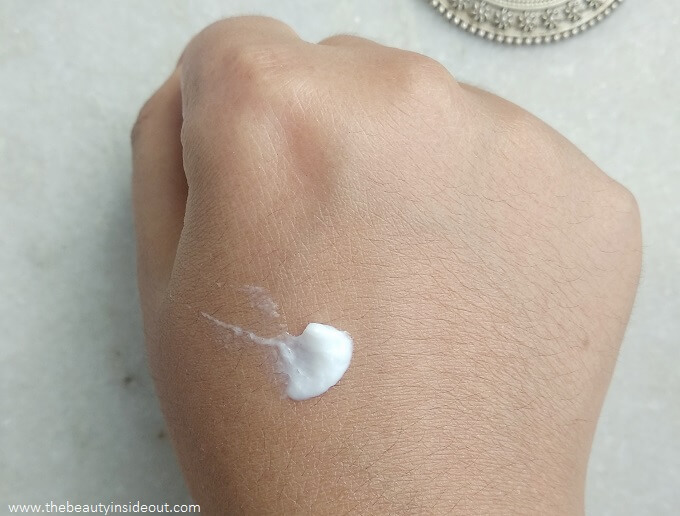 Glyco 6 Glycolic Acid Cream Review
Glyco-6's name comes from the fact it's a glycolic acid 6% formula. Not going to lie this is the first hardcore chemical exfoliation I used and it didn't cause any irritation at all. My skin didn't purge or anything. I started using this once a week and then now I use it twice a week. After using this product, my skin doesn't glow much but it looks more even-toned and my pores looked clean. For obvious reasons, my skin is more sensitive when I use this. One day I didn't use sunscreen because I was feeling lazy and I was at home anyways, but my pigmentation got worse so when using this cream, use sunscreen at all costs otherwise all the effort will go in vain.
My closed comedones were gone within a few weeks and PIH looked faded. Maybe this is not the only product but my photo-aging smile line and wrinkles under the eyes look less prominent after constant usage. Overall, I can say Glyco 6 Glycolic Acid Cream is a full-proof beginner-friendly chemical exfoliation if you want a power pack punch without investing much.
Pros:
Spreads and gets absorbed easily.
Clears pores.
Evens out the skin tone.
Did not dry out my skin, in fact, gave a hydration effect.
Fades PIH overtime.
Smile lines look less prominent.
Cons:
Fragrance.
Can sensitize the skin.
Rating: 4/5
Would I recommend it? Yes, I recommend this product.