Hair is the crown we girls never take off. Unless we go bald you know which I am probably going to so I started my hair care journey in lockdown. Due to stress and PCOD, I have bad hair fall, and let's be honest we don't really take care of our hair as much we do with our skincare, at least I didn't. So I decided it's time to hop on the train and try some products that may work for me. In that journey, I realized my hair actually likes silicones way too much. And I need a smoothing formula to control my dry frizzy hair. Matrix is a professional haircare and salon brand that is under the L'Oreal Group. I remember a salon lady suggested this mask to me before, so I bought this Matrix Smoothproof Hair Mask online. Read on to know if this Matrix Hair Mask worked for my frizzy hair.
Product Description:
Dry and frizzy unmanageable hair! Look no further matrix biology smoothing hair masque is here to give you the perfect balance of moisture and smoothness. It is enriched with aloe vera to give one the needed amino acids and hydration. The paraben-free formula gives your hair a shiny look that lasts for days.
Matrix Hair Mask Ingredients: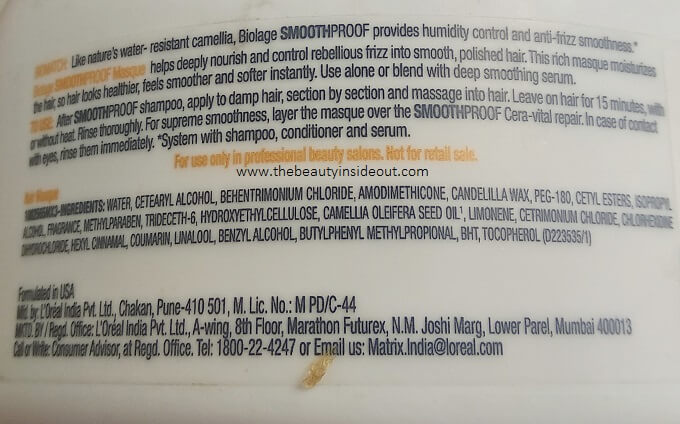 Price: Rs.545 for a whooping 490 gms, which is very value for money. It's also often available at discounts.
Where to buy it?
Matrix Biolage Smoothproof Hair Pack Review
Packaging: The Matrix Hair Mask comes in a big white tub with an orange cap. Now the smoothing version has an orange cap but other versions have another packaging. It's convenient for bathroom use. Not going to lie it's taking space and not easy for traveling but most hair masks are the same so I am not going to argue with that
Texture: The Matrix Hair Smoothproof Pack has a white crème-like texture that is not too thick nor too runny. It spreads easily on both dry and wet hair and doesn't feel very heavy. I hate hair masks that drip down onto my neck and this mask doesn't do that at all. Probably because it is a silicone heavy formula. Overall I love the texture because I can do other house chores when using this.
Fragrance: It has a sweet overpowering matrix scent that doesn't really go away even after I rinse away the product in the shower. I have had people who asked me what I used on my hair and why it smells so good. It can cause headaches for scent-sensitive people so please keep that in mind. Otherwise, I think most people will actually enjoy the scent like me.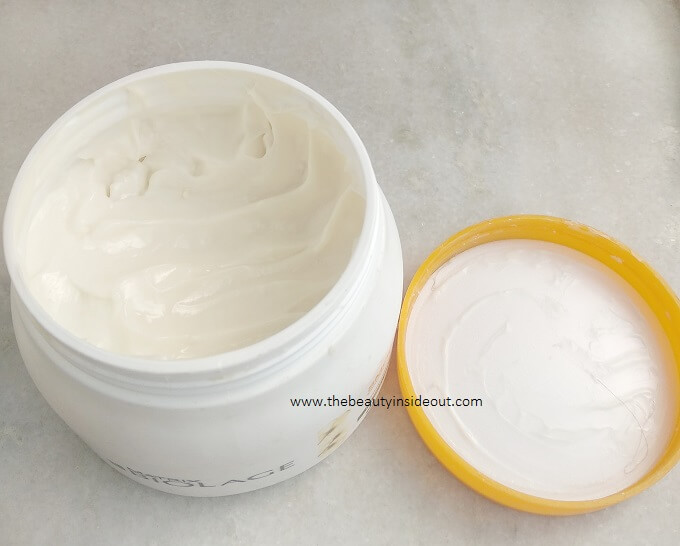 My Experience:
The brand suggests using this product after showering and then rinse it off with lukewarm water. I follow that most of the time but when I am in hurry I use this before shampooing when doing house chores and it works like a charm. My hair looks less frizzy and smooth and soft. The kind of softness where you want to touch your hair constantly. The effect lasts me for good 2 days and I am fine with it as I work out regularly. Sometimes I also use this product as my conditioner. Because I am a lazy bee and am always in a hurry, so I shampoo my hair and use this as a conditioner. Leave it on for 5 minutes and rinse it off. It actually works better than my regular conditioners and I get to use this mask on my scalp as well, which is great because it gives a very healthy bounce all around. Can't you say that I am in love with this product? And it's very affordable as well. It comes in a very big tub and lasts for quite some time. This is one of the Best Hair Masks For Frizzy Hair out there. Definitely try it out.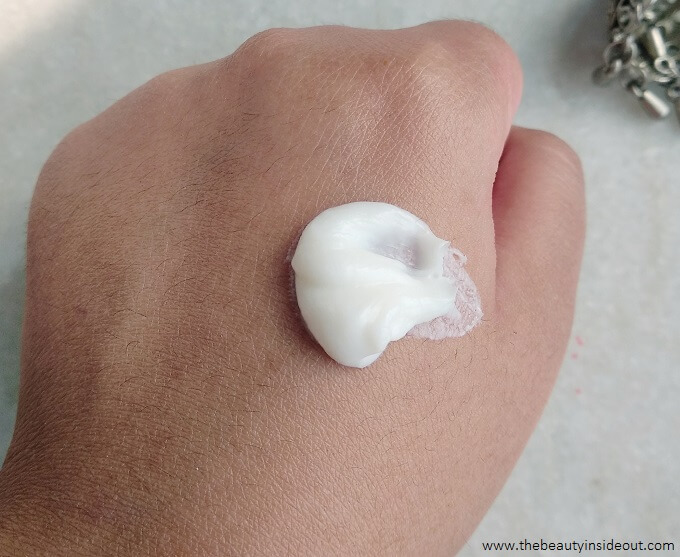 Pros:
Hair smells fresh and sweet.
Hair looks less dry and frizzy.
Smoothens out my hair and gives softness.
Can be used before and after shampoo.
Affordable.
Available both online and offline.
Cons:
This is not a silicone-free hair mask, but then my hair like silicones.
Some may not like its fragrance.
Not travel-friendly.
Rating: 4.4/5
Would I recommend it? Absolutely.