Benzoyl Peroxide, Zinc, Salicylic Acid, and Glycolic Acid are four of the top ingredients that are recommended for acne and its associated problems such as oily skin, congestion, closed comedones, and enlarged pores. If you are fairly new to skincare and want to reduce pimples without irritating the skin, using a face wash with any of these ingredients, though slow, will surely help. This Ahaglow Face Wash from Torrent Pharmaceuticals is one of the most popular glycolic acid face washes recommended by dermatologists in India. If you happen to visit a dermatologist for your acne problem, you are probably going to be recommended this. Having used this face wash a decade ago and now recently, let me share my thoughts on this face wash
What is it?
Ahaglow Face Wash is an exfoliating face wash with glycolic acid that rejuvenates the skin while improving skin tone and texture. It deeply cleanses the skin by unclogging the pores. It promotes cell turnover, encourages the shedding of dead skin cells, and makes your skin glow with its exfoliating beads aka "Glow Beads" as they call it.
Ahaglow Face Wash Ingredients
Purified Water, Acrylate Copolymer, Sodium Laureth Sulfate, Aloe Vera, Polysorbate 80, Sodium Cocoyl Apple Amino Acids, Decyl Glucoside, Coloured Millicapsules, Glycolic Acid, Phenoxyethanol, Fragrance, Vitamin E Acetate And Potassium Hydroxide.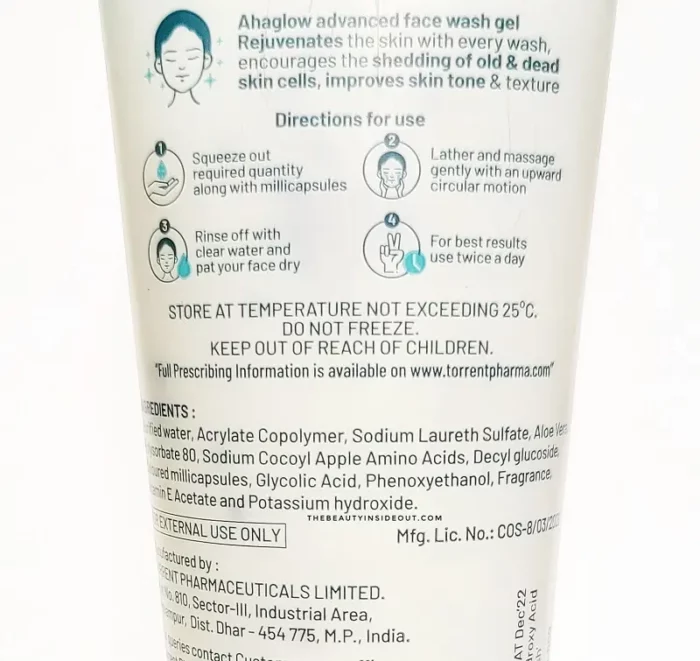 There is no mention of the percentages in the rebranded packaging, however, the older packaging mentions them as follows:
Aloe Vera – 5%
Glycolic Acid – 1%
Vitamin E – 0.1%
Sodium Cocoyl Apple Amino Acids and Decyl Glucoside have a mild natural cleansing effect.
Apparently, the multi-colored beads represent each active ingredient – the yellow beads mean Jojoba Oil, white beads are Jojoba Oil, blue beads are Vitamin E Oil, red beads are Tea Tree Oil and purple beads are Oak Bark Extract.
The Ahaglow Face Wash is Paraben Free. It is SLS-free but contains SLES, so it's not completely Sulphate-free.
Price: ₹469 for 100 g
Ahaglow Face Wash Review
Packaging:
The face wash is readily made available in a see-through light blue colored plastic tube. The earlier version came in a bright yellow tube which was more striking. Now the branding is more mellow. In either case, it still has that pharmacy skincare vibe with no fancy packaging.
The tube comes with a flip cap that opens to a pinhole dispenser. The cap fits very tightly and there is less chance of spillage if you plan to take it for travel. The tube itself is sturdy and can be handled roughly without damage.
Though the plastic tube is not eco-friendly, I don't see any other way that a liquid face wash can be packaged. And I'm all for recycling, so my tube won't go to land waste. I'm also glad that it didn't come with any extra unnecessary outer packaging that can save the earth, a bit at least.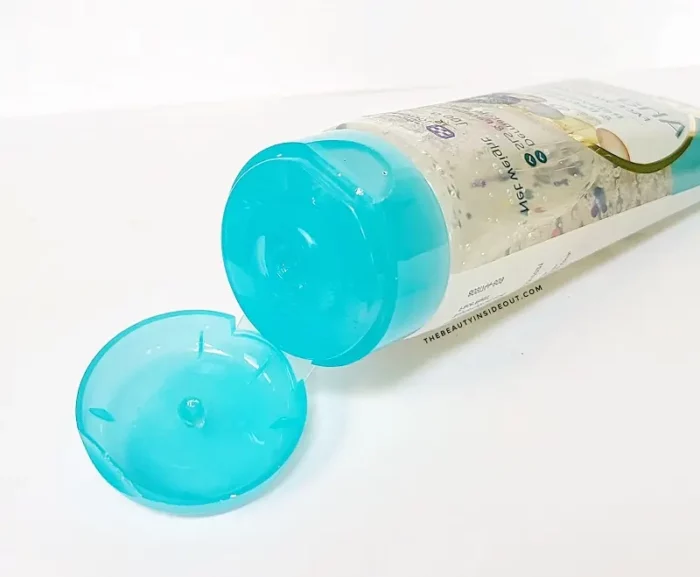 Color & Texture:
Aha Glow Face Wash is a clear gel-based face wash. It has a medium consistency that's perfect to control. It doesn't run through but is easier to spread as well. The face wash has multiple, multicolored "Glowbeads" as they call it. They are nothing but microbeads that can be dissolved when crushed using fingers.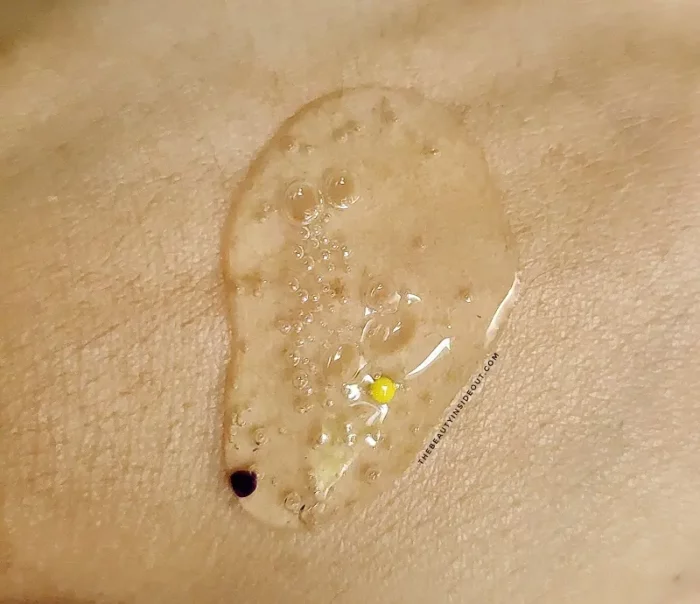 Fragrance:
The face wash has a cosmetic synthetic fragrance. It's a nice pleasant scent that isn't overbearing and it doesn't linger long after washing too.
The scent is the same as the older version that I used 10 years back.
My Experience:
I started my acne skincare journey in my young adulthood with this face wash and the Sebamed Cleanser. Both are extremely good when it comes to helping with healing acne and pimples. I've used multiple tubes of the older yellow face wash and recently bought the newer version. I can confirm that the formulation is still the same. It is exactly what I used ten years back.
About my skin:
Coming to my current skin condition, I am in my early thirties and have combination skin with dry cheeks and oily T zone as opposed to my oily, greasy teenage years. I don't have major acne problems now, just a few tiny pimples occasionally, but dullness, texture, and aging are what are my concerns. I don't have a solid skincare routine postpartum, just a basic face wash (Cleanse Me) and moisturizer (Plum Oil Free Moisturizer). They were great for maintaining the skin, but I wanted something more. So I wanted to start with gentle exfoliating products instead of plunging into strong chemical exfoliators. Being a skincare enthusiast, I knew that a face wash with salicylic acid or glycolic acid would be the best start. So I went with this foolproof face wash since I've tried this before.
Application and Usage:
I started using this twice a week, in the night. I use a small coin-sized amount of the product. Sometimes I lather it on my hands – with just a bit of water it creates a soft lather – and massage it on my face for a few seconds, less than 30 seconds, and wash it off. Other times, I directly massage the face wash on my wet face and rinse it off. In either case, the results were the same. Just that the cleansing experience is slightly different. The face wash washes off easily – no slimy residue is left behind and the skin feels squeaky clean.
Results:
The face wash is great for removing sunscreen, light makeup, oily impurities, and gunk from the skin. It's not a hydrating face wash and leaves my skin matte but soft. I need to moisturize soon after. Oil-free moisturizers don't cut it for me if I use this face wash. I need a good nourishing moisturizer to go after it.
My teenage oily skin loved this more than my current combination skin. I could use this every day comfortably after coming back from college to remove the sweat and oiliness. Now that my skin type and lifestyle changed (I mean I don't get sweaty or oily now, working from home), I felt it to be a bit on the drying side. Nevertheless, it still tremendously helps in healing acne when incorpoy into a good acne-prone skin-friendly skincare routine.
The face wash mildly exfoliated and helped with my tiny bumps and pimples. It doesn't do much for blackheads and pustules. But skin feels fresh and rejuvenated as claimed.
Side Effects and Precautions
I didn't experience any major side effects, following the precautions to be taken when using a glycolic acid product.
The face wash can cause dryness leading to irritations, peeling, and flakiness if you already have dry skin.
Also, since this is an exfoliating wash, the skin can become sensitive to the sun if you don't properly use sunscreen during the daytime.
The face wash contains SLES, though, gentler than SLS, it is still not a sulphate-free formulation, so if you are averse to sulphates you might want to skip this.
It is recommended to avoid using other actives like Retinols, Vitamin C, Benzoyl Peroxide, Salicylic Acid, etc together with Glycolic Acid in the same routine. You may use this face wash in the morning and other actives in the night routine and vice versa, but not together, otherwise it may cause irritations.
You can use a moisturizer with ceramide or hyaluronic acid or niacinamide to strengthen and balance the skin's moisture barrier. These ingredients mean no harm when used with glycolic acid.
Use the face wash sparingly, twice or thrice a week, once per day. Using it twice a day, every day can lead to over-exfoliation and damaged skin barrier.
According to the American College of Obstetricians and Gynecologists (ACOG), Glycolic Acid is safe to use during pregnancy(Reference: acog.org). Considering that this is a wash-off product and is in lower concentration(not more than 10) one can use it safely use it – unless you are allergic to the ingredient itself. It is also best to consult your dermatologist before going for exfoliating products.
Similar Products:
Comparably more potent with both salicylic acid and glycolic acid, Rejuglow Face Wash is a good alternative to the Ahaglow Face Wash. Salicylic Acid in it helps to dissolve deep settled oil and impurities and Glycolic Acid provides surface-level exfoliation making this an excellent option for oily acne prone skin types.
Bottom Line
Ahaglow Face Wash is a beginner-friendly, exfoliating face wash with glycolic acid that instantly brightens and refreshes the skin. It unclogs pores and helps with reducing acne and post-inflammatory acne marks. In addition, it improves skin complexion by shedding old dead skin cells to reveal brighter new cells.
What do you think of this face wash? Have you tried it?