It's been a while since I shifted to pharmacy skincare products. Though I love my drugstore skincare products, nowadays pharma products offer the most value to my routine. I love how they are not only efficient & effective in giving results, they are relatively cheaper in price. Coming to exfoliation, using Salicylic Acid Face Washes is my favorite since they are gentle compared to toners & serums. Given the right formulation, they can be hydrating while giving you the gentle exfoliation you need. It's perfect for those who don't have huge time to do a long weekly skincare routine or are beginners when it comes to chemical exfoliation. Today I'm going to share my experience with one of the popular active facewash named, Rejuglow Face Wash. So what are we waiting for! Let's start.
Product Description:
With Glycolic Acid And Salicylic Acid, this Rejuglow Face Wash will clear out your acne and hyperpigmentation without feeling dry. It has glycerin to give moisture and make your skin glowy, unlike others on the market. Use sunscreen when using this.
Rejuglow Face Wash
Ingredients: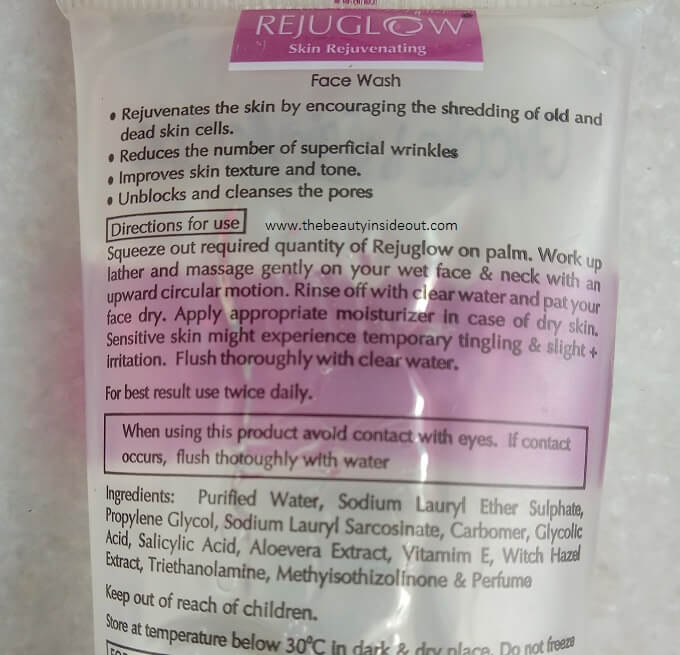 As you can, the Rejuglow Face Wash has Sodium Lauryl Ether Sulphate(SLES) as its main surfactant, Glycolic Acid and Salicylic Acid for exfoliation and Aloe Vera and Vitamin E for soothing the skin. At the end of the ingredient list, it has preservatives to keep the face wash from getting spoilt. Lastly, we have added perfume, which I feel they could have avoided.
Rejuglow Face Wash Review
Packaging: There is nothing new to say about the packaging. It comes in a basic clear plastic tube, which is good because you can see how much product is still left. It's very sturdy, travel-friendly, and doesn't feel cheap at all.
Texture: The Rejuglow Face Wash is a clear gel. It isn't runny but a tad bit thicker which makes it easier to control the product flow.
Fragrance: It has a floral scent that isn't overwhelming by any means and goes away after cleansing. Personally, I don't like fragrance in skincare as it can cause sensitivity but this product didn't bother me much.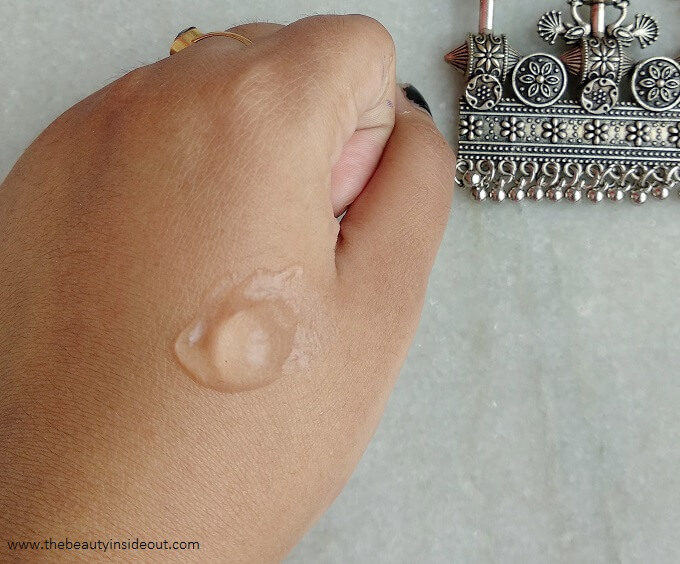 My Experience with Rejuglow Face Wash:
Let me first tell you that this is my holy grail active-based face wash. It actually does the job without stripping my face. It does not foam up, so you might feel it does have that refreshing foaming action. But needless to say, it's very mild but effective in cleaning the skin. I just dampen my skin and take a pea-sized amount to give that slight emulsifying effect. It leaves the skin hydrated to the extent that very oily skin people can find it overwhelming. Being a dry skin person, I love it that way.
The first time I used this, I got compliments from my mom saying that I used to make my skin so baby soft and even-toned. The face wash helped in clearing my hyperpigmentation day by day and my pores now look very small unlike before.
The only con I can find is that I can't use this in the morning as it has the properties of a chemical exfoliator and can cause photosensitivity. So I have to travel with two facewashes at the same time. I have checked to see if it's pH balanced and it has a 6 pH which is very good for our skin biome. All in all, a must-try product if you are looking for an exfoliating face wash to try. I did not experience any side effects with the Rejuglow Face Wash.
Pros:
Ph Balanced.
Clears out blackheads and whiteheads.
Makes skin baby soft and exfoliated.
It's not stripping and leaves skin hydrated.
Affordable and easily available.
Little goes a long way.
Cons:
Contains added fragrance.
Not ideal to use it twice a day because of glycolic acid and salicylic acid.
Rating:5/5
Would I recommend it? Yes, this is my holy grail active-based exfoliating face wash that's gentle but still performs its job well. I am going to repurchase and recommend it for the rest of my life.
What do you think of this face wash? Have you tried it?
Let us know your experience with us.