Ever since I hit my thirties this year, my skin type has changed from oily combination to combination dry skin. I don't really know if it's strange or not, but that's what it is. My skin type changed. I suppose it may be due to aging. Oily skin cleansers which worked for me once aren't suitable for me now and are too drying and irritating on my skin. I remembered loving the Cetaphil Gentle Skin Cleanser earlier for its gentle cleansing action. But since that contained SLS, I searched for something that was similar to the Cetaphil but without SLS which is known to be a stripping cleansing agent. After exploring a couple of cleansers, I zeroed in on this CleanseMe Gentle Skin Cleanser. Read on to know my thoughts on this cleanser.
Product Description:
CleanseMe Cleanser is a gentle, fragrance-free, pH-balanced, daily use cleanser to clean, hydrate and soothe irritated and sensitive skin.
How to use CleanseMe Cleanser?
Ideally, take a doll up of the cleanser and gently massage on the face for 30 seconds, rinse with water, and pat dry.
You can also use it without water to remove light makeup. After massaging the cleanser on the skin, swipe a cotton pad across your face to gently remove impurities.
CleanseMe Ingredients: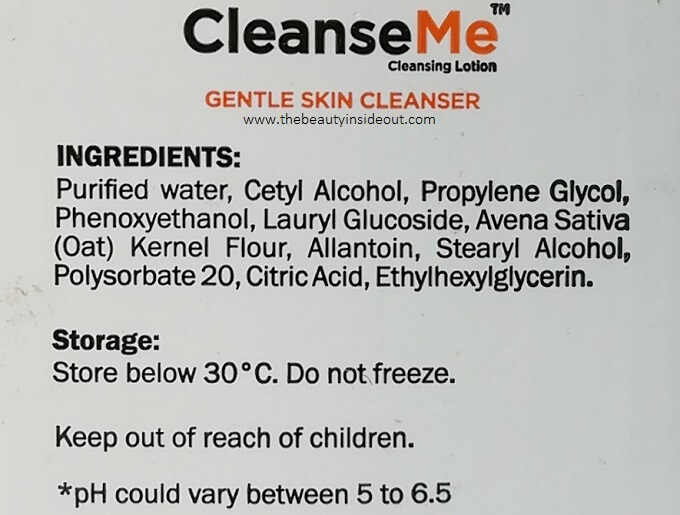 Has just 11 ingredients with soothing & anti-oxidant Oat Kernel Flour and Allantoin. It's formulated with a sugar-based surfactant to prevent dryness. Both Cetyl Alcohol & Stearyl Alcohol are gentle, non-drying surfactants that clean the skin.
Price: Rs.190 for 125 ml.
CleanseMe Face Wash Review
Packaging: The CleanseMe Cleanser comes in an average-looking white plastic bottle with a flip-type cap. It has a small dispenser through which the product comes out. Nothing fancy with the packaging, but it serves its purpose. The full ingredient list and other details are mentioned on the bottle as well as on the outer carton with which it came.
Color & Texture: Typically, this is a cleansing lotion that doesn't lather at all. It has a smooth, medium-thick consistency and a pearly white gel appearance. A coin-sized amount is ideal for cleansing the face.
Fragrance: The product as such doesn't contain added fragrance. It doesn't smell anything in particular. It just has a slight lotion smell to it if you keenly notice, which may be the scent of the ingredients used in it.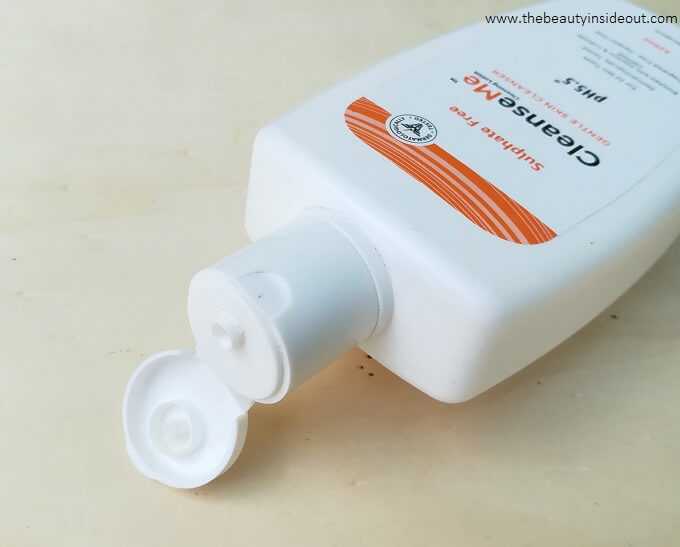 My Experience:
I loved using this cleanser. It's very gentle on the skin and never irritates the skin. The cleansing lotion formulation is free of soap & sulphates and is absolutely non-foaming. However, it does clean the skin really well while leaving it soft and hydrated. It's not even a tiny bit drying.
The cleanser rinses off easily and does not leave any film or slippery residue on the skin which some moisturizing face washes tend to do. It's enriched with Allantoin and Colloidal Oatmeal and feels so calming & soothing on the skin.
The cleanser gets rid of pollutant impurities and sunscreen residues, however, it may not be solely sufficient to remove heavy makeup. But then it works well as a second cleanser after using micellar water or cleansing oil to remove makeup.
This is one of the best gentle cleansers in India and is most definitely the best Cetaphil Alternative. It's even cheaper than Cetaphil and satisfies all the cons of the Cetaphil Cleanser. CleanseMe is suitable for all skin types, including acne-prone. But it works exceptionally well for Dry and Sensitive Skin Types.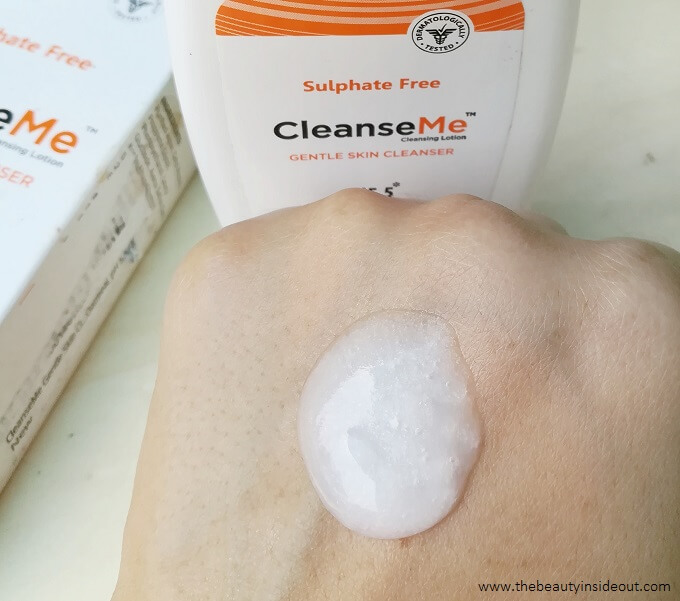 Pros:
Minimal Ingredients.
Fragrance-Free Gentle Cleanser.
Has an ideal pH of 5.5.
Leaves the clean, fresh and hydrated.
Suitable for all skin types.
Free of Sulphate, Parabens, and Silicones.
Dermatologically Tested.
Budget-friendly.
Cons:
Nothing at all.
Rating: 4.9/5
Would I recommend it? Yes, I highly recommend this cleanser. It's affordable, fragrance-free that cleans the skin while leaving it fresh and balanced.
Where to buy it? Amazon.in
What do you think of this cleanser? Have you tried it?