Green Tea is one of the versatile ingredients that not only benefit your skin but your overall health as well. Drinking green tea is better for you, but applying it topically is nonetheless beneficial. Green Tea is often found in many skincare products, though not explicitly mentioned oftentimes. This Plum Green Tea Oil Free Moisturizer is one of my recent favorites. Not because it has Green Tea but for other reasons! Read on to why.
Benefits of using a Green Tea Moisturizer
It's easy to use a Green Tea Moisturizer, rather than use Green Tea in the form of serums or face masks.
Especially as a beginner, you can just cleanse your face and apply the moisturizer, and be done with your routine.
Green Tea is rich in antioxidants to fight free radicals.
It has antimicrobial and anti-inflammatory properties that subside inflammations and combat acne.
Green Tea regulates excess sebum production hence it's most loved by oily skin types.
It is known to delay signs of aging by maintaining skin elasticity.
It contains natural Vitamin E that keeps the skin hydrated and nourished
These are some of the benefits of using a Green Tea Moisturizer. Let's see in detail about the Plum Oil Free Green Tea Moisturizer.
Product Description:
Formulated with Niacinamide, Hyaluronic Acid, and Squalane, Plum Oil Free Green Tea Moisturizer is good for oily, acne-prone, and combination skin types. Made without added fragrance, it gently hydrates the skin and helps with minimizing acne.
Green Tea: loaded with antioxidants and keeps acne at bay.
Niacinamide: reduces acne and boosts radiance.
Hyaluronic Acid: hydrates and instant plumping effect.
Squalane: improves skin elasticity and provides long time moisturization.
Kakadu Plum: increases collagen production, and hydrates and nourishes the skin.
Willow Bark Extract: anti-inflammatory soothes irritated skin.
Plum Oil Free Green Tea Moisturizer Ingredients: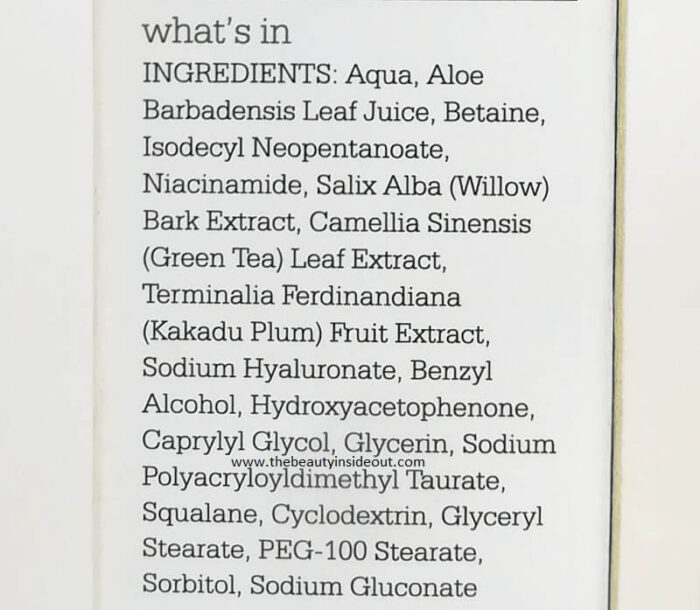 According to this post, Plum Oil Free Green Tea Moisturizer contains 1.5% Niacinamide and 0.1% Hyaluronic Acid. The percentage of Squalene is below 1%, Willow Bark Extract is below 0.5% and Green Tea Extract is below 0.3%
Niacinamide is ideal at 2 to 5% upto 10%, Hyaluronic Acid at 1 to 2% Willow Bark at 0.5 to 1%. As you can see the Green Tea Extract in it is quite less. So you shouldn't consider this for the antioxidant benefits of Green Tea, despite its branding as a Green Tea Moisturizer. However, it's a great moisturizer overall.
Plum Green Tea Oil Free Moisturizer Review
Packaging: This Plum Moisturizer comes in an airless pump dispenser bottle. The white bottle with green detailing looks clean and classy. However, it doesn't feel very premium. The see-through cap fits but very often loosens and comes off especially if you carry it in a pouch for travel. Otherwise, it's decent packaging. The pump dispense makes its usage super easy.
The bottle came packed in a similar-looking white carton box. Both the box and bottle have all details about the product. So if you are going to throw away the outer carton, you are not going to lose anything.
Color & Texture: It has a light, translucent gel-cream texture. It's on the thinner side and spreads easily without any effort.
Fragrance: The oil-free variant is fragrance-free. That is, it doesn't contain any added fragrance. But it does have a faint smell to it that comes from the gel. I suppose that comes from the ingredients used in it since it doesn't contain any masking fragrance ingredients.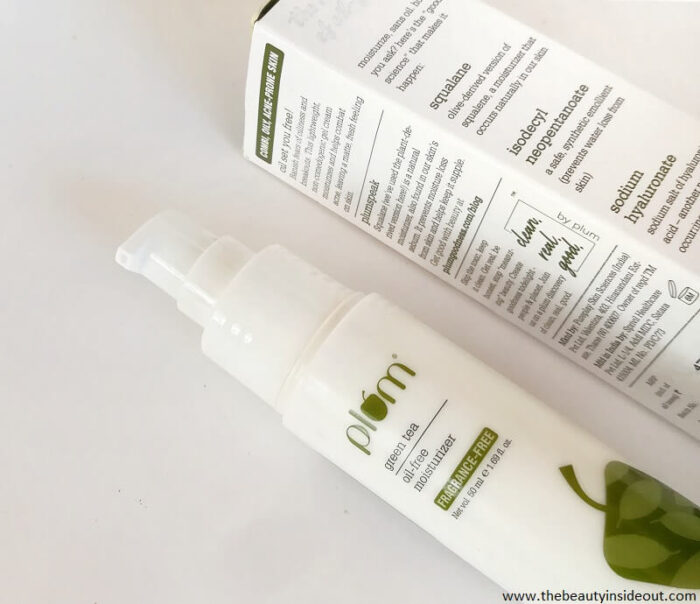 My Experience:
I can easily say that this is one of the best moisturizers for oily skin that I've tried. It has a very beautiful lightweight gel-cream texture. I usually use two pumps of the product for my combination skin. It goes on a bit watery and glides on the skin so effortlessly. It gets absorbed fairly quickly without leaving any residue. I need less than a minute to apply this moisturizer.
The Plum Moisturizer instantly leaves the skin hydrated and moisturized. The finish is not matte but isn't sticky either. It has a natural skin-like finish and makes the skin supple immediately upon application. This is what I like the most about this moisturizer. It perfectly moisturizes the skin – no drying matte effect – no heavy greasiness.
On the downside, if I use more quantity like 3 pumps, it tends to take a while to settle down on the skin. And it becomes a tad bit heavy if I use it during peak summers. I would say quantity is the key, use how much ever is ideal based on your skin and weather conditions. Always let it settle down completely before following it up with other products, like sunscreen. Nevertheless, it's a comfortable moisturizer for my combination skin.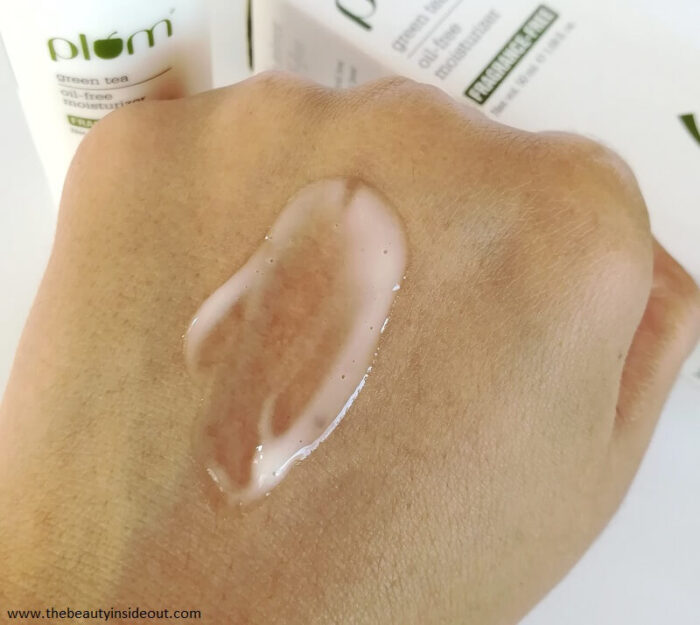 As for its other benefits, I didn't notice any major effects on active acne or pimples. But it didn't break me out either. I believe it keeps new acne formation at bay. Because it contains Willow Bark Extract which is a natural BHA and a gentle form of Salicylic Acid. The oil-free moisturizer doesn't contain any comedogenic ingredients and it's safe for acne-prone skin.
Overall if you have been looking for a hydrating, non-mattifying moisturizer that actually moisturizes your oily skin, this Plum Green Tea Moisturizer is a great option. Though the pricing can be a bit high for some, Plum Products are almost always available at discounts on various portals and B1G1 offers are pretty common on the brand's official website. You can also get the trial size on Smytten App for a minimum charge.
Pros:
Enriched with Niacinamide, Hyaluronic Acid, Squalene, Willow Bark Extract, Kakadu Plum, and Green Tea.
Fragrance-Free, Oil-Free, Non-Sticky, Lightweight Moisturizer.
The thin gel-cream texture blends easily.
Easy to use pump dispenser bottle.
Keeps skin moisturized for a long.
Makes skin supple and plump.
Suitable for oily, combination, and acne-prone skin types.
Minimizes new acne breakouts.
Vegan and Cruelty-Free.
Cons:
May not work during peak hot summers for oily skin.
Rating: 4.5/5
Would I recommend it? Absolutely, yes. If you are not very keen on the "Green Tea" part (it has other great ingredients), this is easily one of the nicest moisturizers out there for oily, combination, and acne-prone skin types.
What do you think of this Plum Moisturizer? Have you tried it?