Plum was the first brand I ever invested in, so I have this special soft spot for this brand. I had bought so many Plum Goodness Products and I have called myself a proud plumster because I loved them a lot. Still! Not all of them! I mean I just love it as a brand on the whole mainly because they are 100% Vegan, Paraben-Free, Cruelty-Free, and above all they have products for all skin types. Plus their buying experience is splendid since you can visit their website and answer a simple questionnaire to know your skin type and they will recommend you products on the basis of your skin type, so that's a huge thumbs up there.
They have a different range of products for different skin types and concerns like:
Green Tea Range for Oily Skin Type
Aloe Range For Sensitive Skin Type
Berries and Chocolate Based For Dry Skin Types
Chamomile and White Tea For Combination Skin Type
If you are skeptical about investing in Plum Products, you can get trial-sized samples from Smytten App. Use my referral code: 2NYCU to avail of 6 trial points with which you can get 6 products by just paying the shipping cost of 200 INR (out of which 169 INR is redeemable).
Plum is running an exclusive sale. Please feel free to use my code: THEBEAUTYINSIDEOUT to avail Buy2Get2 OFFER.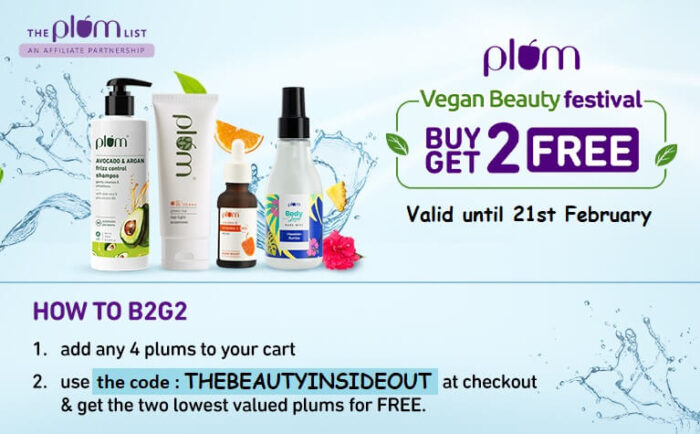 I have tried so many products from Plum and I have identified 10 Products with a mix of good and not-so-good plums. Let's find out below the performance of each one of the Plum Goodness Products.
Plum Products Review
Plum Products For Oily Skin
1. Plum Green Tea Pore Cleansing Face Wash

Review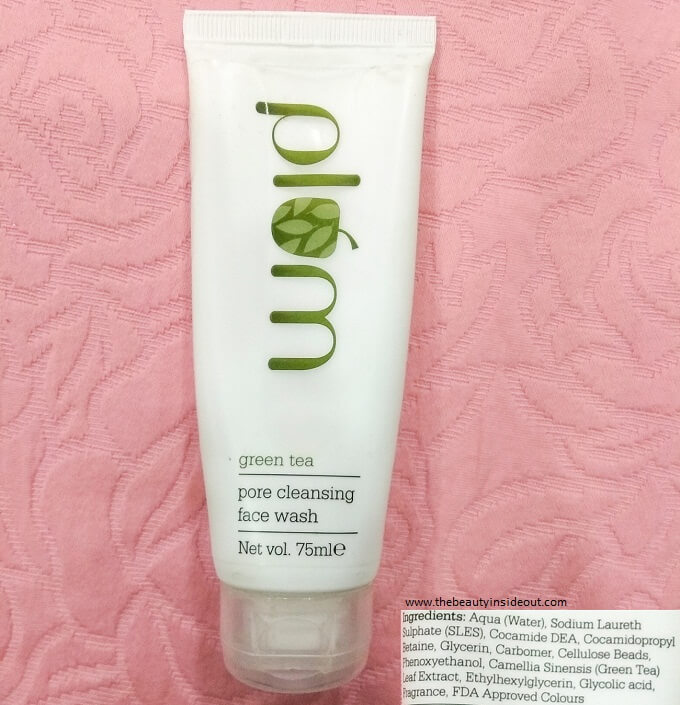 Product Type: It's a gentle, non-drying, SLS Free, Paraben Free Face Wash that's loaded with the goodness of Anti-oxidant Green Tea Extracts and mildly exfoliating Glycolic Acid to give you an energized and refreshed skin.
Suitable For: Oily, Combination, Acne-Prone Skin.
Fragrance: It has a synthetic floral scent that's really great and uplifts the morning dullness after the wash.
Additional Info: It contains SLES and Fragrance.
My Experience: This product is sheer love. I just love it to bits. The face wash, although meant for oily skin, suited my dry acne-prone skin with an oily T-zone very well. It cleanses the face extremely well leaving it really soft, supple, and clean. Plus it gives a fresh glow after washing the face. It doesn't really hydrate the skin but then I never felt the need of moisturizing my face right after using it. It's not an overly drying face wash despite containing glycolic acid and other oil-controlling ingredients. This product is a big thumbs up for me and I highly recommend it to even sensitive skin people because if it can suit my skin type, I am sure it would do good for any skin type.
Rating: 5/5
Where to buy it? Plum Website | Amazon.in
2. Plum Green Tea Alcohol-Free Toner

Review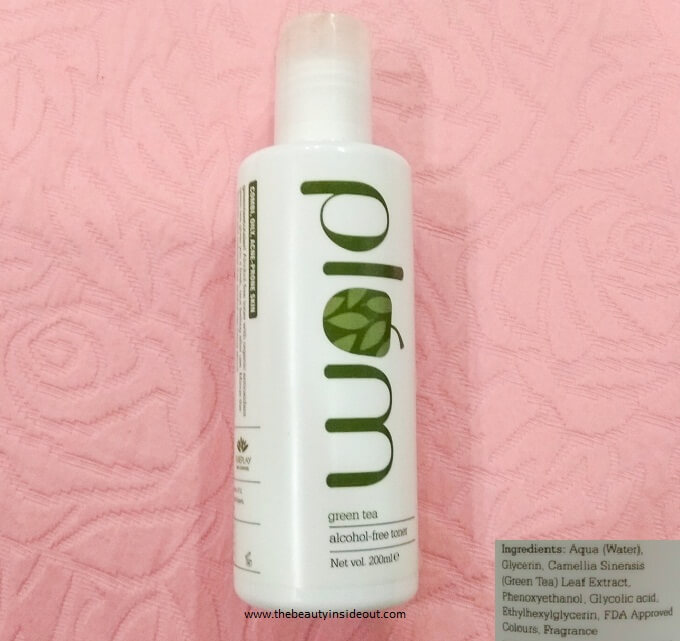 Product Type: Enriched with Green Tea Extracts, Glycolic Acid and Glycerin, this is an alcohol-free toner to control acne breakouts.
Suitable For: Acne-Prone Skin.
Fragrance: Pleasant floral fragrance, similar to other products in the Green Tea Range.
Additional Info: It has a push-open cap mechanism that draws excessive product at one go. It took me some time to develop control on it so the product didn't get wasted.
My Experience: Including a toner in your skincare regime can make or break your skin! I was never a toner kind of person but I took a leap and started using this Plum Green, Tea Toner. After using it for straight two weeks honestly, I am highly disappointed with it. It just did not work for me at all. It is a water-based toner and I gave this one multiple benefits of the doubt to make it work somehow, but it tingled my skin very badly every time I applied it. And instead of curbing my active acne, it made me break out even more. Ideally, it is meant for combination skin, but somehow it did not work for me. I have seen a lot of good reviews about this product but it's disappointing that it didn't work for me.
After raising my concern to their team, the only response I got from them was – "stop using our products along with medicated products". Sorry but this did not go down well with me at all and now the toner is kept in the trash zone of my vanity.
Rating: 1/5
Where to buy it? Plum Website | Amazon.in
3. Plum Green Tea Clear Face Mask Review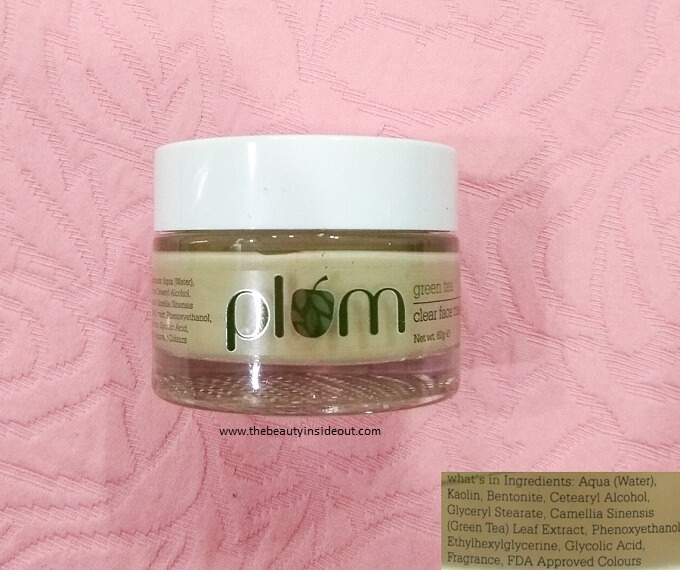 Product Type: It's a clay-based face mask that claims to gently exfoliate and instantly brighten up the skin.
Suitable For: Oily, Combination, and Acne-Prone Skin. Not recommended for cystic acne, dry and sensitive skin types.
Fragrance: The nice fragrance of green tea is very calming and not at all overpowering.
My Experience: Apparently, this is one of the Best Selling Plum Products that left me with mixed feelings. It's a cream-based face mask that applies very smoothly, in fact, it has the smoothest texture ever. And it glides on easily unlike other packs which are quite dry. But, It tingled my skin immensely and I felt the urge of wiping it off immediately. But then I wanted to try this to see the final results it gives…All because of "the hype"!!!! Finally, I took it off once it dried up, and taking it off was such a nice feeling. Strangely I found it very comforting to remove it, unlike many other packs which take so much effort to remove. Results were good I wasn't blown away with the effect it left on my face initially. I still gave it a few more tries and it still burns me every single time I put this mask on my face. Sure it brightens up my skin and makes it feel really soft and glowy. The mask works quite nicely as a spot treatment. I head over to this pack whenever I need to zap a zit.
Overall the mask is good. But on the other hand, I feel that a lot of other packs can also do that to my face without giving a tingling sensation and at a much lower price. Not a must-buy for me but a cult favorite for many!
Rating: 3.5/5
Where to buy it? Plum Website | Amazon.in
4. Plum Green Tea Renewed Clarity Night Gel

Review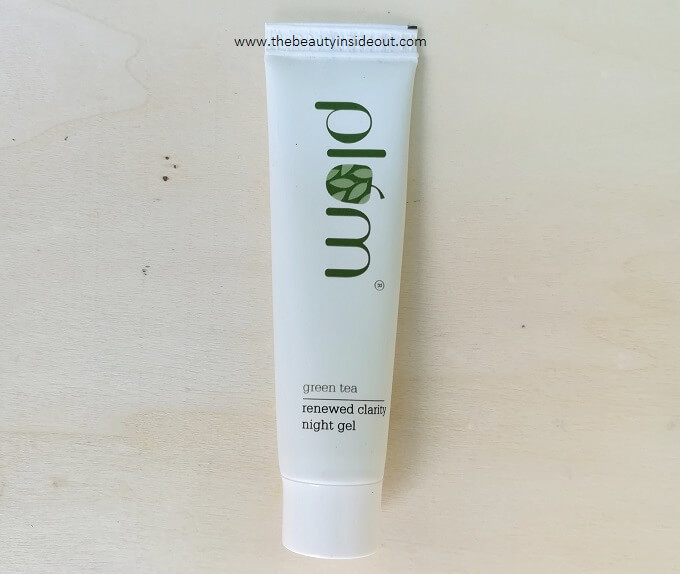 Product Type: It's a lightweight hydrating night gel that's formulated with Green Tea, Glycolic Acid and Argan Oil to end your morning oily skin woes.
Suitable For: Oily, Acne Prone Combination Skin.
Fragrance: Light and soothing floral scent, similar to other products in the Green Tea Range.
Additional Info: Non-Comedogenic & Alcohol-Free.
My Experience: This is a bomb product. It's an ultra-lightweight, pale green gel that gets absorbed so quickly. It does not leave the skin sticky or greasy and has an almost aloe vera gel feel to it. But added with the benefits of lots of antioxidants and nutrients for the skin. A pea-sized quantity of the gel is enough to instantly hydrate the skin and leave it nourished. I love how plumped up and luminous my skin glows the next morning. This gel has never broken me out. In fact, continuous use, helped to keep my acne at bay. It's the perfect night gel for oily acne-prone skin types. If you have been using just Aloe Vera Gels as your moisturizer and want to upgrade it for something more beneficial, I'm sure you'll love this. Definitely try this, if the fragrance is not an issue. It's often available at discounts and is one of the Best Plum Products For Glowing Skin.
Rating: 4.9/5
Where to buy it? Plum Website | Amazon.in
5. Plum Green Tea Day Light Sunscreen Gel

Review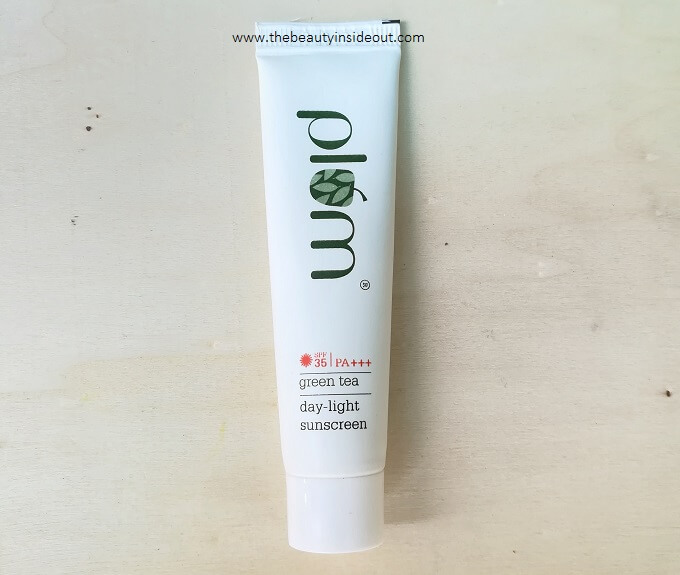 Product Type: It's an SPF 35 PA+++ sunscreen gel with Green Tea, Calendula Extracts and Encapsulated Sunscreens to provide uniform coverage with a light skin feel.
Suitable For: Oily, Acne Prone & Combination Skin Types.
Fragrance: Floral fragrance that dissipated once applied to the skin.
Additional Info: Alcohol-Free. Contains old-school filters Benzophenone, Avobenzone, and Octinoxate.
My Experience: This is one of the best sunscreens for oily skin in terms of formulation. The texture is amazing, a light gel cream that blends into a watery texture and dries down to a soft matte finish. It hydrates the skin enough to not makes it look greasy and dull. On humid days, I can easily skip a moisturizer with this. There is absolutely no white cast and feels almost like a light moisturizer. It never caused any irritations or breakouts on my skin. I absolutely loved using this. If you have sensitive skin, do a patch test, since this is a chemical sunscreen with old-school UV filters. I wish it had new generation UV filters that are safer.
Overall, if you are looking for a moisturizer like a sunscreen, this is the best fit. Since it has SPF 35, I'd recommend it for indoor use or for those exposed to the sun for a short duration. This sunscreen may not be enough for heavy-duty sun protection.
Rating: 4.5/5
Where to buy it? Plum Website | Amazon.in
Plum Products For Combination to Dry Skin
6. Plum Grape Seed & Sea Buckthorn Mild Foam Scrub

Review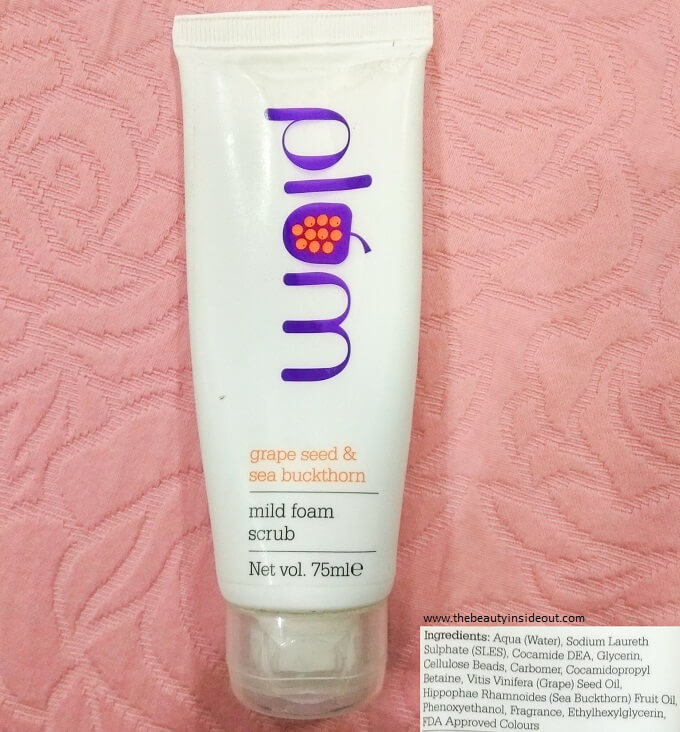 Product Type: It's a mild foaming scrub with cellulose beads to gently exfoliate by removing dead skin cells and revealing brighter skin.
Suitable For: Normal, Dry, Combination Skin Types. Not For Acne-Prone & Sensitive Skin Types.
Fragrance: Refreshing floral scent.
Additional Info: It's SLS-free, but contains SLES.
My Experience: This says to be a mild foam scrub and I expected it to have scrubbing particles. But it doesn't. I wouldn't classify this as a scrub. It's actually a gel-based cleanser with cellulose beads that get dissolved when you massage it on the skin. This basically reminds me of the AHA Glow Face Wash with those soluble beads. This foaming scrub also produces a rich lather and no doubt it cleans the skin really well eventually leaving my skin extremely soft, brightened up, and refreshed. It doesn't dry out the skin but leaves it hydrated and radiant. Overall, it's a great product with a misleading name. It's not a scrub and is a face wash that can be used every day.
Rating: 4/5
Where to buy it? Plum Website | Amazon.in
7. Plum Chamomile & White Tea Brighten Up Face Scrub

Review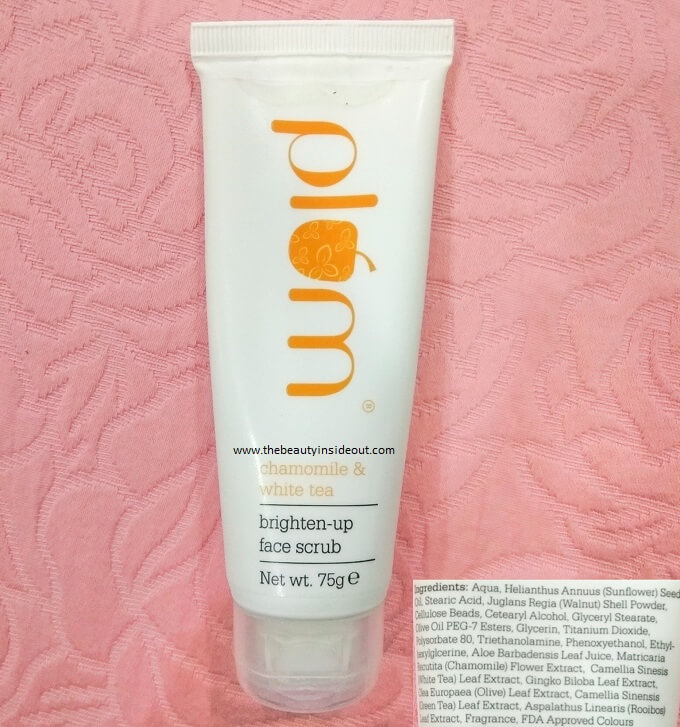 Product Type: It's a gentle yet effective face scrub that brightens up dull and tired skin.
Suitable For: Normal, Combination, Slightly Dry Skin Types. Not for Acne-Prone & Sensitive Skin.
Fragrance: Synthetic floral fragrance, similar to other products in the Chamomile Range.
My Experience: Unlike the Mild Foam Scrub, this feels like an actual scrub. It has got two types of scrubbing particles in them – one is a brown-colored, smaller walnut particle and the other is large red-colored cellulose beads. Both of them exfoliates the skin nicely, unclogging the pores and leaving the skin clear. The scrub is cream-based hence spreads easily and also leaves the skin a bit hydrated. The scrub gives an instant brightening effect, something that I look forward to in a scrub. The scrub does a good job of reducing blackheads, whiteheads, and dead skin cells. Just keep away from active acne. With 3-4 uses, it removed my suntan as well. Overall, I loved using this. It does what it's supposed to do – cleans, brightens, removes tan, all along giving a softer and glowing skin.
Rating: 4.5/5
Where to buy it? Plum Website | Amazon.in
8. Plum Grape Seed & Sea Buckthorn Glow Restore Facial Oil Review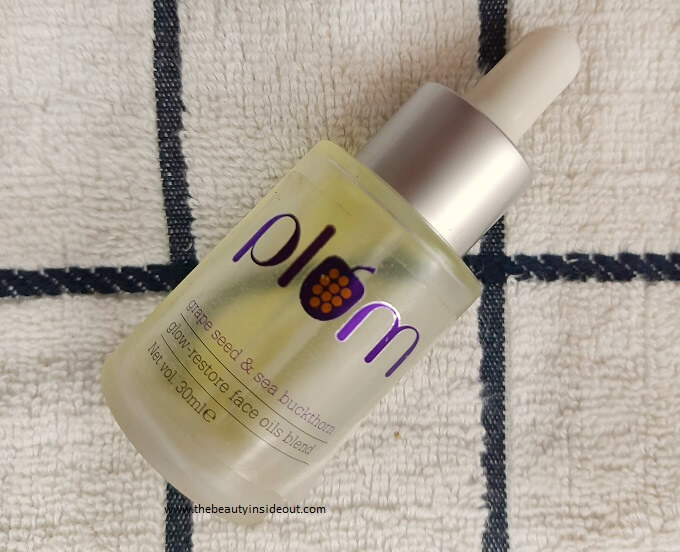 Product Type: Blended with 10 plant-derived natural oils, this facial oil replenishes the skin's lost nutrients and restores your natural glow.
Suitable For: Normal, Combination & Dry Skin Types.
Fragrance: Soothing scent with a floral touch.
My Experience: Well, I've used this facial oil for more than a year and have finished three bottles of them. Do I have to say more? I love this. It's a fast-absorbing dry oil that has the consistency of almond oil. It's not a heavy oil like olive oil or castor. It's very lightweight and doesn't leave the skin sticky or tacky. Just 2 to 3 drops is more than enough for the face and neck. It instantly hydrates the skin and gives me a healthy glow. It definitely improved the quality of my dehydrated skin over time.
Sometimes I like to use a moisturizer on top of this to lock in the nutrients of the oils. It also works beautifully under makeup, giving a radiant finish. This is a must-buy from Plum Products For Combination to Dry Skin Types. It's one of the best facial oils on the market that has a great blend of oils and is not heavily priced.
Rating: 4/5
Where to buy it? Plum Website | Amazon.in
9. Plum E-Luminence Deep Moisturizing Cream

Review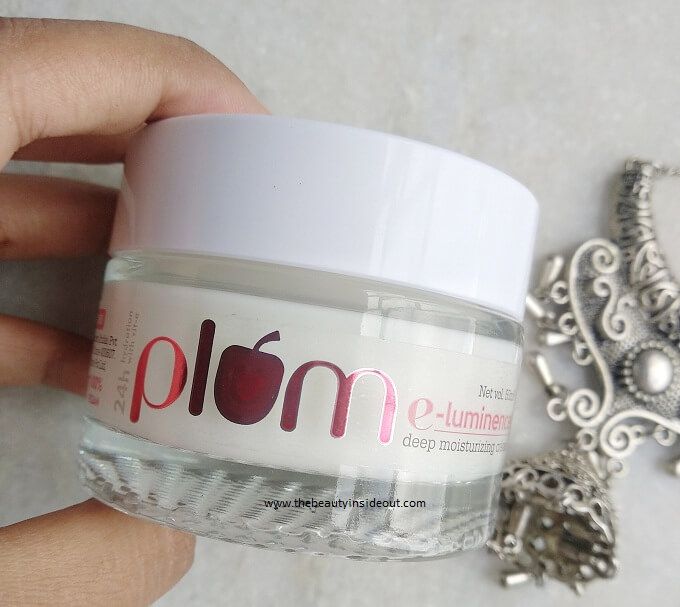 Product Type: Packed with Vitamin E & Phytonutrients, this deeply moisturizing cream provides unmatched hydration to combat dryness and damaged skin.
Suitable For: Normal to Dry, Dehydrated, and Damaged Skin.
Fragrance: Mild floral fragrance that's pleasant & not overwhelming.
Additional Info: Silicone Free.
My Experience: This product ticks every point of my daily skincare needs. It gives a major hydration boost without being greasy. It literally gets absorbed into the skin in 30 seconds and leaves no residue despite being a thick cream. I feel even dehydrated, oily skin types can use this cream during the cold weather without any issue. The cream does a fair job of fading away hyperpigmentation spots. Though not drastic, it definitely shows a noticeable difference with regular use. Above all, there is a reason why I love this cream. This was a savior when my skin was sensitive & dehydrated from using many active ingredients (I mean Glycolic Acid & Salicylic Acid Products). This soothed my irritated skin and strengthened my skin barrier so well. This is a great moisturizer for dehydrated skin.
Rating: 4.9/5
Where to buy it? Plum Website | Amazon.in
10. Plum Wild Cherries and Kiwi Shower Gel

Review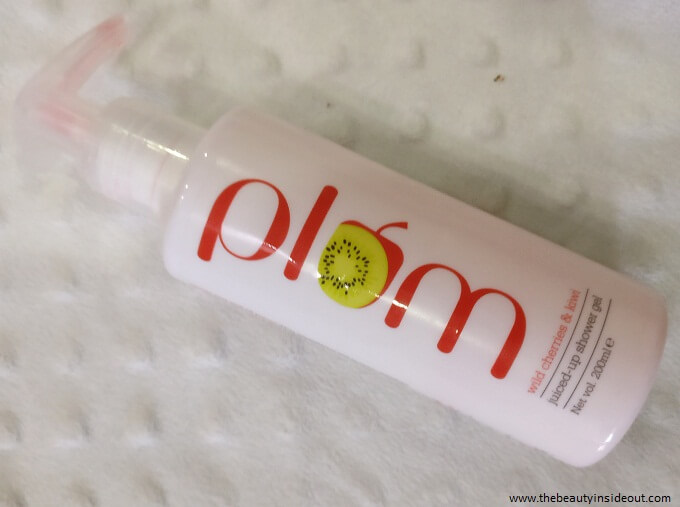 Product Type: It's an energizing shower gel that wakes up your draggy mornings and dull evenings to give a boost of freshness.
Skin Type: All
Fragrance: It smells so much like that you'll want to eat. It's bold and refreshing.
My Experience: This is one of the earliest launches of Plum. It's a pale pink, gel-based shower gel with a medium consistency. It is not heavy on lather, so for someone like me who loves rich lathering shower gels, this was a disappointment. I also happened to use a lot of products to produce lather finishing up the product sooner than other shower gels. It certainly leaves my skin clean and fresh after every wash. The shower gel is not very hydrating but at the same time is not very drying as well which is ok for me. I wished at least the fragrance lingered for a few hours, which it doesn't. Overall it's a decent paraben-free shower gel that's affordable. Plum recently launched a couple of attractive-looking BodyLovin' Shower Gels which I'm keen on trying.
Rating: 4/5
Where to buy it? Plum Website | Amazon.in
BONUS: Plum NaturStudio All Day Wear Kohl Kajal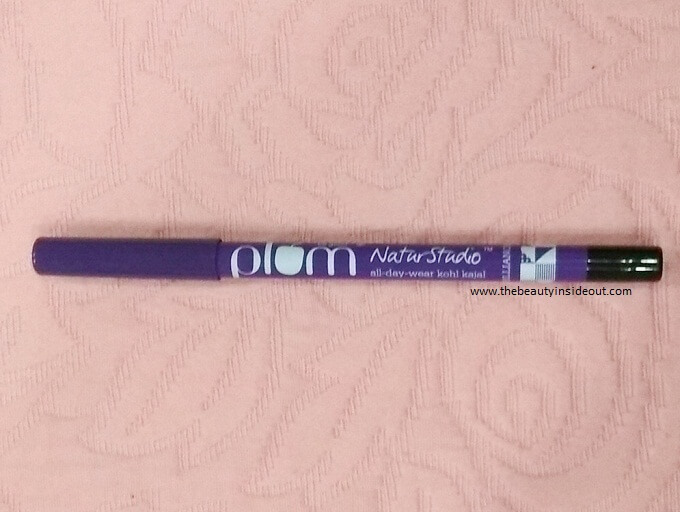 Product Type: It's a smooth gel-based ultra-pigmented, kohl pencil that's smudge-proof and waterproof.
Suitable For: Sensitive Eyes, Contact Lens Wearers.
Ingredients: Hydrogenated Castor Oil, Rice Bran Wax, and Natural Vitamin E. I doubt this is the full ingredient list.
Additional Info: Available in 3 shades – black, brown, and green.
My Experience: This is the king of all Plum Products and it stands to its title given by me – "Baap of all kajals". It is a wooden kohl pencil that needs to be sharpened which leads to wastage. However, the kajal comes with its own free sharpener, hence there are no issues to get a separate sharpener.
The pencil glides on like butter giving a superb pigmentation in a single stroke. Nonetheless, it's a normal tendency to layer up the kohl on eyelids or waterline more than once. The application doesn't tug or pull my eyes. It did not irritate or burn my eyes at all and thankfully I did not end up with watery eyes unlike most of the kajal.
The kajal is extremely smudge-proof and sets to a super matte finish within 3 seconds of application and stays on for a good 7 to 8 hours without moving or budging at all. It starts fading away after 8 hours of application. Having said that, it may move or smudge if you rub your eyes harder which is pretty normal for any kajal. It's water-resistant and is the most suitable kajal for water-based activities like when going out to beaches or swimming. In all, I would definitely recommend buying this.
Rating: 5/5
Where to buy it? Plum Website | Amazon.in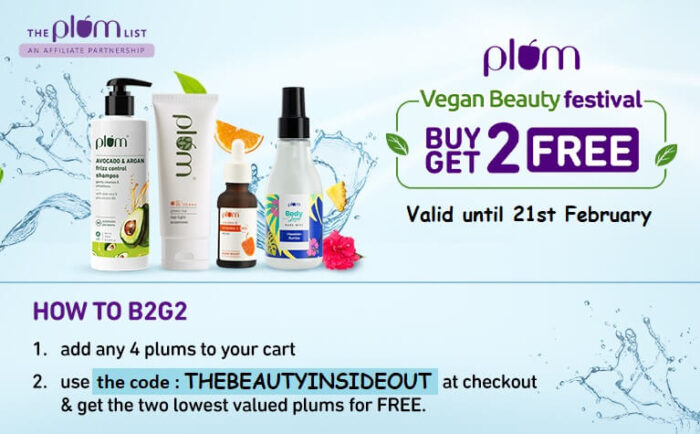 Also Read:
Final Thoughts on Plum Products
Plum Goodness has its own set of hits and misses in terms of performance. Out of the various Plum Goodness Products that I have tried, their NaturStudio All Day Wear Kajal and Pore Cleansing Green Tea Face Wash are must-buys. The Green Tea Clear Mask and the Plum Mattifying Moisturizer are some of the best sellers you might want to try.
The brand has a good set of values in its kitty that influences to buy its products, including
Being India's First Beauty Brand to be 100 % Vegan.
Totally free of Parabens, Propylene Glycol, Phthalates, DEA, SLS, and PABA.
They do not test on animals.
Disclosure of Full Ingredient List.
They do not make fairness or whitening creams and encourage diversity and healthy skin.
Follows International Norms in labeling their products as Organic or Natural, rather than just naming them "Organic" as some brands do!!!
Plum has products for every skin type, including sensitive skin.
Thoughtfully formulates their products using the best of natural actives combined with safe, life-friendly ingredients.
Avoids the use of non-recyclable plastics such as PVC, ABS, and SAN in their packaging.
Gives away 1% of their sales to Environmental Non-Profits, as a global member of One Percent for The Planet.
So why not? Plum Goodness is surely an amazing brand that you need to check out! Have you tried their products? Do share your best and worsts of Plum Goodness Products in the comments section below
Guest Author: Gunika