Mcaffeine is an Indian Skincare & Haircare Brand that focuses on Caffeine Based Products. It's said to be a treat for coffee lovers as you experience the rush of energy, a boost of antioxidants, and the irresistible aroma of caffeine in their products. Mcaffeine came into existence in 2015. Since then, they have revamped and reformulated their products a couple of times. I've used their Neem Face Wash and Seaferns Sunscreen in 2017-2018's which are now discontinued. As far as I can remember, I had a decent experience with their products. Now that they have a stable range of products, I decided to try them again. Honestly, I'm very particular about my face care products, so I bought a couple of deluxe samples from the Smytten App Trials Section that would be sufficient to form an opinion on them. Read on to know my experience with MCaffeine Products.
MCaffeine Products Review
1. Mcaffeine Naked & Raw Coffee Face Wash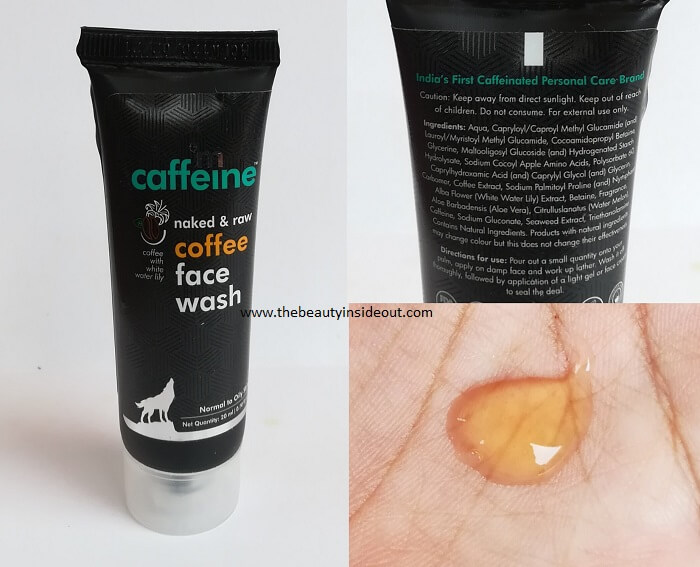 Product Type: Mcaffeine Coffee Face Wash is an oil-free, deep cleansing face wash to freshen up your skin every morning.
Suitable For: Normal and Oily Skin.
Ingredients: Pure Arabica Coffee, Aloe Vera, White Water Lily, Seaweed, etc.
Fragrance: Strong perfume-like scent. No hint of coffee fragrance at all.
Additional Info: SLS and Paraben Free.
My Experience: This is a thick, amber color gel face wash. I use it on damp skin so that it spreads easily. It lathers really well for a coin-sized amount and washes off easily. The face wash removes all sorts of impurities and cleans the skin really well. It's not overly drying on my combination skin. It would make a refreshing face wash for the hot humid summers and for oily skin, as claimed. It's not an extraordinary product but does what a cleanser is supposed to do. However, the major letdown is its fragrance. This doesn't have the amazing aroma of the coffee, as one would think.
Rating: 3/5.
Where to buy it? Amazon.in
2. Mcaffeine Naked & Raw Coffee Face Scrub
Product Type: It's a nourishing and exfoliating face scrub to revive dull-looking skin.
Suitable For: Normal to Oily skin.
Ingredients: Coffee, Walnut, Hibiscus, Argan Oil, Vitamin E, etc.
Fragrance: I'm yet again disappointed in this aspect. It doesn't smell like coffee at all. It smells like fairness creams. On the good side, it's not an overpowering one. It's subtle and non-lingering.
My Experience: Though this is an era of chemical exfoliators, I am comfortable in using gentle physical scrubs. But I can't believe we still have walnut-based scrubs like these in the market. The scrubbing particles are very harsh and scratchy. I tested it on my nose blackheads first and didn't dare to use it on full face. I ended up finishing the tube on my feet. The scrub base is very emollient and nourishing. It leaves the skin soft and supple. It claims to removes tan, blackheads, etc which would require regular usage. Personally, I wouldn't recommend it as it's very harsh for the skin that it might cause micro-tears!
Rating: 1/5
Where to buy it? Amazon.in
3. MCaffeine Naked & Raw Coffee Body Scrub
Product Type: It's a coffee-based body scrub to remove tan, reduce cellulite, and improve texture.
Suitable For: Normal & Oily Skin.
Ingredients: Pure Arabica Coffee and Coconut Oil.
Fragrance: Finally, this has the mesmerizing smell of pure grounded coffee.
My Experience: If I have one product that I'd recommend from this brand, this would be it. This smells very coffee-like and is very awakening. The coconut oil in it feels very nourishing on the skin. It leaves the skin super soft and supple. The scrub is in a dry powder form. Just mix it with a bit of water and massage it all over the body. This doesn't have any harsh particles. The coffee grounds are nice. It's not scratchy or harsh like the face scrub. This scrub is easily DIY'able, but it's a delight for lazy folks like me to use this scrub after a tiring day.
Rating: 4.5/5
Where to buy it? Amazon.in
4. Mcaffeine Naked & Raw Coffee Body Polishing Oil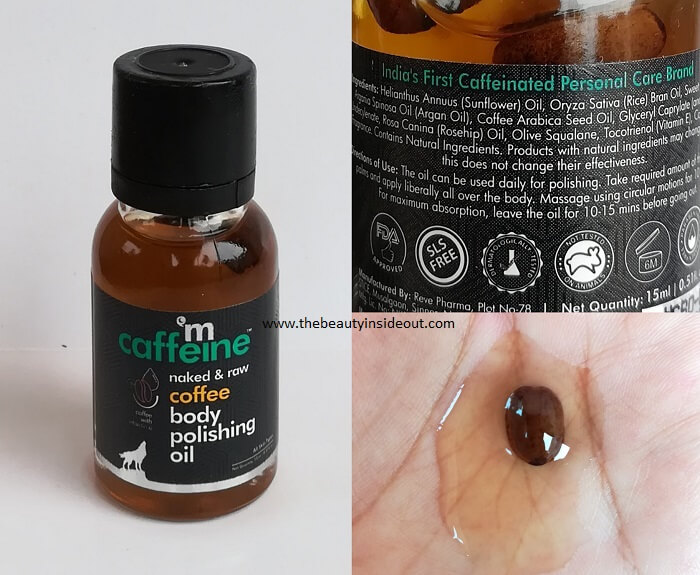 Product Type: It's a caffeine-infused aromatic body oil that reduces cellulite, stretch marks and polishes the body.
Suitable For: All Skin Types.
Ingredients: Sunflower Oil, Rice Bran Oil, Sweet Almond Oil, Argan Oil, Rosehip Oil, Coffee Arabica Seed Oil, etc.
Fragrance: This smells like cooking oil with a subtle hint of coffee!
My Experience: The Mcaffeine Body Polishing Oil is often compared with the very popular Bio-Oil. But both are quite different. The Bio-Oil is lighter than the MCaffeine, which is a thick oil. But it spreads easily. I used it immediately post-shower for better absorption. It gets absorbed completely in a few minutes without leaving any oily residue. If you are targeting tan, cellulite & stretch marks, a good massage of 10-15 minutes with this oil is necessary. This body polishing oil can be used before or after a bath. The oil came with chunky coffee beans in it which is aesthetically pleasing. Overall, it's a good body oil for the winters.
Rating: 4/5
Where to buy it? Amazon.in
5. MCaffeine Naked & Rich Choco Body Butter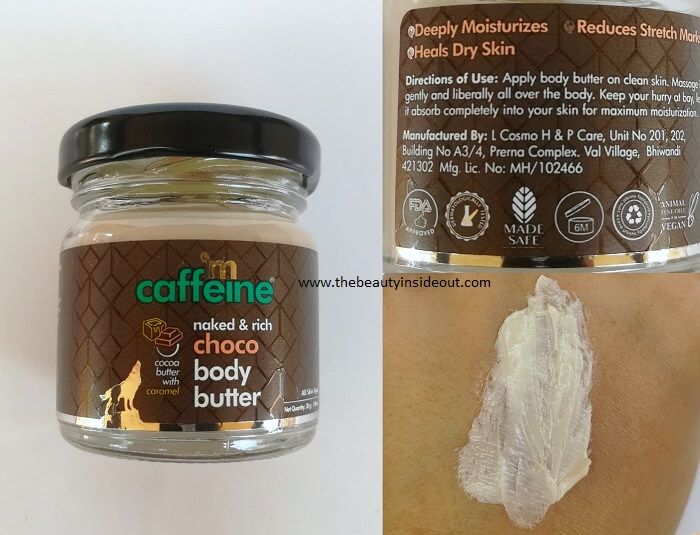 Product Type: It's a moisturizing body butter infused with cocoa butter and caramel.
Suitable For: Dry Skin.
Ingredients: Cocoa Butter, Caramel, Argan Oil, Vitamin E, Caffeine.
Fragrance: Beautiful chocolatey fragrance.
My Experience: There is nothing much to say about this. It is what it is! A deeply moisturizing body butter for dry skin with a beautiful aroma. I loved using it. It's buttery smooth and keeps the skin nourished for long. I wish the scent was more lingering. It stays for an hour or so. Overall, it's a nice body butter for chocolate & coffee enthusiasts.
Rating: 4/5
Where to buy it? Amazon.in
Overall, I liked their body care products more than their skincare range. They were quite good and effective. I'm yet to explore their haircare products. Below is the Complete List of MCaffeine Products.
MCaffeine Products List
MCaffeine Face Care Products
The Face Care Range is broadly classified into
Coffee: For Normal to Oily Skin
Espresso: Hydrating & Energizing
Cappuccino: For Acne Control
Latte: Moisturizing for Dry Skin.
Green Tea: For Detoxifying
Face Wash:
Coffee with Seaweed & Aloe Vera for Deep Cleansing, Normal to Oily Skin.
Espresso with Hyaluronic Acid & Provitamin B5 for Hydrating & Energizing.
Latte with Almond Milk & Shea Butter. For Mild Cleansing & Moisturizing.
Cappuccino Foaming Face Wash with Vitamin E & Almond Milk for Acne Control.
Green Tea Face Wash with Vitamin C & Hyaluronic Acid for Detoxifying.
Face Scrub:
Coffee Face Scrub with Walnut: for blackheads.
Cappuccino with Cinnamon: for acne control.
Espresso with Walnut: for skin polishing.
Latte with Shea Butter: to refine & retain moisture.
Green Tea: for detox.
Face Moisturizer:
Coffee Oil-Free Moisturizer For Oily Skin
Cappuccino with Vitamin E & Almond Milk for Light Moisturization.
Latte with shea Butter, Ceramide, Almond Milk for Deep Moisturization.
Green Tea Night Gel with Vitamin C.
Coffee Under Eye Cream.
Face Mask:
Coffee Mask with Cocoa: for pore cleansing & tan removal.
Espresso with natural AHA, BHA: for pore care & exfoliation.
Cappuccino with Salicylic Acid, Kaolin Clay: for Oil & Acne Control.
Mocha with Cocoa, Bentonite & Kaolin Clay: For Toning & Sebum Control.
Choco Face Mask: for nourishing dry skin.
Latte Sleeping Mask with Hyaluronic Acid & Niacinamide: for overnight skin repair.
Face Serum:
Coffee Face Serum, rich in antioxidants.
Green Tea Face Serum, protects from sun damage.
MCaffeine Body Care Products
Coffee Body Scrub – Normal to Oily.
Choco Body Butter – Rich for Dry Skin.
Coffee Body Polishing Oil – All Skin Types.
Coffee Hand Cream with Shea Butter.
Foot Scrub with Peppermint.
Espresso, Cappucino, Latte Bathing Bars – All Skin Types.
6 Body Washes: Coffee Body Wash with Vitamin E (Gel Based & Refreshing), Espresso Body Wash with natural AHA (Gel Based & Exfoliating), Cappucino Body Wash with Almond Milk (Creamy & exfoliating), Latte Body Wash with Murmuru Butter (Creamy & Nourishing), Mocha Body Wash with Cocoa (Creamy & De stressing)
3 Body Lotions: Choco Body Lotion – Rich for Dry Skin, Coffee Body Lotion – Light for Normal to Oily Skin, Green Tea Body Gel Lotion – Light for Oily Skin.
MCaffeine Hair Care Products
Shampoo, Conditioner, Hair Mask
Coffee: Deep Cleansing.
Cappuccino: Anti Dandruff.
Latte: Damage Repair.
Other Hair Products
Coffee De Stress Hair Oil.
Latte Damage Repair Cream Oil.
Scalp Scrub for Exfoliation & Dandruff control.
Scalp Lotion for Anti Dandruff.
Hair Cream: Lightweight, non-sticky leave in.
Scalp Tonic for Anti Hairfall.
MCaffeine Lip Products
Choco Lip Balm for Chapped & Dry Lips.
Coffee Lip Balm for Dry & Pigmented Lips.
Choco Lip Scrub for Sensitive & Chapped Lips.
Coffee Lip scrub for Chapped & Pigmented Lips.
Choco Lip Sleeping Butter for Repair.
Coffee Lip Sleeping Mask for Hydration.
Coffee Lip Polishing Oil for Pigmentation.
Apart from these products, MCaffeine offers accessories such as Gua Sha, Jade Roller, Eye Mask, Scalp Massager, Micro Fiber Hair Wrap, Bath Glove, and Natural Loofah.
Have you tried any MCaffeine Products? Share your thoughts in the comments section below.