Recently when I saw my sis in law possessing the most raved Bio Oil, I couldn't stop myself remembering the older non-blogger me. Like most readers, I used to read a lot of reviews and get products in a verge that they would work. One such product that I tried was the infamous Bio Oil. Bio Oil has won over 224 skincare awards and claims to be the no.1 selling scar and stretch mark product in around 18 countries. I think that was enough for me to get this. I mainly used the Bio Oil to repair the stretch marks that occured due to rapid weight gain. I was badly searching for something to remove those stretch mark lines and had gotten this. Read on to know if it worked for me.
A little about Bio Oil
Bio Oil is a specialist skincare product formulated to improve the appearance of scars, stretch marks and uneven skin tone. It has a unique formulation with its breakthrough, trademarked ingredient PurCellin Oil. Bio is highly effective for dry and aging skin. It promotes health and radiant skin. It is non-comedogenic and suitable for all skin types.
How to use Bio Oil?
Apply twice daily for a minimum of 3 months. Take a few drops and apply all over the affected area. During pregnancy, apply twice daily from the start of second trimester.
Bio Oil Ingredients:

Price: 450 INR for 60 ml. Buy at highly discounted rate HERE.

My take on Bio Oil:
Let me begin with the packaging. I like it. It's cute and attractive with a pale orange hue. The 60 ml product is small and handy, very travelable. The bottle is basically plastic made and transparent. I can easily see how much product the bottle contains. Definitely a plus for me. The bottle has a white screw cap. Further inside it, there is a holed plastic sealing from which the product comes out as droplets. One would require two to five drops maximum depending on the area of usage. Like for face, one to two drops is more than enough. The bottle itself comes housed in a white card box with all details of the product mentioned on it.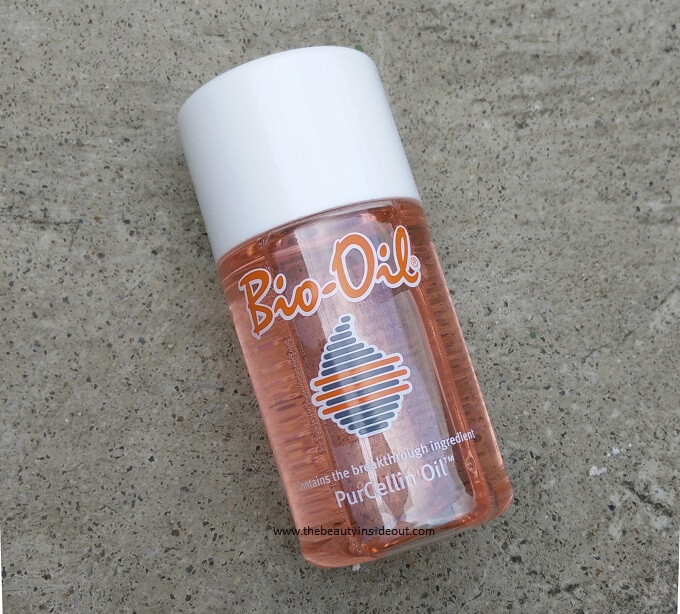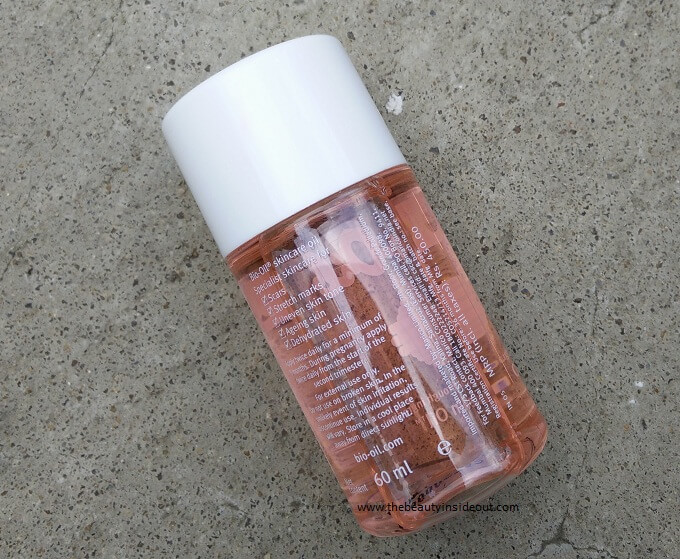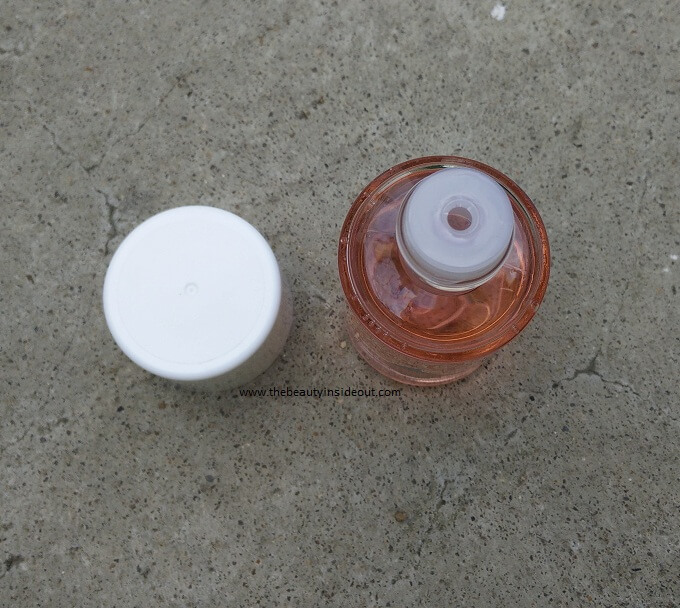 Bio Oil has a faint fragrance. Though artificial, it is absolutely non-bothering. The scent disappears within moments of application.
As said earlier, Bio Oil looks pale orange in color from outside the bottle. However it comes out transparent for the little amount that we use. It has a runny consistency that spreads with ease. Generally, all mineral oil based oils are lightweight in nature. And so is this oil. It absorbs quickly and leaves no trace behind on my dry body skin. However on my face I do feel a bit of oiliness and shine. May be because I have oily facial skin, so I would not really recommend using on full face if you have oily skin. Other than that, it hydrated my body skin and kept it supple and nourished for few hours.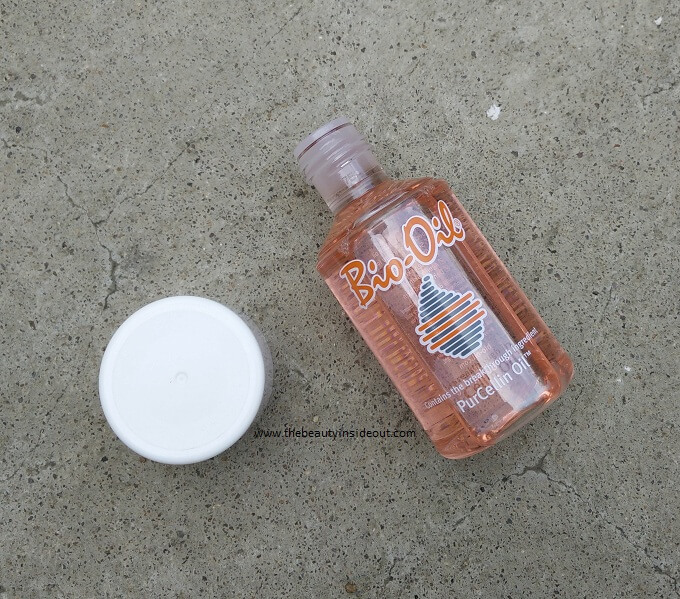 Coming to its performance on stretch marks, I'm not impressed. I had used it for almost 2 months until the bottle got over. And I did not see any noticeable difference in the texture or tone of my stretch marks. The brand says to use it for 3 months. But I expected atleast a minimum change in 2 months usage. I found my HG Body Lotion to work much better than this in providing moisture and some elasticity in the texture of my skin.
I did not test it for acne scars or pigmentation marks or as anti-aging for wrinkles. So I don't really know how it works for them. For stretch marks, Bio Oil did not work for me. I do agree with most of you all that there is no product that can work to remove stretch marks completely. Even Bio Oil claims to only improve the appearance of it. I only wish that it showed a little bit of results for the money I paid to buy it. I feel this product is over hyped.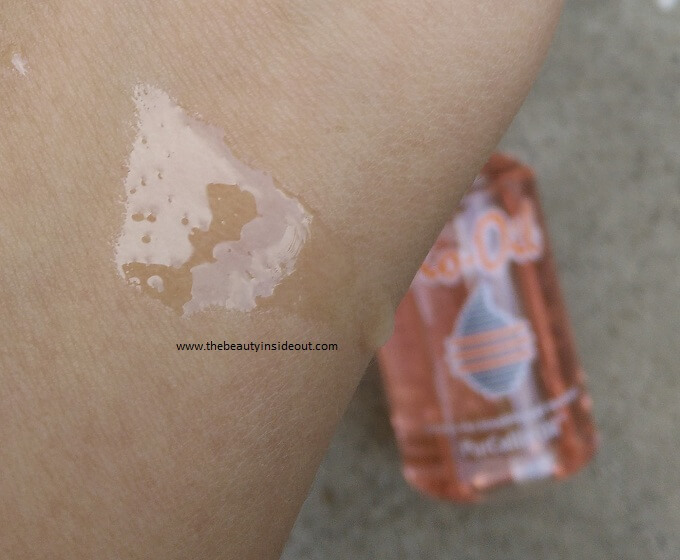 Bio Oil contains mineral oil as its first ingredient(which means it is in large quantity) and there a lot of controversies regarding the bad effects of using mineral oil. Also one bottle of it is not going to provide you much results. So you will have to spend more to test it for min. 3 months. So considering the cost vs effectiveness, this is not a good buy.
The only good thing about this oil is that it is multipurpose. It can be used as a face & body oil, on feet, cracked heels, as cuticle oil and as a light hair serum on the lengths.
Pros:
Cute packaging.
Lightweight formula absorbs quickly.
Keeps skin supple and hydrated.
Great for dry skin.
Non comedogenic.
Cruelty-free.
Cons:
Pricey for the quantity and quality.
Not suitable for oil skin types.
Contains mineral oil.
Did not work for stretch marks.
Rating: 2.5/5
Do I recommend? No, it is not worth buying.
Looking for other products?