In my January Fab Bag Subscription, I received a 50 ml sample of MCaffeine Caffeine Infuse Face Wash. The brand's theme really intrigued me as it is one of a kind in India wherein all their products are infused with caffeine. And all I knew about caffeine, was that it is good for cellulite and tones down the skin. But there was much more to it.
I'll quickly summarize the benefits of caffeine as stated by the brand
Caffeine being an anti-aging powerhouse acts an anti oxidant and  prevents premature aging and wrinkle formation on the skin.
It draws out excess fluids out of the cells creating a lightening and toning effect thereby improving the texture of the skin.
Caffeine reduces redness and inflammation of skin by constricting blood vessels and thus provides an even skin tone.
It even treats puffiness and dark circle under the eye by boosting blood circulation.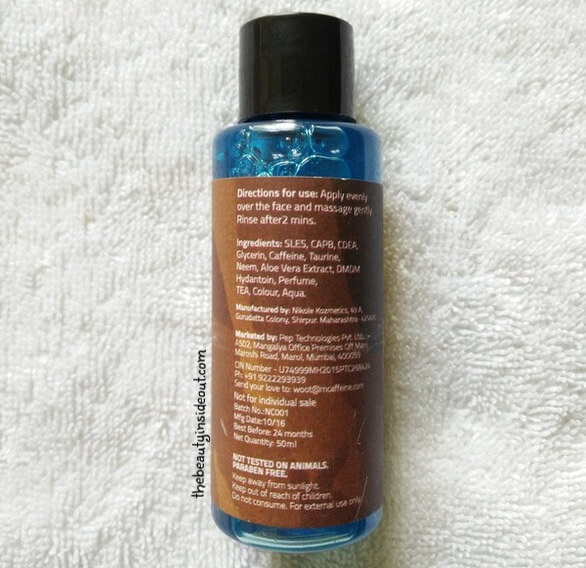 My take on MCaffeine Neem Caffeine Face Wash:
MCaffeine Neem Caffeine Face Wash comes in a see through plastic bottle with a screw cap. I found it difficult to control the amount of product that comes out of the bottle due to its wide opening. Otherwise I would say the packaging is pretty decent and travel friendly.
This is a gel based face wash and the consistency is medium-thick. The fragrance is somewhat medicinal and feels artificial, I did not like it much, but since it was mild and didn't linger, I can let it go. The face wash is blue in color; I've never used a face wash in this color before and I do not know which ingredient forms this color.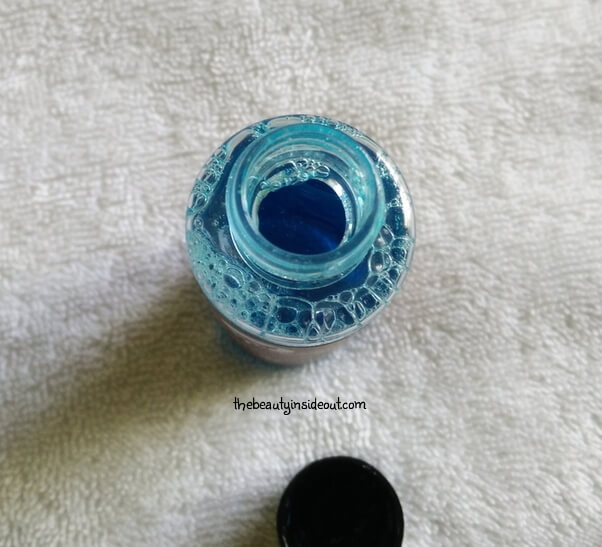 MCaffeine Face Wash is formulated with some nice ingredients like aloe vera, neem, glycerine yet this is not a sulphate free face wash. It has SLES as its first ingredient hence it lathers really well with a tiny amount.
Anyway coming to its performance, it pulls out everything from the skin, yes it cleanses so effectively that it gets rid off dirt, oil, light makeup and even moisture from the skin. It leaves my skin absolutely squeaky cleaned but the dryness is so obvious and my skin feels too stretchy that I had to run for my moisturizer immediately post washing. I highly recommend dry skin types to stay away from this. But oily skin types might like this in the current sweaty summer.
Pros:
Travel friendly packaging.
Contains Neem, Aloe Vera and Caffeine which is good for acne prone skin.
Gel based face wash that lathers really well.
Cleanses skin effectively.
Paraben-free.
Cons:
Contains SLES
Skin feels overly drying and stretchy post washing.
Rating: 3.5/5
Also check out