Most probably most of you would have come across this brand called Ayorma, if you are a subscriber of Fab Bag. I've received various Ayorma products in several Fab Bags, but none of them have impressed me except their anti-tan face wash. So when I received the Ayorma Sunblock SPF 40 in my March Fab Bag, I didn't have much expectations with it and since it was only a tiny sample of 10 gm, I immediately started including it in my skincare routine to test it out.
About Ayorma Sunblock SPF 40:
Skin irritations are soothed with Ayorma Sun Block Cream SPF 40 that penetrates deep into your sun-sensitive skin to optimize your skin's defense mechanism against environmental irritants especially against the harmful UVB and UVA rays. It is also immediately absorbed into your skin cells to minimize imperfections, reduce melanin production and give you a flawless even complexion.
Recommended usage: Apply 20 mins before stepping out in the sun and re-apply in every 3-4 hours.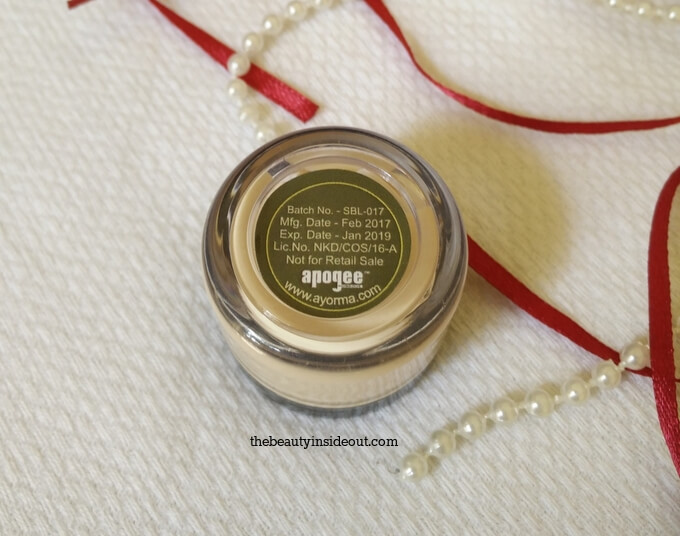 Ingredients:
Turmeric Oil -It curbs melanin production while also possessing anti oxidant properties.
French Lavender Oil– It soothes and moisturizes the skin.
Geranium Oil– It treats sunburns and imparts a natural glow.
Price: Rs.349 for 50 gm . Buy HERE.
My take Ayorma Sunblock SPF 40:
The 10 gm sample came in a small plastic tub wherein I had to dip my fingers to take the product out. But you don't have to worry, the full size product comes in an easy to use squeezable tube which is not only hygienic but also travel friendly.
I couldn't find the full ingredient list of the sunblock on the packaging, neither on their website. And we do not whether this is a physical or chemical sunscreen as such details are not mentioned. But my instincts say that it might be a chemical sunscreen as it leaves no white cast or residue. I've used many physical sunscreens and almost all of them leave atleast a minimal white cast due to the zinc oxide content.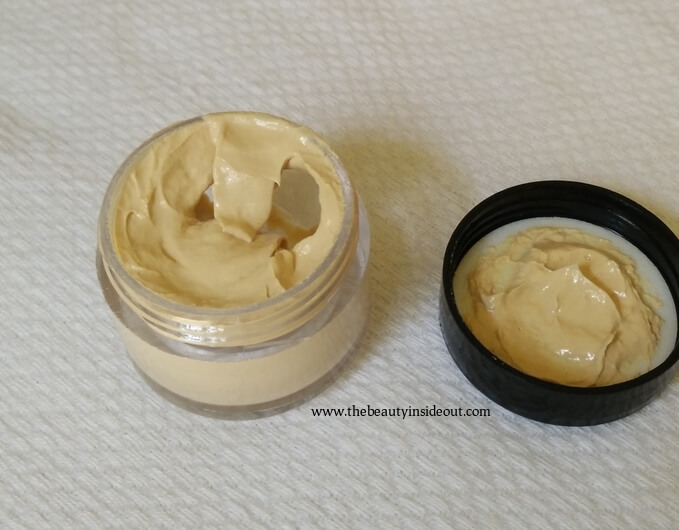 The Ayorma sunblock looks tinted with a rich creamy consistency. I could feel some oiliness while applying the cream and it spreads and blends very easily giving the appearance of second skin. Though it is tinted, it does not cover skin blemishes as such. Since the sunblock is enriched with oils, it provides intense moisture which was quite heavy for my oily skin. But if you have dry skin, the sunblock would very well suit you.
As for me, I did not like this cream or you can say, it did not suit my skin. Every time I used this cream, within a minute of application, my skin started to perspire and the cream melted away easily from my face. I had to always top it off with a compact or stay in an air conditioned room for the sunblock to stay in place which I think servers no purpose in sun protecting. Forget about wearing makeup on top of this sunblock!
Pros:
Has SPF 40
Ayurvedic brand.
Gets absorbed into on the skin easily.
Contains ingredients like Turmeric Oil, Geranium Oil.
Provides moisturizing effect to the skin.
Suitable for dry skin types.
No skin irritation or new breakouts.
Cons:
Missing ingredient list.
Skin feels oily post application so not suitable for oily skin types.
Rating:  2.5/5
Have you tried Ayorma Sunblock SPF 40 ? Share your thoughts in the comments section below
Also check out: