Kama Ayurveda! Is there anyone who doesn't know this brand? Most well known for its authentic ayurvedic products, Kama's production partner is the one and only Arya Vaidya Pharmacy, which is the original Ayurvedic Institution based in Coimbatore. Kama Ayurveda not only provides iconic beauty treatment products with zero artificialness, but they also do not conduct tests on animals too. That is why it is the most sort-out brand among natural skincare junkies. However, trying and testing out their products to check your skin suitability can make a hole in your pocket. Yes, their products are expensive! Today I would like to give you a list of various Kama Ayurveda Products that I got to try recently. That includes both products that worked for me and those that didn't work out. Let's hop on.
Best Kama Ayurveda Products Review
1. Kama Ayurveda Kumkumadi Brightening Face Scrub Review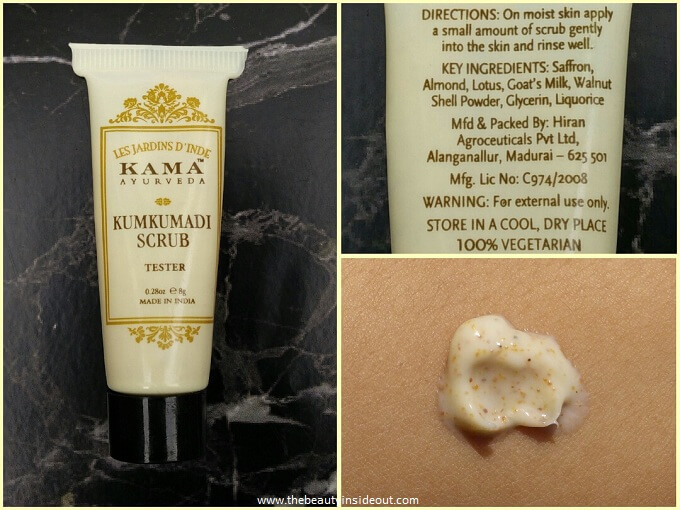 Kumkumadi Oils have raved for its wonderful skin benefits which include reduction of skin blemishes and pigmentation. But being the person I am, I'm still nervous about using oils on my facial skin. Although it can't be compared to the oil, this product just came in as a boon for my oily skin giving me a way to try out a Kumkumadi product. 
Kama Ayurveda Kumkumadi Scrub is basically a cream-based scrub containing Kumkumadi(Saffron), Almond, Goat's Milk, and other wonderful ingredients. The scrub feels creamy on the skin and the scrubbing particles are teeny tiny. When used with a light hand, gently exfoliated the skin and sloughed off the dead cells clearing the pores.
With a single use, it made my skin visibly brighter, smoother, and healthier. It has a pleasant aroma that does not linger post washing. Overall, I find the Kama Ayurveda Kumkumadi Scrub to be an amazing chemical-free face scrub that stays true to its claim of being a brightening scrub. A must-try!
Rating: 4.7/5
2. Kama Ayurveda Eladi Hydrating Ayurvedic Face Cream Review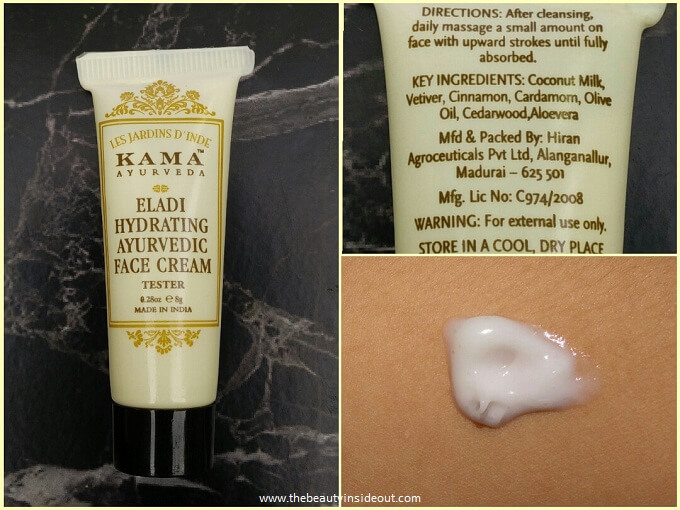 Kama Ayurveda Eladi Hydrating Ayurvedic Cream is a semi-thick white cream that has an obvious ayurvedic fragrance. The scent is not that bad as compared to some Kama products. As the name suggests, this is a rich cream that is immensely hydrating and moisturizing. It spreads and gets soaked into the skin easily and leaves my skin soft and smooth.
As long as I'm in a cool environment, this cream works absolutely fine. It keeps my skin moisturized, smooth and nourished. However the minute I move to a humid/normal temperature, my skin starts perspiring heavily, and eventually, the cream feels tacky and uncomfortable on the skin.
I found this to be an average hydrating cream that would suit only normal to dry skin types.
Rating: 2/5
3. Kama Ayurveda Natural Sun Protection SPF 21 UVA  UVB PA++ Review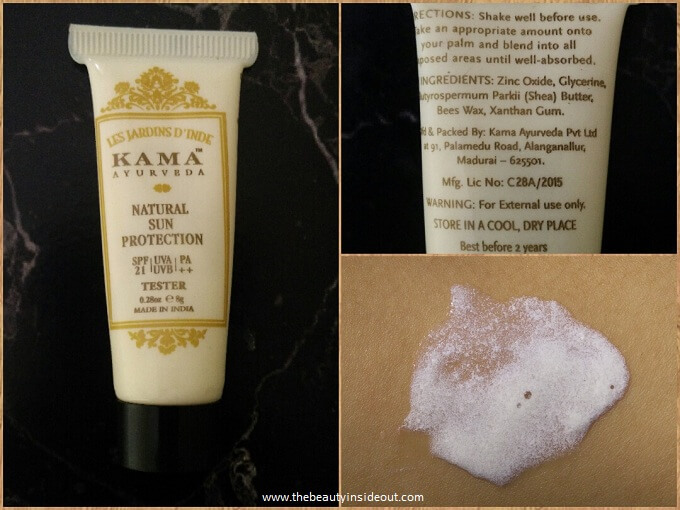 With one look at the sunscreen, I could easily tell that this is a zinc oxide-based physical sunscreen. The white zinc particles are visibly present in a wax base and upon blending the sunscreen, they fuse together and get absorbed into the skin. The sunscreen has a mild balmy fragrance which isn't bothering.
Upon application, it gives a cooling sensation and feels balmy/waxy on the skin. It leaves a white cast that settles after a while but may look too obvious on medium to dark skin tone. The sunscreen starts to perspire on my nose area and upper lips so I always set it with a powder and then I'm good to go.
I used this for about a full week and I didn't have any new breakouts though this contains butters and is a tad bit heavier on my oily skin. It provides good protection against sun rays and I didn't face any major tanning with moderate sun exposure.
Overall, Kama Ayurveda Natural Sun Protection is a decent physical sunscreen that provides good sun protection. However, this is best suited for normal to dry skin types.
Rating: 4/5
Looking for a similar brand review?
4. Kama Ayurveda Pure Rose Water Review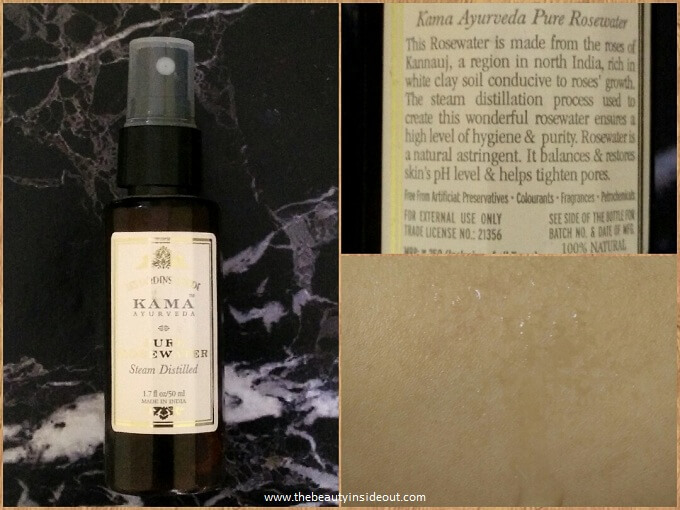 The best from Kama Ayurveda. This was my very first product from the brand and it totally changed my thoughts about rose waters. I did not know that most rose waters available in the market are just water with a few drops of rose essential oil until I tried this.
Kama Ayurveda Rose Water is steam-distilled pure rose water that is made from fresh roses picked up from Kannuj. It smells amazingly beautiful with its aroma of fresh roses. When sprayed on the skin, it instantly refreshes and provides a nice toning effect. I've used up two bottles of these and I can say this is one of the best rose waters I've used so far. This is a highly recommended product. A superior quality rose water that is hard to find in the Indian market is what I would say.
Rating: 5/5
5. Kama Ayurveda Nimrah Anti-Acne Face Pack Review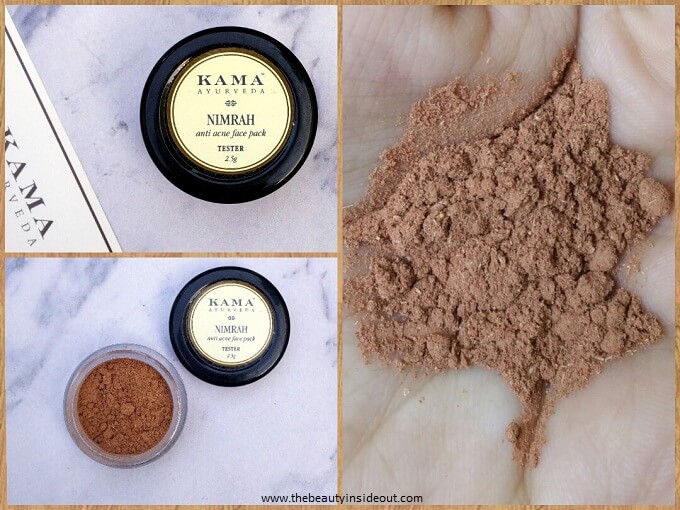 Yet another amazing product. Kama Ayurveda Nimrah Anti-Acne Face pack is a mud mask that emits an earthy aroma. It smells so fresh and pure, like that of wet mud after the first rain. The face mask is reddish-brown in color and resembles red sandalwood powder. I mix with water to form a smooth paste and apply evenly using my fingers, you can use a brush if you prefer, But I'm lazy!
I like that it does not give any tingling sensation and makes my skin feel totally normal. Sometimes I want my face masks to work without giving any uneasy feel which is why I love this mask. It dries up fast in 10-15 mins, so it isn't a time-consuming task too. Splashing some water on the face is going to easily rinse off this mask, no rigorous rubbing or massaging is needed. At times when I need some exfoliation, I re-dampen my face and gently scrub in circular motions. Since it's finely milled, it does not feel harsh or scratchy and rejuvenates the skin.
The after-effects are really impressive. Post cleansing, I could see my skin be cleaner, softer, and radiant. The most commendable part, this mud mask does not dry out the overall skin yet it calms active acne. It reduces redness and soothes tiny zits too. I found this to be a great product that actually worked in treating my occasional non-cystic acne. Highly recommended for those who are suffering from acne.
Rating: 4.8/5
6. Kama Ayurveda Bhringadi Intensive Hair Treatment Oil Review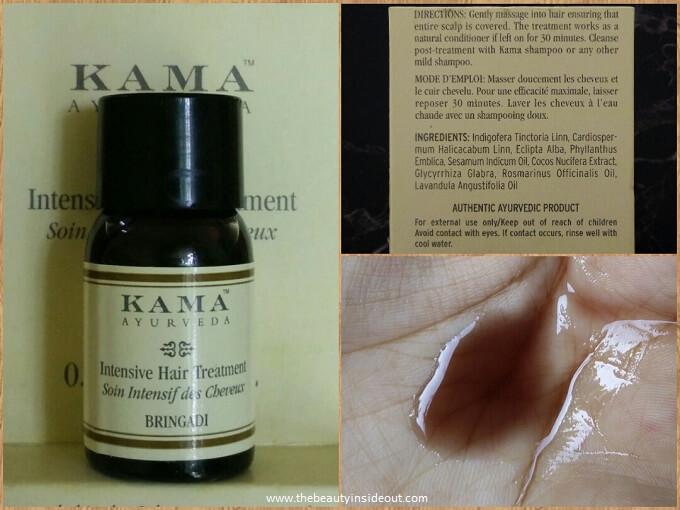 First and foremost, Kama Ayurveda Bhringadi Hair Oil has an attribute that I detest any hair oil possesses. That's the fragrance, particularly a headache-causing one. The hair oil has a strong over the top herbal fragrance which lingers for a minimum of 3 hours.
The oil is brownish in color and has a medium consistency, which leans towards the thinner side. Applying it requires no effort and I usually apply it on my scalp prior to washing my hair. The hair oil isn't too sticky like Castor Oil or lightweight like Mineral Oil, it's in between both serving its purpose of providing nourishment to my mane.
Post shampooing leaves my hair very soft, smooth and nourished. I could easily skip a conditioner as this hair oil deeply conditioned my hair which in turn reduce hair fall that was caused due to breakage.
In short, if you can bear strong herbal fragrances, I would recommend trying them. As for hair growth, I can't comment on it as it requires long-term usage. Indulekha Bhringraj Oil is another affordable Bhringadi Oil that you might want to try.
Rating: 3.5/5
7. Kama Ayurveda Nalpamaradi Skin Brightening Treatment Review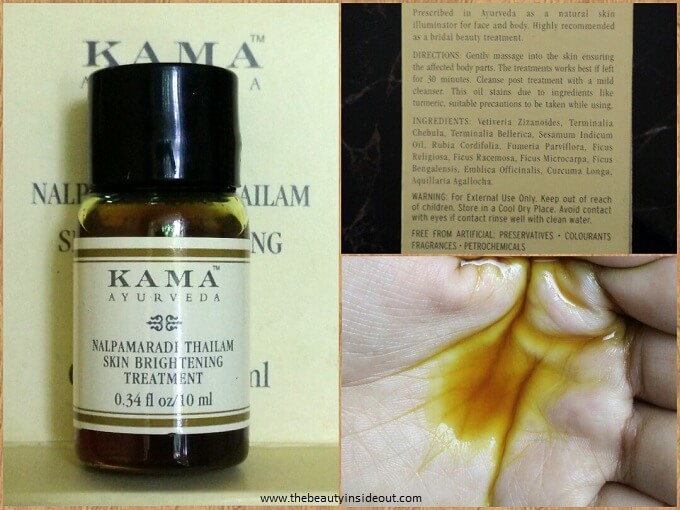 I picked this up to see if it works on an age-old pigmentation spot on my forearm. Nalpamaradi Thailam is a unique treatment oil power-packed with natural herbs in a sesame oil base. This can be used as a de-tanning oil for both the face and body.
Kama Ayurveda Nalpamaradi Skin Brightening Treatment is a dark yellow-colored oil with a powerful ayurvedic fragrance. The oil, containing turmeric root, is stainable so I had to be careful with the clothes that I wear when using this oil.
I applied it every night for 10 days straight, massaging a dollop into my right forearm. The oil is not very heavy and gets soaked into the skin. As recommended, I removed it after 30 minutes with a damp cotton ball. It was fairly easy to wipe off as there wasn't much oil left on my skin as most of it was absorbed into the skin. Maybe if you use it on your face, you might need a cleanser as the skin on your face is more prone to getting clogged.
In the initial days, I didn't find much difference, but as days went by, I could notice a difference in the pigmentation spots. It was gradually disappearing and with continuous usage, it could have removed the pigmentation completely. Sadly the sample I had got over and couldn't test further. Nevertheless, every time I used this, it left my arms soft and smooth.
In all, I'm impressed with this product. Kama Ayurveda Nalpamaradi Skin Brightening Treatment is one of the Best Nalpamaradi Thailam truly works to remove stubborn pigmentation spots.
Rating: 4.5/5
8. Kama Ayurveda Mridul Soap Free Cleanser Review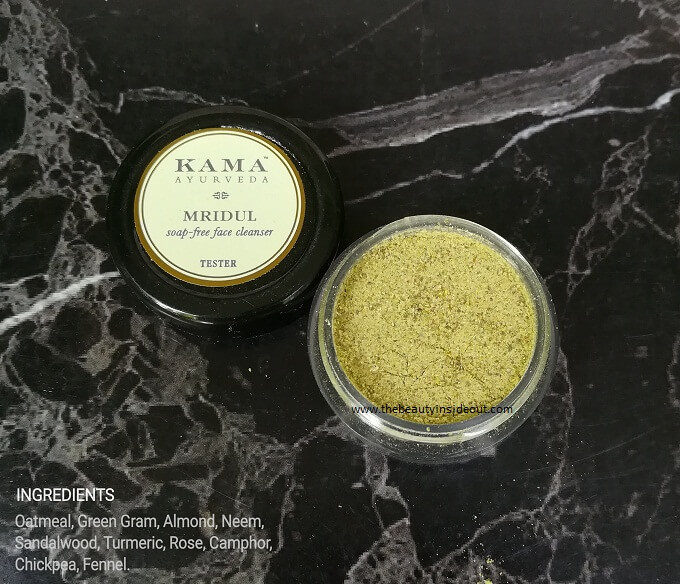 Kama Ayurveda Mridul Soap Free Cleanser is a traditional powder cleanser that needs to mix with rose water(oily skin) or milk(dry skin). Being a lazy bum, I just use water. The cleanser has an earthy vibe with its greenish color and herbal scent. The powder is not very finely milled but at the same time, it doesn't feel very abrasive on the skin.
I apply the water mixed cleanser all over my face and gently massage it for a few seconds and rinse it off. It gets washed off easily. You don't have the trouble of slippery residue with this, unlike foaming face washes. Just a few splashes of water and you can have clean and clear skin. The cleanser cleans oils and impurities very well, even though it is soap-free.
I thoroughly loved using this cleanser. It's gentle, and natural and cleanses the skin without being harsh or stripping moisture from the skin. Although I haven't noticed much difference in acne and other minor skin issues, as a cleanser this does a good job. I would highly recommend this for those looking for natural and herbal cleansers.
Rating: 4.5/5
9. Kama Ayurveda Lavanya Plant Mask Review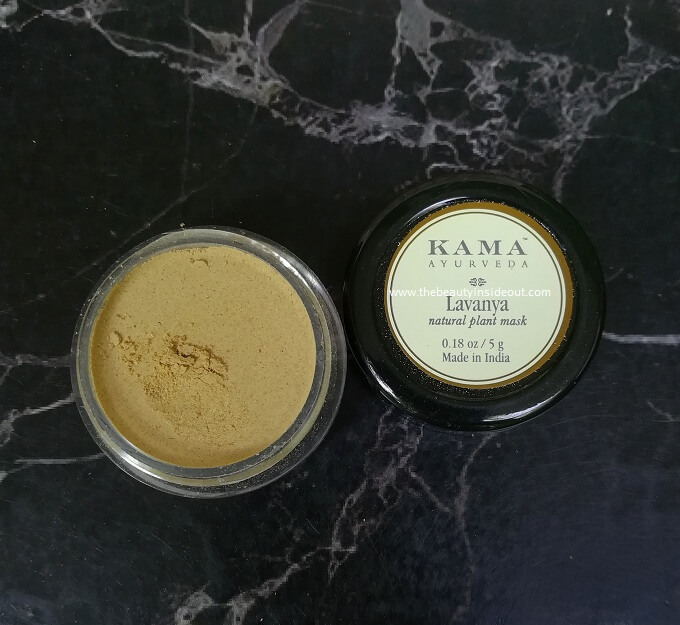 Kama Ayurveda Lavanya Plant Mask is a 100% natural, powdered face mask that is to be mixed with water. The mask is made using potent Herbs such as Licorice, Lodhra, and Sweet Flag.
The face mask is finely milled but since the texture is that of dried powdered leaves, it does not apply evenly. The mask gives a mild tingling sensation on my skin. I usually leave on the mask for 10-15 minutes and remove it just before it becomes completely dry. The mask washes off easily and gives you clean skin.
The mask doesn't really do much except give a refreshing and purifying effect. But that is all it claims to do. The mask has a spicy herbal fragrance. I generally like the scent of Herbs, but I didn't particularly enjoy this one.
Overall, this is a nice, refreshing chemical-free face mask that purifies & gives glowing skin. Personally, I liked the Nimrah Face Mask more than this.
Rating: 3/5
10. Kama Ayurveda Anti Acne Cleansing Foam Review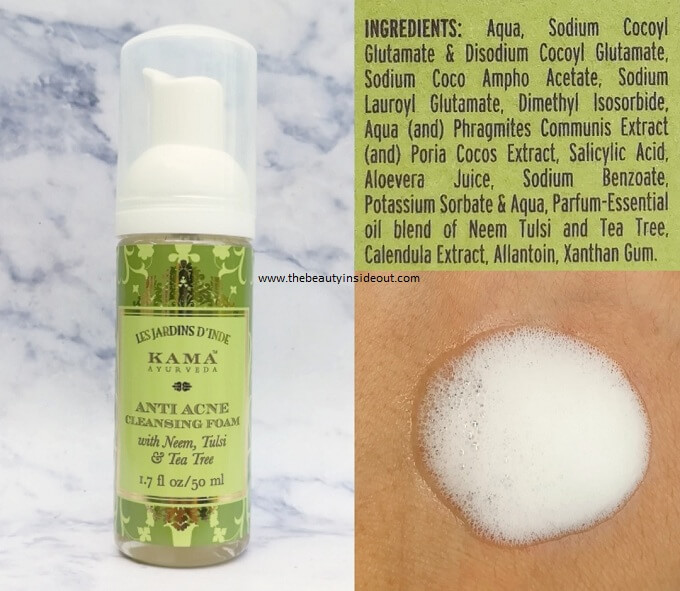 I'm obsessed with Cleansing Foams and this one tops the list of the Best Face Wash For Oily Skin. This is such an amazing cleanser that does not contain harmful chemicals. Kama Ayurveda Anti Acne Cleansing Foam is enriched with Neem oil, Tulsi, Tea Tree Oil, Calendula Flower & Aloe Vera Extracts. All of which are excellent for Acne and Pimples.
Kama Ayurveda Anti Acne Cleansing Foam has the natural scent of Neem & Clove Oil. It is subtle, refreshing, and not at all bothersome. The cleanser is foam-based and feels so good on the skin while massaging. It forms a creamy foam and cleans up the skin so well removing dirt & oils gently without feeling harsh on the skin.
Post rinsing leaves the skin clean, soft, and super smooth to the touch. It doesn't dry out the skin yet it calms down active acne nicely. The cleanser has Antibacterial and Anti Inflammatory properties and makes an excellent cleanser for those suffering from acne. I highly highly recommend this.
Rating: 5/5
Where to buy? Amazon US | Amazon India
Overview of Kama Ayurveda Products
| | | |
| --- | --- | --- |
| Product Name | Quick Review | Where to buy? |
| Kama Ayurveda Kumkumadi Brightening Scrub | This is a great brightening scrub. Every time I use this, my skin looks visibly brighter, softer and super smooth. I loved this. | Amazon US | Amazon India |
| Kama Ayurveda Eladi Hydrating Ayurvedic Face Cream | This is a very rich moisturizing cream. Didn't suit my oily skin but dry & combination skin types will love this. | Amazon US | Amazon India |
| Kama Ayurveda Natural Sun Prootection SPF 21 | This is a natural physical sunscreen with no harmful chemicals. It moisturizes the skin while providing sun protection. It leaves a white cast which settles downs after a while. | Amazon US | Amazon India |
| Kama Ayurveda Pure Rose Water | This is pure love. A very refreshing and soothing pure rose water. I've repurchased multiple bottles of this. Highly Recommended. | Amazon US | Amazon India |
| Kama Ayurveda Nimrah Anti Acne Face Pack | This again is a very great product from Kama Ayurveda. Smells authentic and earthy due to the Sandalwood powder. Keeps acne at bay when used twice a week. | Amazon US | Amazon India |
| Kama Ayurveda Bringadi Intensive Hair Treatment Oil | An authentic bringadi hair oil. Super nourishing that strengthen hair roots. It has a strong scent of herbs which is a bit overwhelming for me. | Amazon US | Amazon India |
| Kama Ayurveda Nalpamaradi Skin Brightening Treatment Oil | This is such an amazing product for removing tan and pigmentation. But the application process is a lot messier and it stains as well. But no doubt, this works like a charm. | Amazon US | Amazon India |
| Kama Ayurveda Mridul Soap Free Cleanser | This is a gentle powdered cleanser that has to be mixed with water. It cleans the skin without being harsh or stripping moisture from the skin. | Amazon US | Amazon India |
Final Thoughts on Kama Ayurveda products
Having used a variety of Kama Ayurveda products, I feel the quality of the products to be top-notch. The products do look and feel very natural, unlike many brands that claim to be natural yet do not feel Natural. The fragrance of Kama Ayurveda products is one of the factors that prove them to be pure and genuine. However, a few of these natural formulations didn't go well with my oily skin and I feel most of their products are catered towards normal to dry skin types, especially their creams. And forget not! Kama Ayurveda is a luxury brand so be prepared to spend a bomb if you are going to explore this brand.
That was all about it. I hope you find this post helpful in choosing Kama Ayurveda products. Have you tried their products? Which is your favorite product from the brand? Share your thoughts.
Disclaimer: This is not a sponsored post. All reviews are based on my experience with the products for a minimum period of one to two weeks. Some of the samples reviewed above can be purchased free of cost from their official website by paying to ship150 INR.
Disclaimer: This post contains affiliate links, meaning that I may earn a small commission for the products purchased through that link. My opinions and reviews about the products remain honest and are not influenced in any case.