There are too many gel cleansers in the market that I'm literally bored of them. Lately I've been into these Cleansing Foams which I think are great for lazy folks. Not many Indian brands have Cleansing Foams. One that caught my eye is this Kama Ayurveda Anti Acne Cleansing Foam. The ingredient list is also pretty clean with skin safe ones. So I thought this will make a good replacement for my all time favorite Sebamed Clear Face Cleansing Foam. Read on to know how this worked for me.
Product Description:
Kama Ayurveda Anti Acne Cleansing Foam is a lightweight aromatic foam for deep purification. It dries out active acne, unclogs and tightens skin pores, and reduces the frequency of breakouts.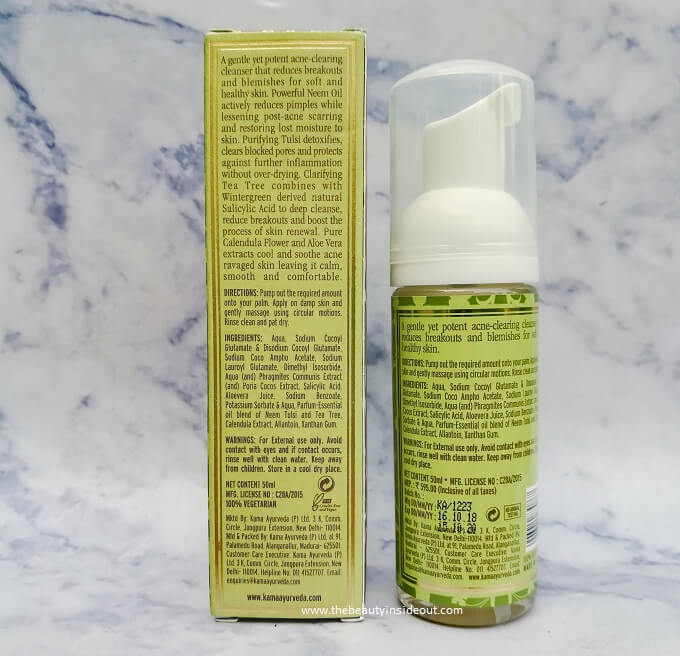 Ingredients:
Powerful Neem Oil actively reduces pimples, while lessening post-acne scarring and restoring lost moisture to skin.
Purifying Tulsi detoxifies, clears blocked pores, and protects against further inflammation without over-drying.
Clarifying Tea Tree combines with Wintergreen-derived Salicylic Acid, to deep cleanse, reduce breakouts and boost the process of skin renewal.
Pure Calendula Flower and Aloe Vera Extracts cool and soothe acne-ravaged skin,leaving it calm, smooth and comfortable.
Comfrey-derived Allantoin, a mild conditioner and healer for damaged, distressed skin tissue.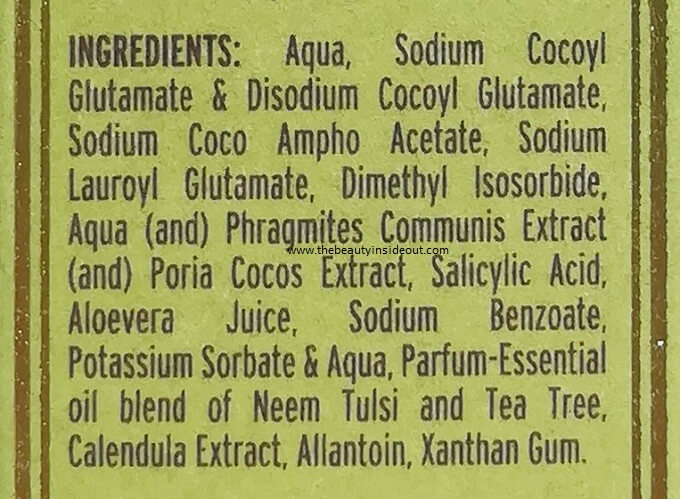 Price: Rs.595 for 50 ml
My take on Kama Ayurveda Anti Acne Cleansing Foam:
Packaging: Kama Ayurveda Anti Acne Cleansing Foam comes in a typical cleansing foam packaging with a pump dispenser, through which the foam comes out. The pump works smoothly with no issues. I love the luxury golden green colored labeling on it, reminds me of it being an Ayurveda based product. All informational details about the product is clearly printed on its label as well as its outer carton.
Color & Texture: The cleanser is in a pale green color liquid form and comes out as a clear white foam. One pump is more than enough to clean the face, because it tends to lather a bit. But sometimes I like to use more and go for 2 pumps.
Fragrance: I thought this will be strongly scented since it contains essential oils. But the Kama Ayurveda Anti Acne Cleansing Foam has a subtle scent. It smells like Clove Oil to me, which is nice and is not strong on the nose or nauseating. I love the fresh scent of this cleanser that I look forward to use this product everyday.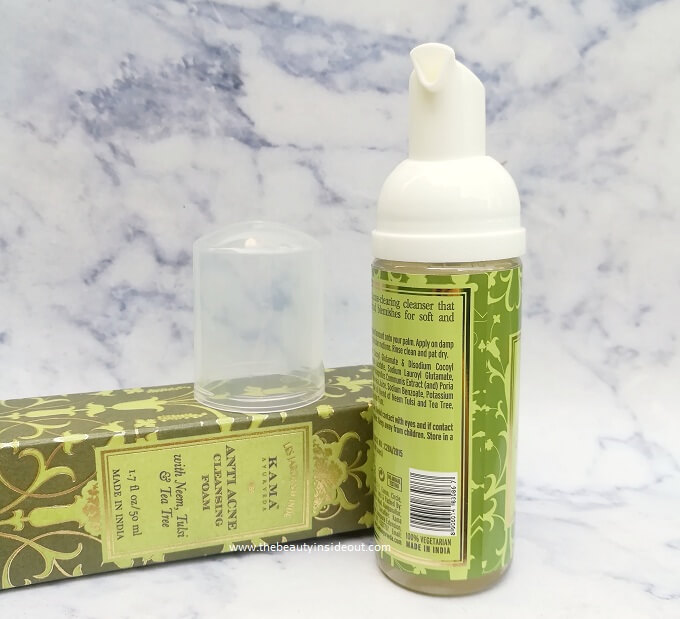 Experience: I instantly fell in love with it from the first usage. The foam produces a creamy foam while massaging on the skin and gives a nice cleansing action. It rinses off easily with just few splashes of water, because there is no slipperiness involved. Yay! Above all, inspite of being an Anti-Acne Face Wash, this doesn't dry out the skin. Even after 10 minutes of wash, my skin feels comfortable and there is no taut or tightness of the skin. The cleanser rather leaves the skin smooth and soft to touch. It also cleans the skin really well (No residue found in my cotton pad in the Toning step).
I would neither classify this as a mild nor a harsh cleanser. It's in between both performing its job of a cleanser well. Personally I prefer to use this in my night time routine. Particularly this works great for double cleansing as a second cleanser.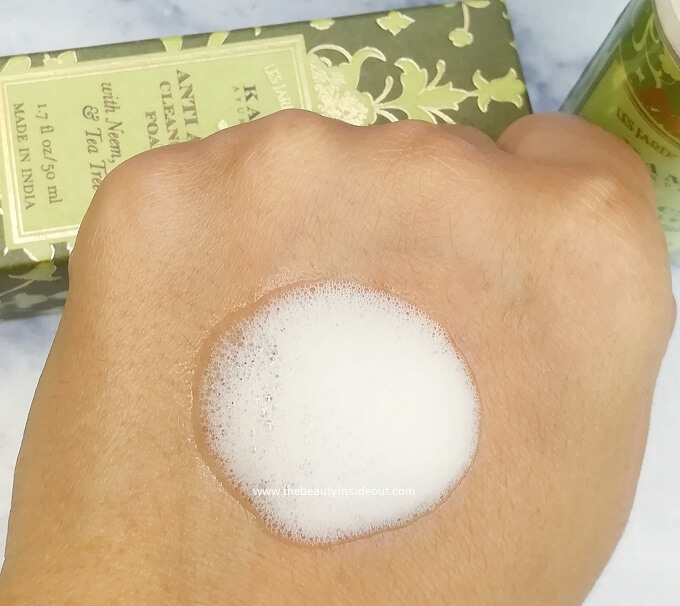 As for acne and pimples, a face wash alone cannot to do much. But then, the cleanser didn't aggravate my existing acne condition neither did it cause new pimples. The product as such doesn't break out hence if you are looking for a non-comedogenic cleanser, this is a good option. It will fit into any type of skincare routine very well.
On other note, I recently introduced Double Cleansing with the Greenie Mill Hemp Tamanu Gel to Milk Cleanser (Oil Cleanser) and this Kama Anti Acne Cleansing Foam (Foam Cleanser). Both of these, along with Etude House Soon Jung Cica Balm, have seriously brought my one month long stubborn cystic acne outbreakouts under control and have helped to heal them nicely.
Overall speaking, the Kama Ayurveda Anti Acne Cleansing Foam fulfilled all the shortcomings of my favorite Sebamed Cleanser. Be it the ingredients used, the no slippery residue, the extra soft skin, this Kama one simply floored me.
The product is not in the budget friendly range. But the quality of this product surely justifies that. I have been using it for a month now and it looks like I will have enough product for one more month. It will probably last anywhere from two to four months depending on how many pumps and how many times you use per day.
Pros:
Great ingredient list.
Free of harmful ingredients.
Great for acne prone skin.
Cleans skin without drying out.
Antibacterial & Anti-Inflammatory properties.
Clears & Prevents Breakouts.
Gives a refreshing feel.
Suits all skin types.
Cruelty Free.
Cons:
Would I recommend? Definitely Yes. If you are into Cleansing Foams and have Acne Prone Oily/Combination Skin, you will love this.
Rating: 5/5