Coming from the house of the most popular haircare brand Indulekha, the newly launched Indulekha Bringha Shampoo is targeted to fight severe hair loss problems. Every bottle claims to contain 9 Full Bhringraj Plant Extracts whose hair benefits are widely known. The brand makes some promising claims and being a regular user of the Indulekha Bringha Hair Oil, I couldn't miss getting it, especially when it was meant to be used along with the hair oil for effective hair loss prevention and hair regrowth. Now that, I have been possessing the hair cleanser for quite some time, keep reading to know what I think about it.
Product Description
Indulekha Hair Cleanser is not your regular shampoo but an Ayurvedic medicine for hair fall. Enriched with Bhringraj, a herb known in Ayurveda as Keshaj " The king of Hair". Extracts from the Bhringraj plant are known for their medicinal properties of reviving and regenerating new hair. Indulekha Bringha Shampoo contains herbs like Amla, Tulsi, Rosemary, and Shikakai. It helps to restore the natural goodness of your hair, improve hair health, and reduce hair fall. Suitable for all hair types.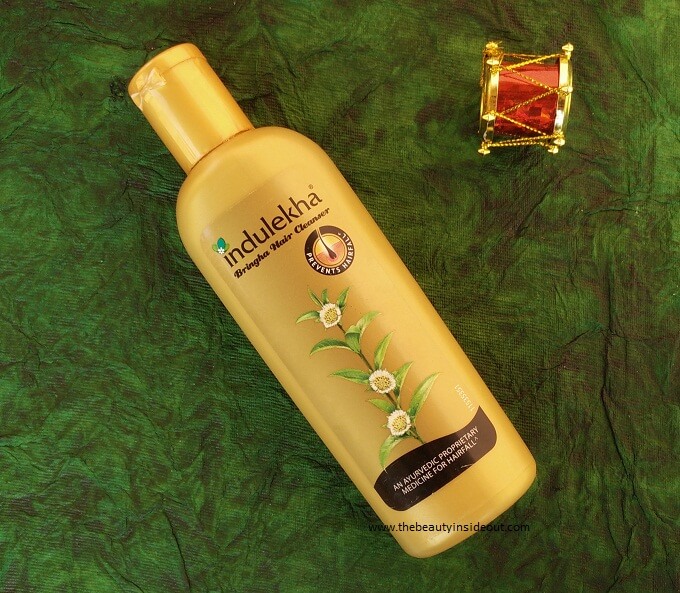 Indulekha Bringha Shampoo Ingredients
Each 10 ml contains :
Bhringraj – 1000 mg,
Amla – 40 mg,
Tulsi – 80 gm,
Neem – 400 gm,
Madhyantika – 400 gm,
Shikakai- 120 gm,
Rosemary- 200 gm.
Excipients: Shampoo Base Q.S.
Preservatives: DMDM Hydantoin, Methylchloroispthiazolinone and Methylisothiazolinone.
The packaging says No Added Fragrance and No Added Colour.
Updated on 19-10-2023: The rebranded and relaunched version 2023 doesn't contain the mentioned preservatives. Instead of them, Sodium Benzoate is mentioned as a preservative. Sodium Benzoate is a relatively safer preservative than DMDM Hydantoin, Methylchloroisothiazolinone, and Methylisothiazolinone. The shampoo base is still the same. So we still do not know what it comprises.
Indulekha Shampoo Benefits
Bhringraj (Eclipta alba) is an excellent herb known to arrest hair fall. Its natural cooling properties cool down your scalp and alleviate stress to a great extent.
Amla (Phyllanthus Emblica) contains tons of essential fatty acids that strengthen your hair follicles while providing luster to your hair.
Tulsi (Ocimum sanctum) is a sacred herb that improves blood circulation thereby promoting hair growth. Tulsi is also an effective ingredient to treat an itchy scalp.
Neem (Azadirachta Indica) has powerful medicinal properties. Neem helps to get rid of dandruff, lice, and other scalp-related problems such as itching and flaking.
Madhyantika (Lawsonia Inermis) commonly known as Henna is a natural dying agent that also adds shine to your hair. Henna is also a conditioning agent that balances the scalp's acid-alkaline mantle.
Shikakai (Acacia Concinna) has been a part of our traditional hair care for ages. It is a wonderful cleanser, conditioner, and hair growth promoter. Its benefits are widely known to everyone.
Rosemary (Rosemarinus officinalis) stimulates hair roots promoting faster hair growth. It also thickens and strengthens hair strands.
Is Indulekha Shampoo Sulphate Free and Paraben Free?
Indulekha Shampoo may/may not be sulphate free and paraben free. The brand does not declare it to be either. But it should be noted that it mentions a Shampoo Base, so it's highly likely that it contains Sulphates. Also, it does lather pretty well, which is an attribute of the presence of Sulphates. In order to increase shelf life, Indulekha Shampoo has some chemical preservatives added to it. So despite being an ayurvedic formulation, Indulekha Shampoo is not completely free of chemicals.
How to use Indulekha Shampoo?
Wet your scalp and hair thoroughly with water.
Take the required quantity of shampoo on your palm.
Massage the shampoo on your wet scalp, concentrating on the roots.
Rinse thoroughly with lots of water.
Repeat if necessary.
Best used with Indulekha Bringha Hair Oil. Recommended to be used thrice a week.
Indulekha Shampoo Price
50 ml – Not available.
100ml – 135 INR
200ml – 234 INR
340ml – 405 INR
Indulekha Shampoo Pouch (7.5 ml sachet) is locally available for 5 INR.
Indulekha Bringha Shampoo Review
Packaging:
The hair cleanser has a basic shampoo bottle packaging with a flip-opening cap. The bottle is opaque and brown colored just like Indulekha Hair Oil. Therefore it is difficult to see how much shampoo is still left in the bottle. The cleanser comes in variants of 100 ml and 200 ml. I bought the 100ml bottle which is quite compact and travel-friendly. The backside of the bottle holds various details about the shampoo which include price, manufacture date, and expiry date. The shampoo has a shelf life of 2 years.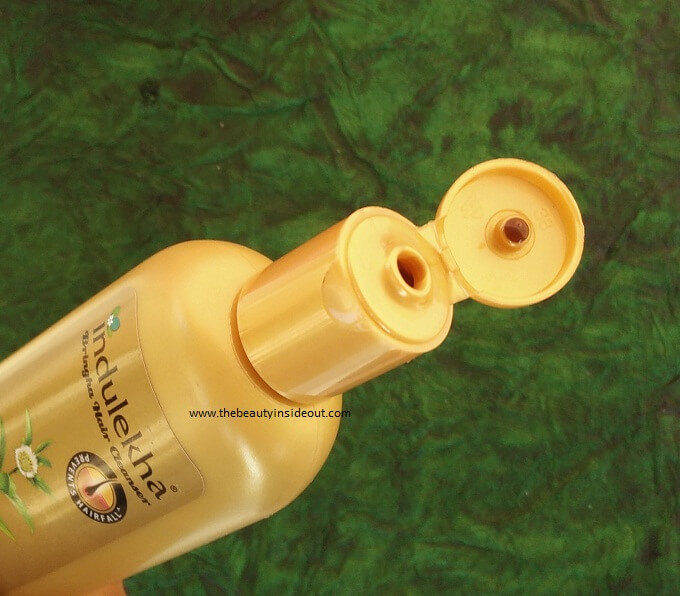 Fragrance:
Indulekha Shampoo smells predominantly of Bhringraj with an ayurvedic touch of other herbs. The scent is certainly sharp on the nose but it is not as strong as the hair oil. Also, only a faint note of the fragrance lingers on the hair post-rinsing. So the scent is not a major disturbance to me.
Color:
The shampoo is rich brown in color.
Texture:
It is a smooth and thick gel-based shampoo. Due to its dense consistency, it is easier to control the amount of product leading to no excessive usage.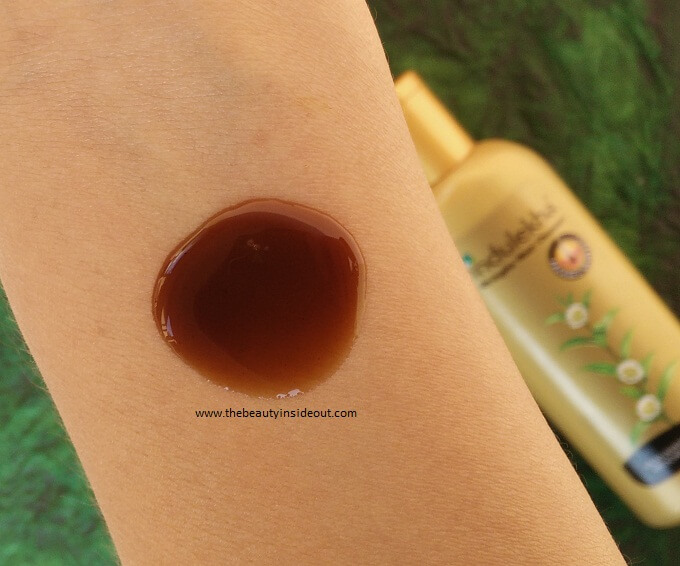 Indulekha Shampoo For Hair Fall (My Experience)
I've been using this shampoo for more than a month now, using it at least twice a week.
The formula is nice, and perfect enough to create a good lather with a small quantity of the product. I use it directly on my wet scalp, but if you are going to dilute it, you will need more product to bring it to a lather. Upon shampooing, it gives a cooling sensation on my scalp which is so calming and refreshing. The shampoo also rinses off easily without giving the feel of any slippery residue left behind. The shampoo is able to remove dirt and impurities effectively in one wash.
However, whenever I oil my hair heavily with Indulekha Hair Oil or other denser oils, it fails to remove them completely. In that case, I require a double wash, which eventually gets rid of the oils thoroughly leaving my scalp and hair squeaky clean. I always let my hair air dry naturally without using any external heaters. Post drying, my hair feels soft and smooth, not that of silicone soft, but naturally soft. I like that! It also adds a lot of bounce to my thin hair making it appear that I have fuller, thicker hair strands.
Indulekha Shampoo Side Effects
Indulekha Shampoo does not have any major side effects as such unlike the Indulekha Oil. I would say they have their own minor cons like many shampoos. The shampoo makes my hair dry and frizzy by the end of the day while my shaft area is still soft. Ideally, a conditioner is needed with this shampoo.
Otherwise, it sometimes causes hair to fall due to breakage and dryness. Indulekha does not have a conditioner to go along with it. So I just use two drops of Argan oil on my ends to prevent tangles and dryness.
Related:
Best Shampoos For HairFall Dermatologists Recommended
Best Shampoos without harmful chemicals
Indulekha Shampoo For Hair Growth
As for its hair growth claims, I do not believe that shampoos can do that. It does not cause any additional hair fall but at the same time, I did not see any new hair growth as claimed. Simply put, the shampoo neither causes hair to fall nor promotes hair growth. It just helps to maintain healthy hair without causing any adverse effects.
Indulekha is a good maintenance shampoo according to me and it works great with the Indulekha Hair Oil. Try it if you have no major hair problems such as dandruff. The shampoo definitely imparts shine & glow.
Summarizing the pros & cons
| | |
| --- | --- |
| PROS | CONS |
| 1. Travel-friendly bottle packaging. | 1. Sharp fragrance might be a turn-off for some. |
| 2. Good consistency. | 2. No extraordinary effects. |
| 3. Foams up well for an ayurvedic shampoo. | 3. Does not reduce frizz and dryness. |
| 4. Rinses off easily. | 4. Conditioner or Serum is necessary. |
| 5. Cleans the scalp very well. | 5. It's not a completely chemical-free shampoo. |
| 6. Adds softness and bounce to the hair. | |
| 7. Hair looks healthy and nourished. | |
| 8. Helps with Dandruff to a certain extent. | |
| 9. No added fragrance or color. | |
| 10. Safe to use on artificially colored and permed hair. | |
Rating: 4/5
Do I recommend it? Yes, Indulekha Shampoo is a great product to maintain healthy hair. Though it does not give any extra benefits, it does not cause any additional hair problems.
Looking for other herbal shampoos?