Growing up as a kid, have you ever wondered why are you shoved with two soaked almonds early in the morning before going to school? That's because Almond is a superfood that's packed with tons of nutrients. It has numerous benefits that are not only restricted to your skin and hair but also your overall health. It's a wonderful ingredient often overlooked in search of other rarely available ones.
Almonds, scientifically called, Prunus Dulcis, is power packed with vitamins, minerals, proteins, fibers, and healthy fats. Almonds are available as Bitter and Sweet Almonds. Bitter almonds are said to be unsafe, especially for oral consumption as it contains toxins that can cause adverse effects. Sweet Almonds is the one that's widely used for both consumption and cosmetic purposes. Sweet Almond Oil is prepared by extracting the oils of sweet almonds.
No doubt, consuming a few almonds every day is very good for your heart and health. In this post, we are going to be focusing on the benefits of Almonds for hair and skin.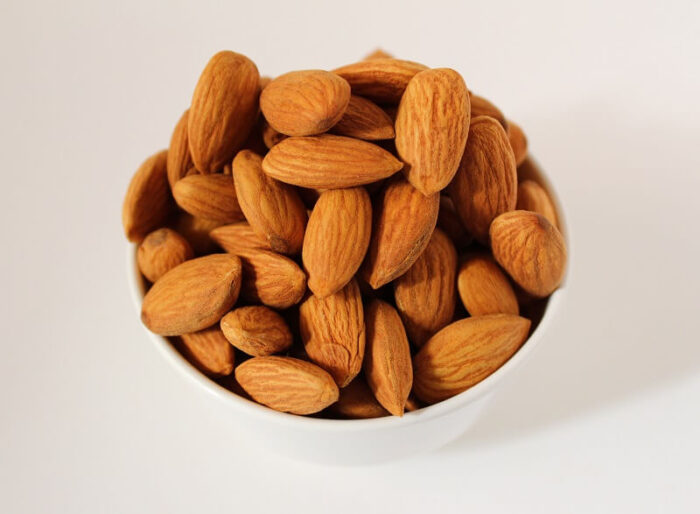 Benefits of Almonds For Hair & Skin
1. Moisturizes And Nourishes
Almond Oil has emollient properties due to the presence of abundant Vitamin E. Vitamin E is a natural moisturizer that nourishes and softens your skin and hair. According to studies, almond oil is traditionally used in ayurvedic products to help with dry skin problems such as eczema and psoriasis. Almond Oil is extremely beneficial to feed your hair strands with moisture thus making it smooth and soft.
2. Rich in Antioxidants
Vitamin E that's copious in Almond Oil is an excellent antioxidant. Antioxidants are great for skin and hair as they fight free radical damage and prevent oxidative stress that can fasten aging.
3. Adds Glow and Shine
Almond Oil is light, non-comedogenic, and hypoallergenic. It makes it one of the best oils for massaging the face and scalp. Massaging almond oil increases blood circulation thereby adding a radiant glow to your skin. Almond oil is said to improve skin tone and complexion. In addition, it boosts shine on each and every hair strand making it glossy and shiny.
4. Regulates Oil Production
Almonds have significant amounts of zinc which are beneficial for that acne and dandruff. Zinc has anti-bacterial, anti-fungal, and anti-inflammatory properties and helps to regulate excess oil production on both skin and hair. Almond oil has oleic acid which has mild cleansing abilities so it's great to use as a cleansing oil as well. It unclogs pores, gets rid of dead skin cells, and clears up the skin and hair. Thus it significantly helps in reducing dandruff.
5. Prevent and Repairs Damage
Almonds have fatty acids such as linoleic acid which promotes cell turnover, moisturizes, and add plumpness to your skin and hair. It has strengthening abilities – on your skin, it strengthens skin barrier function and -on your hair, it increases tensile strength and makes your hair stronger. Additionally, the magnesium in almonds actively helps to protect and repair damage caused by external sources such as heat from chemical treatments, etc.
Simply put, Almond Oil is a superfood for super hair and skin. You are missing out greatly if you haven't tried it. It's extremely nutrient dense and has tons of benefits. One of the most popular products in the market with Almonds is the Bajaj Almond Drops Hair Oil.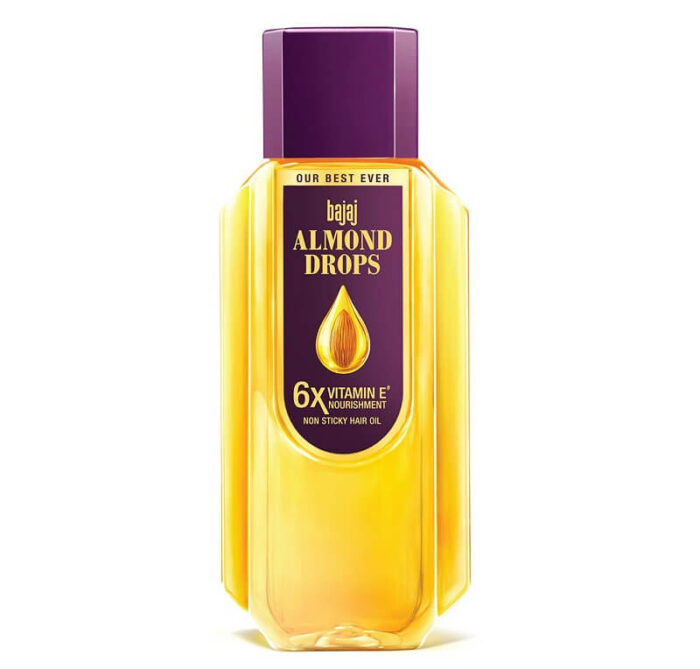 Why you should pick Bajaj Almond Drops?
Bajaj Almond Drops Hair Oil is enriched with the goodness of Almond Oil & Vitamin E.
It has 6x Vitamin E that nourishes, softens and strengthens your hair.
It's a versatile hair oil that's suitable for all hair types.
It is the perfect solution for hair fall as it reduces hairfall due to breakage by 79%.
It has a refreshing soothing scent that makes your tresses smell good all day long.
Its Non-sticky and Lightweight, making it a great product to use before styling your hair.
It comes in various sizes and at an affordable price range.
In all, Bajaj Almond Drops is a great hair oil that curbs all your haircare woes.