Indulekha, the infamous hair growth oil brand, launched a couple of new products and rebranded their packaging a while ago. Having used the Indulekha Hair Oil and Indulekha Bhringha Shampoo, I decided to give this new shampoo a try as it caught my eye during my recent grocery shopping. And it was priced nominally too. Read on to know more about my thoughts on this shampoo.
Product Description:
Indulekha Dandruff Treatment Shampoo is an ayurvedic proprietary medicine formulated with a blend of precious herbs, says the brand. It's made to reduce dandruff, flakes, and itchy scalp.
Indulekha Dandruff Shampoo Ingredients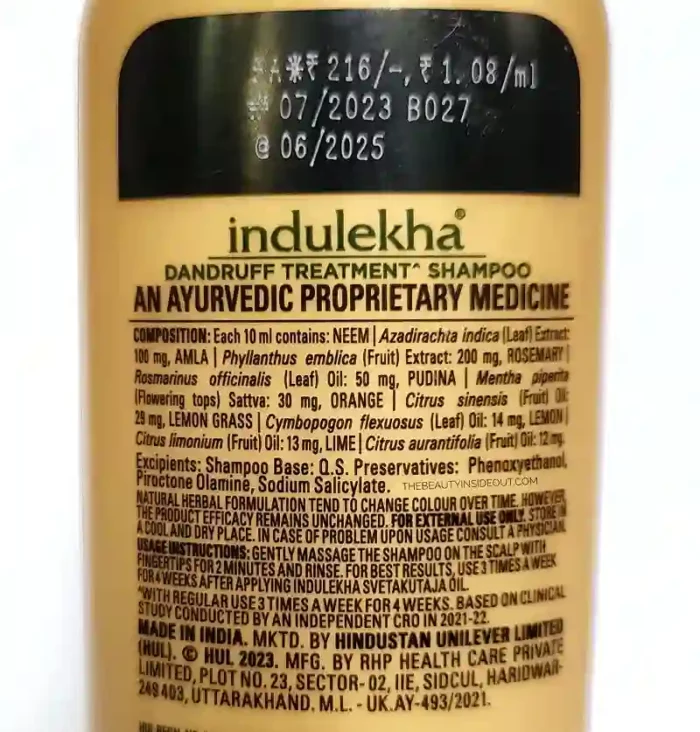 Each 10 ml contains
Neem Leaf Extract: 100 mg
Amla Fruit Extract: 200mg
Rosemary Leaf Oil: 50 mg
Pudina Flower Top: 30 mg
Orange Fruit Oil: 29 mg
Lemongrass Leaf Oil: 14 mg
Lemon Fruit Oil: 13 mg
Lime Fruit Oil: 12 mg
Excipients: Shampoo Base
Preservatives: Phenoxyethanol, Piroctone Olamine, Sodium Salicylate.
The shampoo is free of added color and fragrance. It is paraben-free but not Sulphate-free.
Ingredient Benefits:
Neem ((Azadirachta Indica) has powerful medicinal properties. Neem helps to get rid of dandruff, lice, and other scalp-related problems such as itching and flaking.
Amla(Phyllanthus Emblica) contains fatty acids that not only strengthen your hair follicles but also make your hair lustrous and shiny.
Rosemary(Rosemarinus officinalis) has minoxidil effects and stimulates hair roots to promote faster hair growth. It also thickens and strengthens hair strands.
Pudina (Mentha Piperita) is a cooling herb that helps with dandruff. It's excellent for oily scalp to balance the scalp microbiome.
Orange (Citrus Sinensis) is rich in vitamins that repair hair follicles that are damaged. It also aids in promoting hair growth.
Lemongrass (Cymbopogon Flexuosus) helps in combatting oily scalp and hair by reducing excess oil production. It also gives a soothing fragrance to the shampoo.
Lemon (Citrus limonium) helps with dandruff and itchy scalp. It also gives a nice citrusy scent.
Lime (Citrus aurantifolia) also helps with dandruff and itchy. It also contains nutrients that help with hair growth.
Piroctone Olamine is an anti-fungal medication that is widely used in many anti-dandruff shampoos. This is an effective ingredient that eradicates fungal infections that cause dandruff.
Sodium Salicylate is a salt of Salicylic Acid that is used to prevent the growth of bacteria and increase shelf life. It also has an anti inflammtory, analgesic and antioyretic
Phenoxyethanol is a common preservative used in cosmetics to increase shelf life.
How to use it?
Use it like a regular shampoo.
Wet your hair, take a sufficient quantity of shampoo, and massage it on your scalp until lather.
Alternatively, you can dilute it in water and use the diluted shampoo on your hair.
Rinse it thoroughly with water until no residue is left behind.
Follow it with a conditioner if needed.
Pat dry and style your hair as you wish.
It is recommended to use it thrice a week for a month.
Price
50 ml – Not available.
100ml – ₹135
200ml – ₹216
340ml – ₹378
580ml – ₹774
Indulekha Shampoo Pouch (7.5 ml sachet) is locally available for 5 INR.
Indulekha Dandruff Shampoo Review
Packaging:
The packaging is basic and user-friendly. The 200 ml variant that I've got comes in a tall plastic bottle with a flip cap. The bigger versions come with a pump dispenser. In either case, it's easy to use and store. The bottle is sturdy and durable. The bottle comes with all the needed information about the product.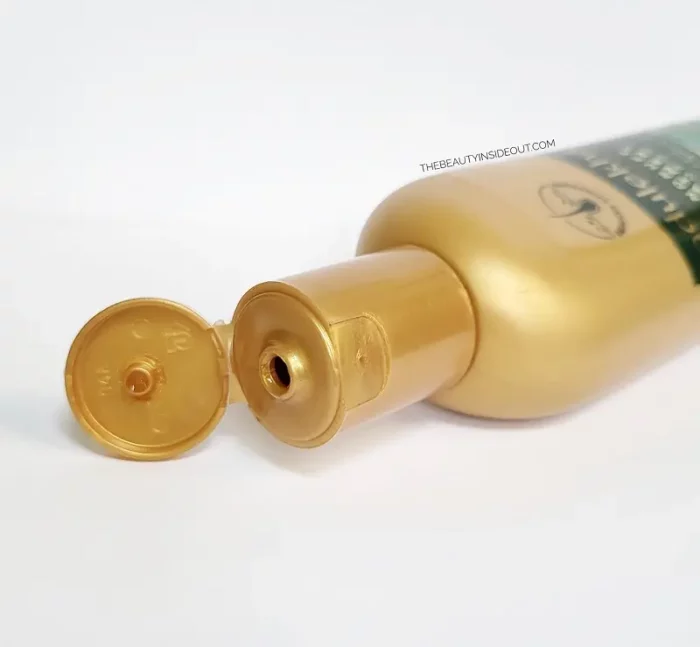 Color & Texture:
The shampoo is light brown in color. The texture is smooth and thick in consistency, very similar to the Bringha Shampoo. I needed a coin-sized amount of the shampoo as it lathers really well with just a little of the shampoo.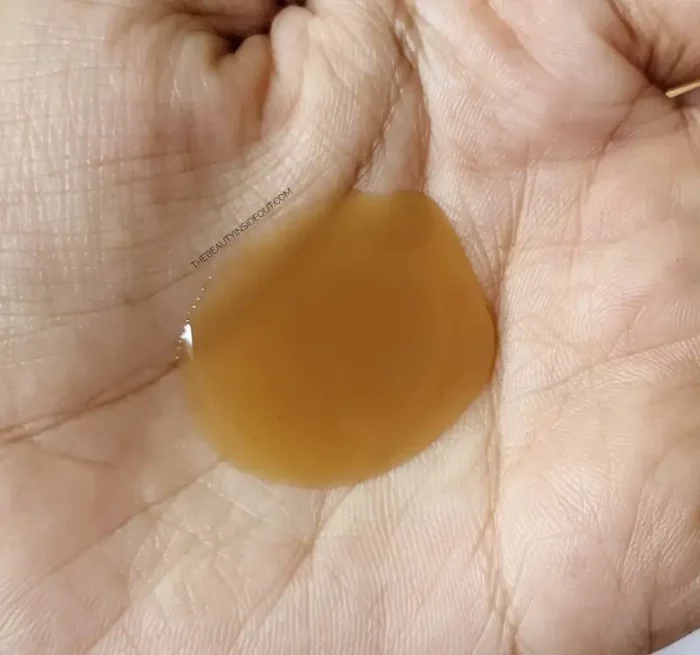 Fragrance:
The aroma of the shampoo is truly ayurvedic. It smells of herbs, with predominant notes of Rosemary. If you are into herbal products, you might like the scent. I felt the scent to be pleasant and not overbearing. It doesn't linger long after washing.
Indulekha Shampoo For Dandruff (My Experience)
About my hair:
I have fine, thin straight hair that reaches a few inches below my shoulder. I have an oily scalp but my lengths are dry and tend to tangle and break easily. Dandruff is something that's been a constant for me. My experience with the non-pharmacy brand Anti Dandruff Shampoos has been in vain. The only thing that's worked for me is Ketoconazole Shampoos. My favourite is the Keraglo AD Shampoo which I use every two weeks as a maintenance shampoo to prevent dandruff from reoccurring. Once in a while, I don't mind picking up a commercial dandruff shampoo.
Application and Usage:
My preferred method of usage is by diluting the shampoo in water, especially for well-lathering shampoos and those with questionable ingredients (say some non-safe preservatives, harsh surfactants, or brands that don't disclose full ingredients). Indulekha falls in this category for me.
Despite all of this, I must say my experience with this shampoo has been pleasant. The shampoo feels nice to use – has a mild cooling sensation, lathers well, cleans well, and washes off easily. I love that it doesn't strip the hair of moisture. In fact, I don't even need a conditioner with this shampoo. It leaves my strands nourished and soft to a great extent. I could get away with a few drops of argan oil or a light hair serum post-washing for a more silky and tangle-free finish.
Results:
Being a dandruff shampoo, it does help with removing dandruff to a certain extent. In my case, I can say that it reduced dandruff by 75% in the first wash. I didn't expect much from this shampoo in the first place. So it was a good surprise to me. Dandruff does come back if not used regularly, but that does happen with most shampoos for me.
The shampoo is effective in tackling dandruff and its associated problems, but it's not super powerful like a medicated dandruff shampoo to eradicate dandruff completely.
Similar Products:
I would say this shampoo is on par with the Meera Anti Dandruff Shampoo, which is made with Fenugreek and Small Onion. The Indulekha one gives a much more silkier and smoother hair. So I like this better.
Side Effects
Like I said, I had a good experience with the shampoo. I didn't experience any negative effects with the shampoo.
If you are allergic to any herb, strong scents, or the cooling effect of shampoo, you want to reconsider getting this. Otherwise, it's a relatively safe shampoo to use with no side effects.
Summarising the pros and cons
Pros:
Made with herbal ingredients
Produces a rich lather and washes off easily.
Removes dandruff flakes easily
Has a cooling sensation.
Helps with scalp itchiness.
Doesn't dry out the hair strands.
Makes hair soft and silky smooth.
Easily available.
A little goes a long way.
Doesn't contain added color and fragrance.
Cons:
Non-disclosure of full ingredients.
Dandruff does come back if not used regularly.
Might not remove stubborn dandruff completely.
My rating: 4/5
Overall, it's a pretty good drugstore, affordable shampoo for mild to moderate dandruff. It comes in various sizes and you get 2 rupees sachets, so it wouldn't hurt to try out if this shampoo will work for you.
What do you think of this shampoo? Have you tried it?