Repeat With me!  You should put on sunscreen like you brush teeth and shower every day. I am already 20 years late to the group but hey you know what they say it's better late than never right? Skin cancer and photoaging aren't fun so wear your sunscreen guys. Although I always felt Asian sunscreens are the way to go but after the Purito Controversy I felt a little uncertain. So I picked up this Nivea Sunscreen with SPF 50 as it's been proven that this particular sunscreen has their mentioned SPF on the bottle. After half a bottle and 2 months later I think I am ready with my review on this. If you want to know my opinion then please keep on reading.
Product Description:
Nivea sunscreen is a moisturizing, water-resistant sunscreen with both UVA & UVB protection to prevent sun damage and premature aging. It's a waterproof formula that gives you instant protection from harsh sun rays and its advanced collagen boosting ability saves you from wrinkle.
Nivea Sunscreen Ingredients: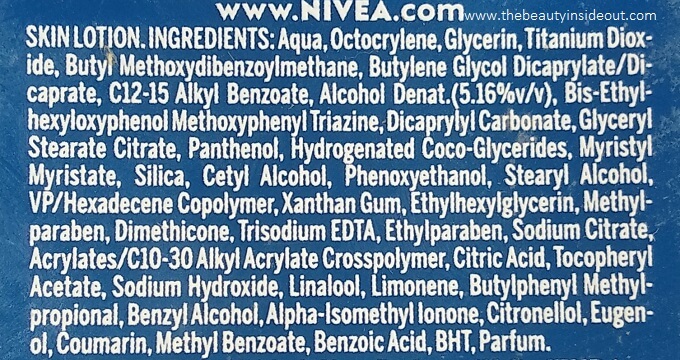 Nivea Sunscreen has great long and short UVA and UVB protection. It is a Hybrid Sunscreen with Titanium Dioxide(physical); old-school filters Octocrylene & Oxybenzone and new generation chemical UV filter Bemotrizinol. It also has a 5% Alcohol Denat.
Price:
75 ml – 360 INR
125 ml – 495 INR
It's often available at discounts where you can get it for as low as 200 INR.
Nivea Sunscreen Lotion SPF 50 PA++++ Review
Packaging: The Nivea Sunscreen comes in a squeezable plastic blue bottle. It can get quite messy where the sunscreen comes out and you can't do the three-finger rule of sunscreen when using this. Otherwise, there is nothing special about the packaging. Now I don't really adore plastic packaging for environmental issues. But at this price point and with Nivea I didn't expect much.
Texture: The sunscreen is white, very creamy with a lotion-like texture. It spreads easily on dry skin and doesn't take much time to blend.
Fragrance: It has the signature Nivea-like scent with a prominent note. It's not very overpowering and goes away after 2-3 minutes. But if you are sensitive to fragrance then it's a note worth taking.
My Experience:
My first impression of this product wasn't very good. It gives me a horrible white cast and doesn't go away even after vigorous rubbing. 6 hours later I still looked ashy and oily as if Americans are coming for me to invade. Jokes apart, but I have dry skin with a MAC NC 20 skin tone (yellow undertones). So oily skin people stay away from this product. Right of the bat, I knew my money is wasted and I will never use this product. It wasn't even summer season yet it was so uncomfortable on my skin that I just wanted to take it off. But for the sake of my hard-earned money, I wanted to give it a try a couple of times.
I tried with setting powder and under makeup and both the times it pills. It gave me blind pimples (little under-the-skin pimples) for some reason. That's when I decided to put this use for my body. And it worked great. The creamy texture was nicely moisturizing on my dry body skin. It's also waterproof to some extent and offered good protection. I don't tan even when I am out in the sun the whole day. I use this on my neck and hand as well and I didn't have to use any hydrating body lotion, other than crazy winter days.
Related:
What I love the most about the Nivea Sunscreen, is that it comes in big sizes than most sunscreen. So you don't have to keep buying that tiny 40 ml sunscreen that is way too expensive and it saves from becoming environmental pollutants. So Nivea Sunscreen has become my holy grail body sunscreen that's not only efficient but also affordable.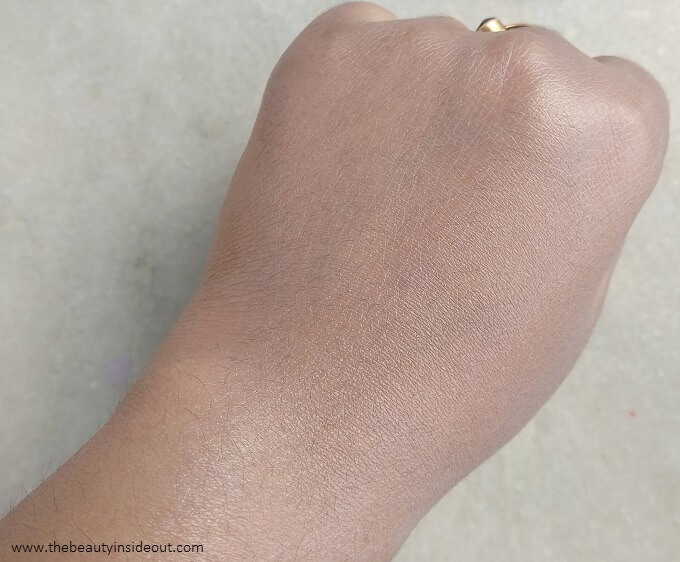 Pros:
Offers good sun protection with both long UVA & UVB protection.
Very creamy lotion blends easily.
Waterproof and sweat-resistant.
Comes in a bigger bottle.
Affordable and easily available.
Very good body sunscreen.
Cons:
Gives a horrible white cast.
Contains fragrance.
Rating: 3.9/5
Would I recommend it? As body sunscreen yes, I recommend and will forever repurchase this product.
Where to buy it?Amazon.in
Have you tried this sunscreen? Share your experience in the comments section below.