Lakme is one of the household makeup brand names we have known since childhood. When I was looking for an affordable primer for my dry skin, I came to know about the Lakme Absolute Blur Perfect Makeup Primer. Now the big question, was it worth the money? Let's see. So today I am going to review the Lakme Absolute Blur Perfect Makeup Primer and if you are interested then please keep on reading.
Product Description:
The Lakme Absolute Blur Perfect Makeup Primer helps to blend makeup seamlessly while softening and brightening the skin. It also gives instant smoothness and blurred effect to the pores.
Ingredients: Mentioned on the outer card box. Unfortunately I've misplaced it and couldn't find it.
Price: 700 INR
Quantity: 30 Gm
Availability: Both Online and Offline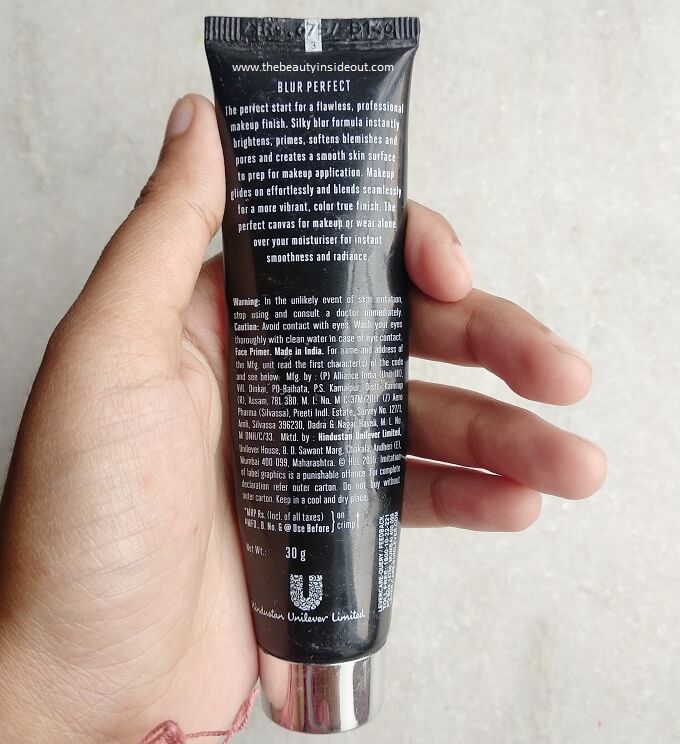 Lakme Absolute Blur Perfect Makeup Primer Review:
Packaging: The Lakme Absolute Blur Perfect Makeup Primer comes in a sleek black tube packaging which has Lakme Absolute name written in the front and other information on the back. The packaging looks quite good and it is absolutely convenient for traveling. The idea of a squeezable tube is great because you can really ensure how much product you want it to come out from the tube. The tube itself comes housed in a black card box which has more details than on the tube.
Texture: It has a mousse texture which is baby pink in colour. But it has a kind of a dry mousse texture and is not a very hydrating mousse, if it makes sense.
Fragrance: It has a strong floral fragrance if you sniff it really hard. But the scent definitely goes away seconds after putting it on the skin.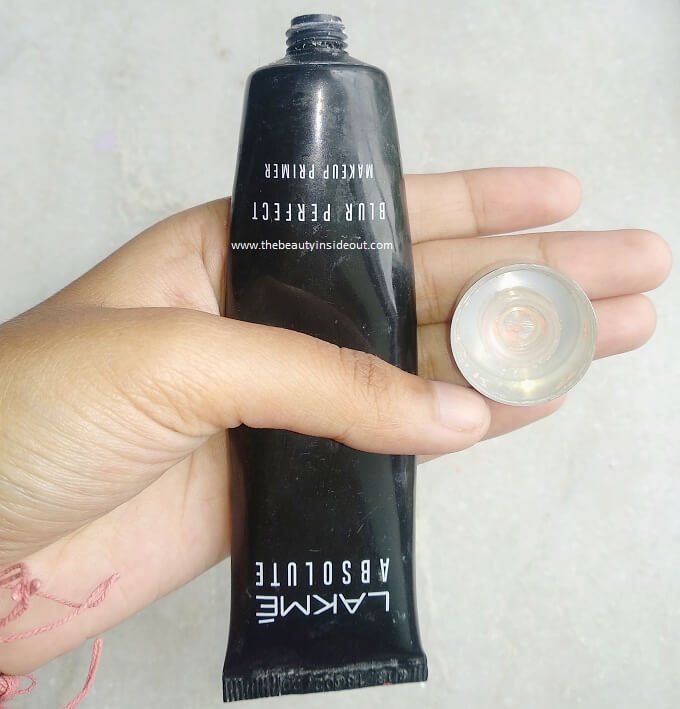 Performance: The Lakme Absolute range is on the higher spectrum in terms of price so I was hoping to get the best out of it. And I was totally disappointed. Now let me explain one by one. As I said it has a dry mousse texture, it not spread well or absorb well into the skin. It kind of peels off. Makeup application looks horrible whenever I wear this before makeup. It doesn't soften or blur out my pores by any means. It is definitely one of the products I hate with all my heart.
Now the product only does one thing to say the least. It brightens my face to some extent due to its pink tint. I've tried to use this primer in multiple ways with multiple base to see if it holds my makeup longer than expected, only to fail my expectations. My Wet n Wild Foundation completely rubbed off from the area of my nose and smile lines. As I bought this I am trying to finish this as soon as I can by mixing a very little of it with my other day creams for that brightening effect.
Pros:
Availability.
Brightened my face to some extent.
Cons:
Pricey.
Did not hold makeup longer than usual.
Foundation and powder look awful and cakey with it.
Didn't blur out or soften my pores.
Didn't give smoothness to the skin.
The product itself peels off when rubbing.
Doesn't absorb well into the skin.
Rating: 2/5
Would I recommend or repurchase? No, I neither recommend nor will repurchase this product. Ladies, there are so many good products in the market in this price range so I would ask you to skip this. If you are looking for a good base that acts as a primer cum BB Cream/Foundation, I recommend the Lakme Face Magic Skin Tints Souffle and Lakme 9 to 5 Weightless Mousse Foundation, both of which are great in blurring out pores while providing coverage and are affordable as well. But then if you want an actual primer, then the L'Oreal Base Magique Primer and Colorbar Perfect Match Primer are few good options.
Let me know if you have tried the Lakme Absolute Blur Perfect Makeup Primer and feel otherwise in the comments section below.