If only eyebrow pencils could define and fill our daily life hazards! Well, I know that was a bad humor but I had to say it. Miss Claire, as a brand, has been my best friend throughout my college years. I literally have the entire collection of the Miss Claire Soft Matte Lip Creams. It's not something new that I am always broke and fall for affordable drugstore products. I picked up the Miss Claire Waterproof Eyebrow Pencil with Mascara Brush a while ago and without a doubt, today's review is going to about that. If you are interested in eyebrow pencils, then read on to know how this product fares.
Product Description:
Define and fill your eyebrows in one step. This multifunctional Brow Pencil with mascara brush is super pigmented and gives a natural finish. It is extremely easy to use, doesn't transfer, bleeds or wears off at all.
Price: 125 INR
Quantity: 1.4 Grams
Availability: Both online and offline
Miss Claire Waterproof Eyebrow Pencil and with Mascara Brush Review with Swatches:
Packaging: Miss Claire Waterproof Eyebrow Pencil is dual ended where on one side it has a mascara brush and on the other side it has the eyebrow pencil. The mascara and pencil are covered with a plastic lids which makes it convenient and hygienic to use. But personally I don't like plastics as it causes major environmental wastage yet I haven't seen any other replacement for such caps. I don't know what am I even expecting! Anyways I have gone through 3 of these pencils and I must say the packaging structure becomes weak day by day. It does not come with any kind of sharpener or pencil cutter so you have to buy one or use one that you already have. No doubt sharpening leads to product wastage but I guess that's how every pencil works.
Texture: The pencil is quite creamy and easy to use. It doesn't poke or scratch my eyebrows whilst using this.
Fragrance: It doesn't have any fragrance at all.
Shades: It comes in 5 shades. 1)Black 2) Medium Brown 3) Light Brown 4) Dark Brown and 5) Creamy chocolate. I think it is great when drugstore brands like this come with different shades for different people. I picked the shade Dark Brown for my black eyebrows for a natural look. Using black pencils for eyebrows gives you a more sharper look, but since I like to keep it subtle and natural, I picked up the shade Dark Brown.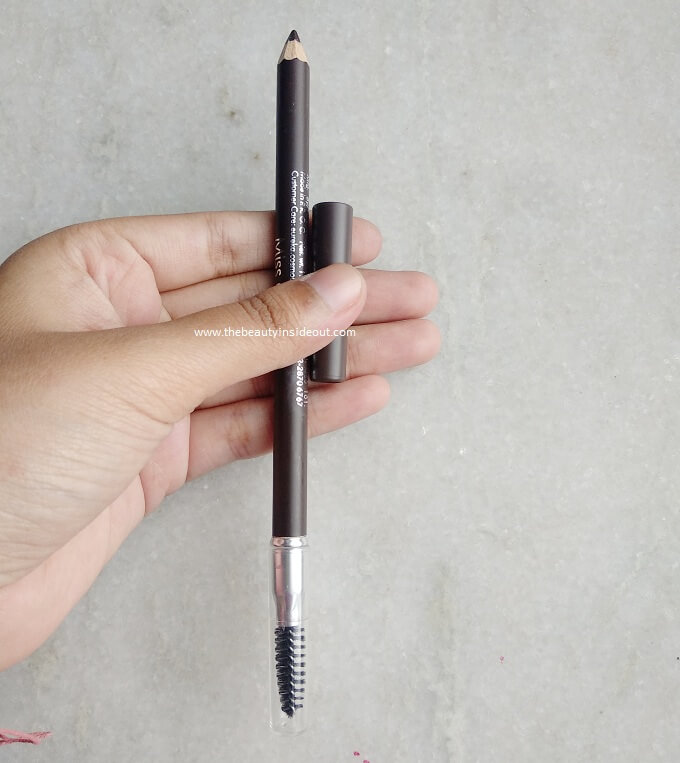 Performance: The Miss Claire Waterproof Eyebrow Pencil gives you that perfect natural look for every day look. It doesn't budge or smudge for a good 15 hours. For the sake of testing, I did put the hand swatch under flowing water and it didn't move a bit, so you will need a good oil-based cleanser to remove it. Otherwise, it can stay put for days! As I said it is quite creamy in texture, it applies smoothly & does its job in filling eyebrows without looking overboard. I really like the natural vibe it gives.
When it comes to the mascara spoolie, it is not the best in the market but I am not going to complain about it because in this range it is quite workable. It does not make my brows look streaky or patchy which is a good thing because I have used brands like Maybelline and NYX and they tend to give you a streaky look.
Miss Claire Waterproof Eyebrow Pencil is an overall good product when you want to quickly use just one product for your eyebrows and look great. This particular eyebrow pencil is also beginner friendly. The only con is, it is not overly pigmented as it claims. This eyebrow pencil is also available without the mascara spoolie for a lower price. So if you don't want to spend more for an eyebrow product you can definitely go for that.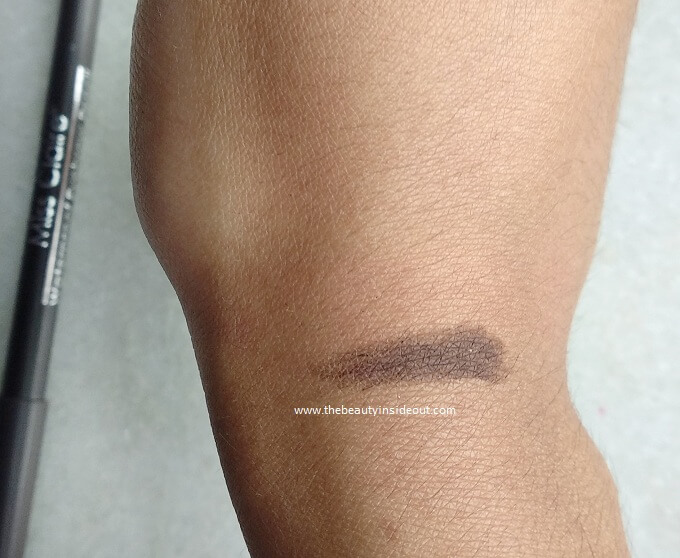 Pros:
Long-wearing
smudge-proof and Waterproof
Doesn't look streaky or patchy
Looks natural on the eyebrows
Good Shade range.
Affordable and Easily Available
Cons:
Packaging is weak.
Mascara spoolie could have been better.
Does not come with a sharpener
Rating: 4.4/5
Would I recommend? Yes I am definitely going to repurchase and recommend this product. Go for it ladies! It a good product. It really does its job and at this range, you don't really have much to lose.