Sunscreen is one of the crucial steps in a skincare routine that most people tend to ignore. Myself was being irregular and negligent until I went to college, mostly because I have a love-hate relationship with sunscreens. Sometimes it's the white cast, other times it's the oily greasy feeling it gives. Not to forget the breakouts most sunscreen cause me. But now as a skincare enthusiastic who is more focused on the ingredients & it's benefits, now I know what will exactly happen if we don't wear a sunscreen. I used to use the ever so popular Neutrogena Dry Touch Sunscreen for the most of my life until when I was given this L'Oreal Sunscreen. I mean one of the sales assistants in the L'Oreal Counter literally handed me over this by saying "Trust me it's the best". Well then, I had to somehow get it. So in today's post, I am going to talk about the L'Oreal Paris UV Perfect Even Complexion SPF 50+, keep reading to know more about it.
Product Description:
The Ultimate UV protection shield which gives you the most long-lasting durability and its new active cell and antioxidant complex guards your skin with giving it collagen and elastic fibres
Price: 515 Rupees
Quantity : 30 ML
Availability: Both online and offline.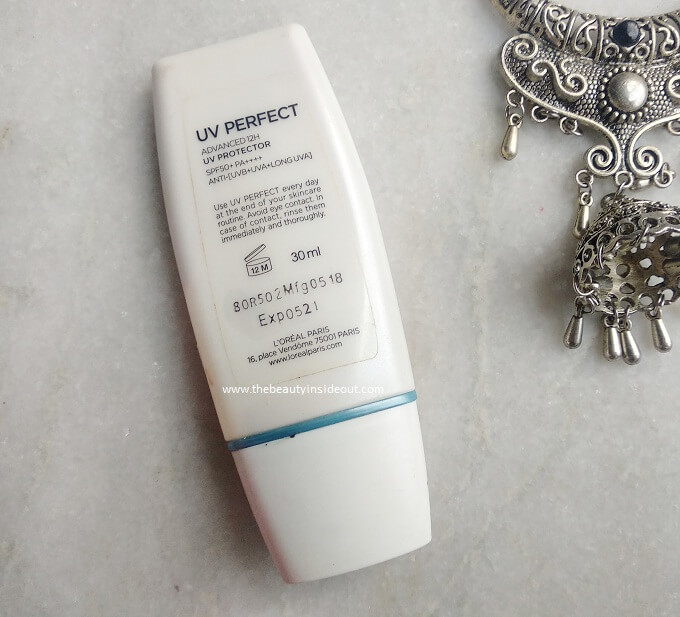 L'Oreal Paris UV Perfect Even Complexion SPF 50+ PA+++ Review
Packaging: The L'Oreal Paris UV Perfect Even Complexion SPF 50+ comes in a white, rectangular shaped squeezable plastic tube/bottle. While the front side has the brand & product name written on it, the back side has relevant information such as how to use it and manufacturing date etc. The bottle is not too big. It's quite compact and travel friendly. One can even carry it easily in their handbags for reapplication. The bottle does come with an outer carton box which has the ingredients printed on it. Like always, I misplaced it and I don't have the ingredient list with me. I like it when brands just print them in the bottle itself.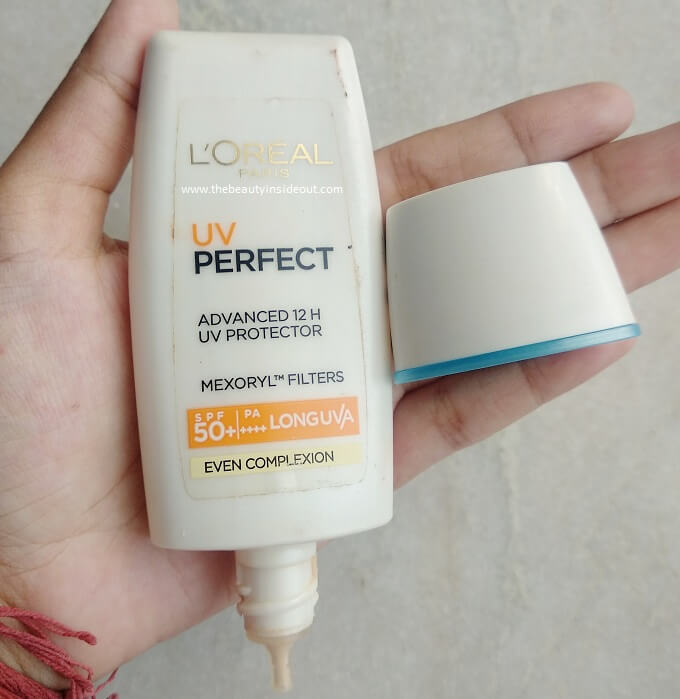 Texture: The sunscreen almost looks like a BB Cream with its color & texture but it is not one. The product has a semi thick, creamy texture that spreads well and gets absorbed easily without much efforts.
Fragrance: The L'Oreal Paris UV Perfect Even Complexion Suncreen has a mild fragrance that is barely noticeable once the product is applied on the skin.
Efficiency: The first time I used the L'Oreal Paris UV Perfect Even Complexion it gave me an oily tacky feeling even on my dry skin, and just so you know I used a very little amount of product. When I used the standard amount of sunscreen (that is ¼ tsp), it left me a horrible white cast. Note that I am a light skin tone girl so if you are darker than NC30-35 I will suggest you skip this product altogether.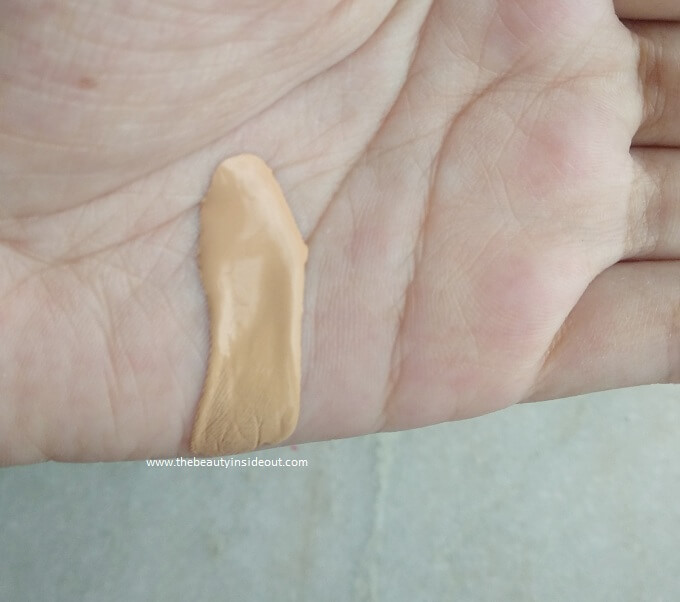 As you can see, I didn't like the product at first. But because I bought it already I tried using it in different ways until I found the best solution. And the solution was to set the sunscreen with a powder. If you have dry skin like me then any powder will do the job but if you have oily skin then a good mattifying powder is needed. I use this with my Maybelline Fit Me Loose Powder and it tones down the white cast of the product and gives me skin-like finish. Yes, the sunscreen is tinted but the coverage is barely there. Just for comparison, it has less coverage than the Lakme CC Cream. But then it does even out the skin tone a bit.
At the end of the day, there is no trace of white cast or sunscreen to be precise. Just my skin in its natural state with its natural oils peeking out giving a glowy effect.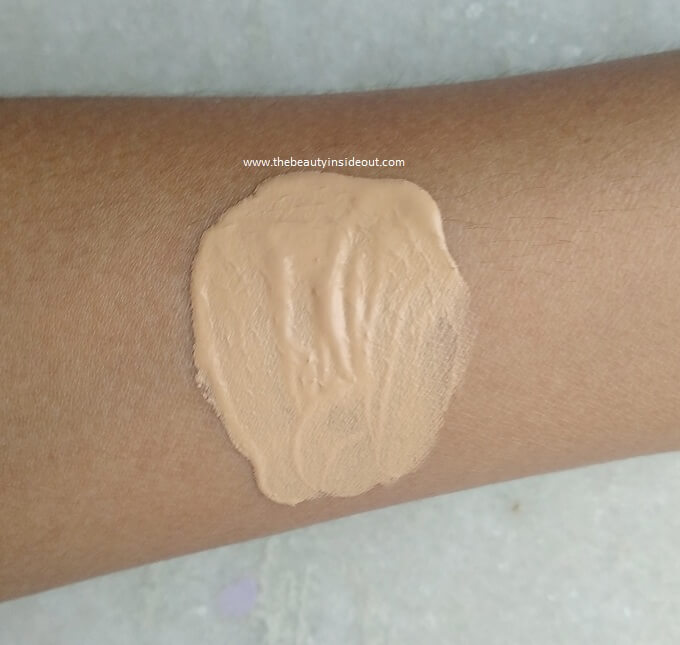 I feel like the product grew into me over the years that I have used more than 5 tubes now. I use it almost every day without fail. The fact that it has SPF 50+ PA++++ gives me a satisfied feeling knowing that it provides both UVA and UVB Broad Spectrum Coverage. This has the patented MEXORYL filter to provide optimal sun protection. And for those who are wondering, this is a chemical sunscreen , so if physical or mineral sunscreens are your bae, you can skip this.
Pros:
Has SPF 50+ PA++++.
Good texture and consistency.
The beige tint evens out the skin slightly.
Protects skin against sun damage very well.
Cons:
Gives an oily/tacky feeling if not set with a good powder.
Gives a white cast.
Contains Parabens, Silicones and Added Fragrance.
Rating: 4/5
Would I recommend? This is not one of the best sunscreens out there. In fact, this is a tough product you have to play around with it. But if you have the same skin tone as me and have no problem setting it with a powder,  you can try this.