I feel like the brand Wet n Wild is really doing great by delivering great products at such a low price. After its launch in India, it quickly became my most favourite makeup brand. I have tried various Wet n Wild Products ranging from their highlighter, foundation to lipstick. Everything did justice, from the quality, price to performance. So one day I was scrolling through Nykaa and I saw these lipsticks and made mind to give it a try. That's what I am going to review today. I picked up the Wet n Wild Megalast Lipstick in the shade In The Flesh. If you are a lipstick lover like me then keep on reading till the end.
Product Description:
Wet n Wild Megalast Lipstick is a long-wearing formula meant to give you a semi-matte finish without drying the lips and great pigmentation in one stroke. It doesn't cake, feather or bleed. It is made with a hydrating formula with Hyaluronic Acid and Vitamin A and E. It also has a polymer complex which offers cushion-like texture.
Price: 295 INR
Quantity: 3.3 Gram
Availability: Various online stores.
Wet and Wild Megalast Lipstick In the Flesh Review:
Packaging: I am going to say this straight out of my mind, I hate the packaging to the core. It doesn't come with any outer cover, which made me anxious to get it online, but then Wet n Wild is available only online. Gladly, my lipstick came in perfect condition. Now in the first place, it looked like a cheap street-side lipstick. It has a transparent plastic lid which would break at the slightest drop on the floor. And I am not done here, every time I try to put the lipstick bullet back in the lid 99% of the time, some of the lipstick gets stuck on the side walls of the lid. How much ever time & effort I put not to do this anymore, it happens anyway.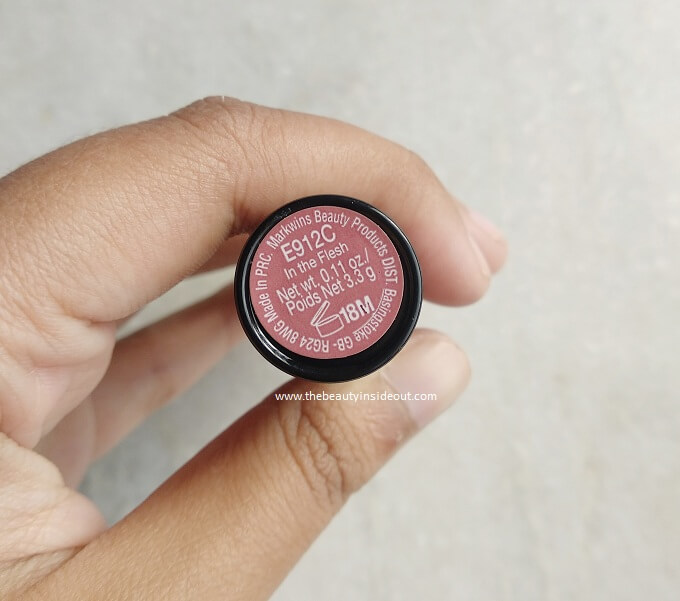 Texture: It has a very creamy texture which glides on the lips very easily and smoothly.
Fragrance: It doesn't have any heavy fragrance.
Shade: The shade "In the Flesh " is the most popular pinky nude colour from this range. It will look good on fair to medium skin tone but dusky skin tone girls will look a bit washed out by this particular colour. So buy accordingly. There are 35 shades in total that are made available in India so I think there is a shade for every skin colour.
Pigmentation: The Wet n Wild Megalast Lipstick In The Flesh has good pigmentation. You will not need more than one swipe. I have pigmented upper lips and this shade covers that perfectly and doesn't mix with my original colour of my upper lips and make it look like another colour. I use this as an everyday lipstick and I love it a lot.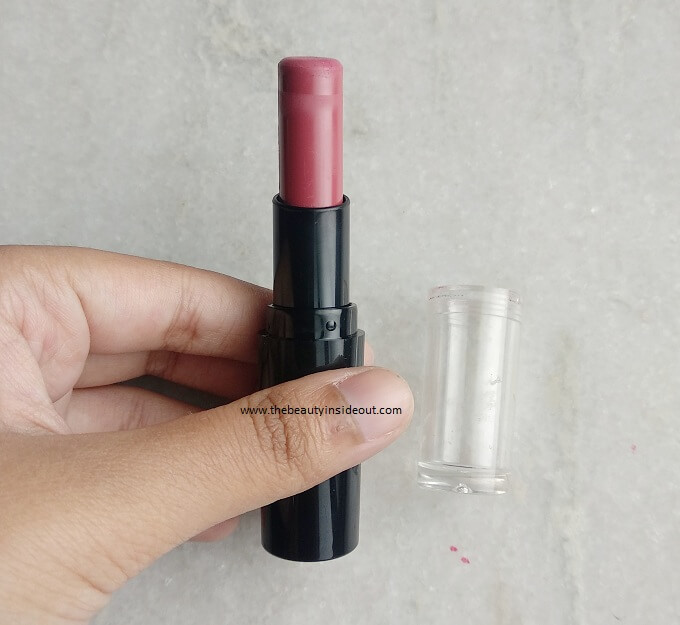 Finish: It doesn't give a powdery flat matte finish. It is more like a satin semi-matte finish which feels comfortable on my dry chapped lips. The Wet n Wild Megalast Lipstick is not at all drying rather it keeps my lips hydrated throughout the day. It doesn't emphasize my lip cracks nor stick to my dry patches. The shade doesn't bleed but then it's not completely transfer proof. It does transfer slightly.
Staying Power: For not being overly matte, it does not have an over the top long-wearing formula. After a good 4 hours, you will definitely need a touchup. The Megalast Lipstick leaves a very beautiful tint on my lips after wearing off.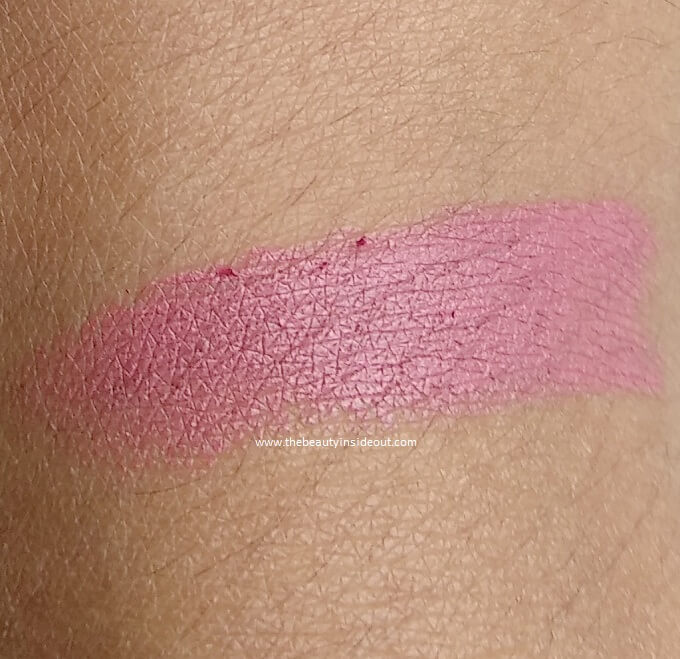 That was all about the Wet n Wild Megalast Lipstick. Read on to know about its pros and cons.
Pros:
Budget friendly.
Wide shade range.
Comfortable, non drying formula.
Semi matte finish.
Doesn't emphasize lip cracks and dry patches
Good pigmentation.
Wears off beautifully.
Cons:
Packaging could have been better.
Not a long-lasting lipstick.
Not a full-blown matte as I expected.
Availability only online.
Rating: 3/5
Would I recommend? If you are looking for an everyday lipstick which is priced affordably and doesn't dry out your lips then do try out the Wet n Wild Megalast Lipstick.