Not many day creams work for my oily skin. Most of them break me out or start perspiring after a few hours of application. That's the only reason why I always stick to Aloe Vera Gels. But recently I got to try the Lakme Absolute Perfect Radiance Cream with sunscreen filters which were gifted by my mom so I couldn't ignore using it. I have been testing it out for the past couple of days, so today I am ready to share my thoughts on it.  Let's get started with the details.
Product Details: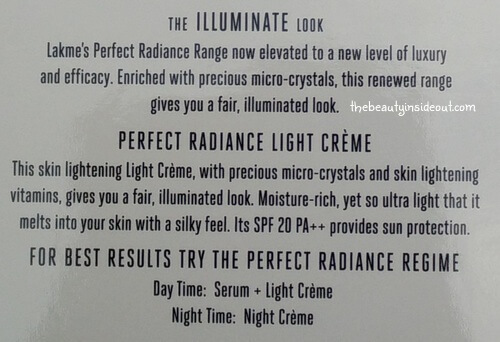 Lakme Absolute Perfect Radiance Cream Ingredients:

Price: Rs.350 for 50 gm
Availability: Widely available in Lakme Counters.
Lakme Absolute Perfect Radiance Cream Review
Packaging: Lakme Absolute Perfect Radiance Cream comes in a silver plastic jar with a secure inner lid and a screw-type top lid. The look of the tub really makes up for the price we pay as it does look luxurious and is shining like a star. However, the bulky size makes it not so travel-friendly even though the jar cap is secured well.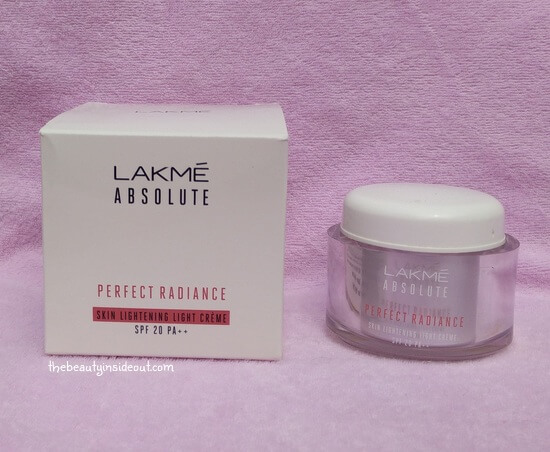 Texture: Lakme Absolute Perfect Radiance Cream is pale pink in color and has an airy gel-cream consistency that is neither too thick nor too thin. The cream spreads effortlessly on the skin and feels somewhat silicone making it a good canvas for makeup. A pea-sized amount of the cream was enough for the entire face, so the tub lasted me long.
Efficacy: Immediately upon application, my skin feels silky smooth and instantly brightened giving a non-greasy matte finish. I find the crème to be super light on the skin and does not feel heavy, not even a tiny bit. On days when I have this cream alone on my face, my oily skin stays matte for about 2 hours after which it starts becoming oily on my T-zones. If I top it with a compact, the oiliness does not peek through for a reasonable amount of time.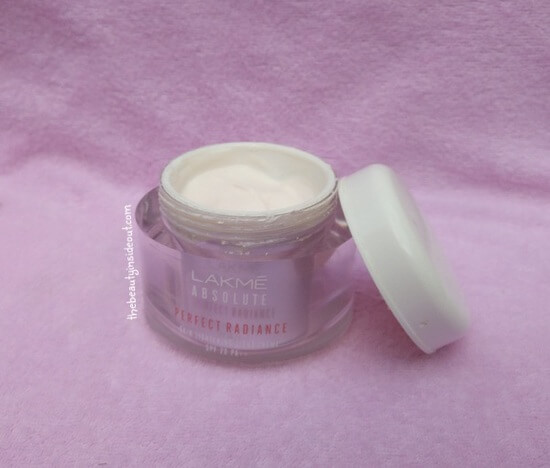 The brightening effect stayed as long as the cream was on my face however there were no long-term skincare benefits when used regularly. It hydrated my oily skin but ladies with dry or normal skin might find it not to be moisturizing, so a heavy moisturizer on top of this would be necessary for them.
The crème has an SPF 20 PA ++ which is decent for a day cream. If you are someone who stays indoors, this SPF would be enough to protect the skin from the sun rays with constant re-application. Personally, I didn't face any major changes or effects with this cream.
You should check the Lakme Peach Milk Moisturizer Soft Cream.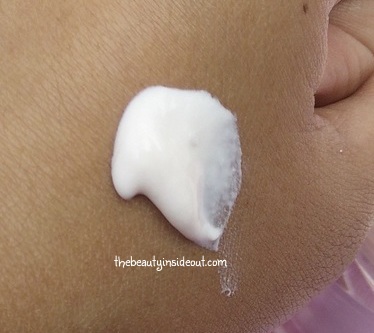 Pros:
Sturdy Packaging.
Mildly scented.
Spreads easily and is ultra-lightweight on the skin.
Gives a velvety smooth matte finish.
Temporarily brightens up the skin.
Has SPF 20 PA ++
It goes well under makeup, i.e. acts as a primer.
Suitable for very oily and oily skin types.
Cons:
Loaded with chemicals.
Definitely not for dry skin ladies.
No long-term skincare benefits.
Price Factor
Rating: 3.5/5
In short, Lakme Absolute Perfect Radiance Cream is an SPF Day Cream with precious micro-crystals and skin lightening vitamins that instantly brightens up the skin giving a matte finish. It acts as a good primer providing a smooth canvas for base makeup. Go for it if you have oily skin and are looking for instant brightness with no long-term results. For me, this was a decent day cream, nothing more!
So that's all about Lakme Absolute Perfect Radiance Cream. Have you tried this?
Share your thoughts in the comments section below.